Even if you're not great at math, this equation adds up: lots of appealing, enticing attractions at your retail center equals more shoppers, and more tenants.

Let's face it, shopping centers have a lot of competition these days — and we don't just mean other shopping centers.

Online shopping is a huge appeal. People want to stay home.

How do you get potential customers to put on pants and head your way?

Here's what your retail center landscaping needs to be that go-to destination:
1. A Place To Gather
Yes, gathering looks different these days than it used to, but we all still yearn to be where the action is. Maybe now more than ever.

Successful shopping center landscaping encourages people to mill about, see and be seen.

It's a place to stretch your legs, nab some deals, and hang out for a while — if there's an inviting, safe, comfortable spot.

Offer an enticing courtyard in the center of the action, set up with comfortable benches or tables, spaced at safe distances, with plenty of shade from trees or colorful umbrellas.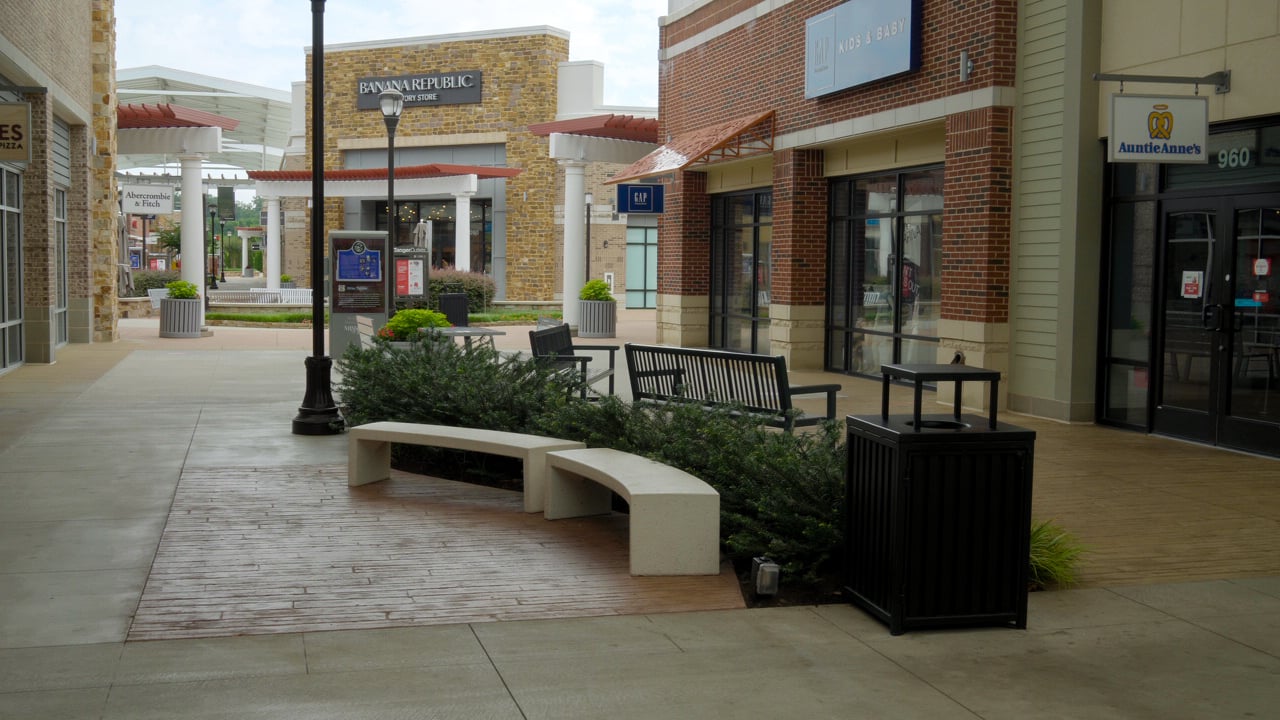 Shopping is hard work, right? Customers appreciate a place to plop down, take a breather, enjoy a snack, and look over their lists.
2. Fire Pit Fun
A fire pit? At a shopping center?
Why the heck not? You're open in the evening, right? Imagine a soft glow beckoning shoppers to your courtyard as the sun goes down.

Protective metal screens keep everybody safe while allowing the welcoming flicker to entice customers to stay a while.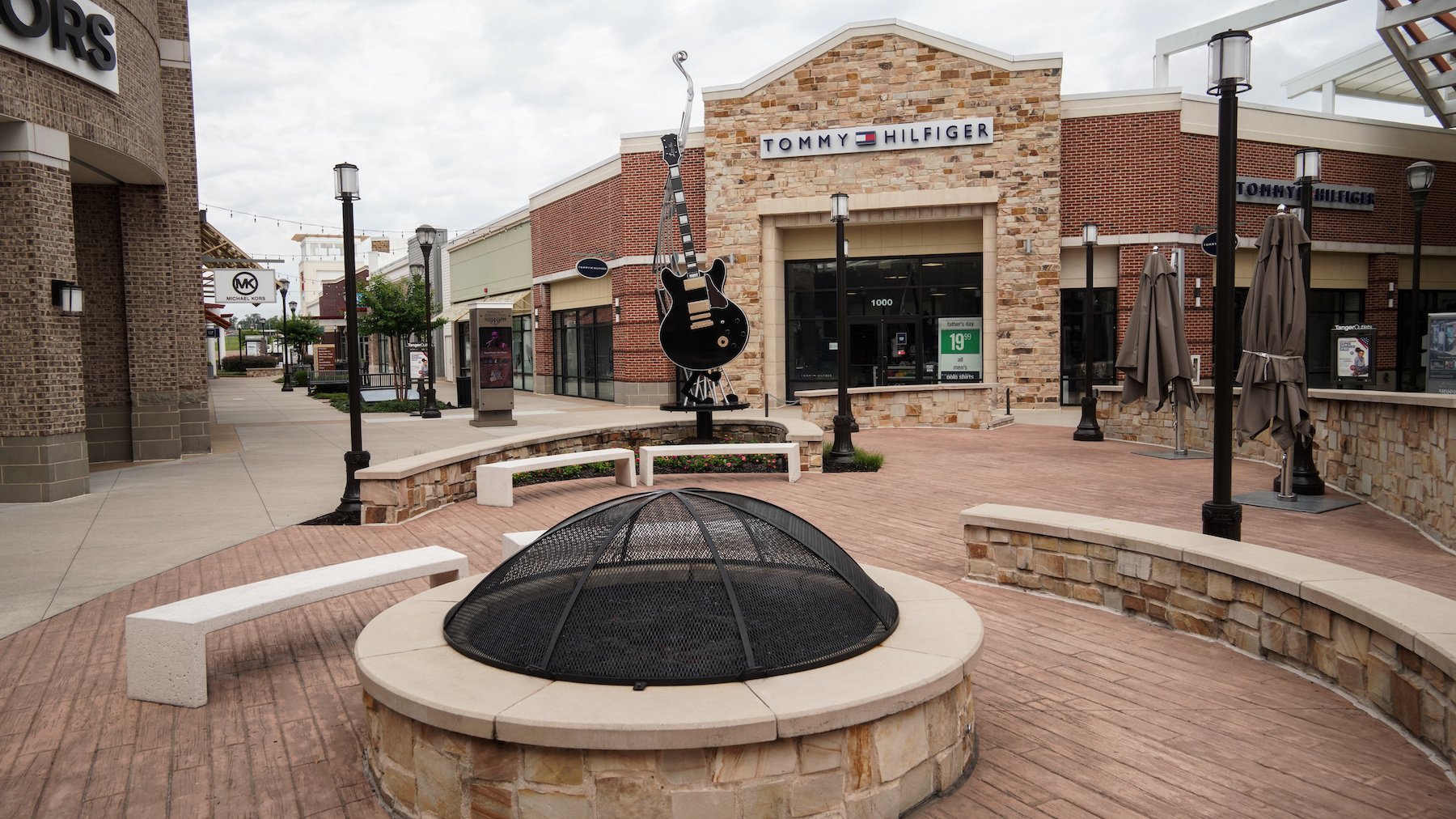 Add a nearby cart that serves simmering cocoa, warm cider, or cinnamon-roasted almonds to complete the cozy vibe.

The longer shoppers linger, the more they spend.
3. Shopping Center Landscaping: Throw 'Em a Curve
Have you strolled around your retail center lately? Notice all the straight lines, square shapes, and rigid structures.

Soften your retail center landscaping with appealing curves.

How? Lots of ways:
Curved shopping center landscaping beds offer a graceful counterpart to all those hard edges.
Curving paths give the impression there's something special at the end.
Curved benches, a curvy abstract statue, or a water feature with wavy edges all help soften the hard lines of buildings.
A circular courtyard with built-in seating and round planters offers appealing curves in the center of the shopping action.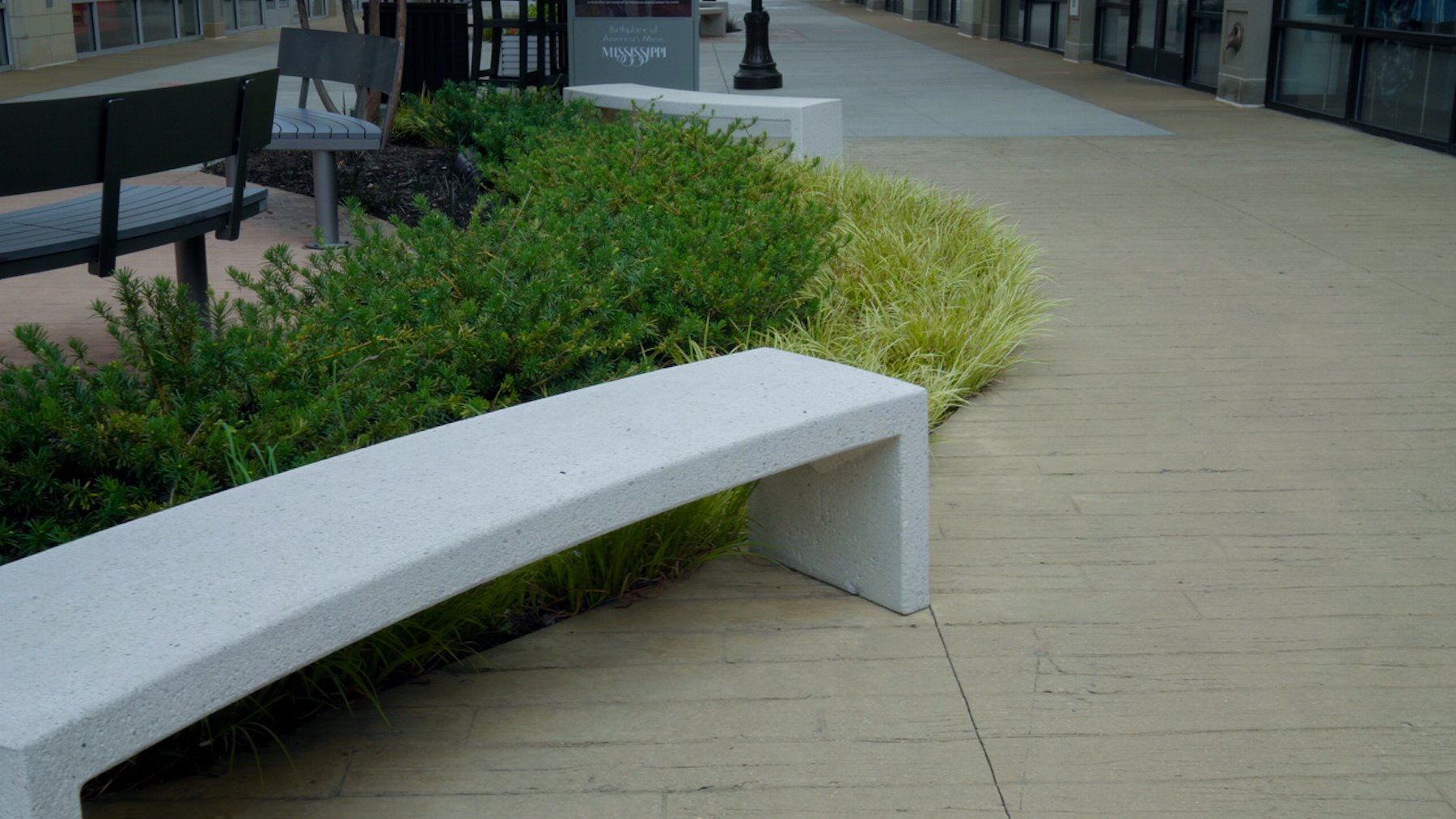 4. Pleasant Parking for Retail Center Landscaping
So, your parking lot isn't the reason customers flock to your retail center, but it's the first place they see, and the first chance you have to offer a great experience.

Big expanses of sizzling hot asphalt aren't appealing, so cool it down a bit with greenery.

Customers love parking under a shade tree to keep their car cool. Islands of green plants help break up that big expanse of hot asphalt.

But not just any tree can stand up to the rigors of a parking lot.

The best trees for parking lots shouldn't be frail or fussy, drop debris, or have low-hanging branches that would snag pedestrians, scratch vehicles, or obstruct views.

What works? You can't go wrong with Zelkova, Ginkgo, European Hornbeam 'Fastigiata,' Shademaster Honeylocust, or Lacebark Elm for your shopping center landscaping.

They're beautiful, low maintenance, and sturdy enough to take the tough conditions your big parking lot dishes out.
5. Wow Them with Water
A water feature casts a sort of magical spell in your retail center landscaping.

Shoppers love that refreshing spray or soothing gurgle, and potential tenants love the sense of upscale luxury it brings.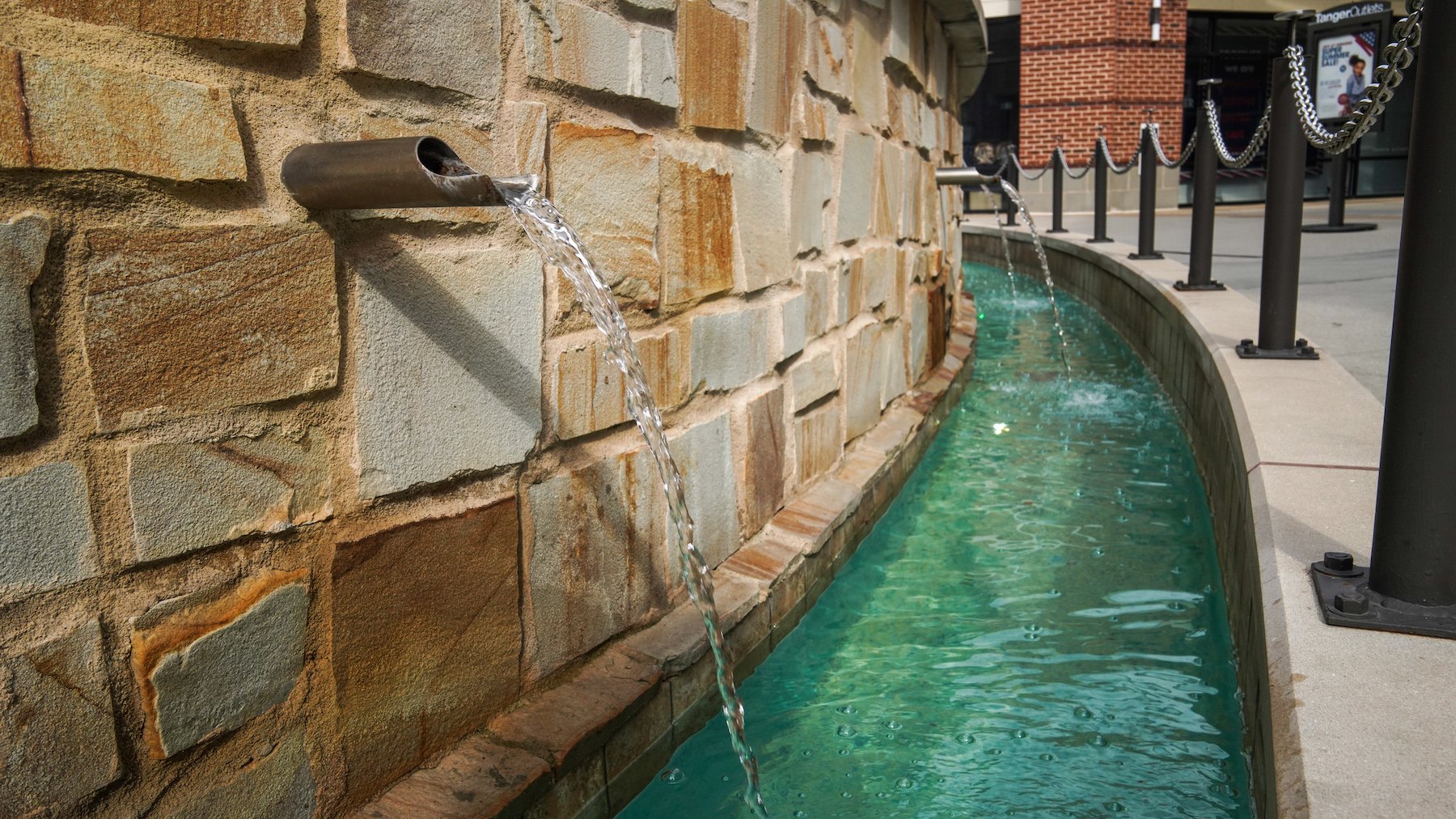 Moving water equals instant serenity for grown-ups and instant fun for kids.

They'll be in no hurry to leave.
6. Retail Center Landscaping Needs Color, Color, Color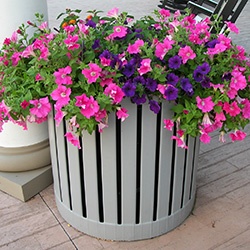 Don't forget the impact of colorful flowers — in beds, giant planters, or both. They add beauty, interest, and soften the edges of your buildings and hardscape.

Enhance your signage with colorful lantana and begonias that attract attention but don't grow tall enough to block the sign.

The right blooms can really pack a punch, from dazzling orange, red, neon pink, and coral sunpatiens to equally vivid zinnias. We love these posies for pots, as they're heat and drought tolerant.

While annuals often steal the show, perennials offer great color, too, and come back reliably in your retail center landscaping every year.

Many perennials boast stunning color, and with skilled planning and planting, you can have an impressive display of color throughout the growing season.

Think Daylilies, Purple Coneflower, Black-Eyed Susan.

Even some easy-care ornamental grasses offer wow-worthy color.

The delicate pink plume seed heads of Pink Muhly Grass explode with vibrant color in late summer. Plant them in masses for amazing impact.
7. The Power of Pots
Don't skimp on planters in your retail center landscaping.

The more the better. The bigger the better. The brighter color, the better.

Planters are superstars at attracting attention, packed with vibrant hot pink zinnias, ornamental grasses that wave in the breeze, and vacation-vibe tropical banana trees.

But these beauties are also real work horses for shopping center landscaping.

Here's what a few well-placed planters can do:
Direct foot traffic. Big pots will slow people down and encourage them to walk around. Steer shoppers through courtyards, encourage pedestrians to head where you'd like them to go, invite them to linger and enjoy the beauty
Hide eyesores. Packed with flowers, foliage, and even small trees, big planters can hide everything from unsightly trash cans to air conditioning units.
Provide privacy. Big container gardens are great for this, especially when planted with tall, lush tropical plants or substantial trees. Put them to work on a restaurant outdoor patio. Create cozy nooks in an outdoor courtyard.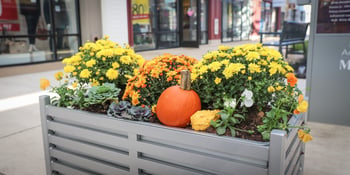 When fall rolls around, perk up those same planters with pansies, violas, and ornamental cabbages.

Welcome the holidays by switching in boxwood, holly, and festive twinkly lights.
8. Lure Them with Lighting
One good reason to stay home at night and shop online in your pajama pants and slippers: it's dark out there.

Get rid of that excuse by making sure your retail center landscaping sparkles, twinkles, and glows with artistic landscape lighting.

Lighting adds an instant sense of safety and luxury.

Shine the spotlight on the prettiest features of your buildings, making them more inviting.

Lighting also offers a sense of security, so visitors don't have to worry about the trek from their car to the stores and back.

Key areas to light: entrances, sidewalks, that courtyard we suggested, parking lots, signage, and surrounding landscaping.

Don't forget to add string bistro-style lights to courtyards and outdoor dining areas. They add an instant vibe of festivity and fun.

Evening is when a lot of people venture out to shop, grab a tasty meal, and look for fun entertainment.

Light it up.
Trust Your Retail Center Landscaping to Hatcher
It's a lot easier these days to stay home and shop online.

Give people a reason to venture out, and tenants a reason to set up shop at your place, with shopping center landscaping that makes it worth ditching Netflix for a few hours.

The more people mill about, shopping, relaxing, and enjoying themselves, the more tenants will want to be a part of the money-making fun.

Lackluster retail center landscaping means you lose tenants to the other guys. Nobody wants to shop at a retail center where a third of the stores are depressingly empty.
Watch This Video to See How We Help Retail Shopping Centers
Our skilled crews are pros at transforming ho-hum retail center landscaping into enticing, impressive areas shoppers and tenants can't wait to explore.

Ready to boost the appeal of your retail center, so it's a go to destination? Talk to one of our commercial landscaping experts today! We'll meet at your property, create a custom plan, and get you on your way to enjoying a beautiful, worry-free property.