Your retail center has a lot to offer people on the prowl for fun.
But when the sun sets, are you showing it off? After all, the shopping malls of the past have now become replaced with retail centers with storefronts opening to outdoor areas.
Evening is when a lot of people venture out to shop, grab a tasty meal, and look for fun entertainment.
Lure them with lighting.
Shopping center outdoor lighting means a lot more than lighting parking lots and store fronts.
Commercial landscape lighting can highlight your shopping center's best features and add a sense of luxury. Everybody loves luxury.
Let's shed some light on the possibilities.
Shopping Center Lighting to Show Off a Bit
Expert commercial landscape lighting shines the spotlight on the prettiest features of your buildings, encouraging shoppers and diners to explore your retail space after dark.
Don't let your intriguing rooflines, impressive brickwork, or architectural columns hide in the dark.
A combination of skilled uplighting and downlighting ensures people appreciate your space as much after dark as they do during the daylight.
Shopping Center Outdoor Lighting to Highlight Plants
Your landscaping's impressive plants, shrubs, and trees can be beautiful elements that welcome shoppers and entice them to stick around. But not if they're shrouded in darkness.
Highlight your tree canopies for an enchanted forest feel.
Uplight your prettiest trees — captivating lacy shadows emerge from the leaves.
Light up your most intriguing plants. Big-leafed tropical plants are stunning when light hits them just so.
This kind of lighting doesn't just happen. It takes skill and expertise. It's the technical aspects involved that make it look great.
Bistro String Lights For Fun
These festive strings of overhead lights are one of the biggest landscape lighting trends. They're irresistible for people eager to check out the fun.
Stretch them over your outdoor dining patios, food courts, or seating areas to attract attention and encourage shoppers and diners to linger.
Shopping Center Lighting That Mimics the Moon
Who doesn't love a moonlit stroll? No moon? No problem.
Shopping center outdoor lighting can be the next best thing if you use strategic downlighting from above to cast pools of subtle light on your shopping center walkways, courtyards, and dining areas.
Light Up Those Benches
All that shopping, strolling, and dining is tiring.
Chances are, you've provided benches along the way for customers to plop down and rest, check their phones, and regroup.
Don't leave them in the dark.
Undercap lights tucked underneath benches add a subtle glow for both safety and beauty.
Shopping Center Lighting for Signage
If the only lighting on your shopping center signage highlights the words, you're wasting a chance to shine.
Light the landscaping around the signs, too, for attention-grabbing drama and impact.
Be sure the plants around your signage are properly maintained, so they don't obscure the lighting — or the signage.
Bring on the Bollards
Bollards — vertical posts that emit light — are great for shopping center outdoor lighting.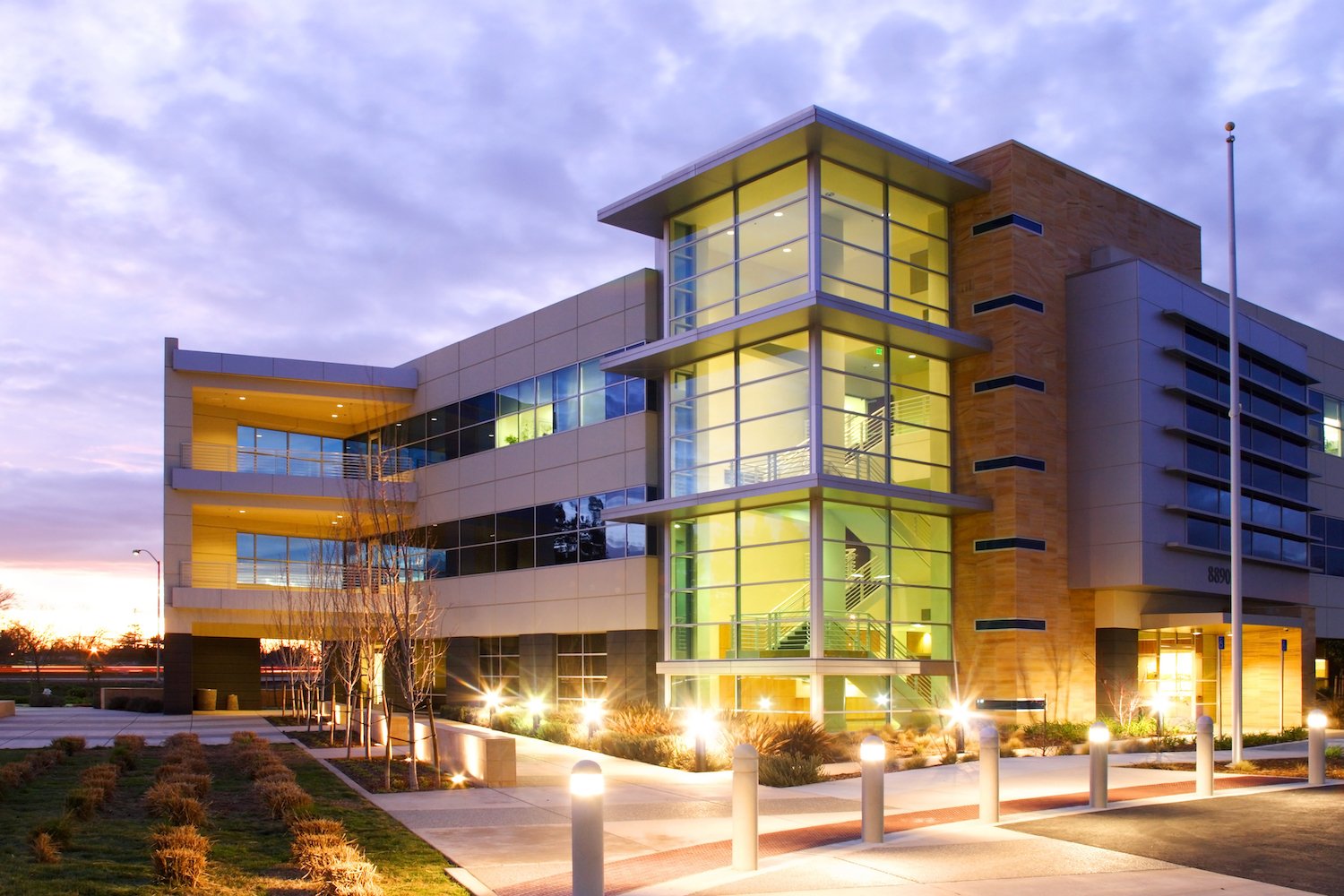 Sturdy and easily visible, they're perfect for lining walkways that get heavy foot traffic.
Shopping Center Outdoor Lighting for Safety
Shoppers won't show up at night if they don't feel safe.
Commercial landscape lighting keeps criminals away and makes your customers and visitors feel comfortable and safe walking to their cars and strolling your retail property.
Of course, your shopping center outdoor lighting should already include lights in your parking lot and on stairs and walkways.
But have you checked it lately to make sure it's still adequate? Landscaping changes over time. Plants and trees grow, often obscuring lighting faster than you realize.
Test it yourself after dark: would you venture out at night to shop at your business?
Shopping Center Lighting: Get Shoppers Off the Couch
It's no secret that shoppers have turned to online retailers to buy everything from groceries to appliances to sweatpants they wear while shopping from the couch.
Give them a reason to put real pants on and stroll over to your place.
Lighting is an invitation to explore, linger, and spend.
Trust Your Shopping Center Outdoor Lighting to Hatcher
There's a lot to think about here. Let us do the thinking. That's why we're here.
Let us help you create festive, intriguing shopping center outdoor lighting that will bring your property's potential into the light.
Lighting adds so much more than safety and visibility. It can give your shopping center a sense of luxury and fun, extending the time people want to be there.
Are you ready to see how expert commercial landscape lighting will attract more shoppers to come enjoy your shopping center? Talk to one of our commercial landscaping experts today! We'll meet at your property, create a custom plan, and get you on your way to enjoying a beautiful, worry-free property.