Optimize ROI for Your Commercial Irrigation System in Memphis and the Mid-South
Leaks and inefficiencies in your commercial irrigation system literally wash money down the drain and inflate your water bill. To make matters worse, the overwatering that can occur with an inefficient system can actually cause problems in the landscape that add to your expense. Let us engineer your irrigation system to deliver optimal performance and optimal ROI.
(We only perform irrigation maintenance as part of a comprehensive lawn and landscape maintenance plan.)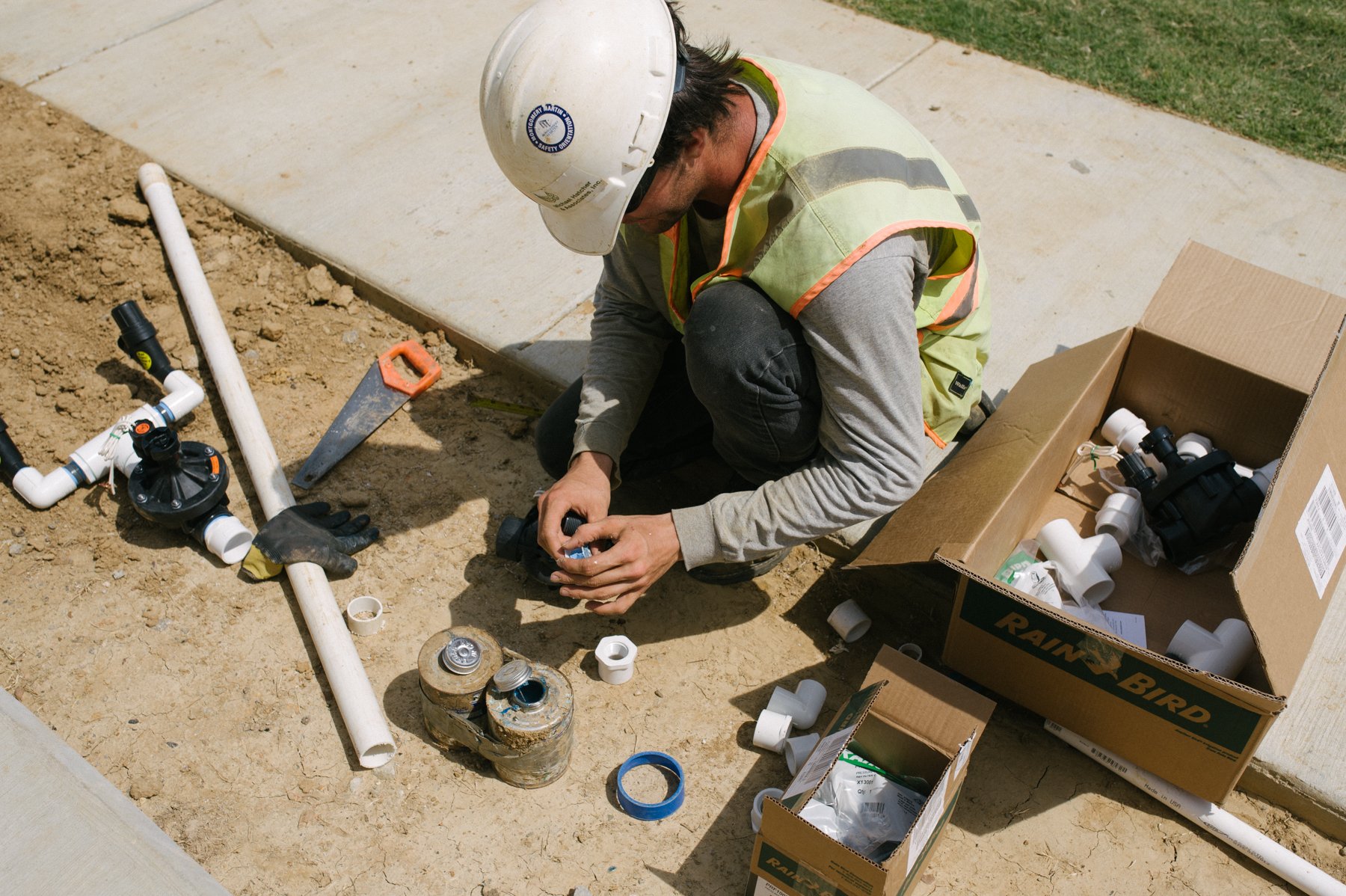 Commercial Irrigation Audits and Water Management in Memphis
Our clients depend on our team to manage all sorts of maintenance tasks at their property. Irrigation management is just one of the many regular tasks we assist them with.
The first step is an irrigation audit. Irrigation system leaks can add significantly to your operating expenses, and they aren't always obvious to the naked eye. Even when no leaks are present, an inefficient commercial irrigation system can drain your bottom line. Our expert technical team will analyze every aspect of your irrigation system so you can better understand where you are losing efficiency and exactly what needs to happen to realize optimal savings.
While an audit reveals exactly where you're wasting water and money, the real savings comes with our water management services. At Michael Hatcher & Associates, we approach water management from all possible angles:
Irrigation system design and upgrades –Irrigation system technology has improved by leaps and bounds over the past decade. We make it a point to stay on top of technological trends in the landscape industry, to bring you the best water-saving solutions available. If your irrigation system is more than 10 years old, switching to newer irrigation technology could pay itself back in short order.
Leak control – Irrigation leaks are costly to your business. From visual inspection during regular maintenance to automated irrigation system monitoring software, we'll work with you to ensure that your water ends up only where it's supposed to.
Soil management – Healthy soil is critical to good water management. Good soil retains water to keep plants well hydrated without excessive water use. Improving the soil can also help to address drainage issues in the landscape.
Plant selection – Different plants have different water need. Replacing water-hungry plants with species and varieties that thrive with minimal need for supplemental water can significantly reduce your commercial water bill while still enhancing your landscape and brand.
Irrigation system automation. There's no reason to irrigate your landscape while it's raining! Today's advanced irrigation technology monitors weather, soil conditions, and more to distribute only as much water as your landscape needs. By implementing the right irrigation technology in the right ways, we are able to save many of our commercial customers hundreds or even thousands of dollars per month in water costs.
Good water management goes beyond simply preventing water waste. Overwatering is very common in commercial landscapes, and can lead to significant problems with plant health. In addition to lowering water costs, our water management services keep trees and plants optimally healthy for a better looking, longer-lived landscape and improved ROI over time.
Why Work With Us?
Proper water management is both an art and a science. Our staff at Michael Hatcher & Associates includes many landscape industry specialists, including certified landscape irrigation contractors, accredited backflow inspectors, and certified horticulturalists. Their combined expertise will help you find the optimal water management solutions to maximize your savings, while helping your landscape look better than ever.