When people pull up in front of a senior living community, they form an opinion in about seven seconds, says Rick Tarr, an account manager at Michael Hatcher & Associates.
He should know. Before he joined the Hatcher landscaping team, he was director of maintenance for nine years at Dogwood Creek, an upscale Memphis senior living community.
And he wanted everything perfect.
"When you pull up, the first thing you see is the landscaping," Tarr says. "If that looks good, in their mind that's how it is inside, and that's the kind of care they'll get."
What are the most important landscaping services for senior living communities?
Let's take a stroll with Tarr, the expert.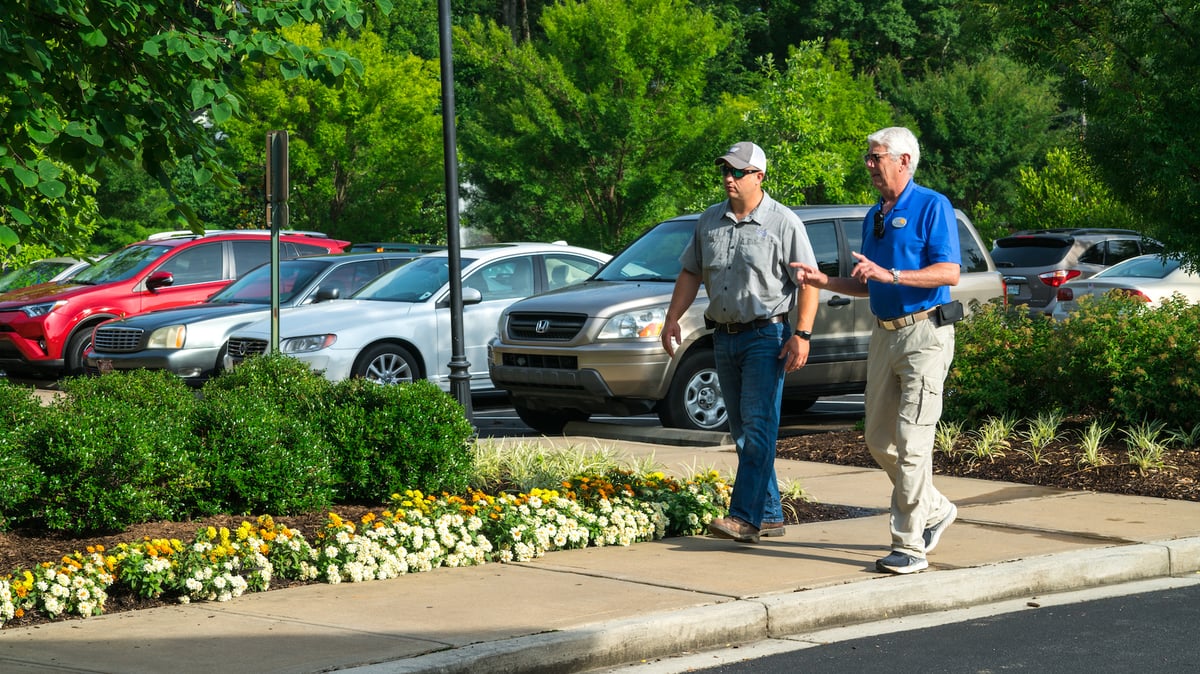 1. Flower Power
That all-important first impression is fueled by flowers, Tarr says.
The brighter the better. Dogwood Creek boasts red-blooming azaleas out front, pockets of appealing annuals dotting the parking lot, zinnias and begonias in the courtyards, daylilies in residents' back yards.
Hatcher crews switch out seasonal annuals at senior living centers twice a year, installing summer bloomers like bright but sturdy lantana and zinnias and then switching in fall favorites like perky pansies and ruffly ornamental kale.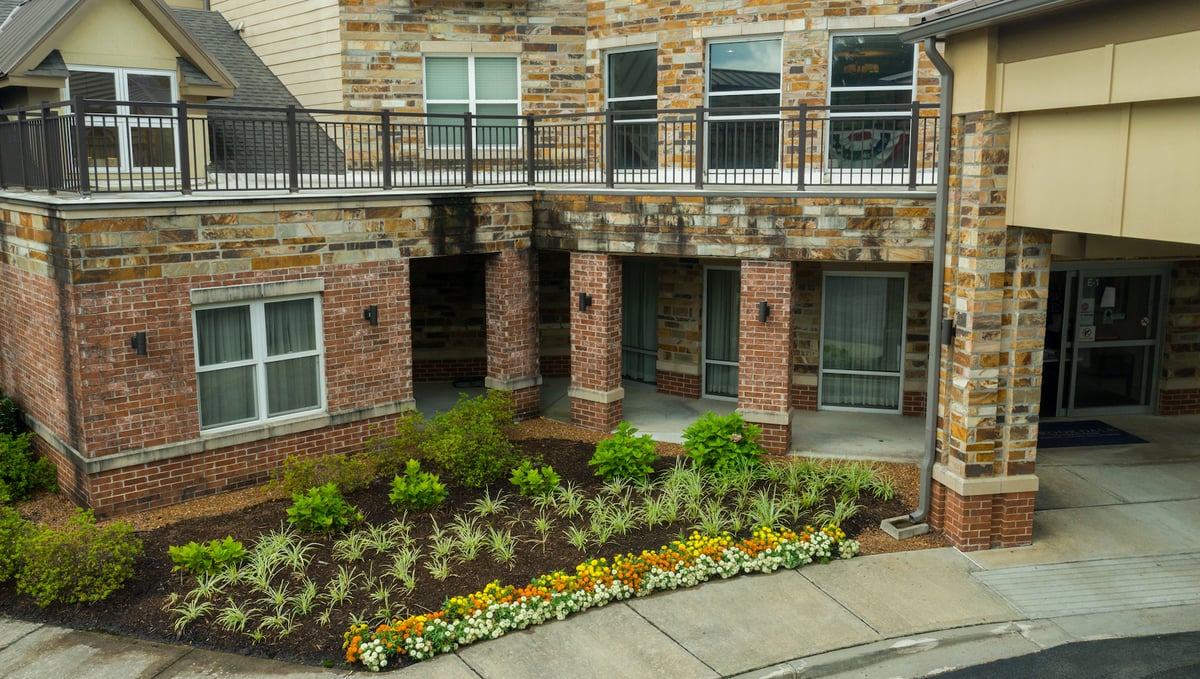 The cheerful color makes a big impact in senior living center landscaping, Tarr says. First impressions are crucial when it comes to deciding where you, or your parents, will live.
2. Details, Details, Details
Anybody with mower training can do a good job mowing grass, Tarr says, but it's other landscaping details that make a big difference.
Neat bed edges. No weeds in concrete cracks. Tidy flower beds. Shrubs neatly trimmed. No overhanging branches.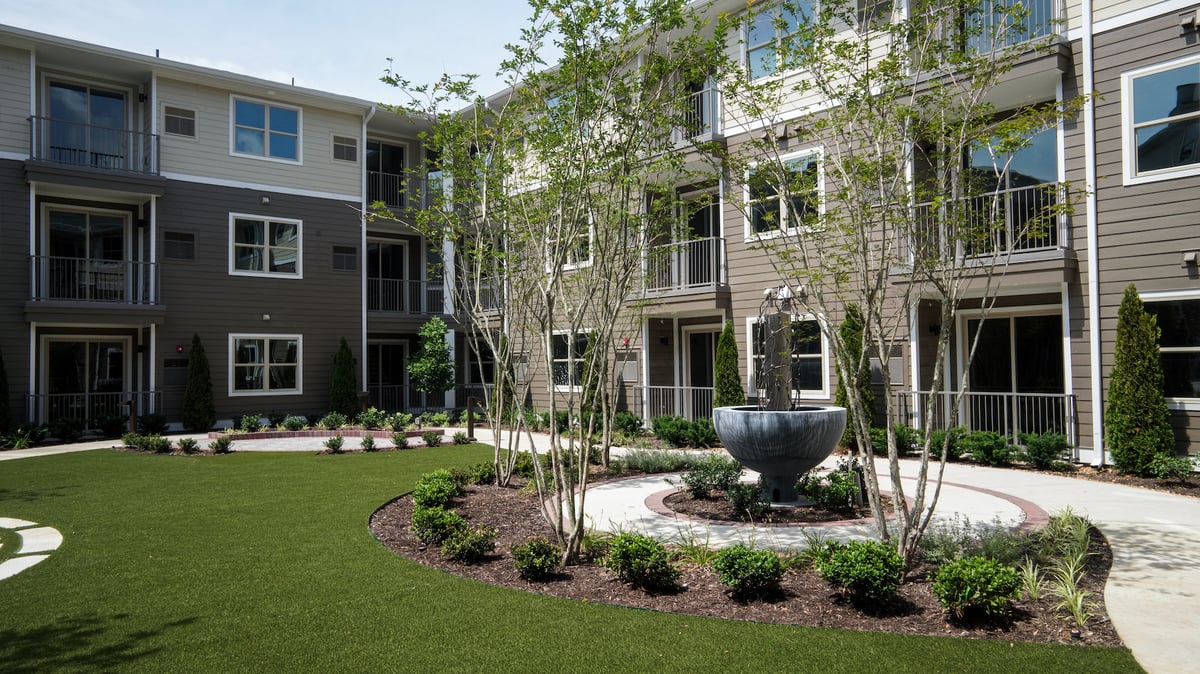 It means keeping an eagle eye on every detail of retirement community landscaping, he says. It's crucial when it comes to that first impression.
3. Securing Safety
Safety is important on any commercial property, but it's extra crucial at a senior living community, where residents might be frail, use walkers or wheelchairs.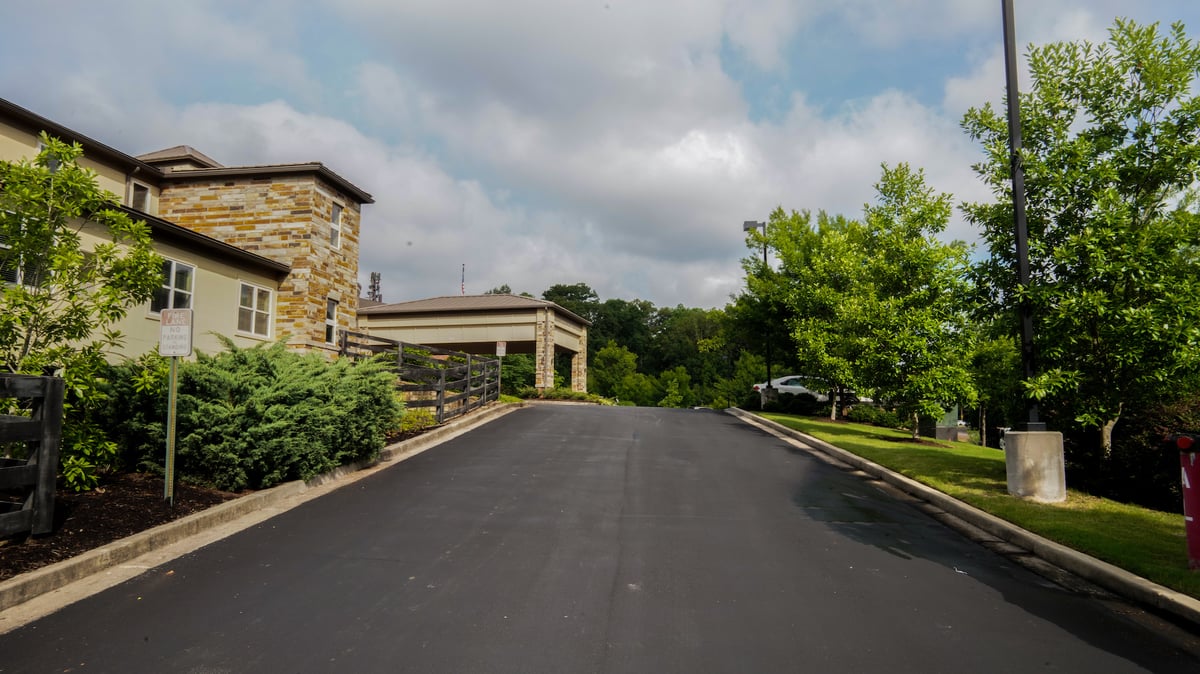 Walkways have to be clear, Tarr says. Plants along sidewalk edges have to stay trimmed. Everything has to be wheelchair accessible. There can't be any obstructions where somebody could trip.
Winter brings its own set of challenges for senior living community landscape maintenance, Tarr says. Hatcher snow crews keep senior living center sidewalks, parking lots, entrances and exits free of snow and ice.
4. Proactive Plant Pruning
It's important not to let senior living center plants, shrubs, and small ornamental trees get overgrown.
When they get too big or out of control, they cause visibility and safety issues around doors and windows. They can obstruct your signage and traffic signs on your property.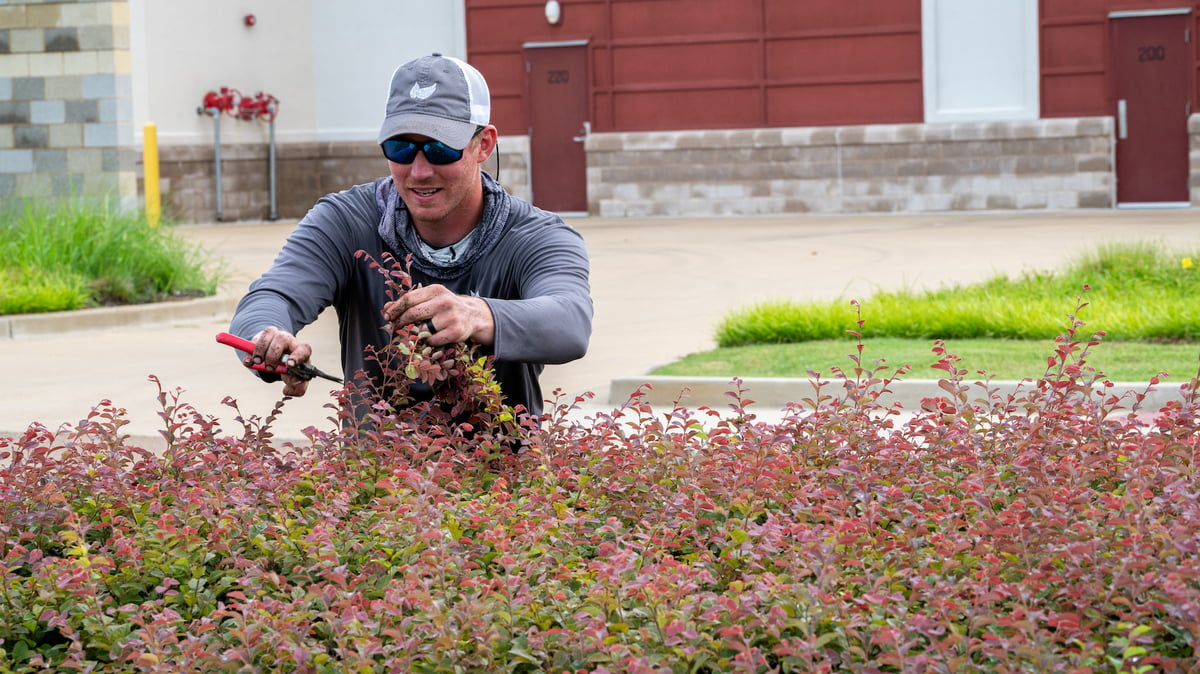 It costs less to prune plants now than it does to tear them out and replace them later.
5. Spring Clean-up
Winter can cause a real mess of retirement community landscaping.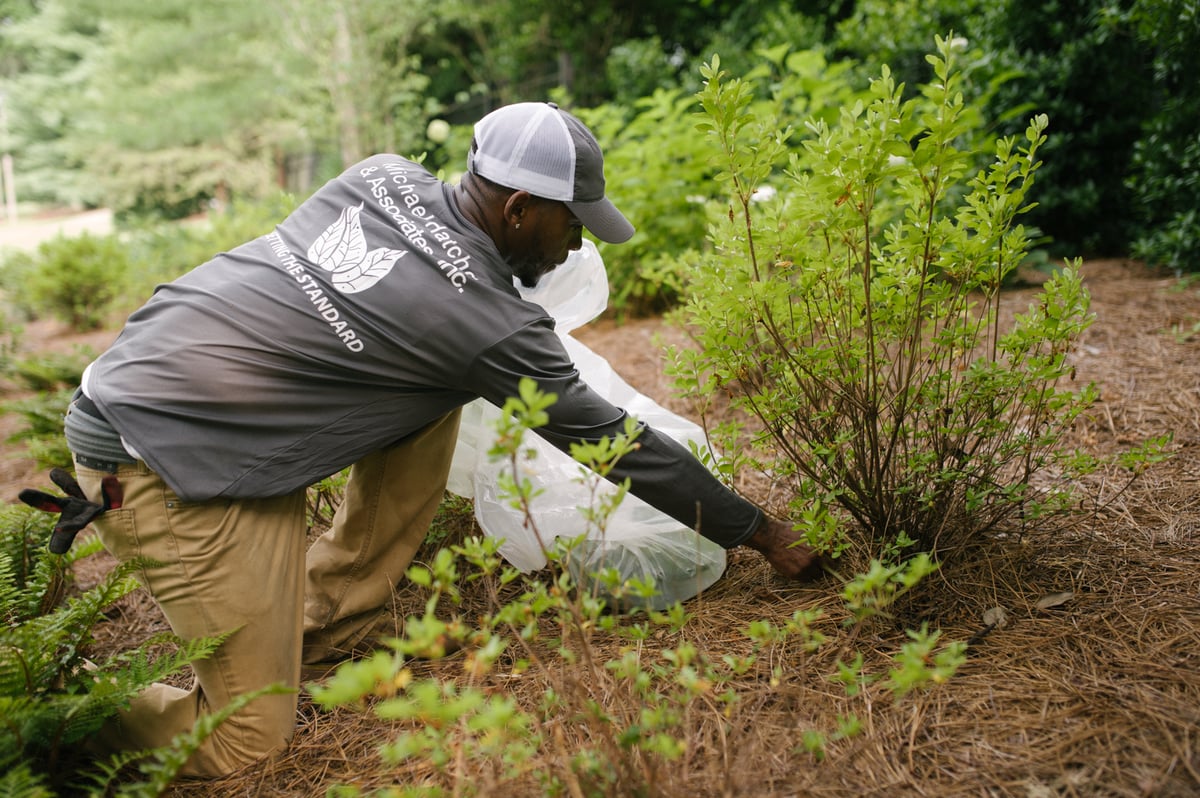 There are leaves, weeds, fallen twigs, and branches to remove, as well as any unsightly litter.
Getting rid of this winter yuck spruces up your property, but it's good for your landscape's health, too. Lingering soggy debris can attract pests, cause mold, and smother your lawn, blocking the air and sunlight it needs to thrive.
6. Turf and Bed Programs (Weed, Feed, Insect Control)
This vital trio keeps your retirement community landscaping healthy and looking great.
Weed Control
Weeds compete with your lawn for water, sunlight, and important nutrients.
Not only that, they look terrible, making your property look neglected and untidy.
Pre-emergent zaps weeds before they can sprout, while post-emergent jumps in to banish any that sneak through.
Keeping Pesky Bugs at Bay
A host of damaging insects, from aphids to grubs to mites, can harm your lawn, wreck your trees, and munch your plants and flowers down to the stems.
The right pest control at the right times can save your landscaping.
Fertilizer Treatments
Your grass needs nutrients to thrive, and fertilizing is a year-round process.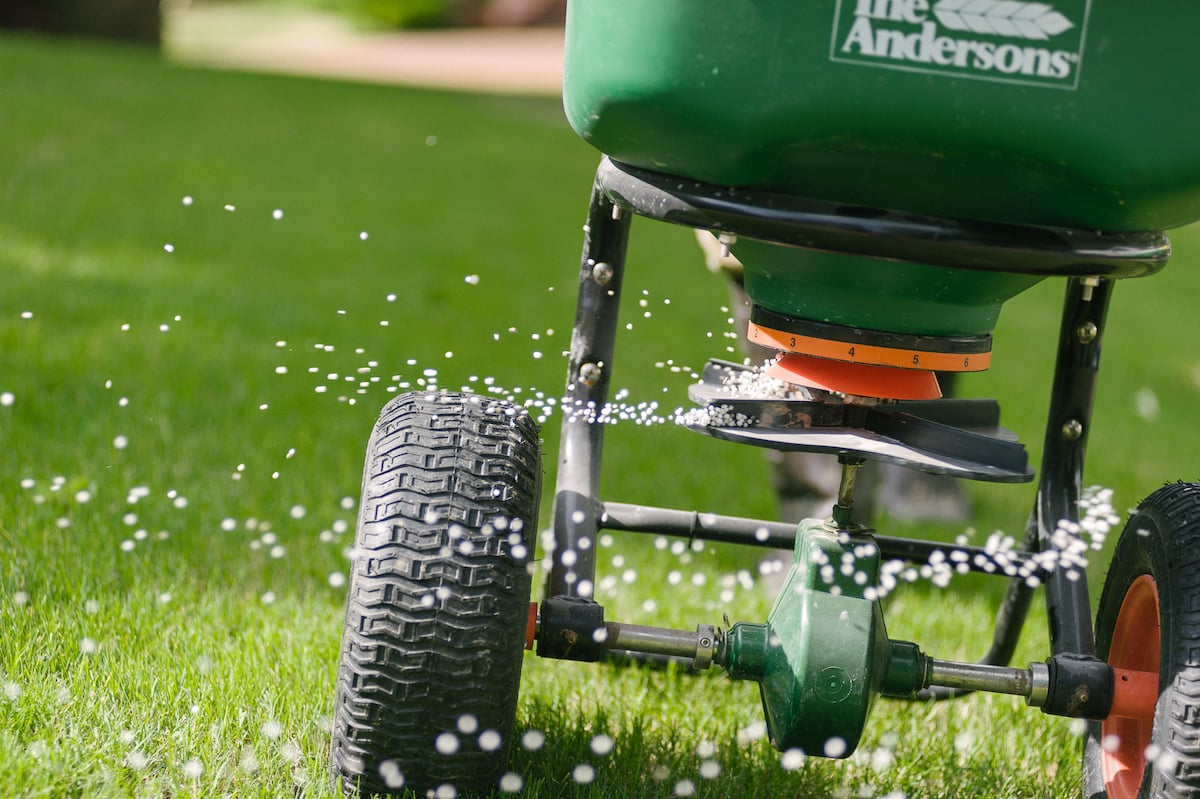 Trees, shrubs, and groundcovers need their dose of nutrients, too.
Fertilizing, weed and pest control are best left to pros.
Applying fertilizer and weed control is tricky. Timing is crucial. So is spreading the right amount. There's measuring, calibrating, not to mention figuring out which products to use in the first place.
7. Irrigation Management
Irrigation is one of those things that's easy to take for granted. Turn it on, and water comes out.
Until it doesn't. Then, you panic.
Avoid the stress by including irrigation management in your senior living community landscape maintenance agreement.
This includes proper start-up and shut-down procedures for backflow devices and irrigation lines and monthly service checks to make sure your irrigation system is covering every inch of your landscaping and running just right — without wasting water.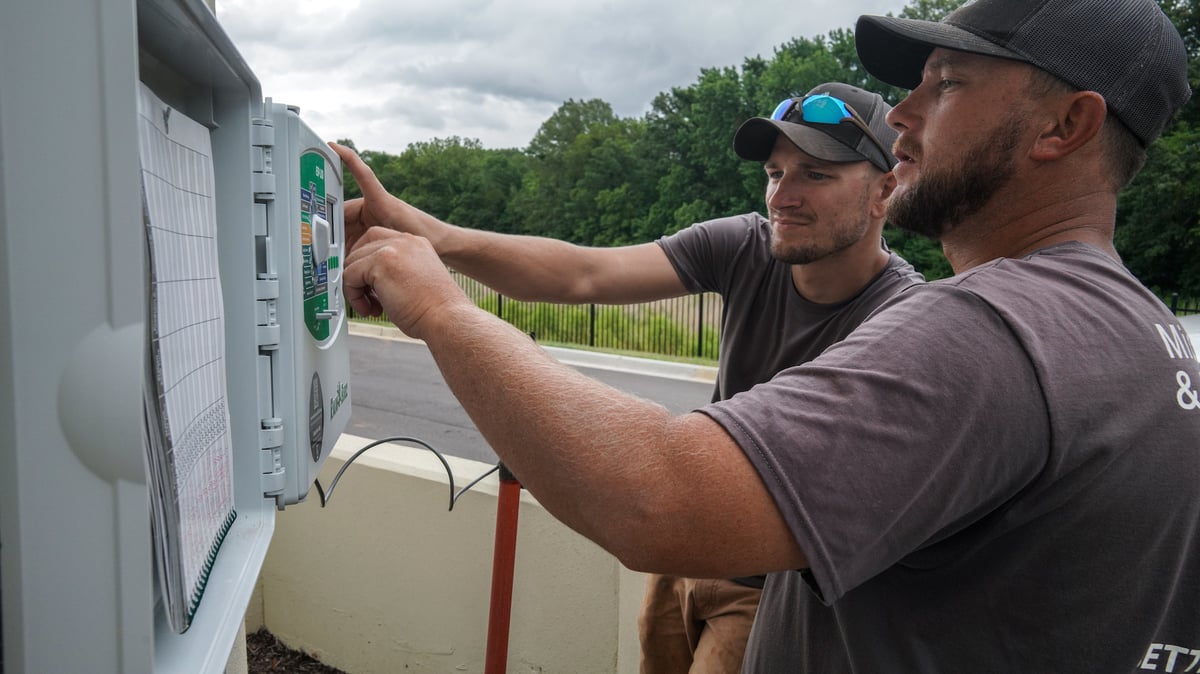 Once colder weather moves in, it's important to get all the water out of your irrigation system's valves, pipes, and sprinkler heads. If water freezes and expands, your pipes break. Avoid that expensive repair.
Do you really need monthly irrigation inspections to have a green and healthy lawn?
You bet.
Out on your grounds, valves could be leaking. Heads might be clogged or broken. Your controller might be set to water too many times for the season, or not enough.
You could be wasting a ton of water. Or your lawn and landscaping might be struggling if it's not getting the water it needs.
During these monthly irrigation inspections, technicians check everything over, testing each of your zones to make sure the right amount of water is hitting all the right places, and nothing needs repair.
A commercial irrigation inspection will zero in on any water waste. Irrigation technicians will also spot the little issues that can lead to bigger problems later, from cracked lines and leaky valves to clogged nozzles or broken spray heads.
If our tech sees something amiss during a monthly inspection, they can often take care of it right there.
8. Tending to Trees
The trees in your senior living center landscaping are pretty low maintenance — until dead branches suddenly crash down from above, threatening pedestrians, parked cars, and your buildings.
Hatcher crews keep a close eye on your trees, checking for dead and dying branches that should be pruned out before they take an unfortunate and potentially costly tumble.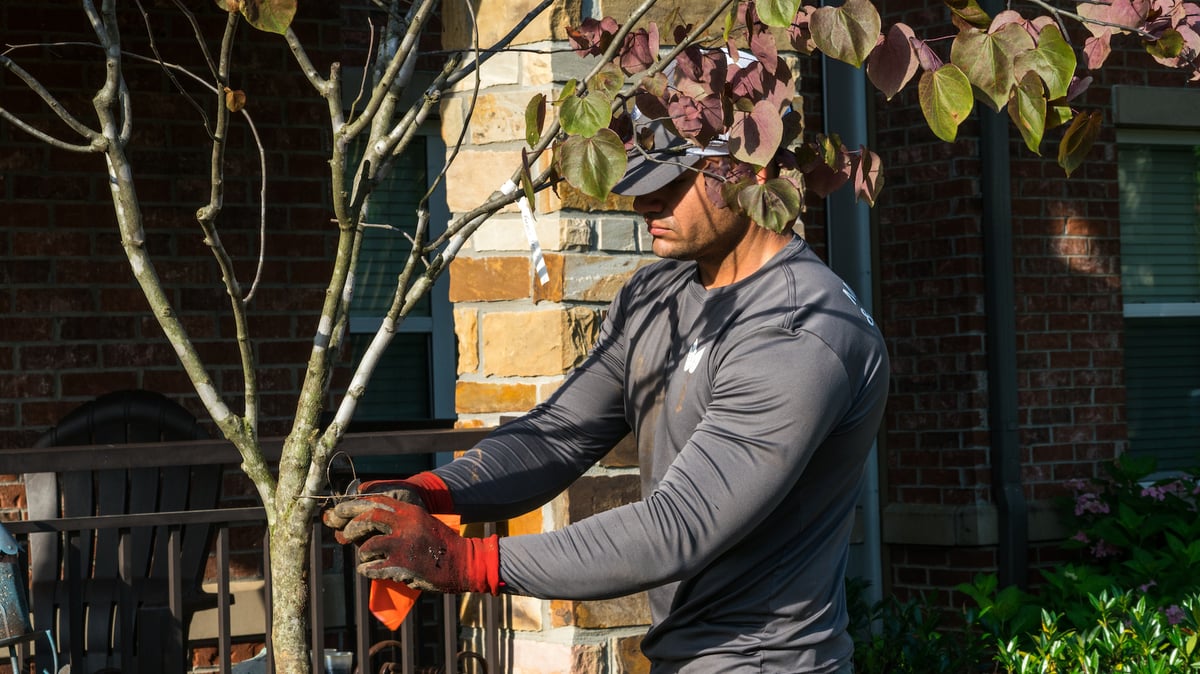 Another reason for proactive pruning: Mature trees can shade the grass too much, causing it to struggle and even die.
Thinning the branches can let more sunlight in, for happier, healthier turf.
9. Attention, ASAP
As a former Hatcher customer, Tarr knows the importance of prompt attention to any problems.
His goal: spot any potential issues before the customer does.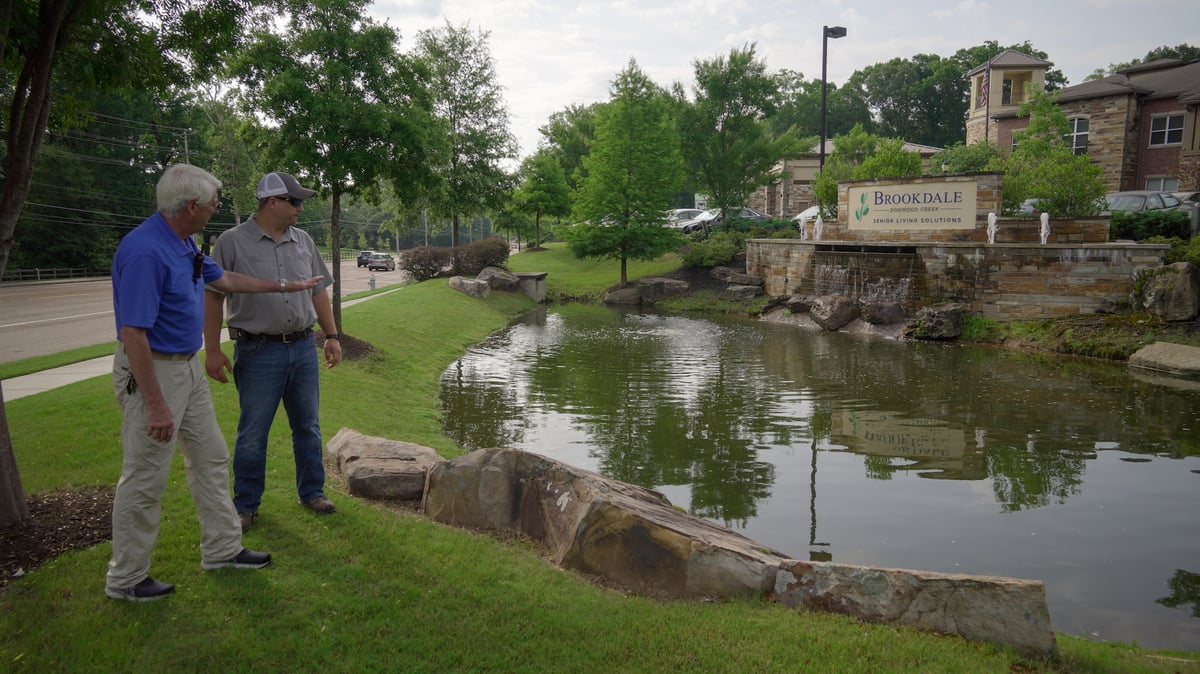 "If you're on your game 100 percent of the time, that's good, but what counts is how fast you handle an issue when it arises," Tarr says.
If an irrigation line breaks and water is running over a sidewalk, he's on it. If a plant dies, he's on it.
That's the kind of prompt attention he got as a senior living center customer. Now he's giving it back as a Hatcher team member.
Trust Your Retirement Community Landscaping to Hatcher
A senior living center has its own set of needs, from a flourishing front entrance to make people feel welcome to safety measures that make them feel secure.
These elements are important for other commercial properties, too.
Ready to boost the appeal and safety of your commercial property? Talk to one of our commercial landscaping experts today! We'll meet at your property, create a custom plan, and get you on your way to enjoying a beautiful, worry-free property.