Warning: once you start hearing about all the amenities at Dogwood Creek, you'll want to start packing so you can move in.

Three landscaped courtyards. An indoor pool. A movie theater. A sports bar. A putting green. A bistro. Walking paths.

"It's like a cruise ship that never leaves the dock," says Rick Tarr, director of maintenance at the Memphis senior living community.

Except cruise ships don't need extensive landscaping.

A high-end senior living community perched on one of the busiest streets in Memphis absolutely does.

"It's a big crown jewel of senior living," says Alex Moore, commercial senior account manager at Michael Hatcher & Associates.

Moore should know. He helped install the original landscaping at Dogwood Creek nearly a decade ago and has helped lead the weekly maintenance ever since.

"If I were that age, I'd want to live there myself," Moore says.

Meanwhile, he's content to keep the impressive property looking great year-round.

Here's a look at what it takes.
Dogwood Creek, at a Glance
The facility, on five acres at 8199 Poplar Ave. in Germantown, is just one building, but at just under 300,000 square feet, it makes a statement.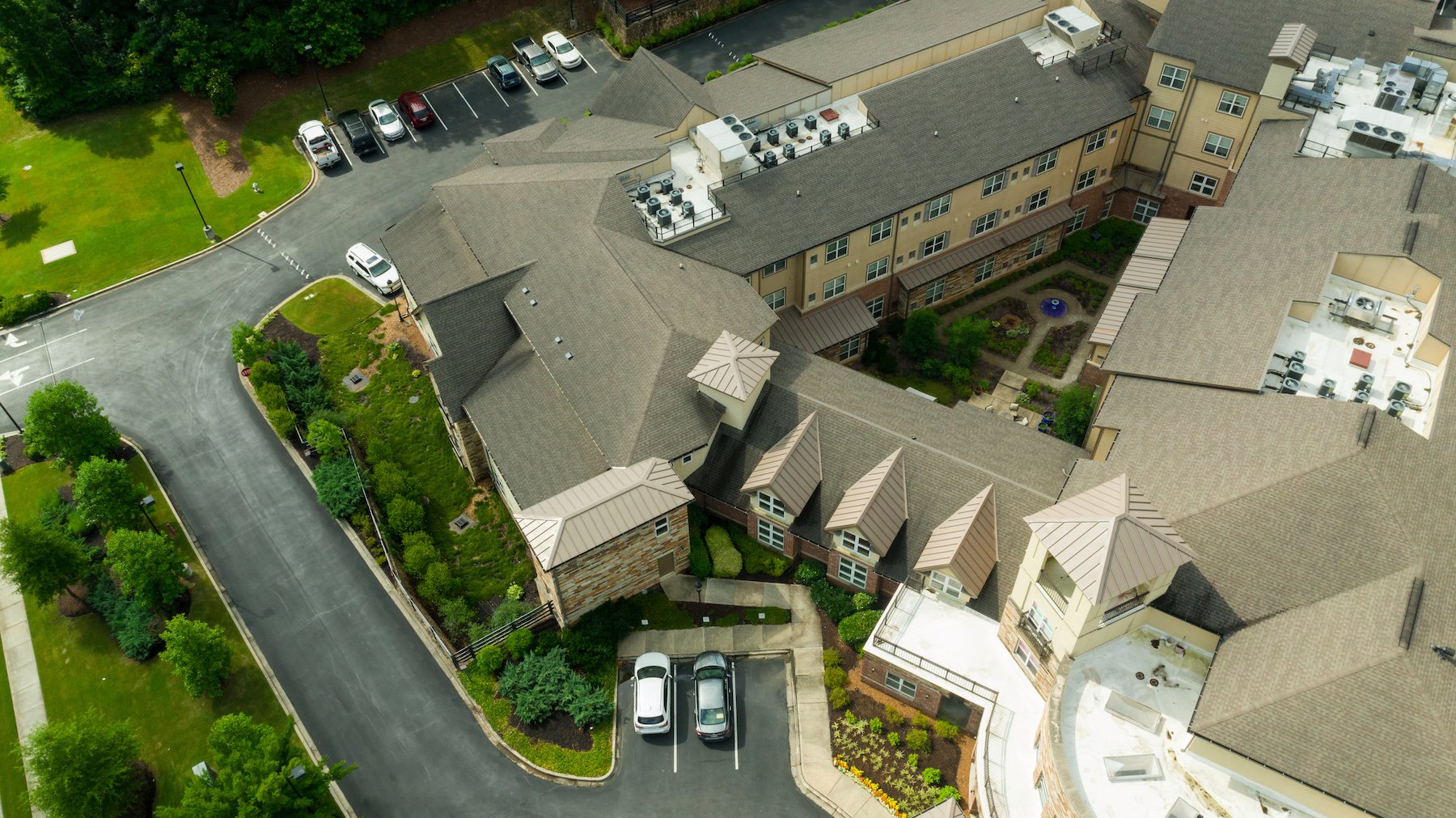 Under one sprawling roof there are 182 apartments. Most are independent living, and some offer residents their own small yards. Others are assisted living or memory care living.

Building construction crews removed 126,000 cubic yards of dirt in order to build the facility into the side of a hill, Tarr says.

Sounds like it might look awkward, but the setting is reminiscent of an Alpine resort, with ponds, a waterfall, flowering trees, and vibrant flowers.

"It looks like it's supposed to be there, like it belongs," Tarr says. "We always get compliments when people pull in. It has a lot of character. People say it looks majestic, and the landscaping plays a very important part."
Landscaping: "It's the Whole Nine Yards"
The five-acre property has a bit of everything: lawn, trees, perennial beds, annual beds, ponds, a waterfall, three community courtyards, and private backyards for some residences.

"It's the whole nine yards," Moore says.

A Hatcher foreman and two crew members spend four hours on the property every Monday, mowing, edging, blowing, weeding flower beds.

Other regularly scheduled tasks range from fertilizing and weed control for the lawn to pruning crape myrtles and redbuds to monthly irrigation checks for the facility's expansive irrigation system.

Crews tend to big tasks like maintaining the ponds and waterfall (adding aerators keeps algae from forming) and small ones, like checking plants for spider mites and bag worms.
A Profusion of Petals
Flowers, flowers everywhere, from red-blooming azaleas out front to pockets of annuals dotting the parking lot to zinnias and begonias in the courtyards to daylilies in residents' back yards.

Hatcher crews switch out the seasonal annuals twice a year, installing summer bloomers like bright but sturdy lantana and zinnias and then switching in fall favorites like perky pansies and ruffly ornamental kale.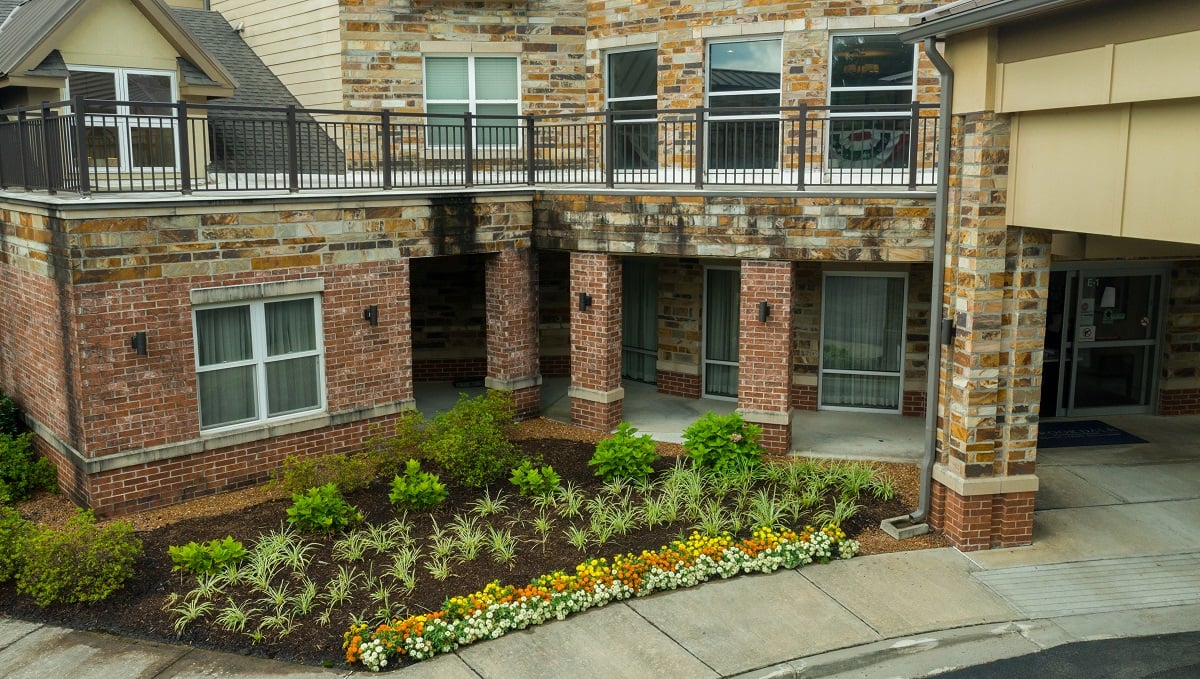 All the cheerful color makes an impact, Tarr says. First impressions are crucial when it comes to deciding where you, or your parents, will live.

"If somebody drives up and sees something they don't like, or sees something ugly, that's foremost in their mind when they come inside," he says. "Then they're thinking things on the inside might not be great."

No worries, he says.

"People catch me in the hallway to tell me how nice everything looks," Tarr says, "from visitors to someone looking for a place for a parent to live."
The Beauty of Your Own Backyard
In addition to tending to the property's general landscaping, Hatcher crews take care of a number of small individual yards that come with independent living apartments.

When grass got thin and patchy in some yards because it wasn't getting enough sun, crews swooped in with solutions, swapping the struggling turf for plants and shrubs that thrive.

They add enhancements as needed — a few daylilies here, a Japanese maple or flowering redbud there.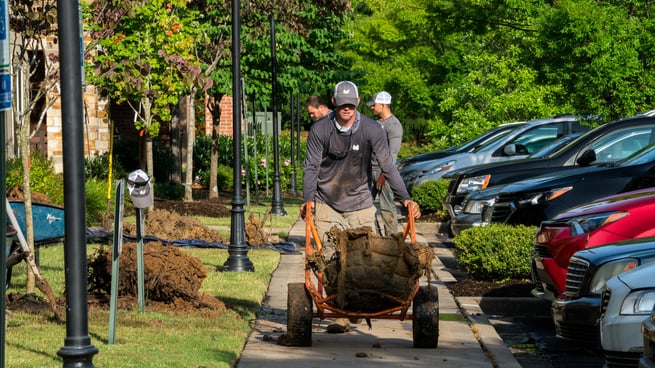 Now more than ever, residents appreciate their landscaping, Tarr says.

"Because of Covid-19, residents haven't been able to have family come in," he says. "They miss that connection. For a while we weren't able to allow residents to move around much in the building, either. They couldn't do a whole lot. Having a view of a courtyard or a fountain or the landscaping in their own yard helps."

Moore gets it.

"We want to make their space as beautiful as possible," he says. "This is their home."
The Courtyard Connection
Three interior courtyards are a centerpiece of the facility, offering a pleasant place to gather and an important sense of community.

Each one is unique, but their features include green grass, sidewalks for strolling, a veranda with outdoor tables, flowers to admire, a waterfall, bench swings, and raised, easy-access planting beds where residents happily grow tomatoes, cucumbers, squash, and plump bell peppers that make their way to the kitchen.

That last feature, planned by Hatcher, is a big hit, Tarr says. Everybody knows tomatoes taste even better when you grow them yourself.

"During construction I walked the grounds with our executive chef and when he saw crews building those raised planters, he said, 'That's the greatest idea ever.'"

Extra produce goes in bowls in the wine bar. Help yourself.

The courtyards are only accessible from inside the building, so Hatcher crews have to be innovative, from using battery-powered tools so they don't drip gas and oil on the carpet, to figuring out how to wrangle small trees onto the elevator. During this global pandemic, it also means getting their temperature checked on their way in and out.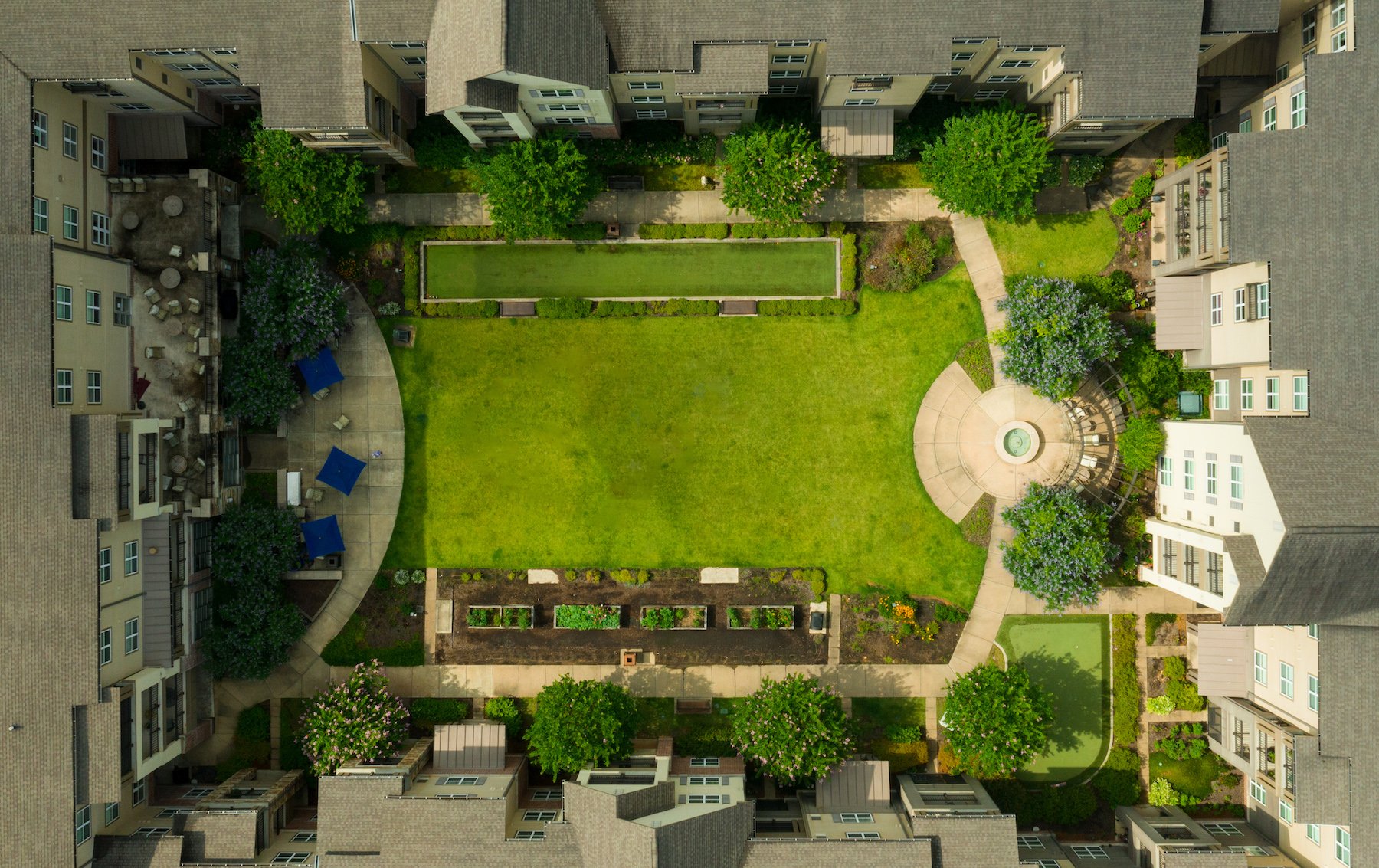 "They always figure it out," Tarr says. "That comes from being here and doing this as long as they've been doing it."

That continuity of care makes a difference, he says.

"They know where everything is, how it was installed," Tarr says. "It would take another company months to get a handle on the operation."
Attention, ASAP
"If you're on your game 100 percent of the time, that's good, but what counts is how fast you handle an issue when it arises," Tarr says. "That means more to me than anything.

"If an irrigation line breaks and water is running over a sidewalk, I can call Alex and they'll get right on it," Tarr says. "If a plant dies, they're quick to replace it."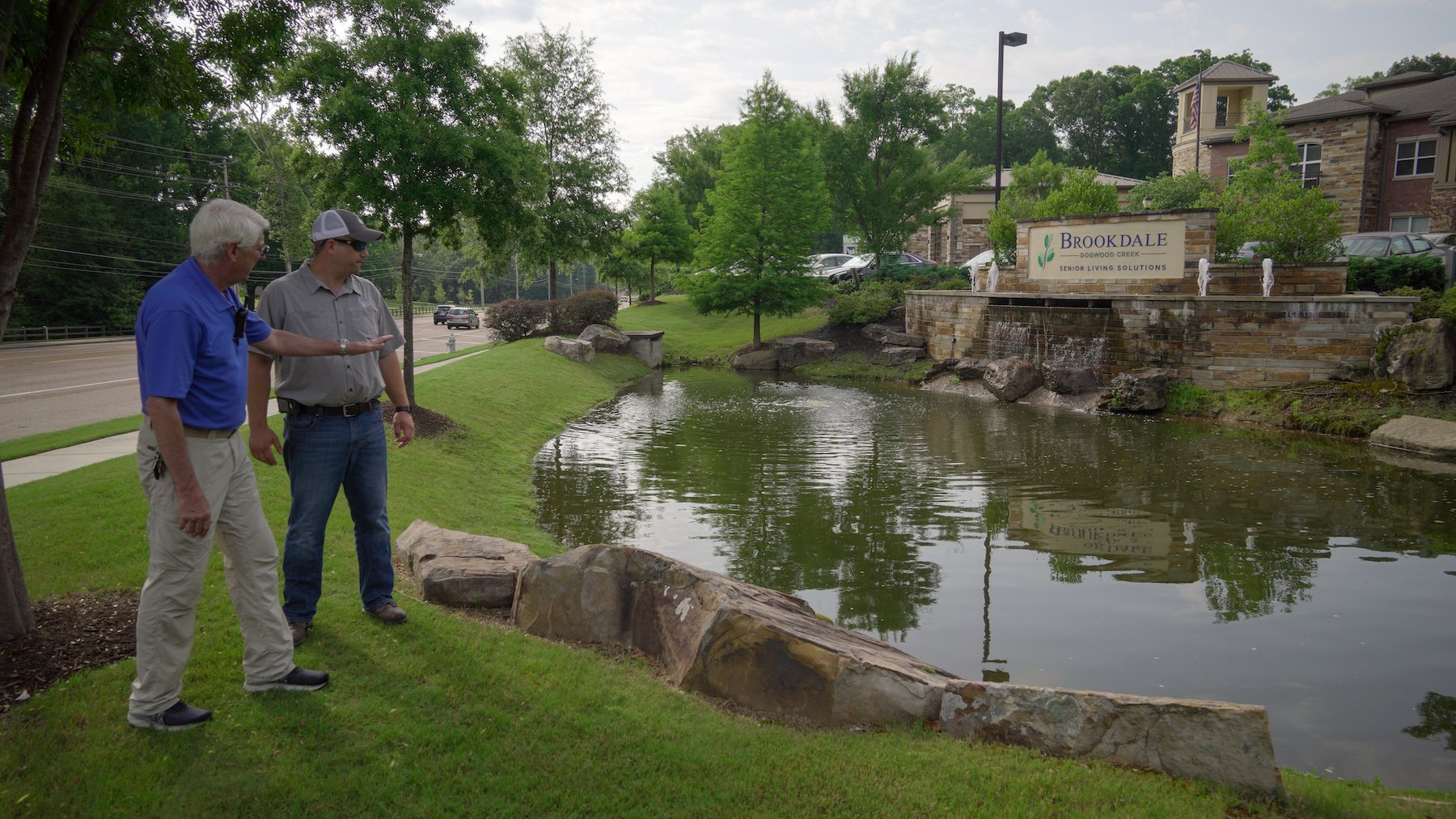 Safety is important on any commercial property, but it's extra crucial at a senior living community, where residents might be frail, use walkers or wheelchairs.

"We have to keep walkways clear, make sure plants along the edges of sidewalks are trimmed, and everything has to be wheelchair accessible," Moore says. "There can't be any obstructions where somebody could trip."

Winter brings its own set of precautions. Hatcher snow crews keep sidewalks, parking lots, and seven entrances and exits free of snow and ice.
Communication Counts
"Rick and I have a good relationship," Moore says. "If there are any changes to the schedule, I let him know right away. When he needs anything, I get it done ASAP."

Tarr appreciates the service — and the smiles.

"I can be a pain," he says with a laugh. "But they're always pleasant. I couldn't be more pleased.

"It's their baby as well," he says. "They designed it, they implemented it, they take care of it."

"We've been with them since the beginning, for almost 10 years now," Moore says. "We want to continue to be there for the next decade.

"We like serving senior citizens," Moore says. "We want to make sure the place looks its best. We love making it beautiful for them."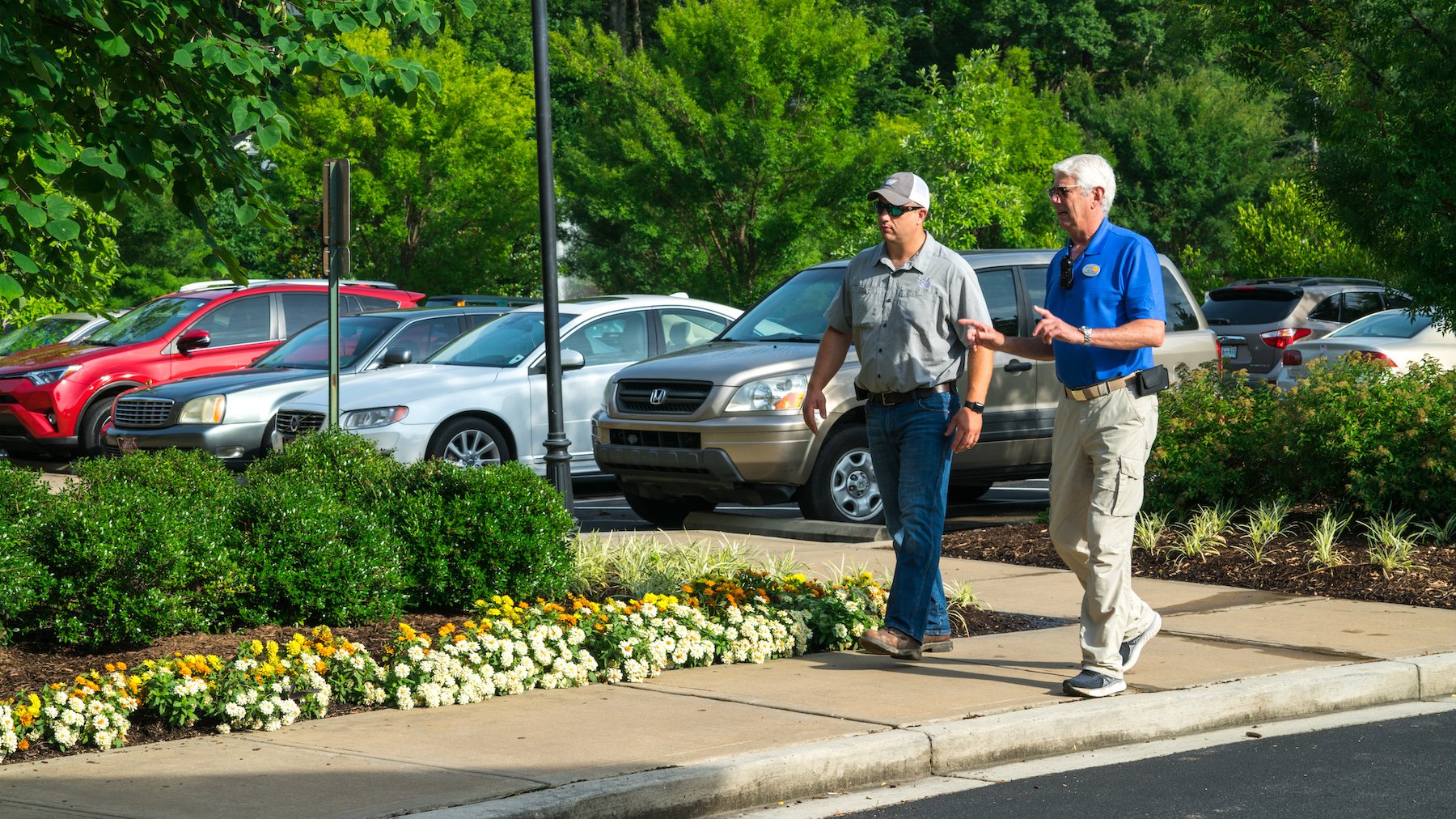 Trust Your Commercial Landscaping to Hatcher
Here at Michael Hatcher & Associates, we love installing just the right landscaping, then watching it flourish as we tend it over time.

A senior living center has its own set of needs, from a flourishing front entrance to make people feel welcome to safety measures that make them feel secure.

These elements are important for other commercial properties, too.

Ready to boost the appeal and safety of your commercial property? Talk to one of our commercial landscaping experts today! We'll meet at your property, create a custom plan, and get you on your way to enjoying a beautiful, worry-free property.