When you look out your window in the spring and see your commercial landscaping crews hard at work, do you know exactly what they're doing?

How about in the summer? Or fall? Or winter?
Sure, you can hear the familiar drone of the mowers and blowers, but there's a lot more going on out there.

Here's a handy commercial grounds maintenance calendar to help you keep track of all the seasonal landscaping tasks going on out there.
Winter Grounds Maintenance
The War on Weeds Begins
Why should you care about weeds in the winter? Don't they take some time off?

Ha! Turf technicians wish. Weeds never rest.

Our commercial turf technicians head out in January and February when grass is still dormant to deliver the first round of important pre-emergent weed control.

Pre-emergent weed control is all about prevention, designed to target the weed seeds before they sprout.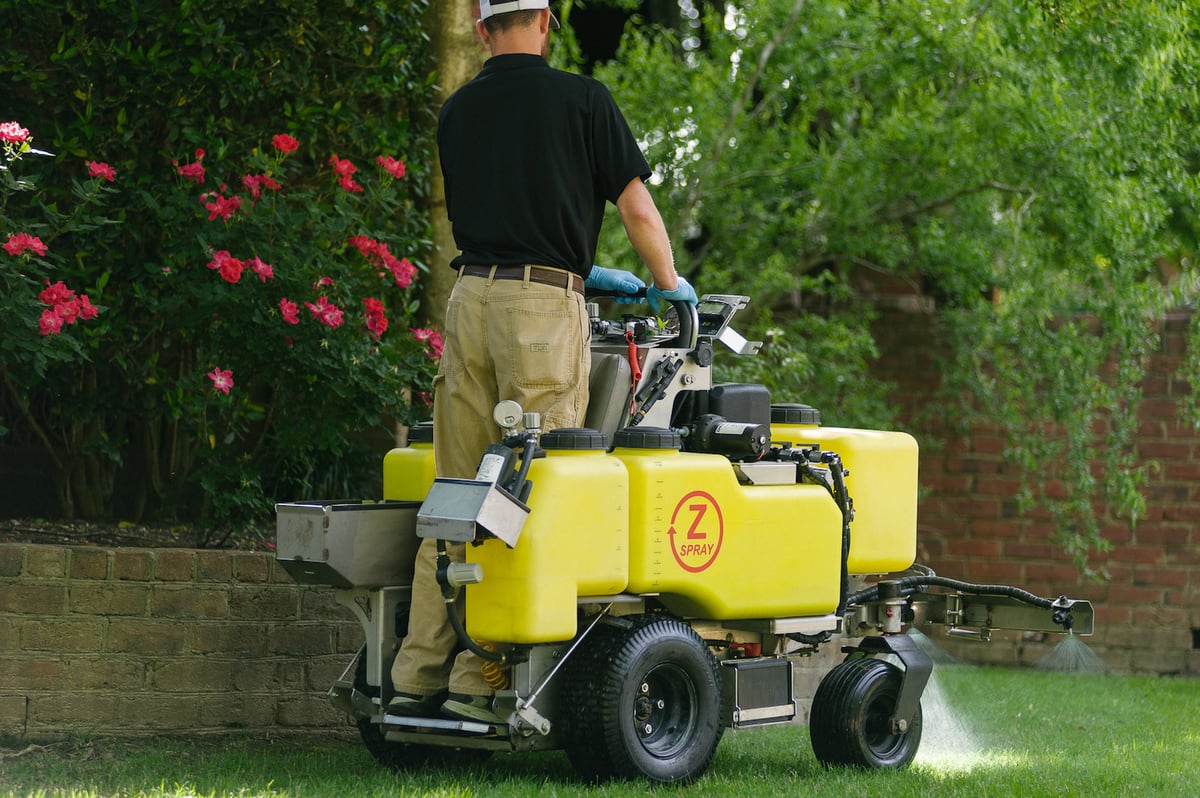 Applying weed killer isn't a one-time thing. It needs to happen multiple times a year. Different weeds grow at different times throughout the seasons.

That's why our commercial weed control treatments are spread out every six to eight weeks, to target weeds on Memphis commercial properties throughout the year.

But it starts in the winter.
Spring Grounds Maintenance
The War on Weeds Continues
Time for the second round of weed control, this time in March and April.

While this one-two punch of pre-emergent in winter, then spring prevents a whole host of pesky weeds, it's especially crucial to prevent crabgrass.

Timing is everything with crabgrass.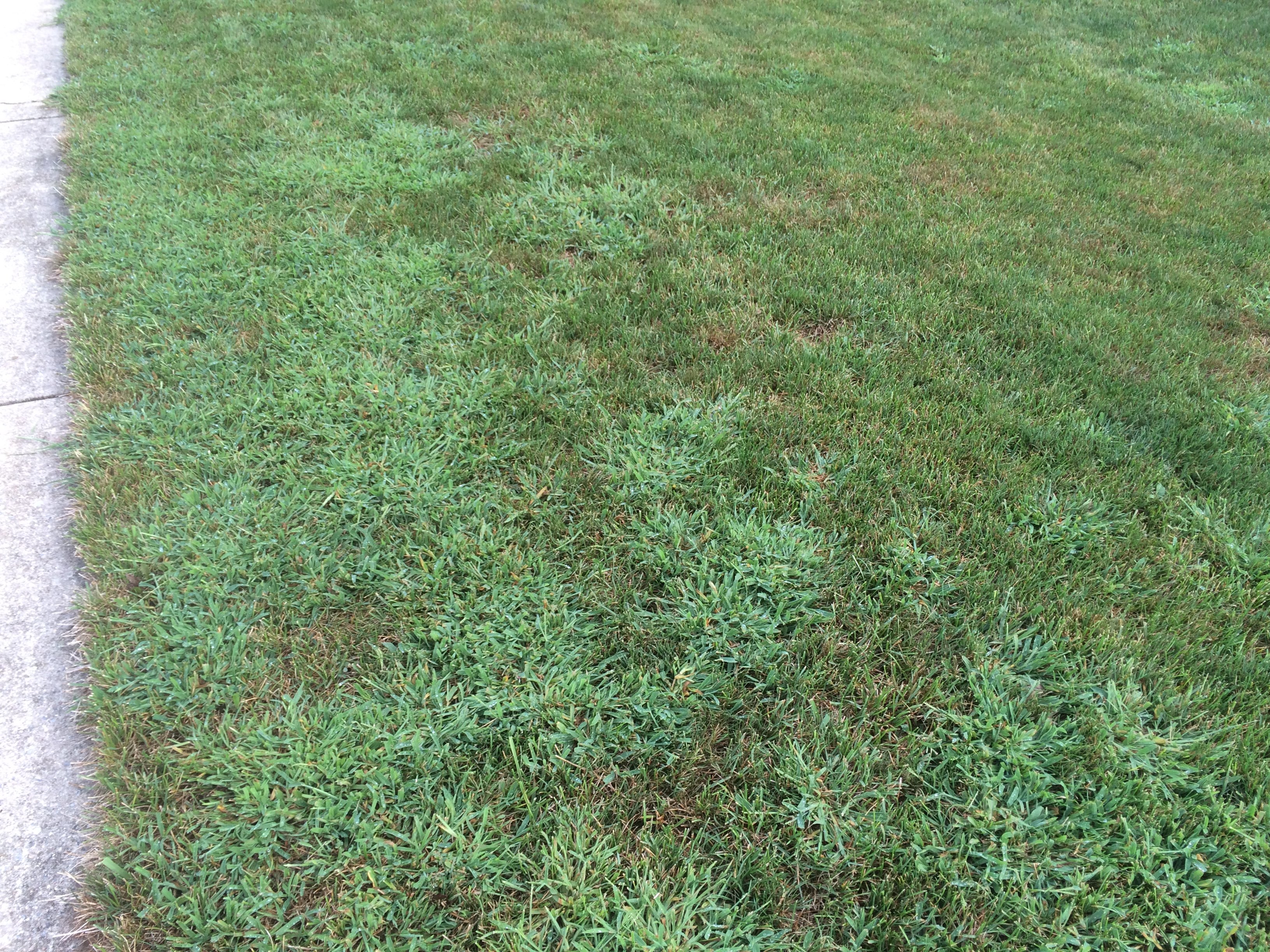 You have to kill those thousands of crabgrass seeds as they germinate and take root in the soil so they don't become more seed-producing plants.

This seasonal landscaping task is so important, we deliver it twice, to prevent the weed everybody really hates.
Feed That Hungry Turf
Your grass needs nutrients to thrive, and fertilizing is a year-round process.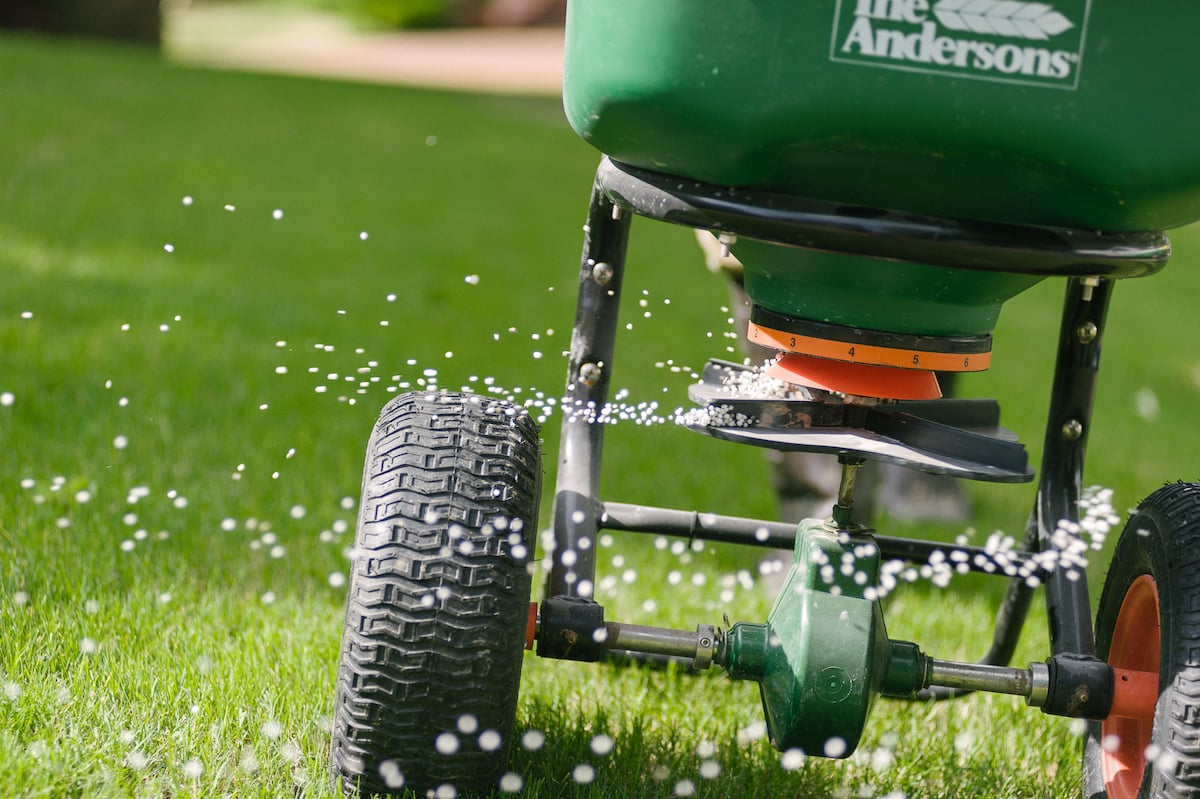 It starts in the spring, to jump-start your turf with the nutrition it needs to get going, and continues through the seasons with seven nourishing applications.
Clear Out Planting Beds
It's amazing how much gunk can collect in your planting beds over the winter. No self-respecting flower would be caught dead in that mess. (Unless they're already dead in that mess.)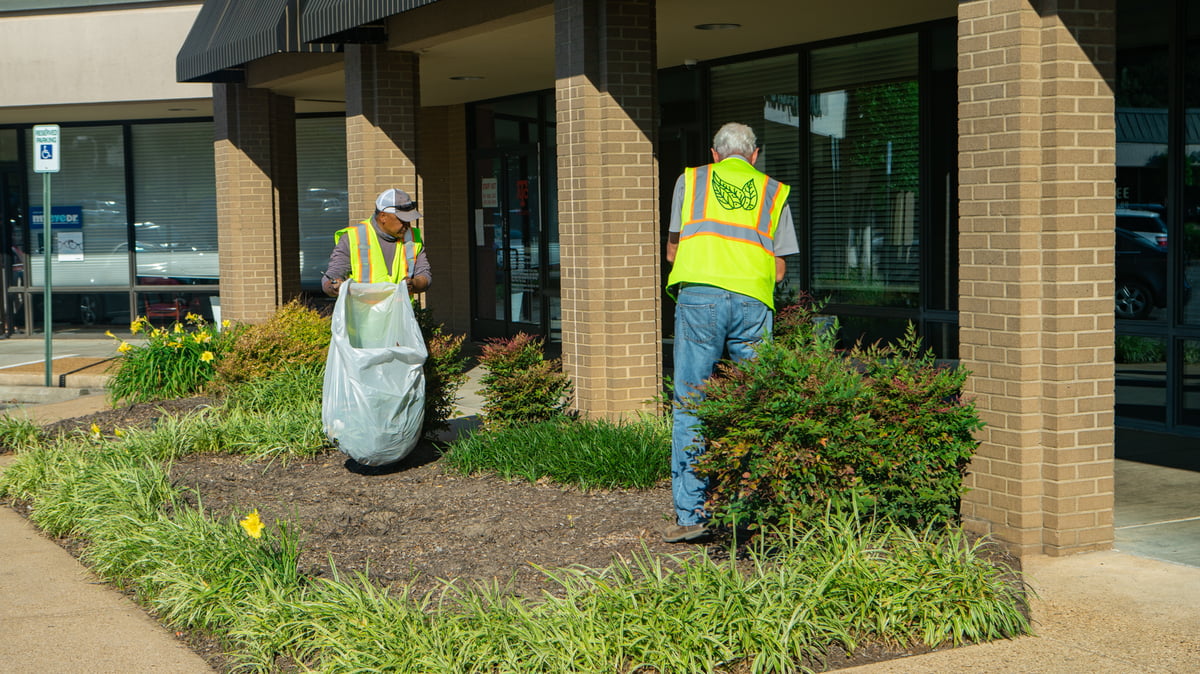 Crews clear out all the moldy leaves, slimy plant debris, and any other yuck that made its way in over the past few months so your new spring flowers can stand proud.
Cut Back Perennials
Those tall, graceful ornamental grasses that looked so pretty right through fall are looking a little scruffy.

New growth will be sprouting soon, so crews trim the old dead growth away to make room.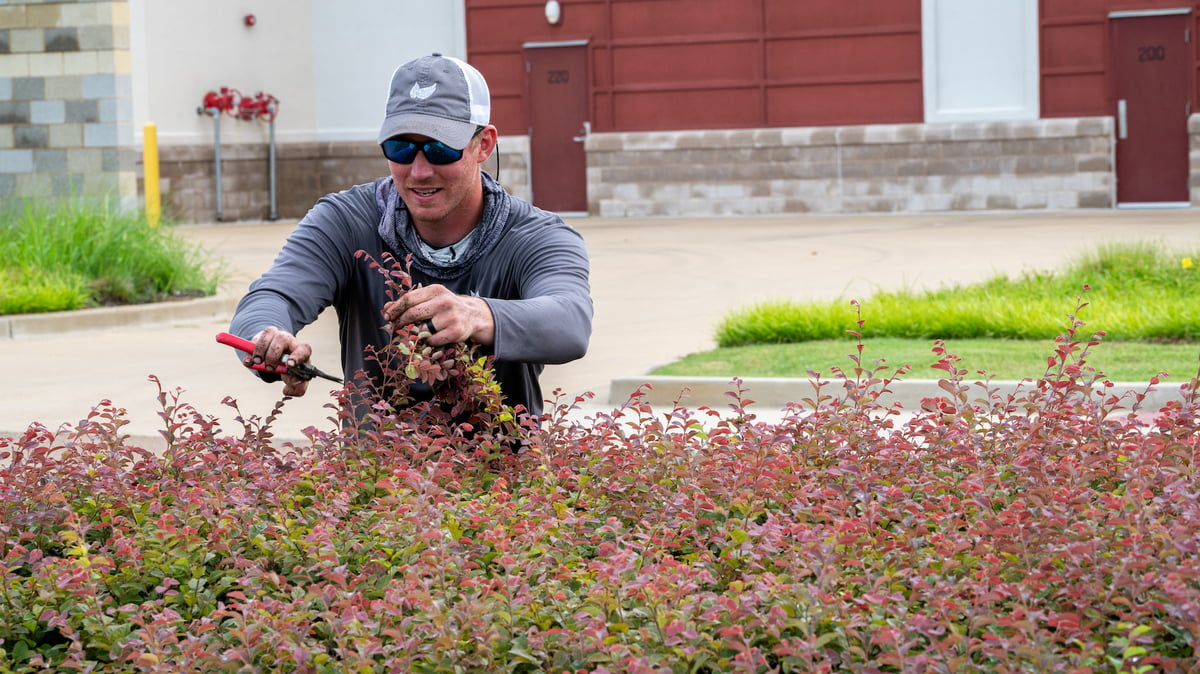 Same for other pretty perennials like liriope and daylilies. Trimming them back allows for the air flow and sunlight they need.
Rejuvenation Pruning
As your landscaping starts to mature and outgrow its space a bit, spring cleanup should include a little pruning. This seasonal landscaping task goes a long way to tidying up.

Pruning manages the size of your plants and promotes new growth, just in time for the new growing season.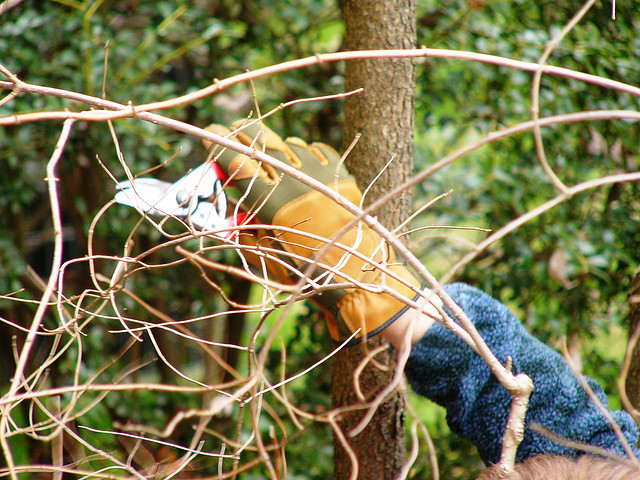 Keep in mind overgrown shrubs and plants don't just look bad. They're a safety and security risk.

People can hide in them. They can block security cameras and security lighting. Overgrown shrubs can harbor snakes and vermin. Yuck.
Elevate Tree Canopies
Now that more sunlight is on its way, prepare to let the light in by pruning the lower limbs of your property's trees to elevate the canopies.

It lets more sunlight in, which is good for the turf.
Make Way for Mulch
New mulch! It's the most exciting day on the commercial landscaping maintenance calendar, right? When it's Hatcher mulch, it's even more exciting.

Hatcher crews go the extra mile and define the edges of all your beds with a crisp, clean line. Not all companies do this.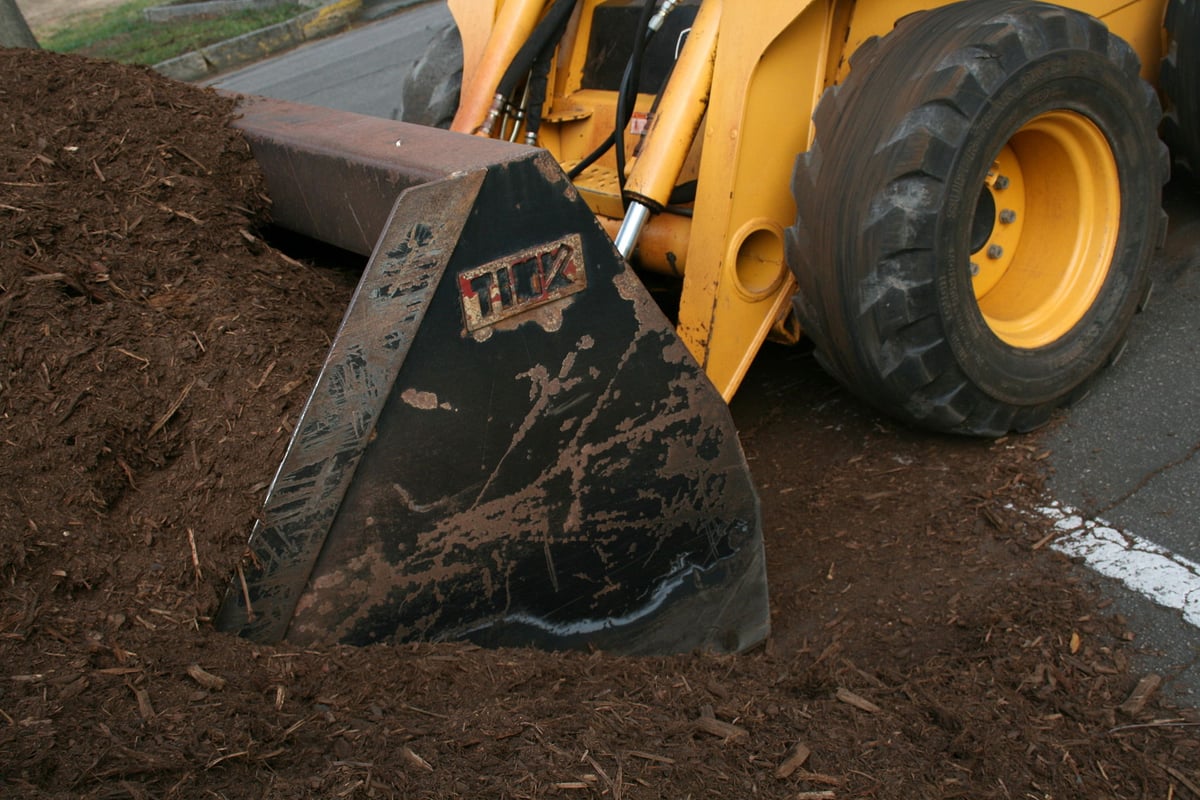 Crews use shovels to create a tidy trench or a mechanical edger on more expansive properties.

These crisp bed lines also help keep your mulch in place when heavy rains could wash it out.
Assess Trees for Ice Damage
If it was an icy winter, crews assess the health of trees that might have been damaged.

Crape myrtles, so popular around here, are especially susceptible to ice damage.
Summer Grounds Maintenance
The War on Weeds Continues
Yes, the commercial landscaping calendar is super stuffed with weed control.

This time it's all about post- emergent products that kill weeds once they already exist.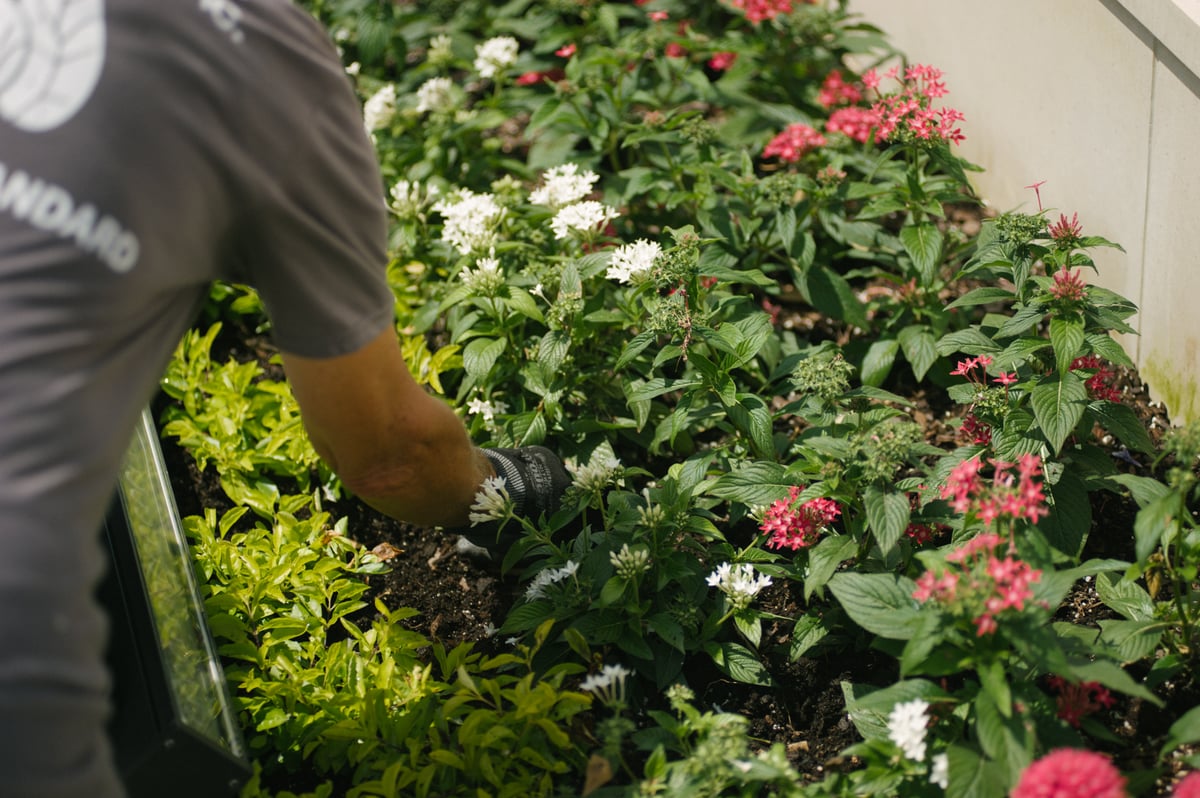 Our commercial turf technicians head out in May, June, and July to hit any weeds that show up on your commercial property.
Weekly Mowing
Have you noticed how fast grass grows in the summer?

That means mowing every week. Not every two weeks.

Your curb appeal is at stake.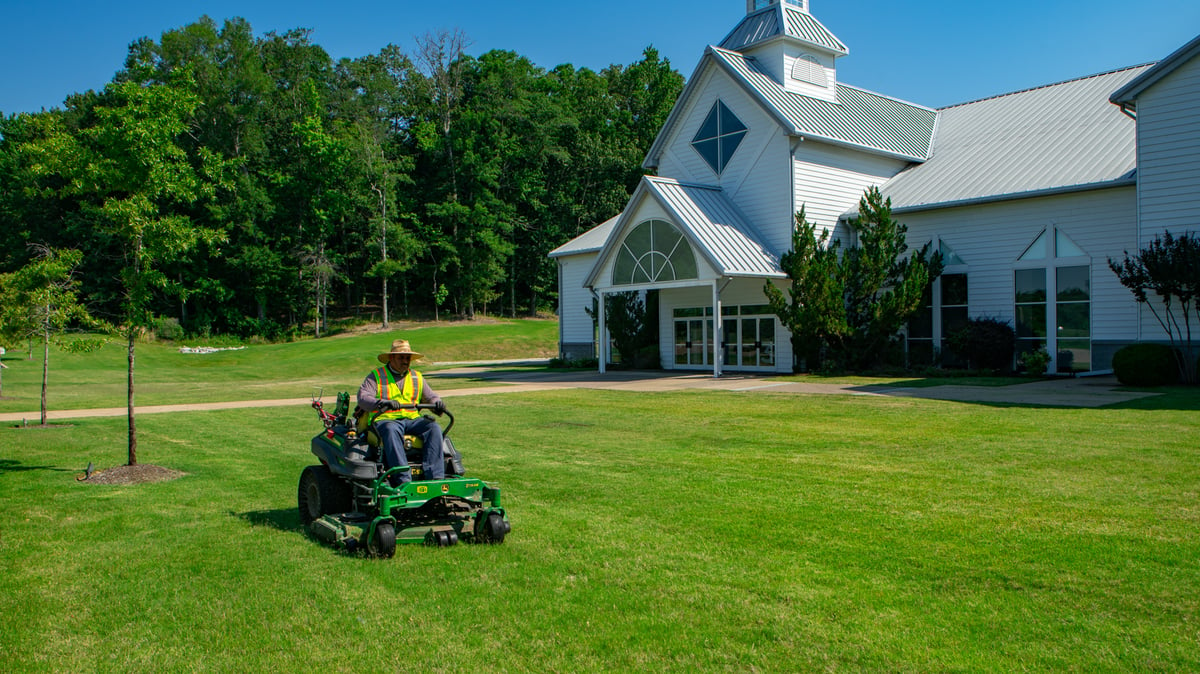 Here in Memphis, things grow fast. It doesn't take long for weeds to take over, for your lawn to get shaggy, for things to start looking embarrassing.

Weekly mowing and maintenance on your commercial grounds maintenance schedule means crews stay on top of things before they embarrass you.
Fall Grounds Maintenance
Landscape Clean-up Time
Now's the time to tidy up any landscaping loose ends before winter sets in, from wayward branches to piles of messy leaves to blowing out that irrigation system.

Here are the important seasonal landscaping tasks to tackle in fall:
Guess What? More Weed Control
Pre-emergent comes into play again in the fall, with another one-two punch of two applications.

This time it's targeting poa annua, also called annual bluegrass. One of the most common grassy lawn weeds, it grows throughout the fall, then flowers the following spring.
Your Lawn is Still Hungry
Fall fertilizer is even more important than the spring feeding, nourishing your hungry lawn before it settles in for the winter. The last of your seven fertilizer applications wraps up in the fall.
Find and Fix Drainage Issues
Are your storm drains clear of leaves and debris? Clogged drains will flood, then freeze, becoming dangerous. Clearing them is a must-do on your seasonal landscaping calendar.

Are gutters dumping too much water on paved surfaces? When that pooled water freezes, you have a liability issue. Redirect gutters as needed.
Tend to Dead Trees or Branches
The weight of snow and ice can cause even healthy trees and branches to topple. It's especially dangerous to weak dead and dying branches.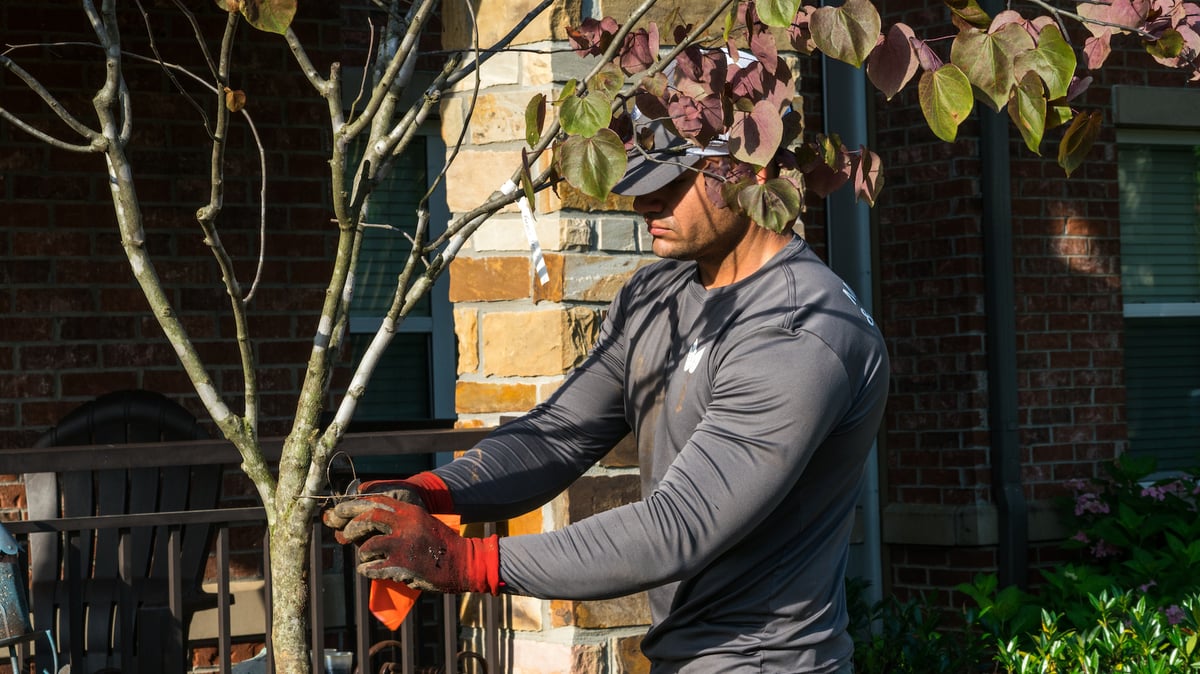 Check for dead and dying trees and branches that should be pruned out before they take an unfortunate and potentially costly tumble.
Remove Leaves
Heavy, wet leaves can suffocate your turf and encourage disease. Pedestrians can slip on them. And piles of leaves just look like a mess, giving the impression your place is neglected.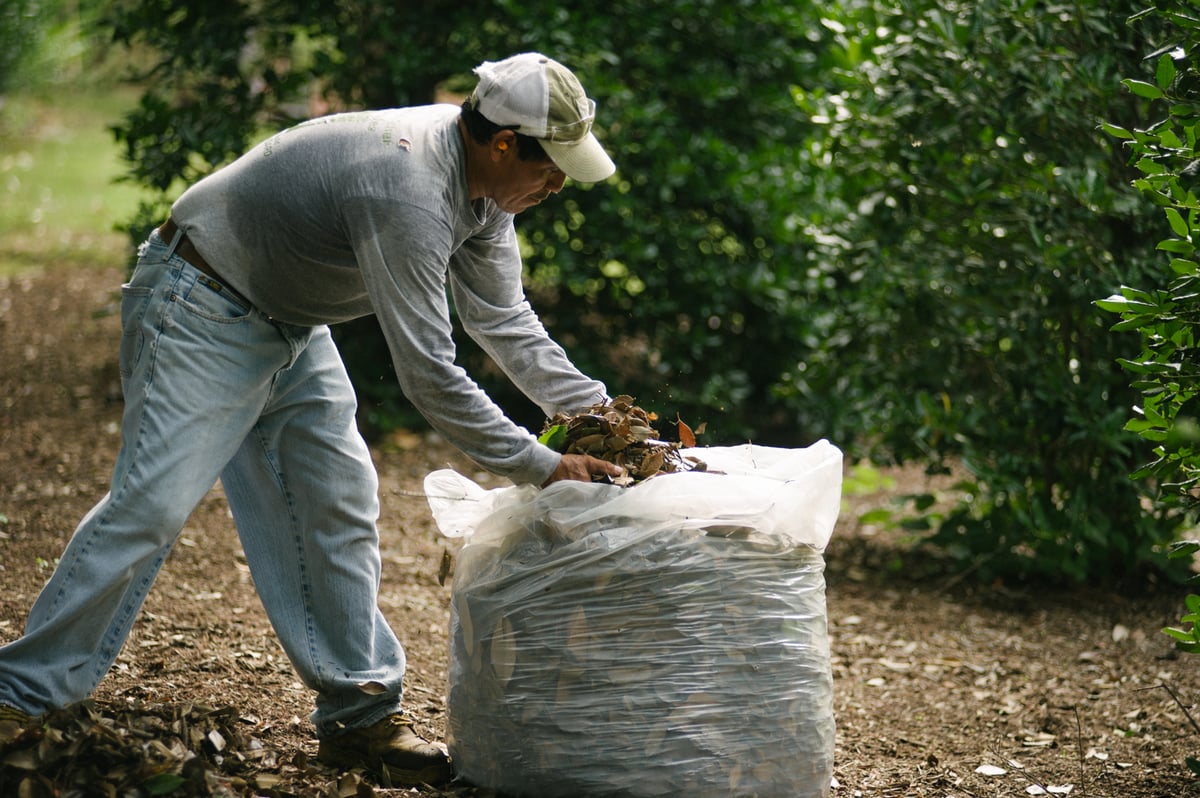 Get them out of there.
Don't Forget Fall Mulch
Isn't spring mulch time? Sure, but this seasonal landscaping task pops up again, because adding mulch in fall insulates your soil. That means helpful earthworms stay active longer in the season, improving your soil.

And mulch insulates your plant roots, protecting them through the stressful freeze and thaw cycles all winter.
Aeration and Overseeding
Fall is a great time for aeration and seeding, pulling out tiny cores of soil from your lawn, allowing water and oxygen to get to the roots.
Cooler temperatures help your lawn recover more easily. Aeration encourages strong root growth before winter sets in.

Aeration is typically followed by overseeding, as the holes created by aeration are perfect new homes for that grass seed.
Winterize Your Irrigation System
This is the kind of crucial seasonal landscaping task that should cause red alert lights to flash.

You need to remove the water from your irrigation system and turn it off before the first freeze, which normally comes about mid-November in Memphis.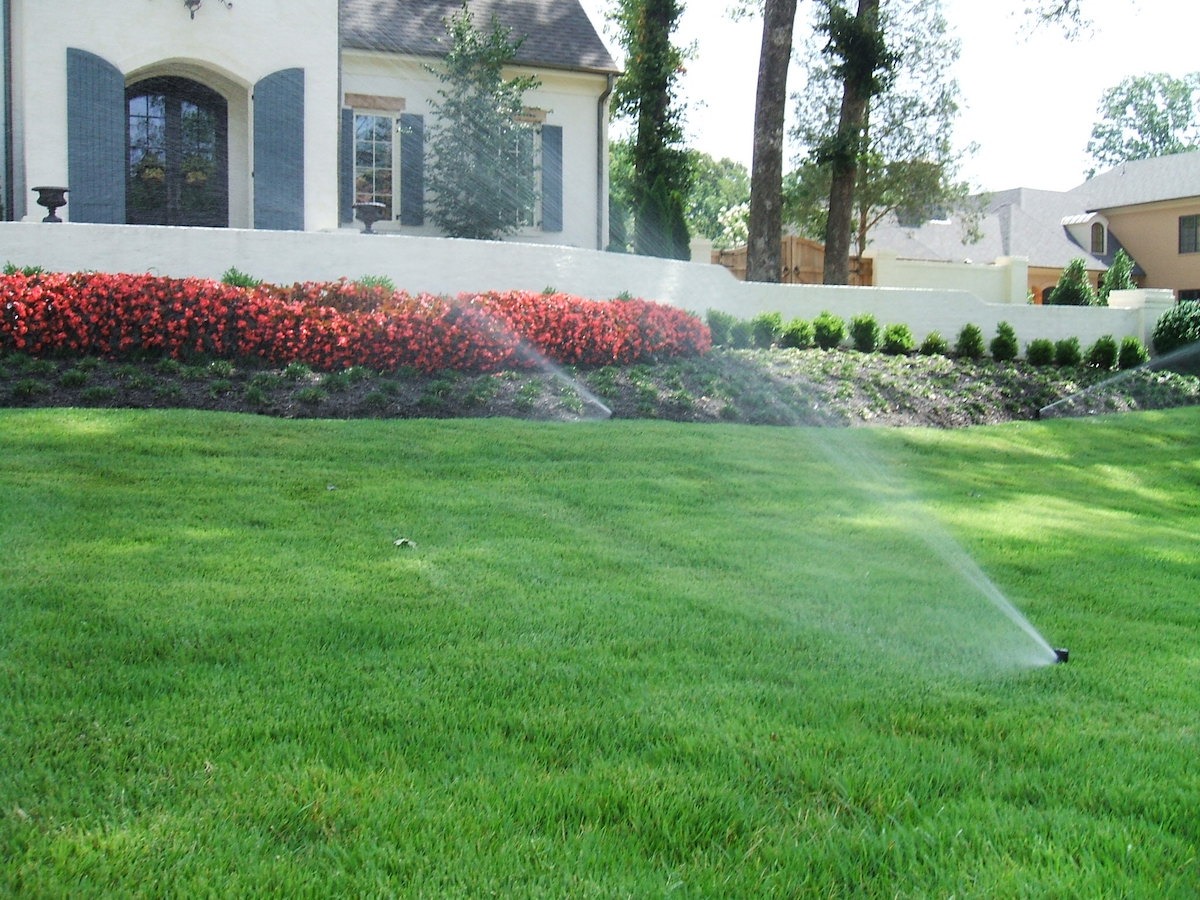 If you don't, you could face costly repairs like damaged pipes and system components.

Your irrigation tech will blow all the water out and tend to your drip irrigation system, too, as any leftover water can cause components to burst.
Get Ready for Snow
Don't wait until the first snow or ice event to decide you should book a snow removal service.

You might be out of luck.

Good snow management companies book up early. And lots of preparation goes into the plan of attack for your commercial property.

Work with your snow removal company to map out areas of your property that need to be serviced.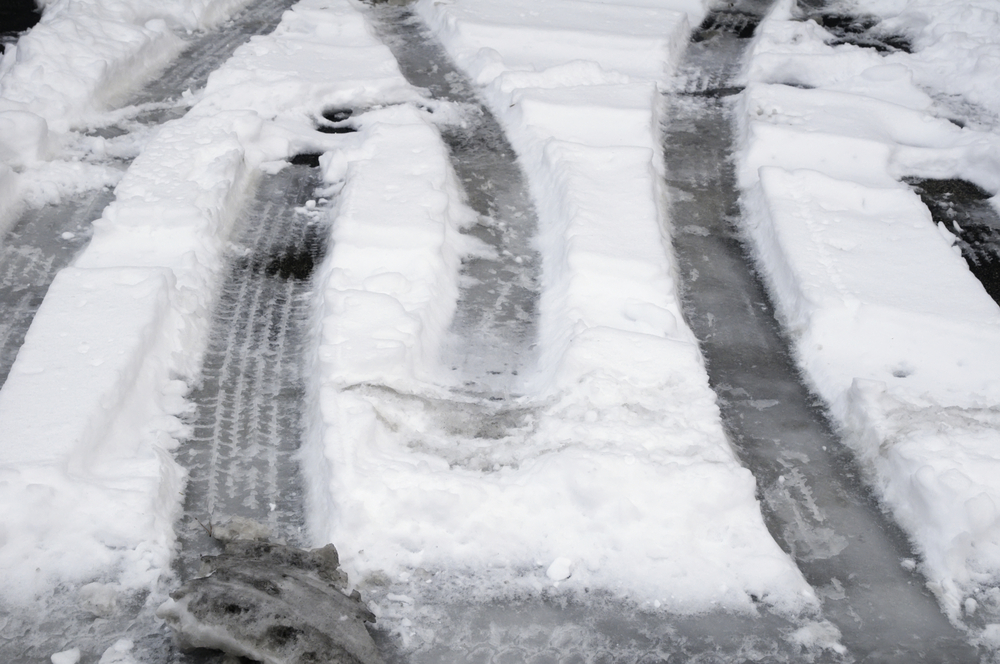 What are your priority areas? Handicap parking spots? Loading docks? Sidewalks? Front entrances? Any sloped areas?

Good planning beforehand means prompt and skilled snow and ice removal when the time comes.
Trust Your Memphis Commercial Landscaping to Hatcher
Now when you look out the window at your busy commercial landscaping crews, you know exactly what they're up to, no matter what the season.

But what are you doing staring out the window so much — don't you have a lot of work to do?

Leave the commercial grounds maintenance schedule to us.

Our skilled crews know the drill.

Ready to boost the appeal and safety of your commercial property, no matter the season? Talk to one of our commercial landscaping experts today! We'll meet at your property, create a custom plan, and get you on your way to enjoying a beautiful, worry-free property.