Everybody knows Amazon. When those boxes with the smiley arrow logo show up at the door, it's always a happy day.

What you don't always see is where those packages came from — the bustling fulfillment centers where your bike or fishing pole or muffin pan was packaged up, loaded onto a truck, and sent your way.

Amazon opened a new fulfillment center at 11505 Progress Way in Olive Branch, in 2020, in the bustling Legacy Park industrial complex.

Hundreds of team members who work at the one million square-foot building ship products to customers across the state and the region, concentrating on larger items such as sports equipment, patio furniture, bicycles, and larger household goods.

And because everybody knows Amazon, the warehouse landscaping is part of this big brand. It has to be great.

When the Legacy Park property management company needed Olive Branch commercial landscaping contractors, they chose Michael Hatcher & Associates to create attractive, but low-maintenance landscaping for the entire park, including the Amazon facility, and then maintain it.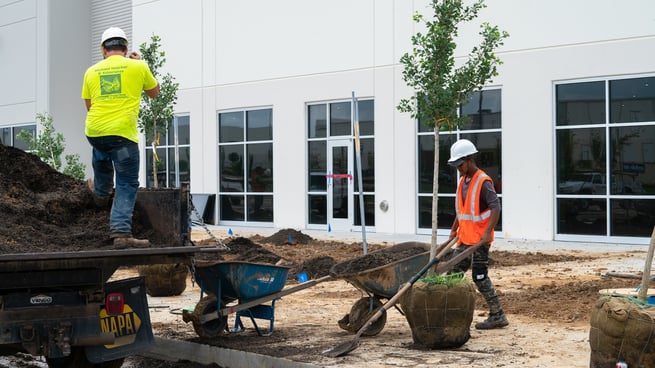 "Everybody there at Legacy Park is busy, but Amazon is about 10 times busier than everybody else," says French Hobbs, the Commercial Maintenance Account Manager at Hatcher who handles the property.

No need for exotic plants or fancy water features here. The priorities: safe, neat, easily maintained.

Here's how the Hatcher team makes that happen.
Warehouse Landscaping: Safety First
"Amazon has heightened safety protocols," Hobbs says.

That includes a detailed check-in procedure Hatcher crews follow when they show up to the site. They show identification and check in with the facilities manager.

"We've adjusted our hours to allow more time for that," Hobbs says. "It can take longer than you think if their facilities manager is in a meeting."

The Amazon requirement that landscaping crews wear safety vests at all times is a Hatcher-required protocol, too, Hobbs says.

"Unless you're in the office, you have a safety vest on."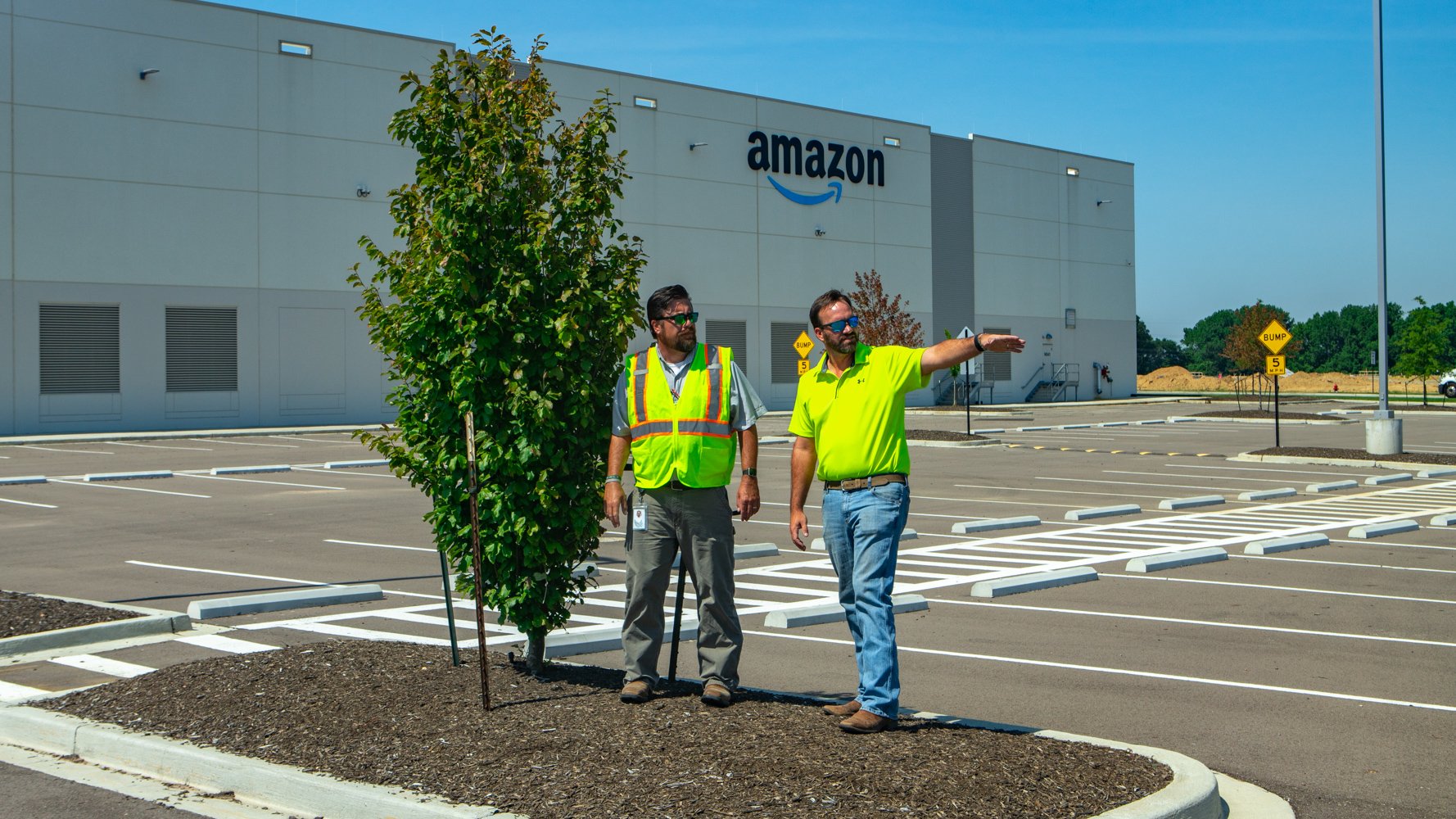 The focus on safety means Hobbs and his team are always on the lookout for ways to prevent warehouse landscaping problems.

They replaced wood mulch with stone in the facility's smoking area to prevent a fire hazard.

They use a premium ant control product on the property so anyone allergic to ants won't step into a hill of them.

"We're pre-treating ants, not waiting for them to show up," Hobbs says.

"We want to be forward thinking," he says. "How can we be safer?"
Warehouse Landscaping: Keep it Sturdy and Simple
The many planting beds on the Amazon property are filled with sturdy flowers, hardy maple trees, and plenty of mulch that offers a crisp and tidy look.

"They want things to look extremely pristine," Hobbs says.

The best landscaping ideas for industrial buildings are often ones that save money. Hobbs has suggested the company switch to a dyed mulch, which retains its color longer. It's an up-front investment that offers long-term savings.

Hobbs is also talking to the property managers about switching out some annual flowers for hardy perennials.

Replacing some annuals with perennials can reduce a seasonal annual color budget by 70 percent.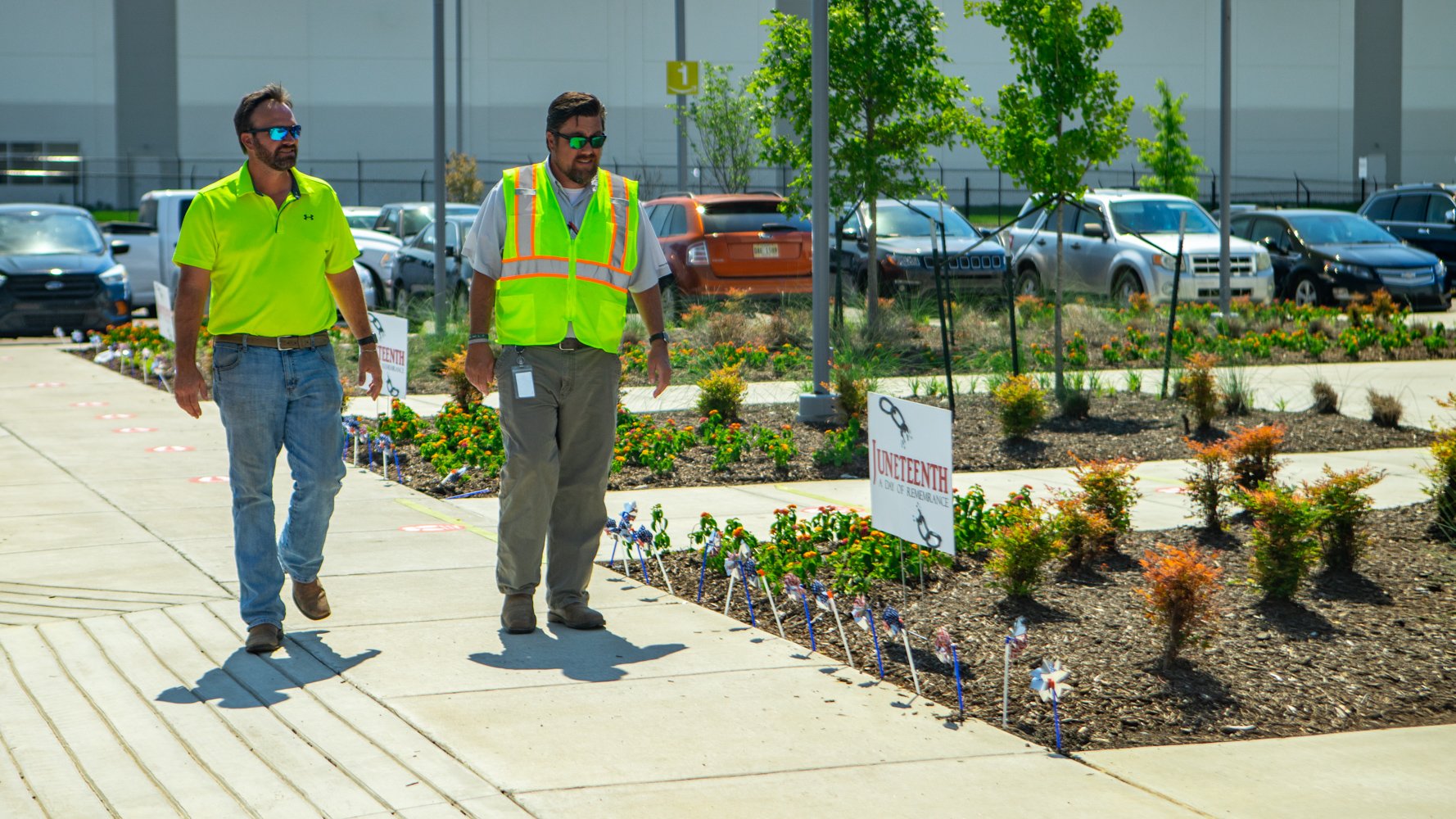 Unlike annuals, perennials come back dependably year after year. You save on water with perennials, too. Once established, they don't need as much water as thirsty annuals.

"They're a lot hardier if you put the right ones in the right place," Hobbs says.

Purple coneflower, Black-eyed Susan, daylilies, and Russian sage are all great landscaping ideas for industrial buildings.

While some warehouses have expansive turf, it's not a focal point here on the Amazon property. All the turf is on the outskirts of the property.

The landscaping here is no-nonsense, Hobbs says, well suited to the heavy-duty work that happens here.

"At a warehouse property like this, as long as you don't notice it, it's good."
Keeping It Clean
Hatcher's portering service is a staple here, with crews scooping up any stray litter, debris, or unsightly trash.

Stray mulch doesn't stand a chance — it's quickly swept back into place.

"There's a mass of people there, and it has to stay clean," Hobbs says. "They want sidewalks constantly swept and the parking lots clean. The building is only a year old but they're already interested in power washing everything."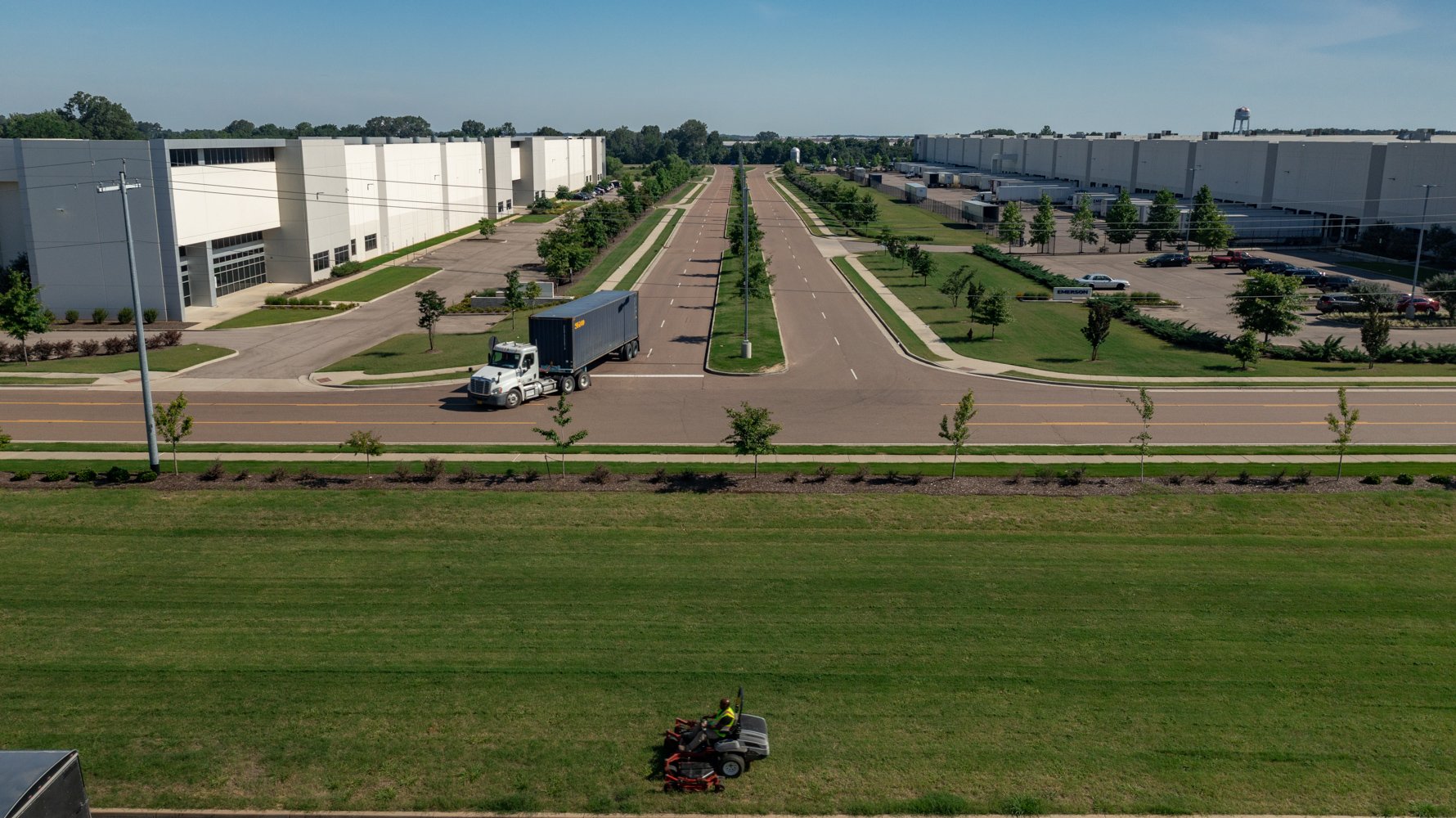 Monthly Irrigation Inspections
Hatcher installed the irrigation system at the Amazon Fulfillment Center and stays on top of routine maintenance with monthly irrigation inspections.

During these inspections, technicians check everything over, testing each of the irrigation zones to make sure the right amount of water is hitting all the right places, with no waste. They're on the lookout for leaks, breaks, or wayward sprinkler heads.
Warehouse Landscaping: Snow and Ice Management Put to the Test
Parking lots are high-risk liability areas in the winter if snow and ice coat the pavement.

Hatcher snow crews make sure the Amazon lots are clear, both for employees who walk between their cars and buildings and for the many trucks that rumble through.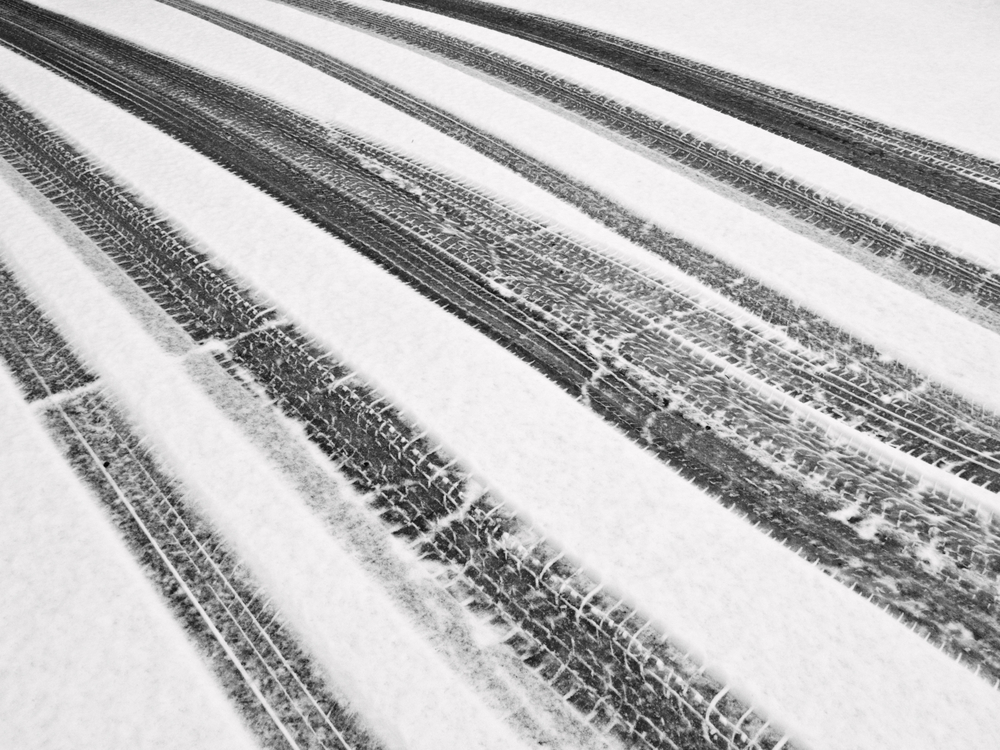 The precautions start with watching the forecast like a hawk, enlisting the insight of local meteorologists to help plan the snow and ice management attack.

The big snow and ice storm of 2021 was a huge test of Hatcher's snow and ice management services here, Hobbs says.

The powerful February storm set snowfall records across the Mid-South, dropping six inches in many areas, crippling traffic, and shutting down business.

"During the storm you could hardly get on the road, but they wanted crews there 24 hours," Hobbs says. "So we were there 24 hours. I don't think their trucks ever stopped coming.

"They wanted to be clear 24 /7 no matter what," Hobbs says. "Every time a truck moved, we were putting ice melt down.

"We actually had to figure out where to pile the snow, which in our area isn't usually something we have to worry about."

While several other Amazon facilities in the area
had to temporarily shut down during the storm, Hobbs says, "the one we maintain stayed open. That gives us a real sense of pride."

The Hatcher team makes note of Amazon's priority areas, from the truck gate area to loading docks to entrances, and uses detailed maps of the property to guide their work.

They use brine when conditions are right for it, to prevent snow and ice from sticking.

And they stay on top of re-freeze, so melted icy areas don't turn back into treacherous hazards overnight.

Hobbs planned a pre-snow visit in August with the Amazon facilities manager to go over what worked last winter and any changes to make this season to make things go even smoother.
Landscaping for Industrial Buildings and Warehouses: The Communication Plan
Hobbs has a group text message set up with the Amazon facilities manager and the Legacy Park property manager, "so we all get the same messages.

"It's constant communication, every other day," Hobbs says.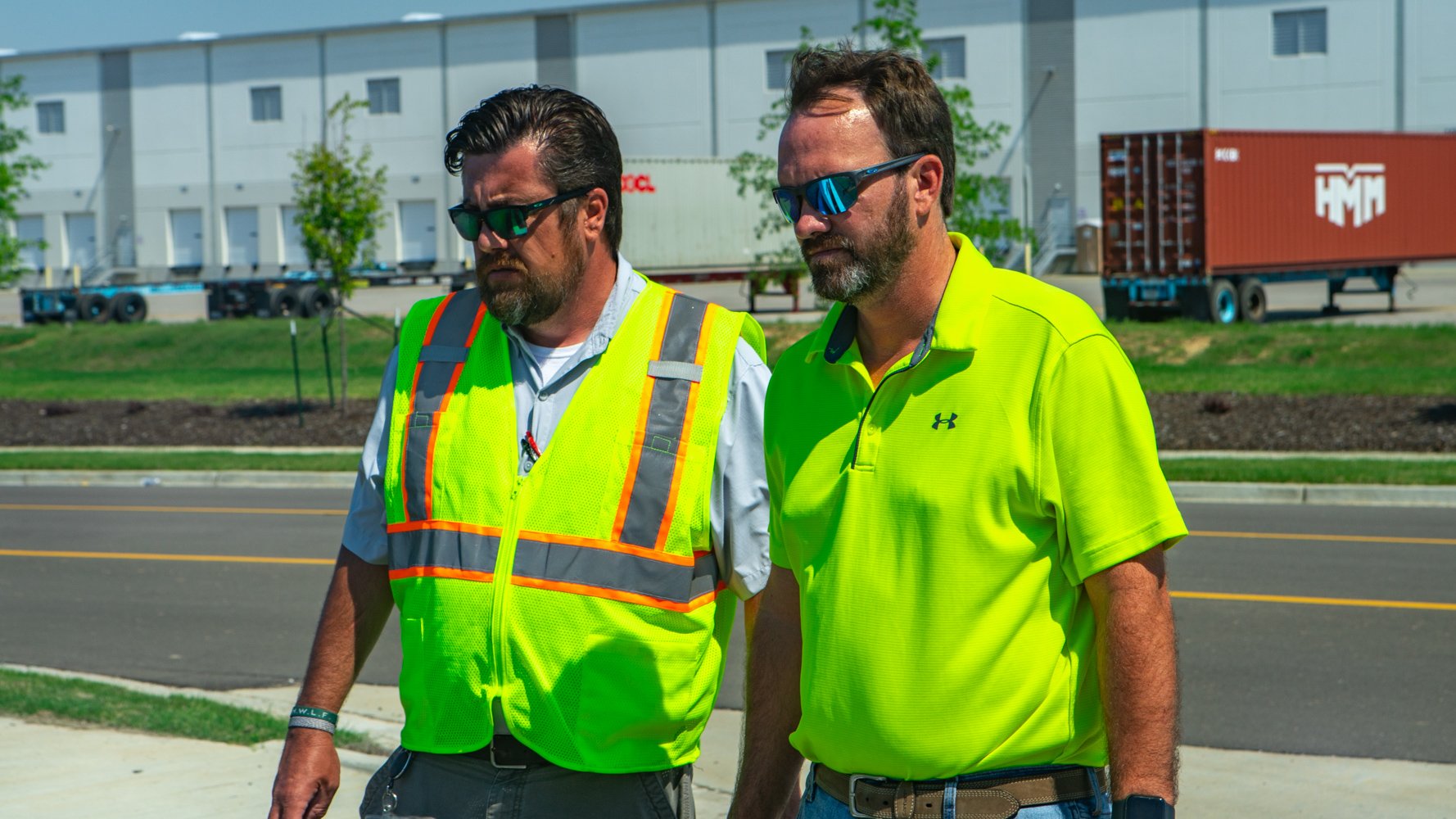 "The last week of each month the facilities manager and I go out to lunch, or at least meet face to face," he says. "We walk the property together or go over the property map."
More Eyes on the Property
Hatcher crews are working at the Legacy Park complex every day, so it's easy to keep a close eye on the Amazon property.

"Something gets touched up at Amazon just about every day," Hobbs says. "It's five minutes from our office, so it's easy to drive by. Every day somebody drives through, slows down, and takes a look."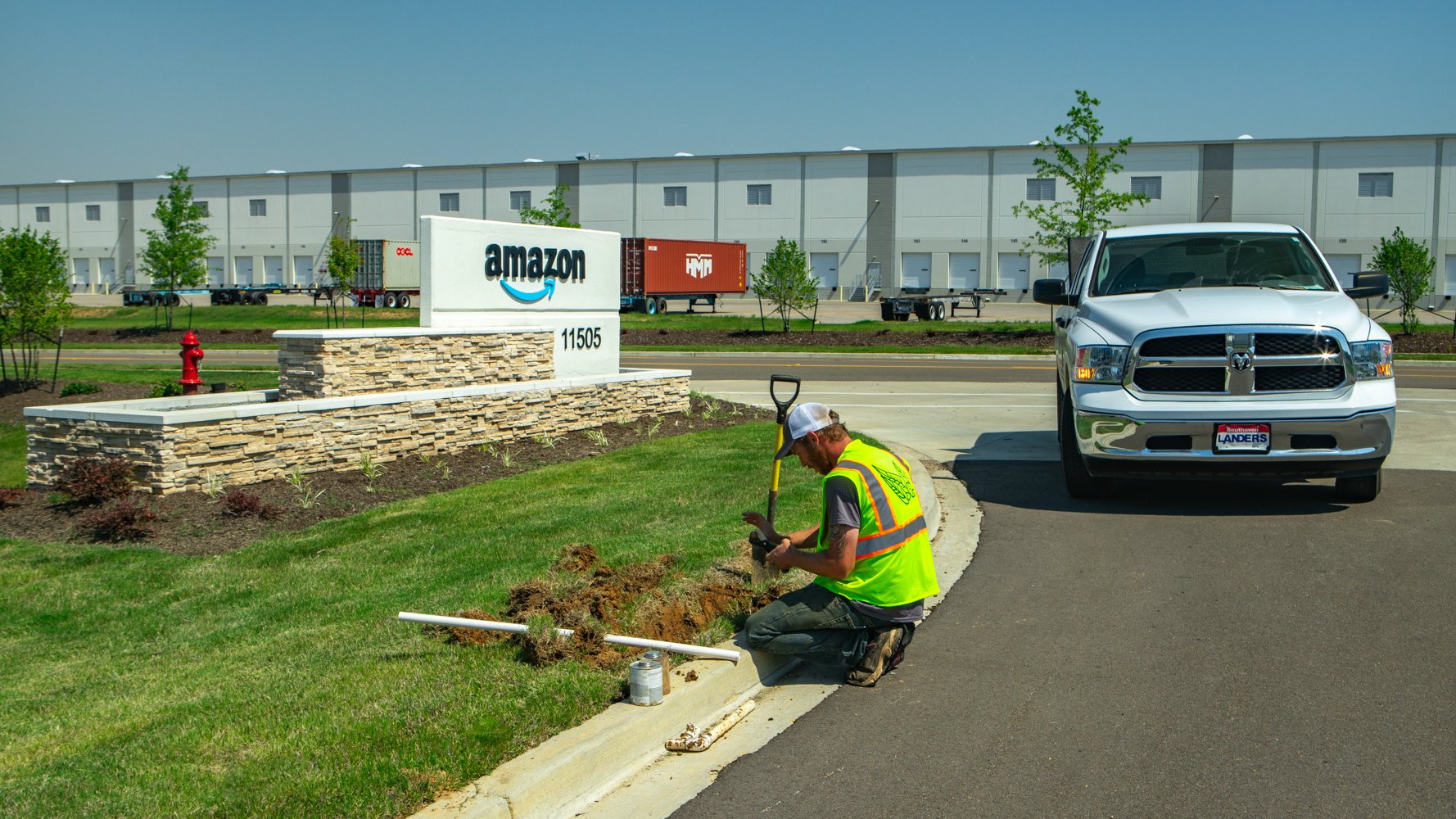 And by somebody, he means it could be anybody, from a crew member to a production manager to the head of commercial maintenance to Hatcher CEO Michael Hatcher.

"Our business model is so much different than other landscaping companies," Hobbs says. "We have so
many eyes on the property, from so many backgrounds, from top to bottom."
A Highlight for Memphis Commercial Landscaping Contractors
"Having Amazon as a client means a lot to us," Hobbs says. "It makes me and our company proud.

"When we say we do Amazon, everyone knows who Amazon is," Hobbs says. "It's a feather in our cap.

"It's a showcase property."
Trust Your Commercial Landscaping to Hatcher
Here at Michael Hatcher & Associates, we know busy warehouses have a set of unique landscaping needs. Huge parking lots. Lots of truck traffic. A need for no-fuss landscaping that keeps the budget in mind.
Watch This Video to Learn How We Help Warehouse & Industrial Properties

All these elements are important for other commercial properties, too.

Our skilled crews know the drill, with innovative landscaping ideas for industrial buildings that save money and keep properties looking and working great.

Ready to boost the appeal and safety of your commercial property? Talk to one of our commercial landscaping experts today! We'll meet at your property, create a custom plan, and get you on your way to enjoying a beautiful, worry-free property.