Methodist University Hospital is a busy health care campus in the heart of midtown Memphis, bustling day and night with doctors, nurses, patients, families, visitors, staff, and emergency vehicles.
A lot goes on here in this 617-bed facility, from joyful births to serious surgeries to the important work of a teaching hospital.
Everybody is here for an important reason. The hospital landscaping is what they see first.
It has to be cheerful and welcoming, inspiring people to feel safe and confident about their impending care inside.
But there's no time for a lot of fuss at this place where lives are saved and changed.
Michael Hatcher & Associates is the hospital's commercial landscaping partner, keeping the shrubs trimmed, the flowers vibrant, the lawn mowed, and the property safe.
Here's a look at how it all happens.
Landscaping for Hospitals: Clean, Safe, Welcoming
The hospital landscaping here is a balance of low maintenance and high appeal, says Chris Burdeshaw, the Hatcher Commercial Account Manager who works with the hospital.
"They're not trying to be a botanical garden," Burdeshaw says. "Just clean, safe, and nice. But they also don't want it to be a concrete jungle, either. It has to be appealing and look welcoming."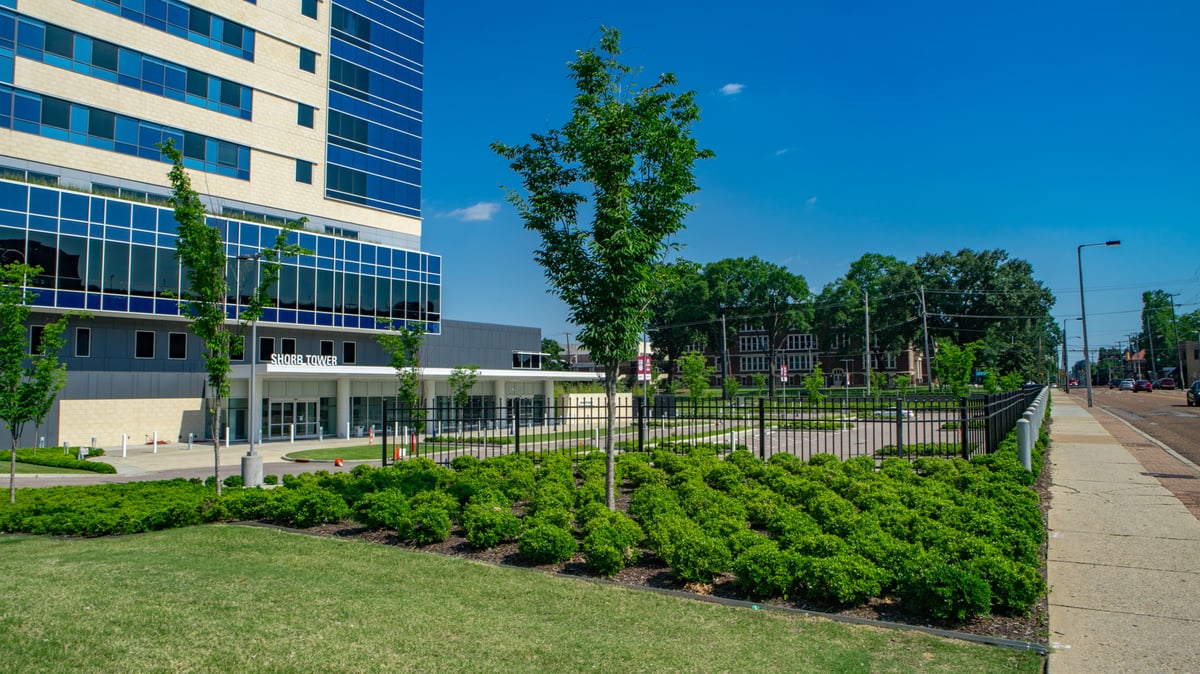 Soothing expanses of green, healthy lawn. Leafy, thriving plants. Colorful flowers. It all helps the healing process and eases stress and anxiety — for both patients and staff.
Low-maintenance landscaping is a big priority here, Burdeshaw says, to limit the need for frequent visits with loud equipment that can disturb stressed families and hard-working medical staff.
Much of the maintenance involves keeping shrubs trimmed and pruned low and away from the sides of buildings, Burdeshaw says.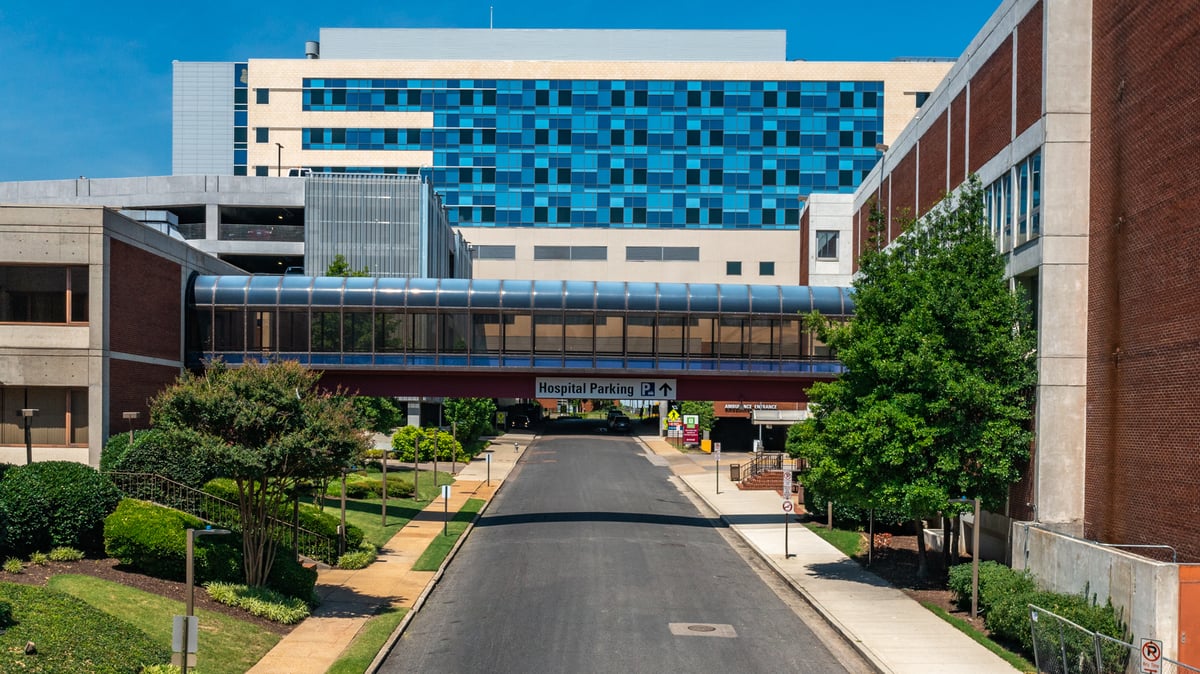 "The hospital is downtown, so there's a sizable homeless population," he says. "They don't want people sleeping behind shrubs or hiding there."
Hospital Landscaping: The Challenges
A hospital has unique needs, Burdeshaw says, from round-the-clock hours to enhanced needs for cleanliness.
A few of the challenges:
Irrigation
"Normally I can set a property's irrigation system for 3 a.m. and nobody sees it," Burdeshaw says. "A bit of overspray on the sidewalk isn't a big deal. At a hospital, there's no time when somebody isn't out front or walking along the sidewalk.
"You don't want a doctor leaving after a long surgery and getting soaked."
So Hatcher irrigation technicians inspect the hospital's irrigation system even more often than the typical monthly visits to make sure there's no wayward spray.
Litter
The hospital's urban location means managing some mess.
"There's a lot of trash to pick up before we do anything else," Burdeshaw says. Hatcher crews aren't allowed to pick up any medical waste like gauze or bandages, but tend to other litter to keep the grounds tidy.
Window Damage
The hospital has lots of glass windows. So do the many cars parked in expansive parking lots.
Crews need to take care not to let their landscaping equipment toss rocks or debris that could break windows or injure passing pedestrians.
Hospital Landscaping: Function First
"Of course, they want it to look nice," Burdeshaw says. "But they're about function before aesthetics.
That means meticulous maintenance with an eye on every detail.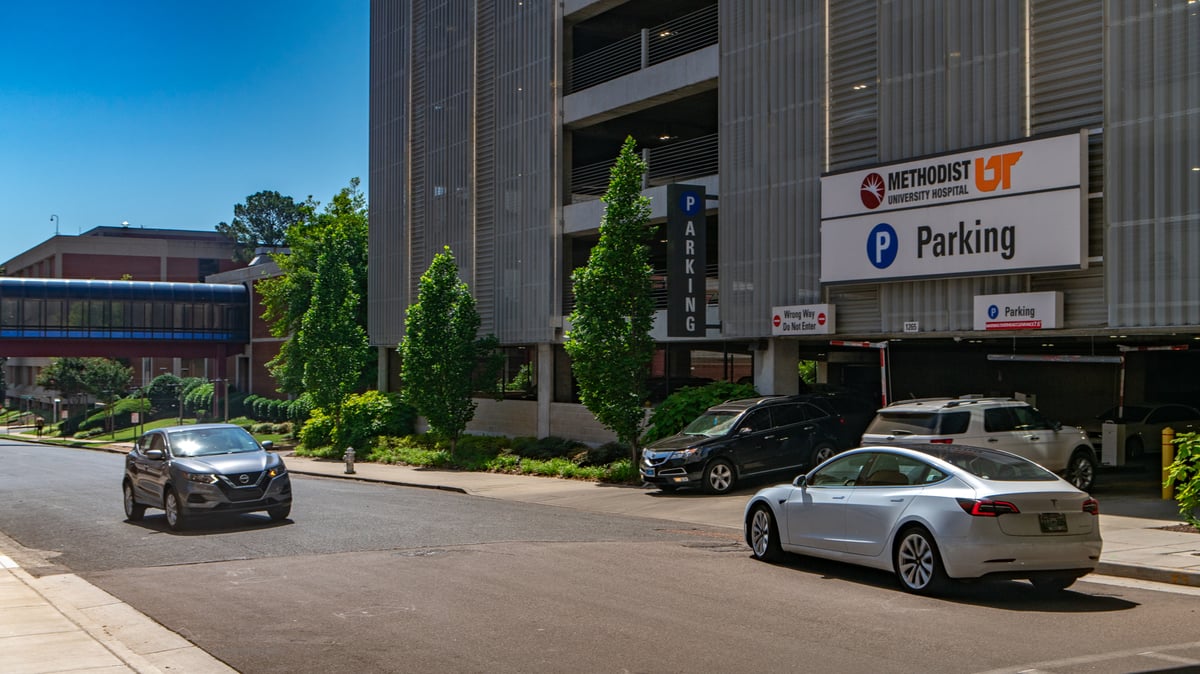 "No tree branches blocking a view," Burdeshaw says. "No vines encroaching on the backup generator. No street lights blocked. Everything has to stay clean."
Keeping It Cheerful with Flowers
Several annual flower beds at the hospital's entrances and intersections are changed out twice a year.
The goal: color, color, color.
The manager of the hospital's cancer unit talked to Burdeshaw about the psychological impact of dead landscaping plants on cancer patients, triggering thoughts of death.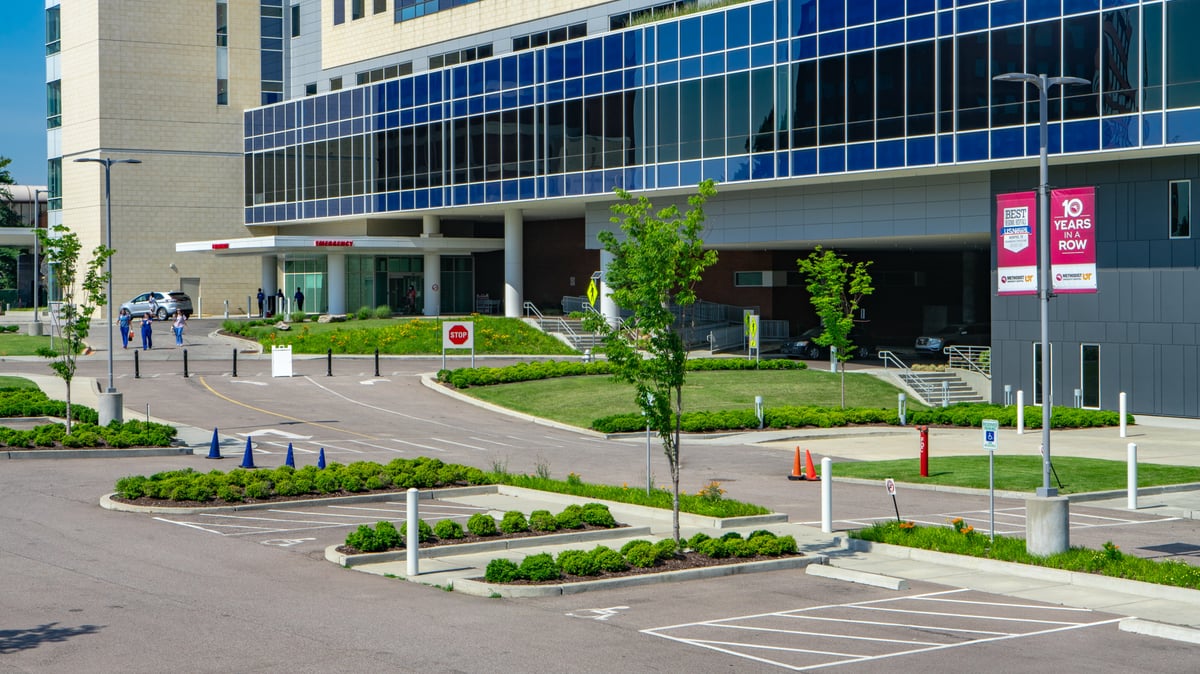 "So we stick to evergreens and flowers we can easily swap out so they're always bright and cheerful," he says.
Among the cheer:
Dragon Wing Begonia
Vigorous and heat tolerant, this plant with the cool name produces abundant red flowers all summer.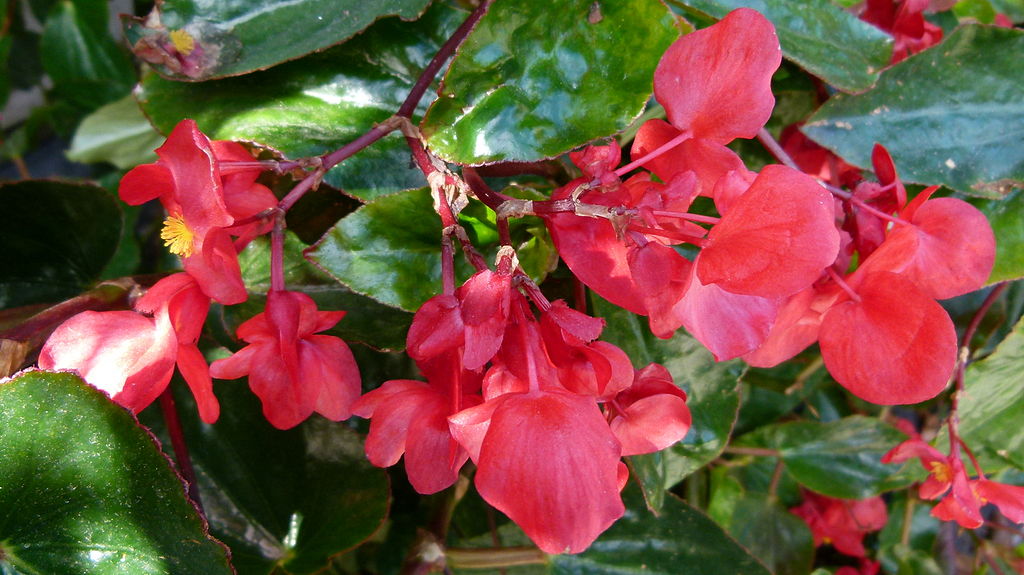 Angelonia
This pretty purple plant boasts beautiful blooms that look delicate, but don't let it fool you.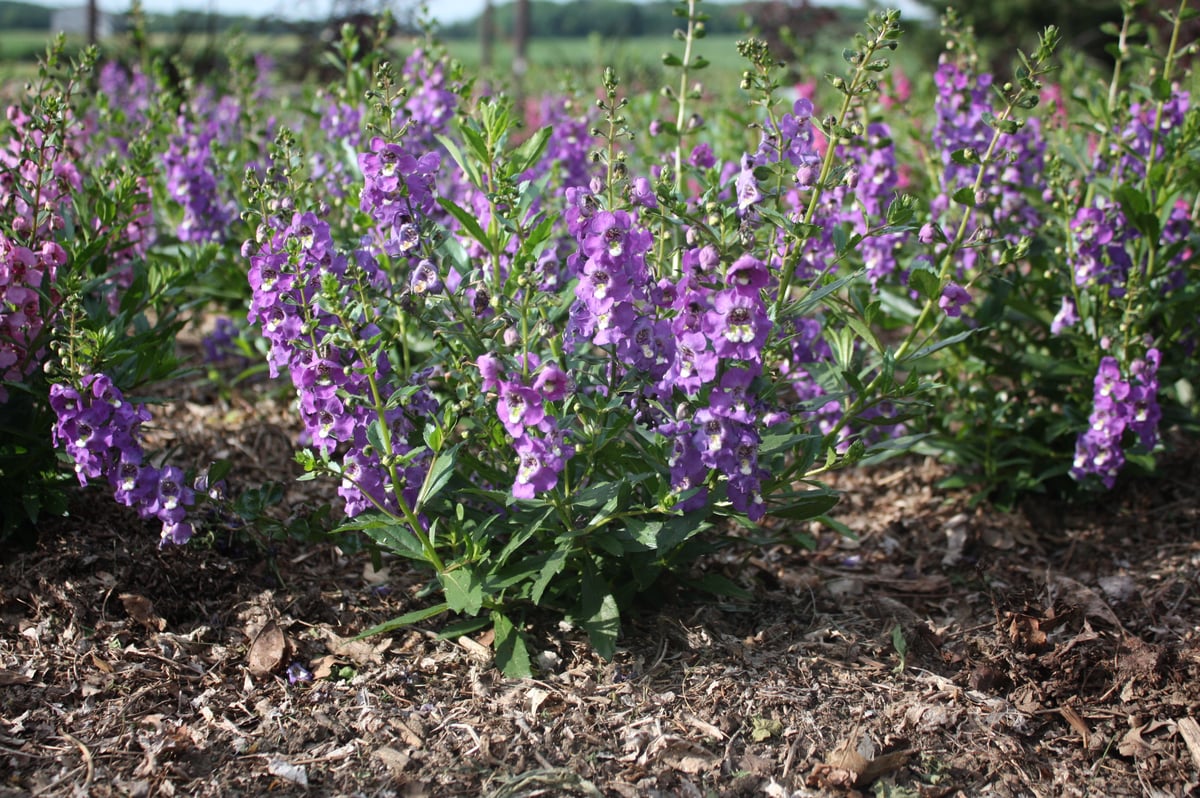 They hold up well and don't need deadheading to keep on blooming — perfect for low-maintenance hospital planting.
Zinnias
Zinnias pack a punch in yellow, orange, pink, red, lilac, purple, or multi-colored blossoms. And they're easy — low maintenance, heat and drought tolerant.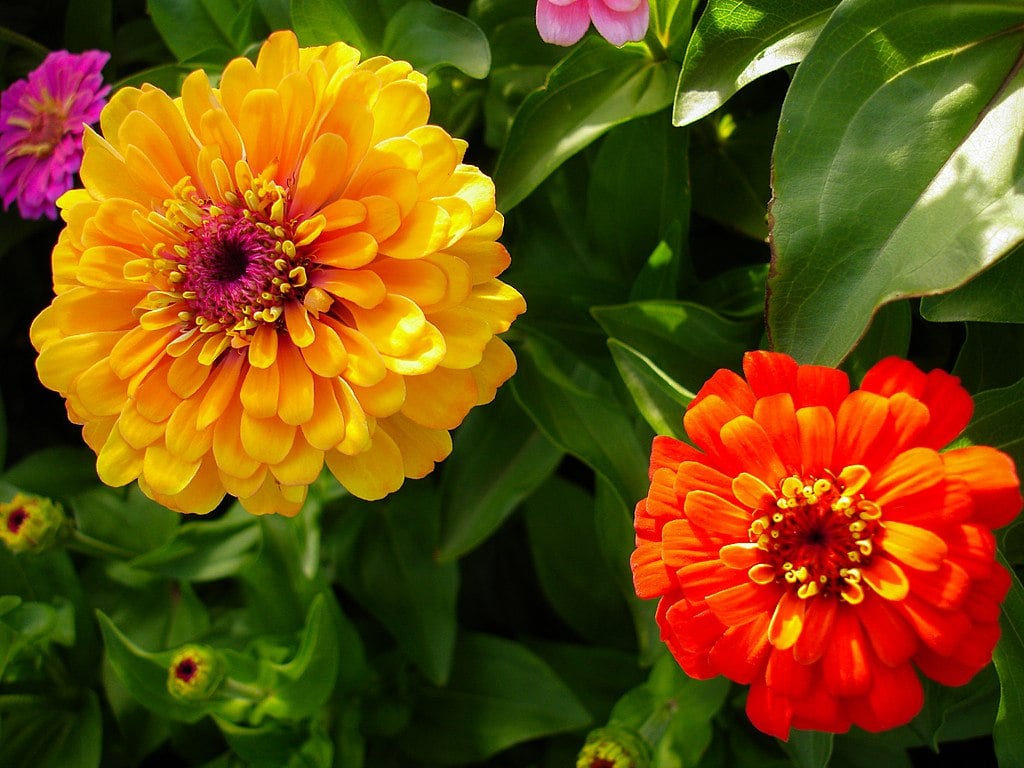 Lantana
A Mid-South flower bed staple, this low-maintenance beauty boasts captivating clusters of blooms in a kaleidoscope of colors. It handles heat and drought-like a champ. Bonus: Butterflies love them, and everybody's cheered up by butterflies.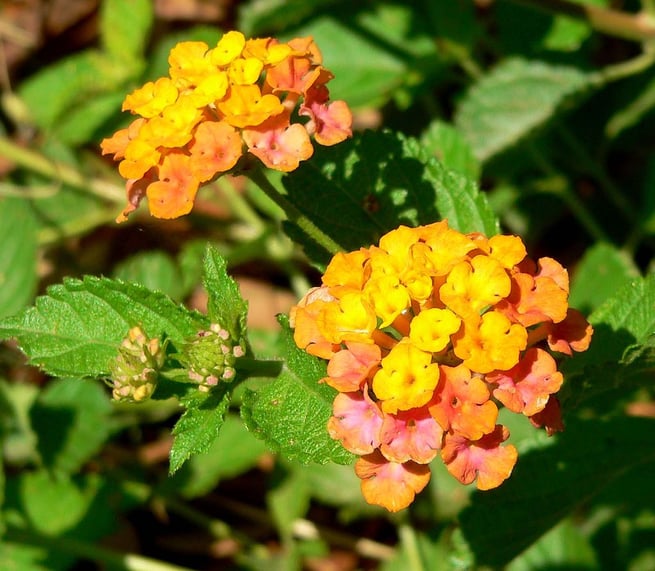 Making Things Easy
Burdeshaw knows how busy the hospital's facilities manager is. He's got his back.
"Landscaping is just a small part of what he does," Burdeshaw says. "He has the whole inside to take care of, too. If an elevator is broken, he needs to get it fixed. He doesn't want to be troubled with a dead shrub or an outside light that's blocked."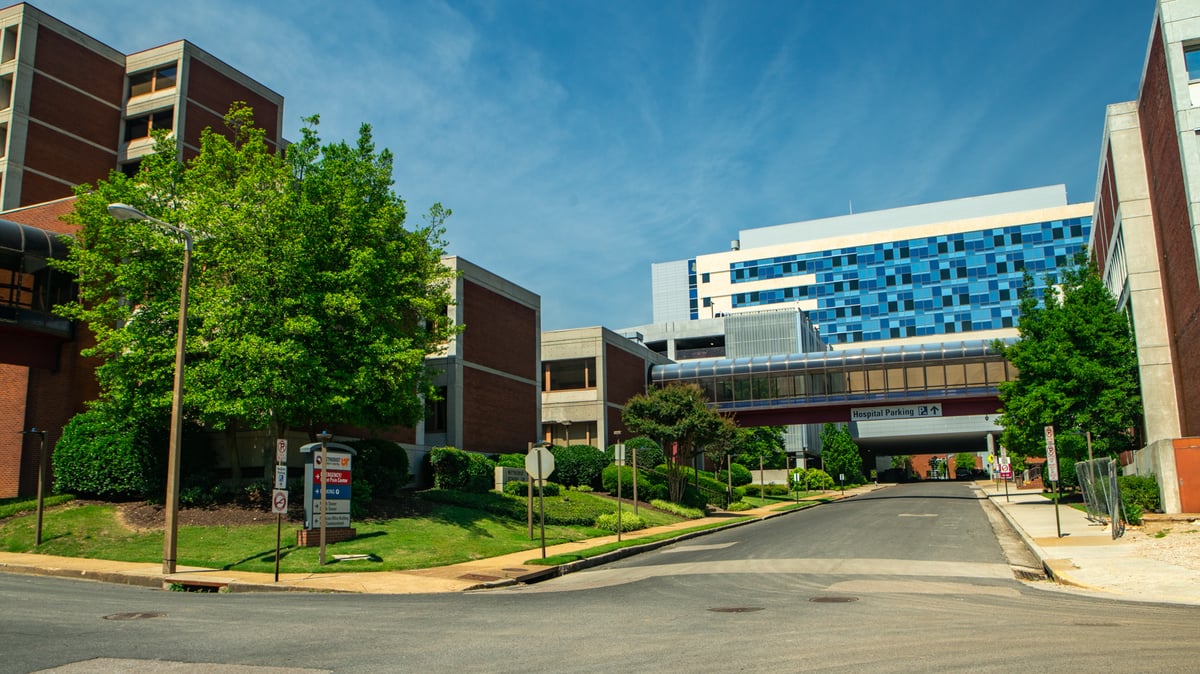 So Burdeshaw handles the outside, even if it isn't technically landscaping, to give the facilities guy peace of mind.
"Sometimes I drive through at night to make sure all their lights are working, and send them pictures," he says. "It's a way to show them we're looking out for their property."
Landscaping for Hospitals: Snow Removal is Crucial
Snow and ice management is a critical part of the hospital's maintenance contract, Burdeshaw says.
Patients, visitors, and staff need to know they're safe, even when nature slicks surfaces with snow and ice.
"Ambulances have to come and go, as well as doctors and families," he says. "It's not an option to have anything blocked."
Here in the mid-South, we get a lot of winter rain that can instantly transition into slick sleet and snow with a slight dip in temperature.
"There's a lot of pre-treating, if there's the slightest chance of ice or snow," Burdeshaw says.
Snow planning starts months before the first flake flies, meeting with the facilities manager about priority areas and expectations, followed by the creation of detailed maps of the property.
Alex Moore, the "snow boss" at Michael Hatcher & Associates, watches the weather forecast like a hawk, enlisting the insight of local meteorologists to help plan the snow and ice management attack for the hospital.
Snow and ice is such a concern for the hospital that Hatcher had to show proof it could efficiently handle the job before being awarded the contract, Burdeshaw says. Only a handful of commercial landscapers in Memphis TN were even be considered, he says.
Paying Attention to People
Hatcher crews arrive early in the morning to start work at the hospital, Burdeshaw says, doing much of their work before the busy visiting times at lunch and in the evening.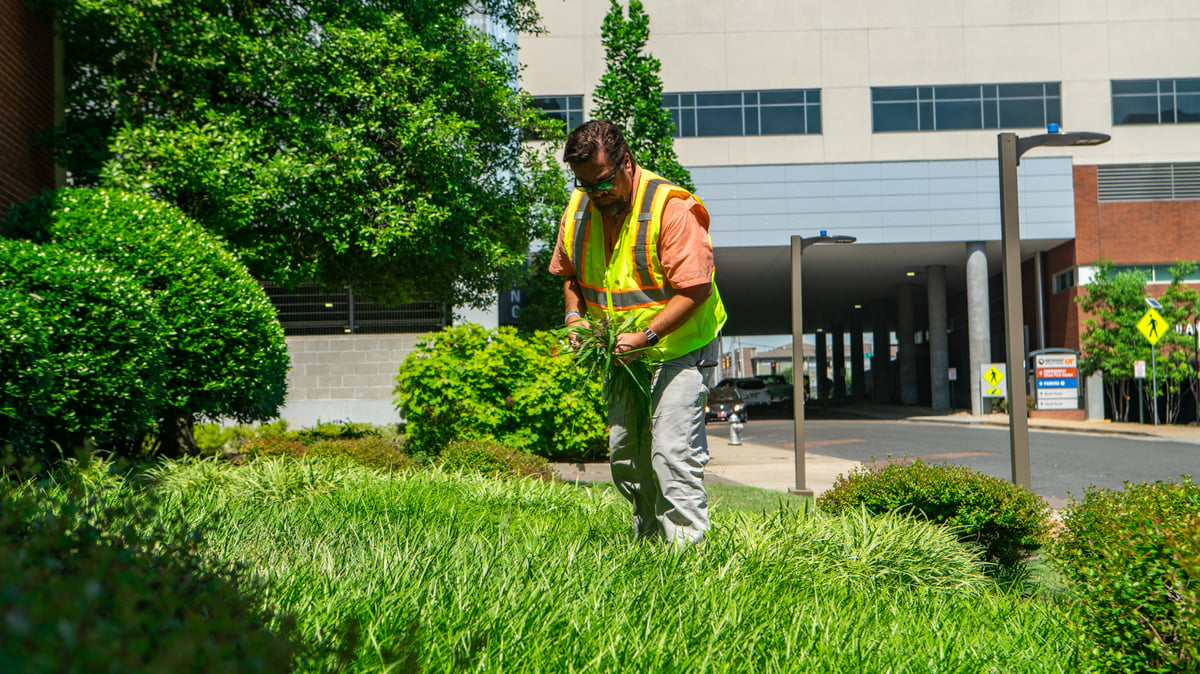 But patients, visitors, and employees see Hatcher landscaping crews on the job, planting flowers, trimming shrubs, weeding beds.
Crews know the people passing by might be worried, stressed, or sad. That's why they're courteous, friendly, and understanding. And they know how to stay out of the way, and not distract from the hospital's mission.
Trust Your Commercial Landscaping to Hatcher
Here at Michael Hatcher & Associates, we know how important a hospital visit is — and how to make your health care facility not only welcoming and peaceful, but its landscaping safe and secure.
All these elements are important for other commercial properties, too.
Our skilled crews can add vibrant flower beds and planters, provide vigilant snow and ice management, and keep signage and sight lines visible.
Ready to boost the appeal and safety of your commercial property near Memphis, TN? Talk to one of our commercial landscaping experts today! We'll meet at your property, create a custom plan, and get you on your way to enjoying a beautiful, worry-free property. ,lantana
Image Source: Begonia, Angelonia, zinnia flowers, lantana