Hospitals and healthcare facilities should be reassuring places, promising help and healing.
Still, they can be high-anxiety sites for both patients and visitors.
Good healthcare landscape design can help ease the jitters by offering an environment of safety and security.
It's an important factor for staff, too. Everybody wants to feel at ease and protected at work, especially in a high-stress job like health care.
Here's how good hospital landscape design can help.
First, A Warm Welcome
First impressions start at the entrance.
Signage should be easy to read, so there's no confusion about where to go. Make it a focal point with appealing plants and flowers, but make sure plants don't obscure the words or directional arrows.
Be sure directional signage is well lit. Hospitals and medical centers are often sprawling facilities. Patients and visitors want to feel confident about where they're headed, as soon as they turn into the entrance.
People feel safe and secure when they know exactly where they're going.
Parking Lot Safety
Before anybody even gets inside, they park.
Your parking lots have to be clean and safe, with signage clearly visible.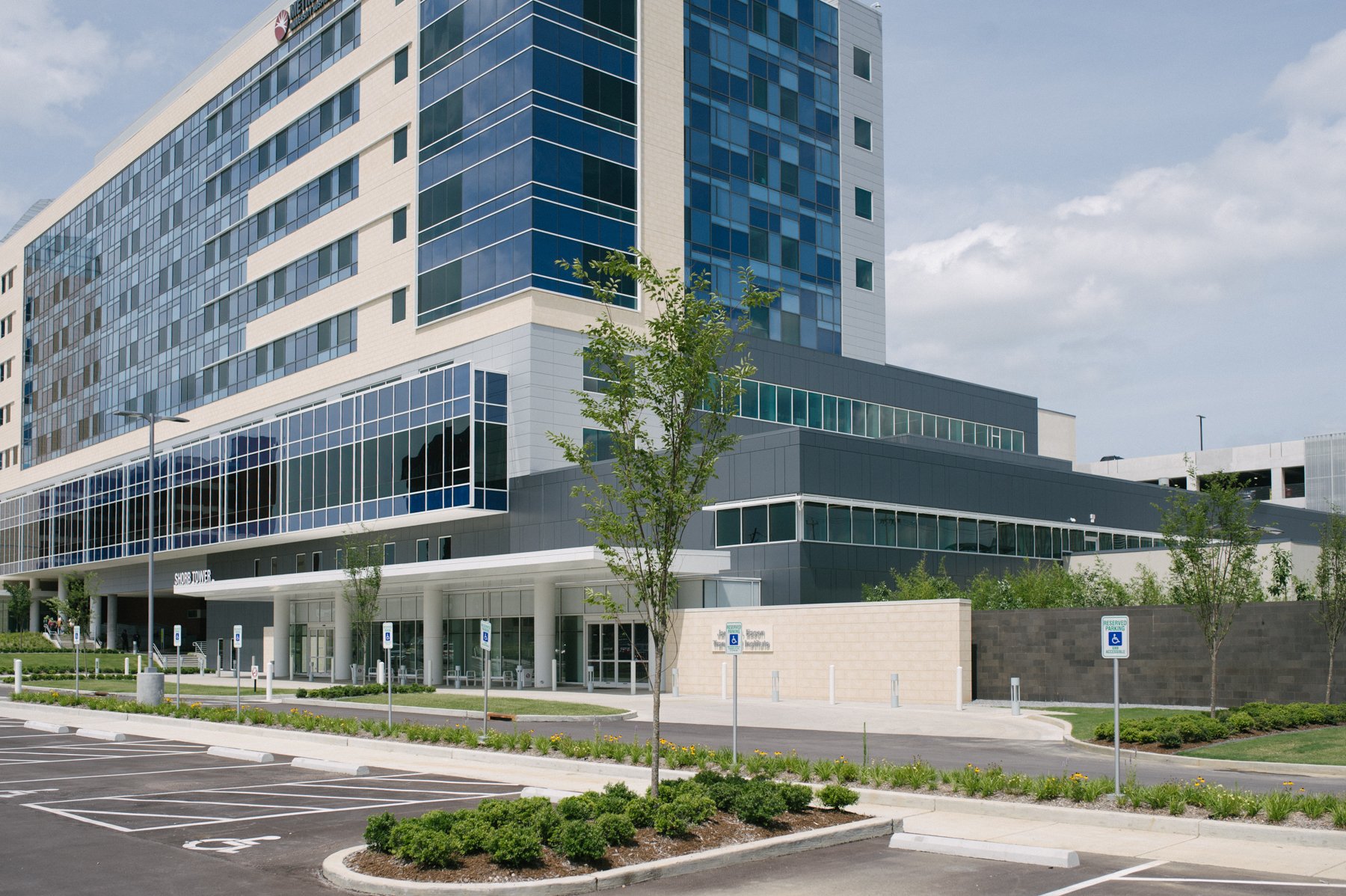 No overgrown bushes or wayward limbs obscuring important directions. No clumps of mowed grass, leaf litter, or other unsightly debris.
Anything that can cause a person to trip, fall, and injure themselves is a liability concern.
Walkway Tips
Healthcare facilities often include several buildings on an expansive campus, so walkways are a high-use, crucial aspect of healthcare landscape design.
Keep these tips in mind:
Paths should be wide enough to accommodate wheelchairs and pedestrians strolling in pairs. They should be smooth but slip proof, easily walkable so they don't impede wheelchair wheels or snag wheeled IV poles.
Avoid placing plants or shrubs too close to walkway edges so they don't impede medical devices.
Cracked or crumbling concrete walkways are not only unsightly, they're a dangerous trip hazard. Consider replacing aging concrete walkways with long-lasting pavers.
Be sure irrigation is properly installed and sprinkler heads don't spray onto walkways. Wet pavement and puddles are slip hazards.
Meticulous Maintenance
Your hospital landscape appearance can inspire people to feel safe and confident about their impending care inside. Or worried about cleanliness and carelessness.
Meticulous maintenance is critical, from neatly mowed and well-tended lawns to tidy and weed-free flower beds to clean-up of litter and debris.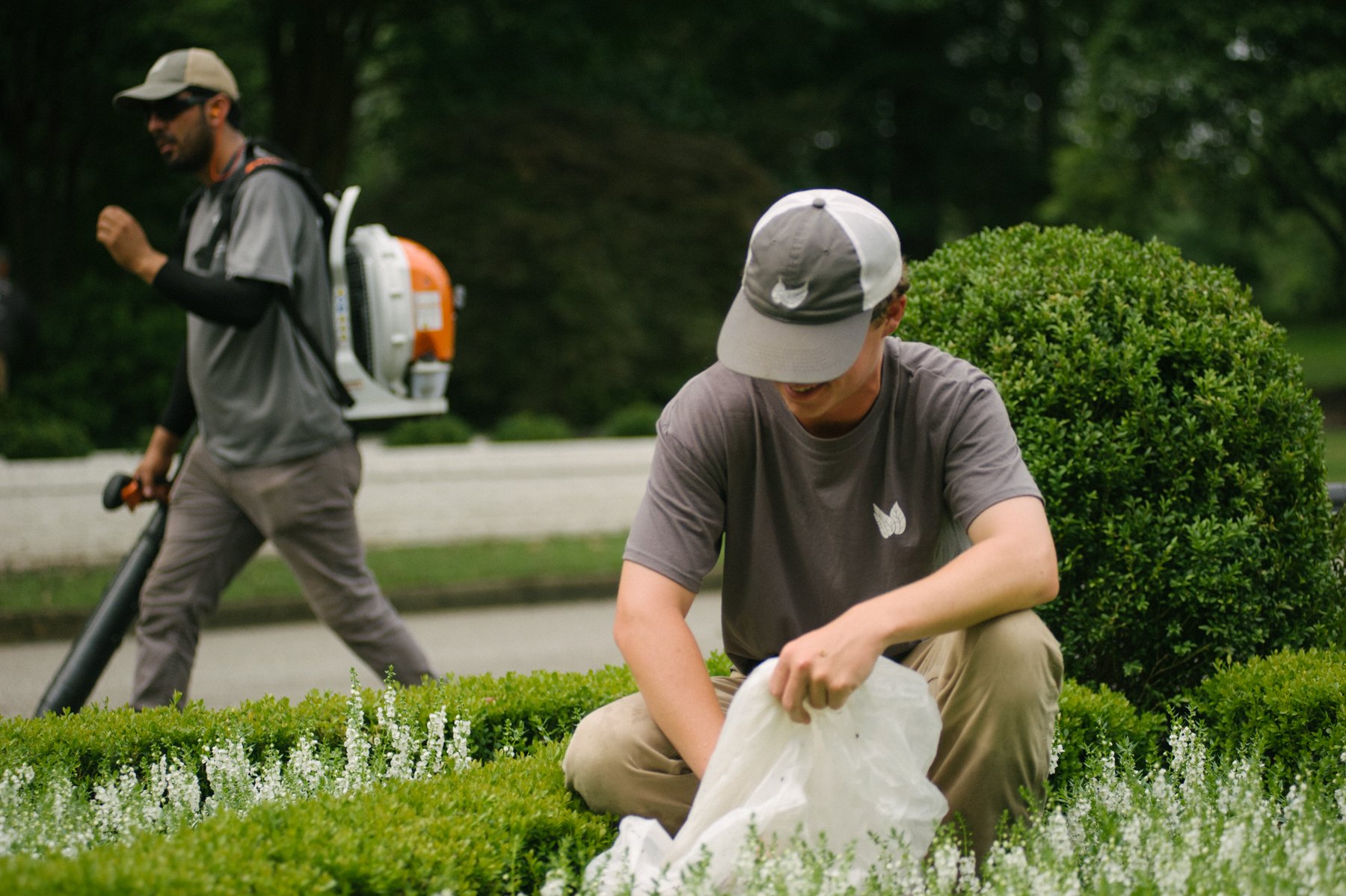 Are any plants growing out of control, or planted in the wrong place, blocking drivers' vision or endangering pedestrians?
Regular trimming and pruning prevents plants from becoming hazards.
Attention to Trees and Shrubs
Proactively pruning out dangling, dead, or diseased tree branches will keep them from falling off later, which can be dangerous for pedestrians.
Tree limbs, if not properly pruned, can snag people walking past or obscure hospital landscape security lighting.
Overgrown shrubs can block sight lines and create spots for vandals or criminals to lurk and hide.
Water Management
Properly landscaped lawns and planting beds naturally absorb runoff from rain and melting snow, but a big storm can cause overflow, creating hazards for pedestrians and drivers.
Healthcare landscape design should include proper drainage. There are lots of solutions to drainage issues, including concrete swales; rain gardens; retention basins; re-grading low spots; adding permeable pavers; and terracing slopes.
Secure Lighting
When it comes to safety and security, lighting is huge.
Well-designed hospital landscape lighting guides patients and visitors safely from building to building and provides a sense of security for employees, visitors, and patients as they walk to their vehicles at night.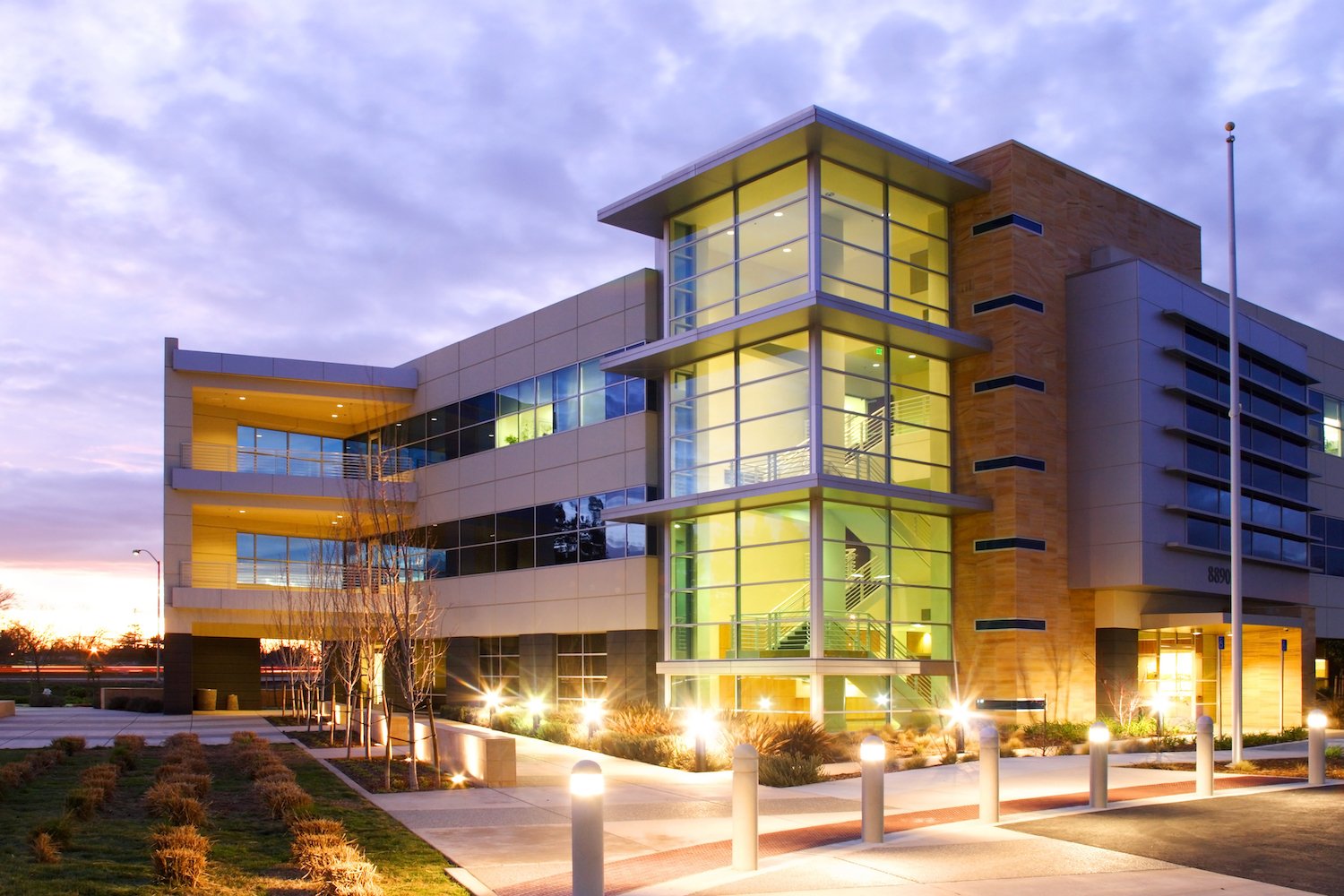 Safe lighting deters criminals from breaking in, vandalizing, or lurking in the shadows waiting for potential victims.
Pay special attention to entrances, walkways, parking lots, and the areas around security cameras. Steps and stairs are especially hazardous without safe lighting.
Dark paths and sidewalks are big tripping hazards. Path lights do double duty, offering safety and beauty as they spill light right where pedestrians need it. It's worth a look to see if they're still working well, and not broken or overgrown with plants.
Snow and Ice Management
Slippery surfaces are a huge concern in a hospital landscape, both for pedestrians walking in parking lots and on walkways and for the emergency vehicles that need to navigate quickly and safely.
Here in the mid-South, we get a lot of winter rain that can instantly transition into slick sleet and snow with a slight dip in temperature.
Patients, visitors, and staff need to know they're safe, even when nature slicks surfaces with snow and ice.
Invest in dependable snow and ice removal to keep your property clear.
Follow-up is crucial. Expect your snow and ice management contractor to visit your property once at the beginning of a snowfall or ice storm, then return for another round of service after the storm.
They should be on top of re-freeze, too. Sun and warming temperatures often melt ice the next day, but when the temperature dips below freezing again at night any pooled water left refreezes, creating a brand-new hazard.
Safe, Appealing Hospital Gardens
Hospital gardens are wonderful additions to healthcare landscape design.
Soothing expanses of green, healthy lawn. Leafy, thriving plants. Colorful flowers. Cooling shade. It all helps the healing process and eases stress and anxiety.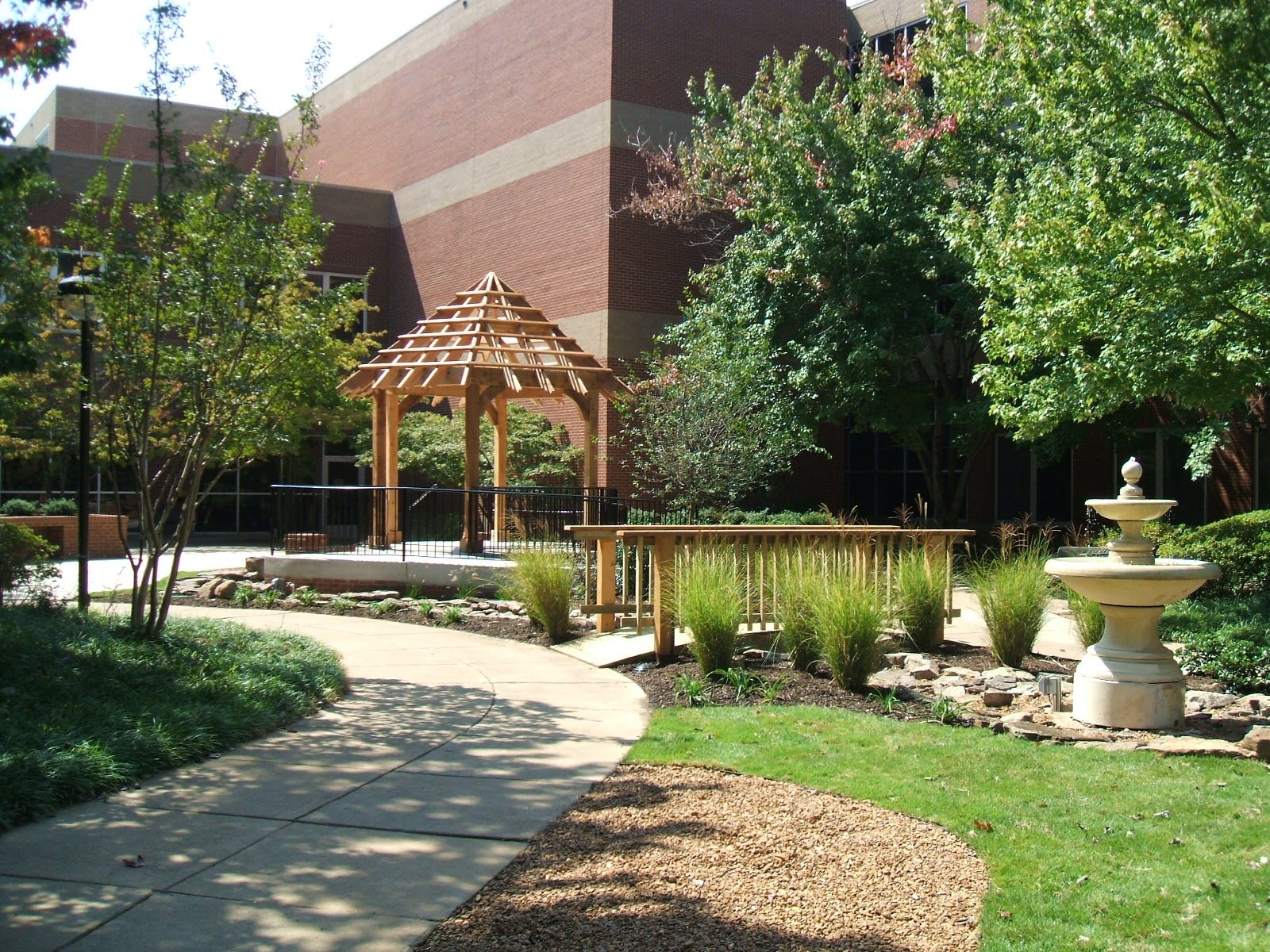 But keep safety and security in mind.
Make sure hospital gardens are easily navigable, with wide, slip-proof paths.
Include lighting along paths, so patients and visitors can enjoy garden areas in the evenings, too.
Install hand rails for secure strolling.
Consider raised planting beds for patients in wheelchairs.
Hire a Vigilant Healthcare Landscape Design & Maintenance Company
It's impossible for a busy property manager to keep track of every fallen branch, cracked piece of pavement, sunken step, protruding tree root, or wayward irrigation head.
Attentive landscaping crews will spot those hazards for you, then quickly fix any problems.
Watch This Video to Learn How We Help Hospitals & Medical Facilities
Here at Michael Hatcher & Associates, we know how important a hospital visit is — and how to make your medical campus not only welcoming and peaceful, but the hospital landscape design safe and secure.
Our skilled crews can add safe pathways and lighting, provide vigilant snow and ice management, and keep signage and sight lines visible.
Then, we're happy to stick around to keep it all perfectly, safely maintained.
Ready to boost the safety and security of your healthcare landscape design? Talk to one of our commercial landscaping experts today! We'll meet at your property, create a custom plan, and get you on your way to enjoying a beautiful, worry-free property.