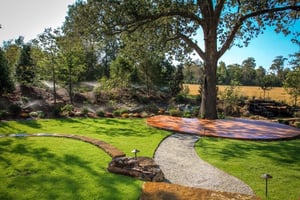 Concerned about your water bill? You're not alone. Water rates nationwide have climbed 33% since 2010. Rising water rates can put a major crimp in your budget.
Here in Memphis, we are lucky to enjoy some of the lowest water rates in the nation.
Even so, irrigation is a significant expense. Memphis water rates vary from about $0.80 to over $2.80 per one hundred cubic feet, depending on location, property type and water use.
This can translate into hundreds or even thousands of dollars per month to keep a large property looking its best.
There are many ways to reduce irrigation water consumption without giving up your beautiful lawn or landscape. Some of these include plant selection and proper watering techniques. Today, however, we'd like to take a closer look at the various irrigation water saving technologies that can help you keep your watering expenses down.
A Quick Water Saving Fix for Smaller Budgets
For smaller properties with limited budgets, one of the most cost effective things you can do to save water is to install a Rain Bird ST8 Smart Irrigation WiFi Timer. This new technology gives you, the homeowner, control of your irrigation system via devices such as phone, tablet, etc. You can easily create multiple watering schedule to keep all aspects of your landscaping healthy while lowering your water bill as well.
Irrigation Water Saving Technologies for Larger Properties
For commercial and larger residential properties, we recommend investing in something more sophisticated than a simple rain shutoff. A more advanced water saving system can determine and deliver the exact amount of water needed in each of your zones, which will result in far more savings and a healthier landscape.
We use two types of landscape irrigation water conservation systems for our customers: smart panel technology and evapotranspiration manager technology. Let's compare the two.
Smart Panel Irrigation Technology
A smart panel is a unit that integrates w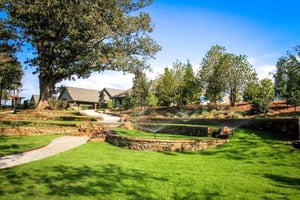 ith your irrigation controller and monitors the weather with an on-site weather station. Most will read the temperature, rainfall, and solar radiation. Some will also read wind.
Considerably smaller than an electric meter, the weather station can be mounted inconspicuously on a building or other object.
A smart panel uses the information it gathers to calculate whether your sprinklers need to run, and, if so, how much. It then communicates this information to your controller so your landscape receives the correct amount of water.
Most major irrigation manufacturers offer smart panel systems. Most of these are brand-specific, so if you want to retrofit an existing irrigation system you will need one that works with your controller. This investment can easily yield 20–25% savings on your water bill.
Smart panels are an excellent choice for most residential and small to medium-sized commercial applications. However, they do have some drawbacks. Because the weather station for most units is wired in, location options are limited. If it's sitting in the sun or shade, it won't be 100% accurate right out of the box. Typically, when we install one we let it run for 30–60 days and then go back and fine-tune the adjustment to suit your property.
Evapotranspiration (ET) Manager Technology
Larger properties with more extensive irrigation needs are frequently better served by a more advanced system: ET Manager Technology. This is similar to the smart panel, but instead of an on-site weather station it uses a built-in antenna to receive hourly weather updates from a weather service provider. In contrast to a smart panel, which updates once a day, the ET manager receives signals every hour from up to six different stations. Because it is wireless, it can be installed anywhere on your property.
ET technology is definitely pricier than a smart panel. However, its more accurate data results in better performance. Actual dollar savings depends on water rates, but our ET clients frequently enjoy 30–40% savings on their water bills. For large and water-intensive properties, an ET manager will quickly pay for itself in increased savings.
Maintaining Your Water Saving Devices
Once installed, landscape water conservation technologies require minimal maintenance. We conduct an annual inspection on the properties we manage to keep rain gauges and other elements clear of leaves and debris, check that all wiring is in good condition, and ensure that the equipment remains calibrated and in good working order.
Call Us for a Custom Estimate on Water Saving Systems
Which are the best water saving technologies for your property? The answer depends on your budget, your property, and your goals. Our irrigation specialists will complete a property assessment for more specific pricing as well.
When in doubt, we highly recommend doing a cost analysis to determine payback on specific systems. To speak with one of our qualified landscape professionals about cutting your irrigation costs with water saving technology, contact us online or call us at 901-755-3207.