You're fed up with moving sprinklers around, hauling hoses and filling the watering can.
You know that installing a landscape irrigation system is the solution.
But you also know that an irrigation system is a custom item that takes time to design and install.
The question is, how much time should you plan for? Is it already too late to have your irrigation system in place this season?
Irrigation System Design and Installation Timeline
Knowing in advance how much time to allot for your irrigation system's design and installation will help you plan your upcoming entertainment schedule and other events.
Here is what you can expect:
Phase One: The Site Visit
The first step is to call us and make an appointment for an on-site visit from one of our irrigation design estimators. Allow about one week between your phone call and your initial appointment.
During the visit, our estimator will measure your property and speak with you about your irrigation needs, including your budget and your goals for your landscape.
You should expect this visit to take about an hour.
Phase Two: Irrigation Design Proposal
Within seven days of your site visit you will receive a proposal from us for your irrigation system.
Since no one likes budget surprises, we do a computer-modeled layout of your system before sending the proposal to ensure an accurate cost estimate.
Phase Three: Irrigation System Installation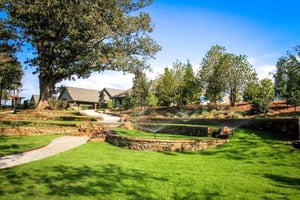 We typically install the system within 2–4 weeks of a proposal's acceptance, depending on time of year. Early spring through midsummer are our busiest months.
During those times we generally run about four weeks out. At other times of the year a two week waiting period is common.
How much time to allow for the actual installation of your irrigation system depends on its size and complexity.
For a typical 8–12 zone residential system, average installation time is about 3.5 to 4.5 days.
Usually, it takes longer to install an irrigation system in an existing landscape than a brand new one. Existing landscapes typically require more hand digging to avoid hitting utility lines or damaging the roots of mature trees and shrubs.
Existing turf must also be repaired after trenching as opposed to simply laying sod or seeding over the top of a new lawn.
Finally, if the irrigation pipe must cross a driveway or sidewalk, it is much less time consuming to lay it before the pavement goes in than to bore under existing pavement.
What is the Best Time of Year to Plan for an Irrigation System Installation?
We can install an irrigation system any time of year that the ground is not frozen. One of the biggest misconceptions, however, is that the system price will be lower during the off season.
Actually, the opposite is often true.
That is because the price of the PVC pipe we use fluctuates depending on the price of natural gas. Therefore the material cost of installing an irrigation system often rises significantly in the winter months.
What Can a Property Owner Do to Help the Irrigation System Installation Process Go Faster?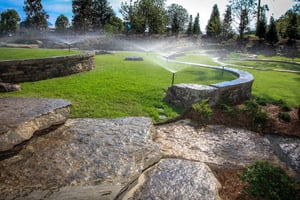 Before working on a property, we put in a call to the One-Call system.
This is an agency which informs us of any underground buried utility lines that we will need to avoid on the property.
However, the One-Call system only includes primary gas, electric, cable, and telephone lines running from the street to the house.
Often, additional (and unlisted) utilities are present on the property. These may include underground dog fences, auxiliary gas lines, or electric cables running from the home to an outbuilding or outdoor fixture.
If you can, it helps to contact the installers of these extra utility lines and have them locate and mark their locations in advance of our crew's arrival.
Are You Ready to Schedule Your Irrigation System Design?
Depending on the time of year, you can expect to start enjoying your irrigation system between four and a half to seven weeks after your initial phone call. Why not get the ball rolling now?
Give us a call at (901) 755-3207, or contact us online to schedule your estimate.
Image Credit: Irrigation System Plan