Everybody loves dining outside.
There's something extra festive about munching your grilled artichoke appetizers with a breeze ruffling your hair, beneath twinkly bistro lights.
It's not just food. It's fun.
But how much fun is up to you.
Outdoor dining is more popular now than ever.
Is your outdoor dining space ready? Is it comfortable? Beautiful? Relaxing? Safe?
How many of these outdoor seating landscaping ideas for restaurants can you offer?
1. Perfect Planters
Plants make a great first impression, so put oversized planters to work at your restaurant entrance to set a lush, relaxing vibe before your diners are even seated.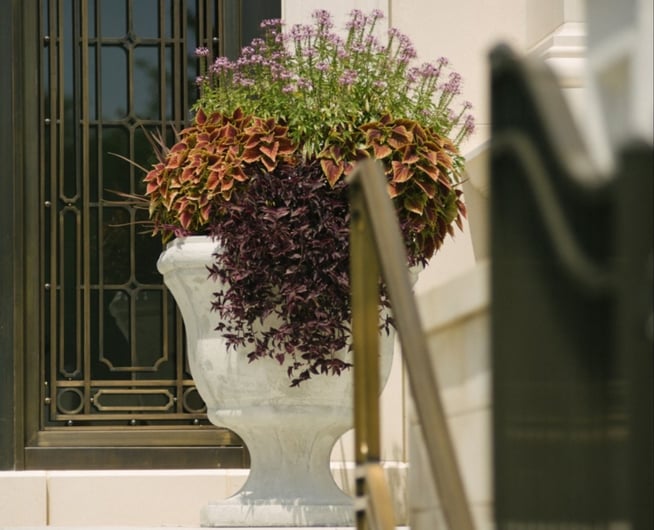 Go tropical with banana trees, palms, and bird of paradise.
Pack a colorful punch with vivid sunpatiens and zinnias.
Ornamental grasses do great in planters and add height, texture, and graceful movement.
Don't forget trees for impact. Japanese maples, crabapples, and flowering cherry all do well in pots.
Planters are multitaskers, so they should be high on any list of outdoor dining landscaping ideas for restaurants.
Put them to work throughout your outdoor dining space, providing privacy, blocking ugly views, directing traffic flow, perking up outdoor waiting areas.
They're a great way to separate tables and offer a sense of intimacy, especially when planted with tall, lush tropical plants or substantial trees.
2. Beyond Planters
Don't stop with planters. Add hanging baskets and climbing vines to your outdoor dining space for the plant version of surround sound.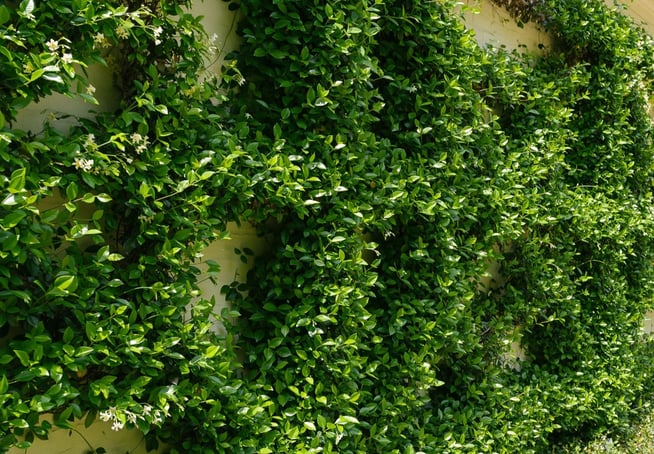 But no bees, please. Work with your landscaping company to choose plants that aren't magnets for bees. We all know bees are our pollinator friends, but there's a reason nobody invites them to dinner.
3. Outdoor Waiting Areas
Waiting for a table is a bummer. Take some of the bite away from the wait by providing a safe, comfortable, pleasant space.
Shade. Seating. Planters packed with lush and healthy plants. Add music, and an opportunity to get a drink while you wait.
If you have festive bistro lights over your outdoor dining area, consider extending them to your outdoor waiting area, too.
Suddenly, that 25-minute wait flies by.
4. Lure Them with Lighting
You've likely covered all the usual restaurant lighting needs, from signage to safety.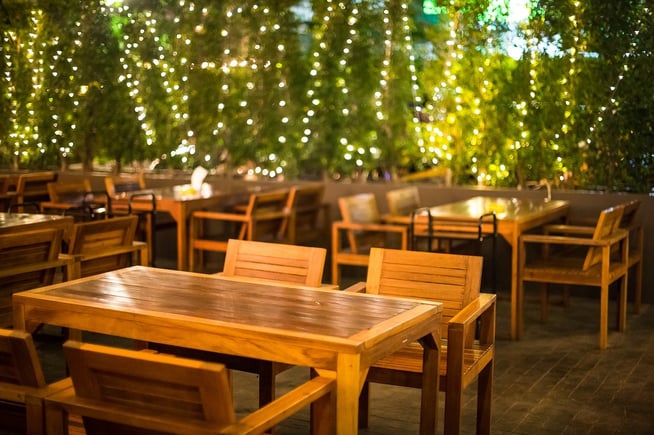 But when it comes to outdoor dining landscaping ideas for restaurants, don't underestimate the importance of lighting for atmosphere. It's huge.
Strings of festive bistro lights add an instant "this is special" kind of feel. Battery-powered table lamps or lanterns offer intimacy.
Your customers can eat underneath a boring light fixture at home. They expect something more from you.
5. Have a Seat
Take a cue from your space and your atmosphere when choosing outdoor seating landscaping ideas for restaurants.
Casual beer garden? Picnic tables fit the bill.
Sidewalk seating? Your staff will likely gather up chairs to stow overnight, so make them light and stackable.
Going for a chic, contemporary vibe? Search out seating customers won't find at your competitors, in bright colors or modern shapes.
6. Hit the Roof
Need more outdoor dining space to accommodate the demand?
Restaurants need more space these days to safely and comfortably arrange tables.
Many are scooting out onto sidewalks, or even into the street in communities that allow for this extra dining room.
When pondering outdoor seating landscaping ideas for restaurants, think about this: can you move up? To the roof?
Rooftop dining offers an extra special experience, especially if you can offer a killer view.
It's cooler up there at night, with a better breeze. And it kind of feels like an adventure to make your way up to a rooftop meal.
Add comfortable furniture, festive string lights, a rooftop bar, and plenty of plants.
Remember that rooftop plants will endure more sun and heat than those on a shaded patio, so plan for plenty of water.
7. Pondering Patios
If your outdoor dining space is a basic concrete slab, consider dressing it up a little.
A custom patio provides a more upscale foundation for your whole outdoor dining experience.
There are lots of options:
Exposed aggregate blends natural stone with the longevity of concrete.
Concrete pavers offer a wide range of color and texture choices. Bonus: water drains right through them.
Stamped texture and stained concrete. These patios can look like stone or brick, but with the affordability of concrete.
Brick. This is a classic, always in style, and offers an inviting warmth. Old, reclaimed bricks are especially charming.
8. Heat Things Up
Don't send diners scurrying inside just because it gets chilly. Add outdoor heaters and you'll extend the time diners are comfortable outside.
9. Made in the Shade
Nobody likes to squint through their meal, or swelter through lunch in the midday sun.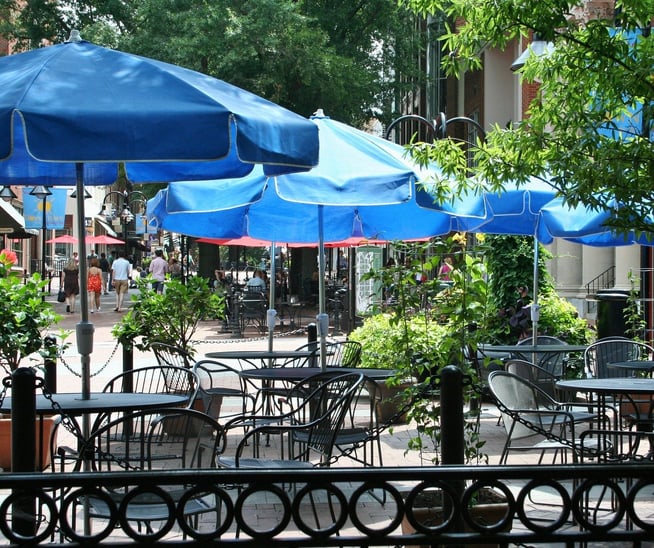 Put shade on your list of outdoor dining landscaping ideas for restaurants.
Take a cue from the cheerful yellow patio umbrellas at the upscale Houston's Restaurant in Memphis. The color adds instant pizzazz while shading diners from the sun.
Add a vine-covered pergola.
Consider trendy triangular sails that tie overhead.
10. Fireside Fun
Fire pits and fireplaces offer a cozy, homey vibe that diners love. And in cool weather, they offer extra warmth — and extra hours diners can enjoy your outdoor dining space.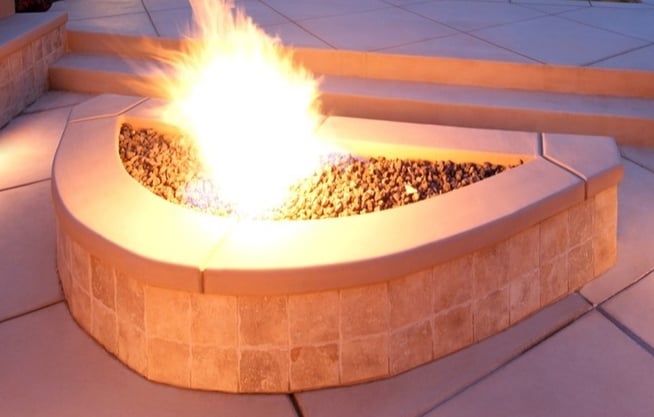 Thinking back to your summer camp days and worried about mess, smell, or hassle?
No worries.
Natural gas is an easy-care, clean-burning option available for outdoor fireplaces and fire pits.
Match or complement your existing restaurant design with a fire pit or fireplace made of brick, natural stone, or cast stone that each offer plenty of choices in color, texture, and size.
Electronic starters let you fire up the ambience with the push of a button.
11. Urban Herbs
You need fresh basil for pizzas, fragrant mint for mojitos, oregano for savory Mediterranean skewers.
Grow your own, in pots that happily hang out with your hungry diners.
Customers love seeing how fresh your ingredients are, and herbs add both beauty and captivating scents to your outdoor dining space.
The more your chefs pick them, the faster they grow!
12. Entertainment
Live music, anyone?
Or a big screen TV to make your outdoor patio an instant sports bar?
Either one will attract more diners to your outdoor space.
If you decide to regularly host live bands, consider a pretty trellis covered with climbing vines. It makes a nice backdrop.
Need Outdoor Dining Landscaping Ideas for Restaurants? Trust Hatcher
Now, more than ever, you want your outdoor dining space to be safe, comfortable, and appealing to customers eager to dine outside.
The designers and crews at Michael Hatcher & Associates can create captivating planters, comfortable seating, magical lighting, and all the other landscaping stand-outs to make your outdoor dining space a go-to destination.
Are you ready to boost the appeal of your restaurant's outdoor dining space?
Talk to one of our commercial landscaping experts today! We'll meet at your property, create a custom plan, and get you on your way to enjoying a beautiful, worry-free property.
Image sources: tables and string lighting, outdoor seating