The right landscaping for nursing homes can make a huge difference, from calming greenery to cheerful flowers to fragrant healing gardens.
Families looking for the best place for their loved ones want a great first impression, a sense of safety and security, and outdoor spaces that look cheerful and relaxing,
But it takes a skilled and conscientious landscaping company to pull it all off, making things look great with as little disruption to residents as possible.
How do you find a commercial landscaping company that has what it takes?
It starts with the right questions. And the right answers.
1. Will You Come at the Same Time and Same Day Every Week?
The answer you want to hear: Yes, weather permitting.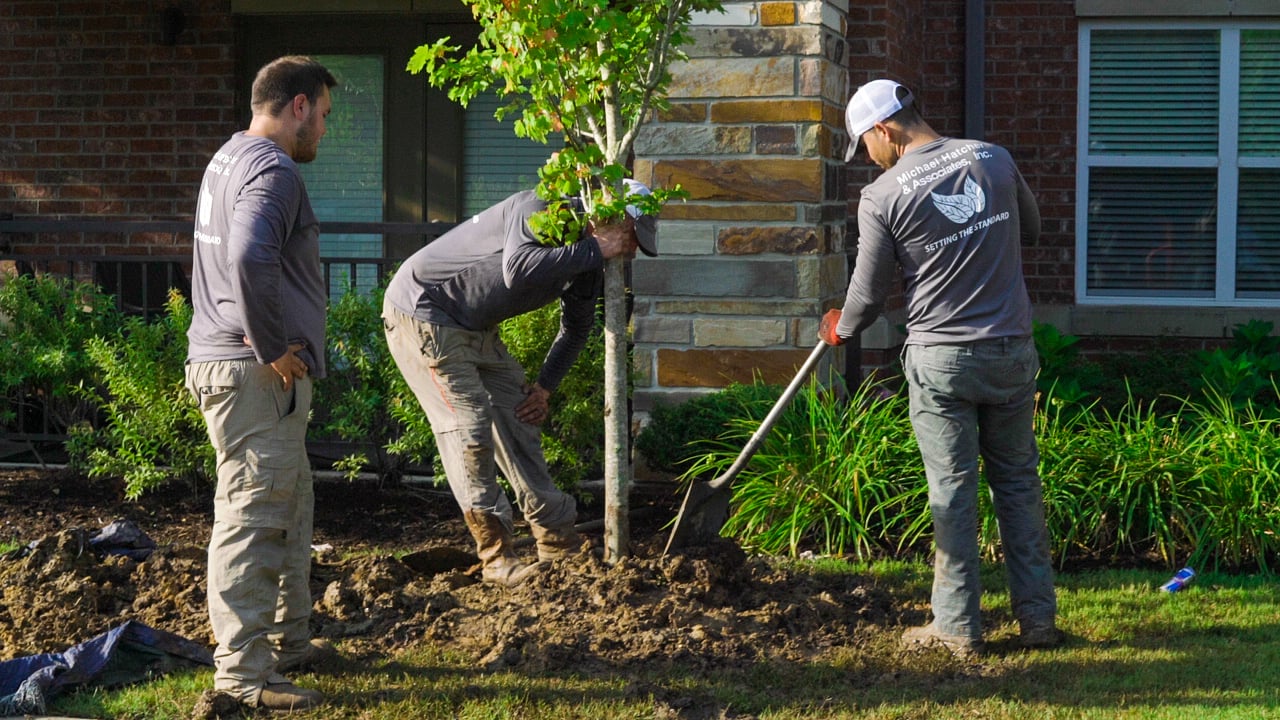 When it comes to landscaping for long-term care facilities, continuity is important. You want reliable landscaping crews who show up on schedule, so you know your landscaping will always look great.
When you know exactly when crews will show up, you can plan around it, so you don't schedule an outdoor picnic, class, or outing when crews are operating equipment outside your door.
2. How Much Noise Can We Expect During
Landscaping for Nursing Homes
?
The answer you want to hear: Landscape maintenance makes noise — there's no avoiding that. Mowers, line trimmers, and blowers can be loud.
But crews start on the outer perimeter of the property if they arrive early and save the areas close to the building for last, to avoid disturbing residents who might still be sleeping.
3. Who is My Main Point of Contact?
The answer you want to hear: You'll be assigned an account manager, your go-to person for any questions, from irrigation to invoicing.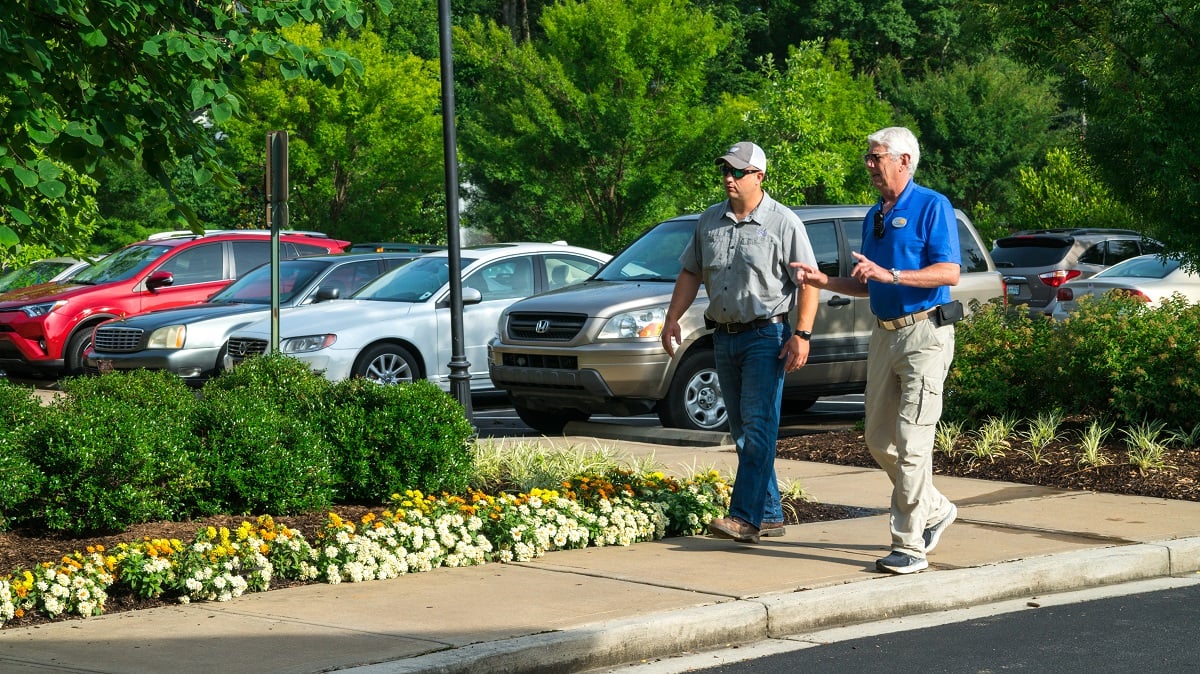 There won't be any confusion about who you should contact, whatever your question or concern.
Your account manager will become an expert on your property, checking on everything from quality issues to safety concerns.
4. What Are Your Response Times During Storms and Other "Acts of God" Events?
The answer you want to hear: It depends on the event and the extent of the damage. But we get in touch with all clients in a timely manner, assess their needs quickly, and prioritize the most pressing needs.
5. Do You Drug Test Employees and Check for Criminal Backgrounds?
The answer you want to hear: Yes.
We know you care about the caliber of people spending time on your property.
You need to be comfortable and know your residents, their visitors, and your employees are safe.
6. Will You Come to Us With Suggestions to Enhance Our Resident Experience During the Course of Our Contract?
The answer you want to hear: Absolutely!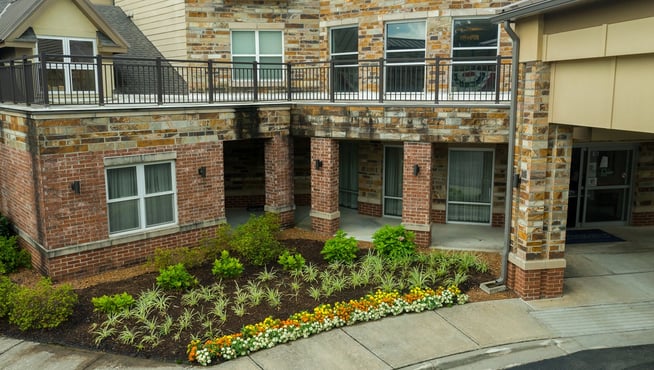 Our account managers have great ideas for landscaping nursing homes and long-term care facilities. On larger projects, account managers work with our landscape designers to create captivating designs and proposals like these:
Native plants are low maintenance and attract

butterflies and hummingbirds that will flutter around and delight residents and your staff who duck outside for a fresh-air break.

Therapeutic gardens can be touched, smelled, and heard. Think ornamental grasses that rustle gently in the breeze. Fuzzy lamb's ear plants, fun to touch. Lavender for relaxation and calm.

Accessible patios with shaded outdoor seating provide welcome spots for residents to relax with visitors.
We'll keep the great ideas coming.
7. Do You Service Other Facilities Like Ours?
The answer you want to hear: Yes.
Practice makes perfect, right? The more experience a company has with landscaping for nursing homes, the more knowledgeable they'll be about your issues and needs.
Landscaping for Nursing Homes
: Trust Hatcher
When it comes to landscaping for long-term care facilities and nursing homes, it's not just about what we do, but how we do it.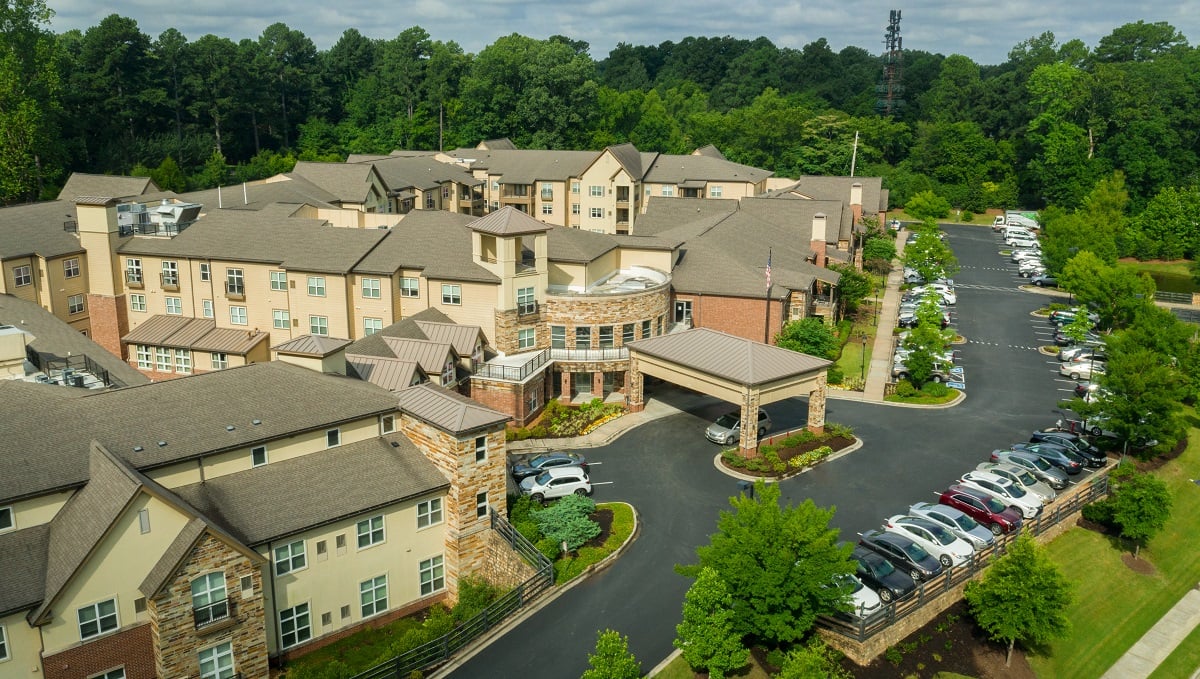 The designers and crews at Michael Hatcher & Associates can create soothing gardens; wide, accessible pathways; and comfortable outdoor seating.
But we know you also want dependable continuity of service, respectful crews who keep the noise down, and an accessible contact person who can answer your questions, look out for your property and suggest ways to improve it.
Questions? Ask away. You'll love our answers.
Are you ready to boost the appeal of your nursing home or long-term care facility, and know you're in experienced, respectful hands? Talk to one of our commercial landscaping experts today! We'll meet at your property, create a custom plan, and get you on your way to enjoying a beautiful, worry-free property.