You know your commercial property will benefit from regular landscape maintenance.
Besides helping your company look its best, expert maintenance is a must for ensuring the safety of your customers and employees while they are on your property.
But what you might be wondering is, how much will it cost, and why?
What's Included In Commercial Property Maintenance Costs?
We take a number of factors into account when we write up your commercial property maintenance estimate. Labor, or man-hours, is the biggest factor affecting cost.
The number of man-hours is affected by the size of the property, number of required visits during the season, and services desired. Plant selection and pruning requirements can also affect pricing.
Let's take a look at each of these in more detail.
Property Size And Shape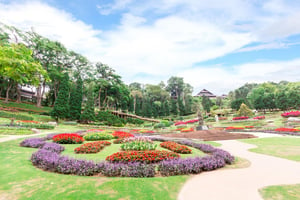 In general, the larger the property, the longer it will take to service.
However, it would be impossible to apply the same per-square-foot pricing to all properties. This is because some properties are more challenging to service than others.
Equipment needs, for example, are a big factor. If we have to use smaller mowers due to access or preference, or if your property has areas where we have to use line trimmers due to slope conditions, this will take more time - and affect the price.
Commercial Maintenance Services Required
Our standard commercial property maintenance cost package includes:
trimming, edging and cleanup
tree pruning, shaping, and sucker removal
shrub shearing 4x per year
weeding
debris and trash removal
fertilizer, herbicide and/or pH balancing applications
standard mulch applications
irrigation system servicing
monitoring for fungus, pests and disease
Additional services such as extra mulchings, installing colorful annual flowers, or servicing trees over 15 feet can be added to your estimate upon request.
Plant and Tree Selection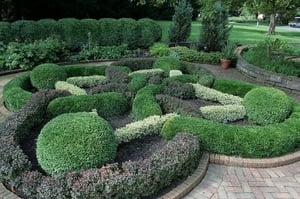 Some plants require more frequent or more intensive care, including pruning and shaping.
For example, despite its drought tolerance, a boxwood topiary will need to be sheared regularly to look its best.
Frequent shearing means higher labor costs, so if you want to keep expenses down you might consider installing a lower-maintenance plant like butterfly bush.
Number of Site Visits
Our commercial property maintenance costs usually include one site visit per week. However, within reason we can adapt our service schedule to your preferences.
Maintenance costs can be reduced if we reduce the frequency of mulching, leaf removal, or even mowing visits.
However, it's important to realize that less frequent service will affect the appearance of your property.
Also, keep in mind that each time we visit, we inspect your property for hazards and problems such as broken limbs or leaky valves. Reduced visits can compromise safety on your property.
Timing of Site Visits
We don't charge a premium for timing requests.
If you have a request for early or late visits, or for certain days of the week, we will accommodate it to the best of our ability within our standard operating hours.
These are usually first come first served and are available only according to capacity.
Condition of Your Commercial Landscape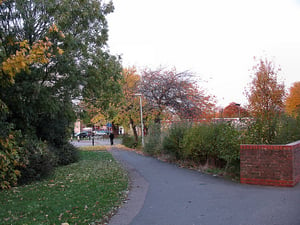 If your property is in need of a lot of work prior to our starting service, we may need to go in and make initial improvements before it is ready for routine maintenance.
In that case, we will charge a cleanup fee and then provide an estimate for maintenance once we return it to a maintainable state.
Keep in mind that depending on the condition of the property, it may take additional applications to get the turf back in shape.
Have Questions About Commercial Property Maintenance Costs?
You should. And we welcome them. After all, choosing a landscape maintenance provider is a big decision. You deserve to know all the details up front.
In fact, before we work with you, we will have questions of our own. And we will certainly want to pay your property a visit.
If a company quotes you services without gathering information from you, ask them how they can provide a number so quickly - and how that could impact your landscape maintenance budget in the long run.
At Hatcher & Associates, we believe that a good relationship with our customers starts with good communication. That way, you will know exactly what to expect when you budget for your commercial property maintenance costs.
To find out more about the costs and benefits of our commercial property maintenance services, tell us about your needs online or call 901-755-3207 to speak with one of our commercial landscape maintenance experts.