It's summertime, and the livin' is easy…
...at least, it's easy when you've made smart plant selection choices for your landscape!
No one wants to spend their summer doing more chores than necessary. So unless you really enjoy spending time coddling finicky plants, it makes sense to choose low maintenance and drought tolerant species and varieties.
They'll allow you to enjoy your landscape with minimal fuss. And they'll save you a ton on your summer water bill as well.
The following five perennial plant species are ones that we have found to be especially suited to thrive in Tennessee's climate and soil conditions with a minimum of input on your part. They are our top picks for an easy-breezy summer landscape.
Our top 5 drought tolerant, low maintenance landscape plants for the Memphis area.
Daylilies
(Hemerocallis spp.)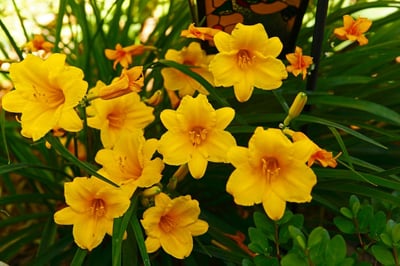 Blooming from May through August, these ever-popular landscape plants come in a huge variety of colors and sizes, ranging from under 6" to over three feet in height.
They are especially prized for their vibrant displays of color in the first part of the summer.
Daylilies are extremely versatile. Use short varieties for borders, and taller ones as accent plants or in large beds for a wide swath of color in the landscape.
Some varieties, such as the golden yellow Stella D'oro, will provide multiple bloom opportunities throughout the season.
Plant these low maintenance plants in full sun to partial shade — they're not picky!
Purple Coneflower (Echinacea purpurea)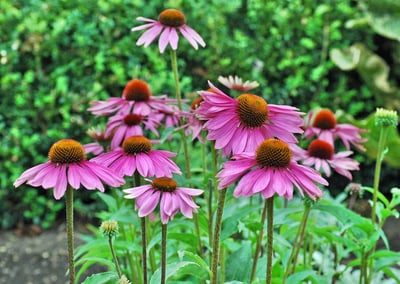 Well known as an immune boosting herb, Echinacea is also a beautiful and hardy bedding plant. Because it is native to our area, it thrives in the garden with very little maintenance.
The original wildflower has purple petals with a gold center, and this is still the most common cultivar.
However, a whole rainbow of other color varieties are now also available, some with exotic-looking double blooms. Plant them in full sun to light shade.
Purple coneflowers grow up to 47" tall.
Enjoy these low maintenance plants in your Tennessee landscape from June through August. They make great cut flowers, too!
Rudbeckia (Rudbeckia spp.)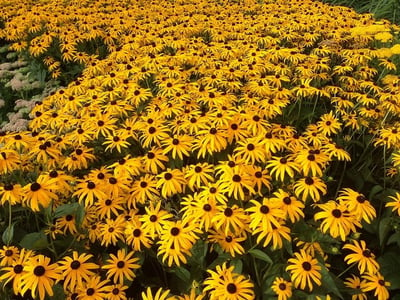 Perhaps better known by its common name, Black-Eyed Susan, the classic Rudbeckia sports deep golden orange-yellow petals that contrast strikingly with a deep black center.
Like Echinacea, the plant has since been bred into many colorful varieties, some with striking multi-colored petals.
We especially love the sunny yellow variety called 'Goldstrum' for landscaping purposes.
Goldstrum grows about 23"-29" with a spread of one to two feet.
This drought tolerant plant in full sun to partial shade and blooms mid summer through August.
Butterfly bush (Buddleia davidii)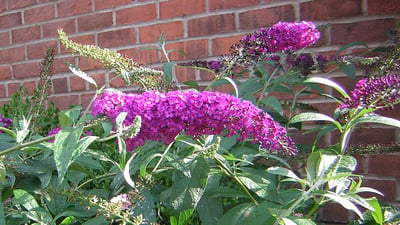 Another colorful addition to your Memphis summer landscape, the Butterfly Bush is a deciduous shrub with very large (up to 12" long), showy, fragrant flower panicles that of course attract butterflies.
It also is available in many color varieties. One of our favorites, 'Black Knight,' is a striking deep purple that contrasts beautifully with the flowers listed above.
The Butterfly Bush makes an attractive accent plant, growing 6-10 feet tall and up to 10 feet wide. One caution: this low maintenance plant can become invasive, so take care to plant it where it can't escape!
Butterfly bush blooms from June through September in Memphis.
Chaste Tree (Vitex angus castus)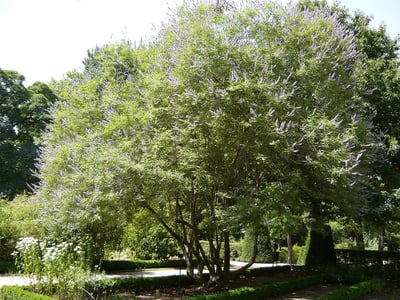 This native of central Asia can be grown as a small tree or pruned to a large shrub. Left to its own devices it will grow up to 20 feet tall with a spread of 10-15 feet.
Its multiple trunks give it a spreading habit and lend interest to the winter landscape.
With its showy purple panicle blooms, Vitex is a real showstopper in the landscape, as well as an excellent food source for butterflies and bees.
Plant it in full sun, and make sure the soil is well-drained — this little drought tolerant plant hates wet feet! (That's one reason it's so easy to take care of - it thrives on very little water.)
The chaste tree blooms from July through August.
Find More Drought Tolerant Plants For Your Memphis Property
Of course, this is just a small sampling of the many easy-care plants that do well in Tennessee and the mid-south.
If you are looking for more low maintenance plants, you can't go wrong to explore the many wonderful native varieties that are now available in nurseries. Not only are native plants typically low-maintenance, but they also are important food sources for our native pollinators and other wildlife.
However, if you don't find native plants you like, don't despair. Remember that one of the keys for successful Xeriscaping (landscaping with minimal or no irrigation) is not as much a plant's place of origin but the type of climate that it is native to in the wild.
If its native climate is similar to ours, or slightly drier, it will probably do well here.
If you have any questions about planting an easy-care landscape, or would like suggestions for additional species that we have found are well suited to Memphis growing conditions, feel free to give us a call at 901-755-3207
Image Credit: Daylillies, Purple Coneflowers, Black Eyed Susans, Butterly Bush, "Vitex agnus-castus 1" by Cillas - Own work. Licensed under GFDL via Wikimedia Commons.