When it comes to commercial property landscape problems, there's a lot you don't have to worry about, right?
No sharks. No alien attacks. Very little worry about asteroids crashing into your parking lot.
It actually makes the list of commercial landscape problems you're about to read seem really simple to solve.
Take a look at these common commercial landscape problems.
1. Unsightly Turf, with Too Many Weeds
Your lawn is one of the first things potential customers, tenants, and visitors notice. If it's brown or full of weeds, they really notice.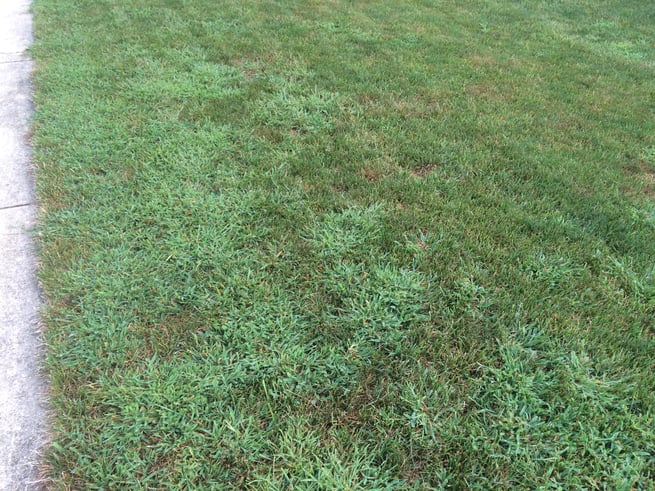 Solution: Turf and Bed Programs (Weed, Feed, Insect Control)
This vital trio keeps your commercial property lawn healthy and looking great.
Wrangling Weeds
Weeds, ugh. They compete with your lawn for water, sunlight, and important nutrients.
Not only that, they look terrible, making your property look neglected and untidy.
Pre-emergent zaps weeds before they can sprout, while post-emergent jumps in to banish any that sneak through.
Bye, Bugs
A host of damaging insects, from aphids to grubs to mites, can harm your lawn, wreck your trees, and munch your plants and flowers down to the stems.
Bugs can be a huge landscape problem for your commercial property.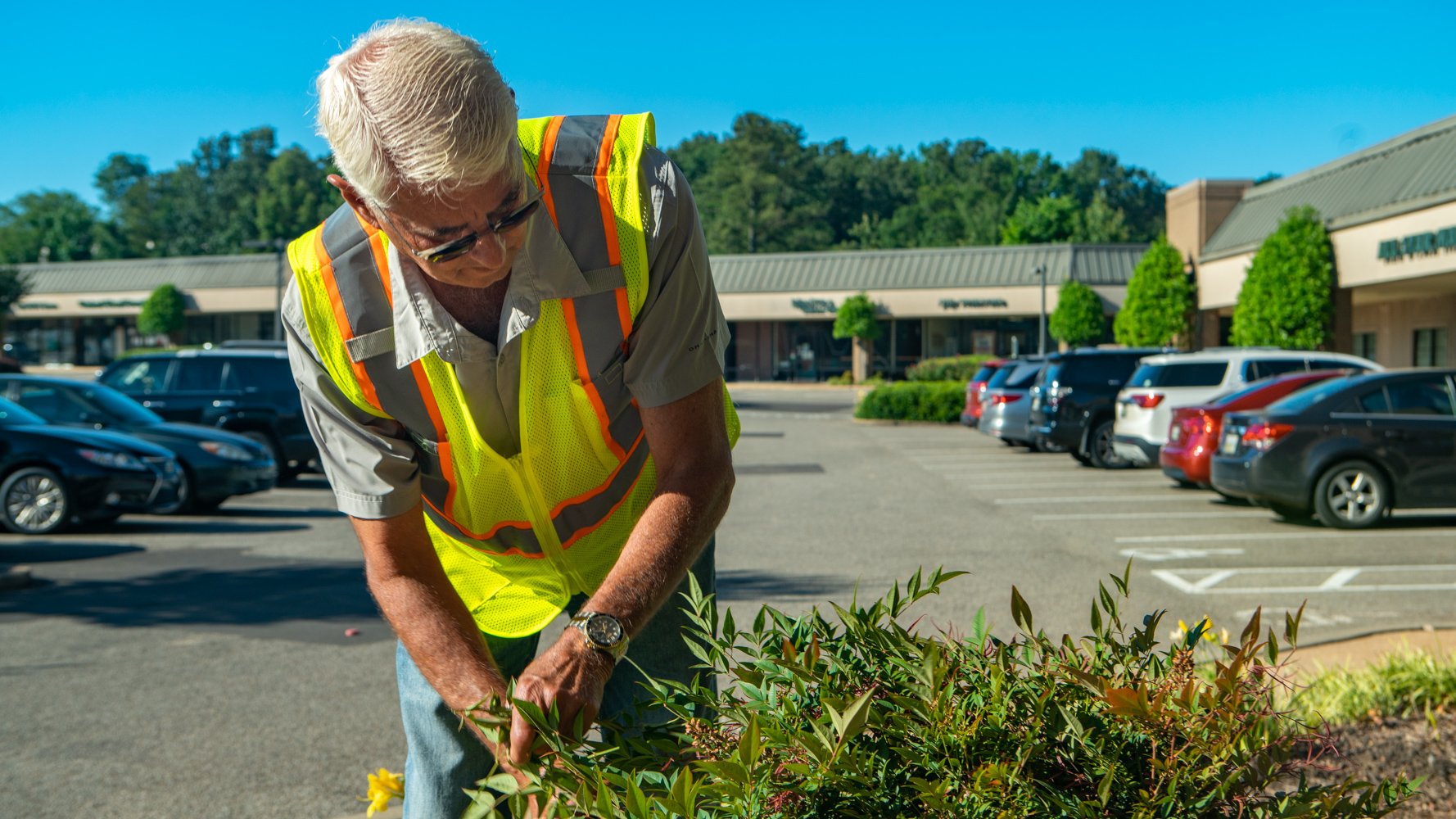 The right pest control at the right times can save your landscaping.
Feeding Hungry Turf
Your grass needs nutrients to thrive, and fertilizing is a year-round process. It starts in the spring, to jump-start your turf with the nutrition it needs to get going. And it runs through fall, to feed your hungry lawn before it settles in for the winter.
Trees, shrubs, and groundcovers need their dose of nutrients, too.
2. Commercial Landscape Irrigation Issues
Speaking of healthy turf, proper irrigation is key. And there's a lot that can go wrong out there, from leaky valves to clogged or broken heads to a controller that might be set to water too many times for the season, or not enough.

You could be wasting a ton of water. Or your lawn and landscaping might be struggling if it's not getting the water it needs. But you don't have time to stay on top of all that.
Solution: Monthly Irrigation Inspections.
During these monthly irrigation inspections, technicians check everything over, testing each of your zones to make sure the right amount of water is hitting all the right places, and nothing needs repair.
A commercial irrigation inspection will zero in on any water waste. Irrigation technicians will also spot the little issues that can lead to bigger problems later, from cracked lines and leaky valves to clogged nozzles or broken spray heads.
If our tech sees something amiss during a monthly inspection, they can often take care of it right there.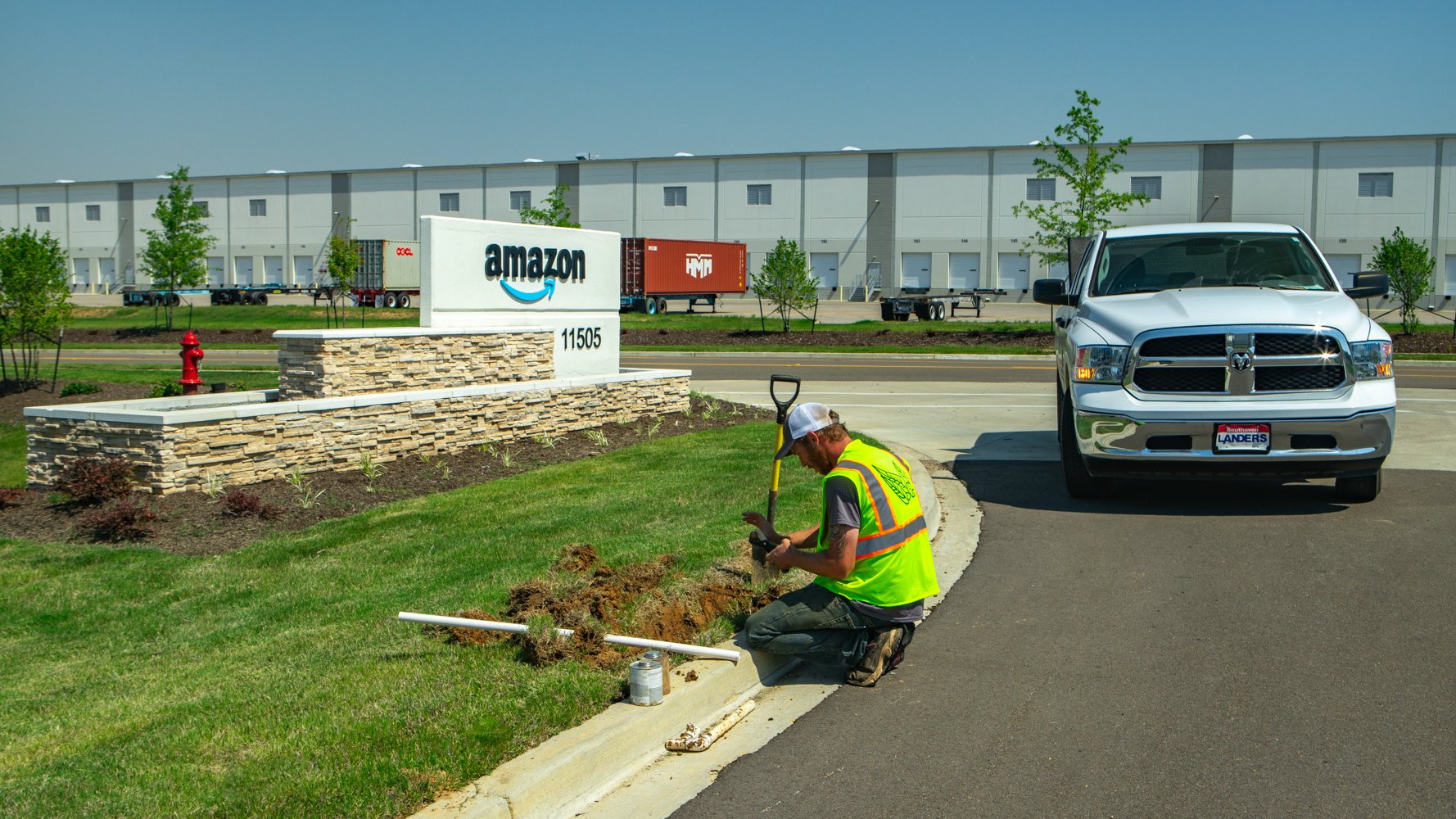 Beyond those monthly inspections, there are a lot of other eyes on your irrigation system, too. Your account manager visits once a week. Your foreman visits once a week. The general manager is on-site once a week.
Not much gets past us.
3. Overgrown Plants
Plants are supposed to grow. That's a good thing.
But when plants, shrubs, and trees get too big or out of control, they cause visibility and safety issues around doors and windows. They can obstruct your signage and traffic signs on your property, becoming a big commercial landscape problem.
Dead tree branches can suddenly crash down from above, threatening pedestrians, parked cars, and your building.
Solution: Proactive Pruning
Hatcher crews keep a close eye on your plants, shrubs, and trees, keeping them tidily trimmed and checking for dead and dying branches that should be pruned out before they take an unfortunate and potentially costly tumble.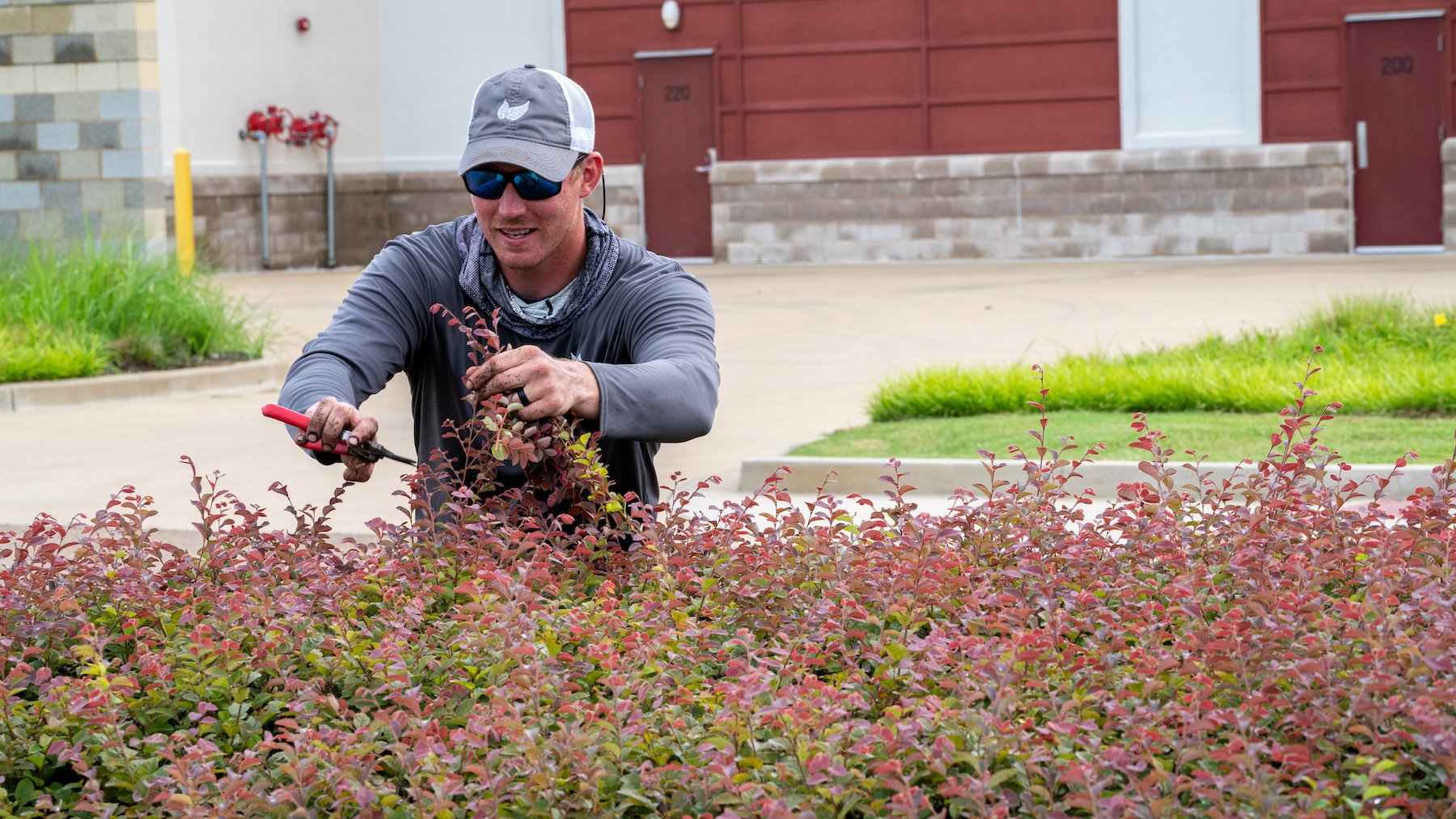 It costs less to prune plants now than it does to tear them out and replace them later.
4. Commercial Landscape Water Runoff Issues
Some large commercial properties have more pavement than plants. That means low maintenance, right? Not exactly.
Expanses of pavement have their own issue — water runs off of it, not through it. And that causes some water-related challenges:
Water often washes away the dirt at the edges of the pavement. Parking lots can actually sink, and big holes develop where water washed soil out underneath.

Water pollution. Pavement collects all kinds of pollutants that can't seep through a solid pavement surface, so they quickly end up flowing from your property right into the groundwater and nearby lakes and streams, threatening wildlife.

Flash flooding. When heavy rain has nowhere to go but pavement, it can quickly trigger flooding. Water runoff from an acre of pavement is 10 to 20 times greater than the runoff from an acre of grass.

Excess water dangers. Damaged, buckled concrete or asphalt is a trip hazard, which means it's a liability issue for you.
Solution: A Variety of Options
There are several solutions for wayward water on large paved areas, including concrete swales, rain gardens, retention basins, or re-grading low spots. Your account manager can help you decide which solution will solve this commercial property landscape problem.
5. Detention Pond Problems
Commercial properties often include large detention or retention ponds that require attention and regular maintenance to keep them working properly.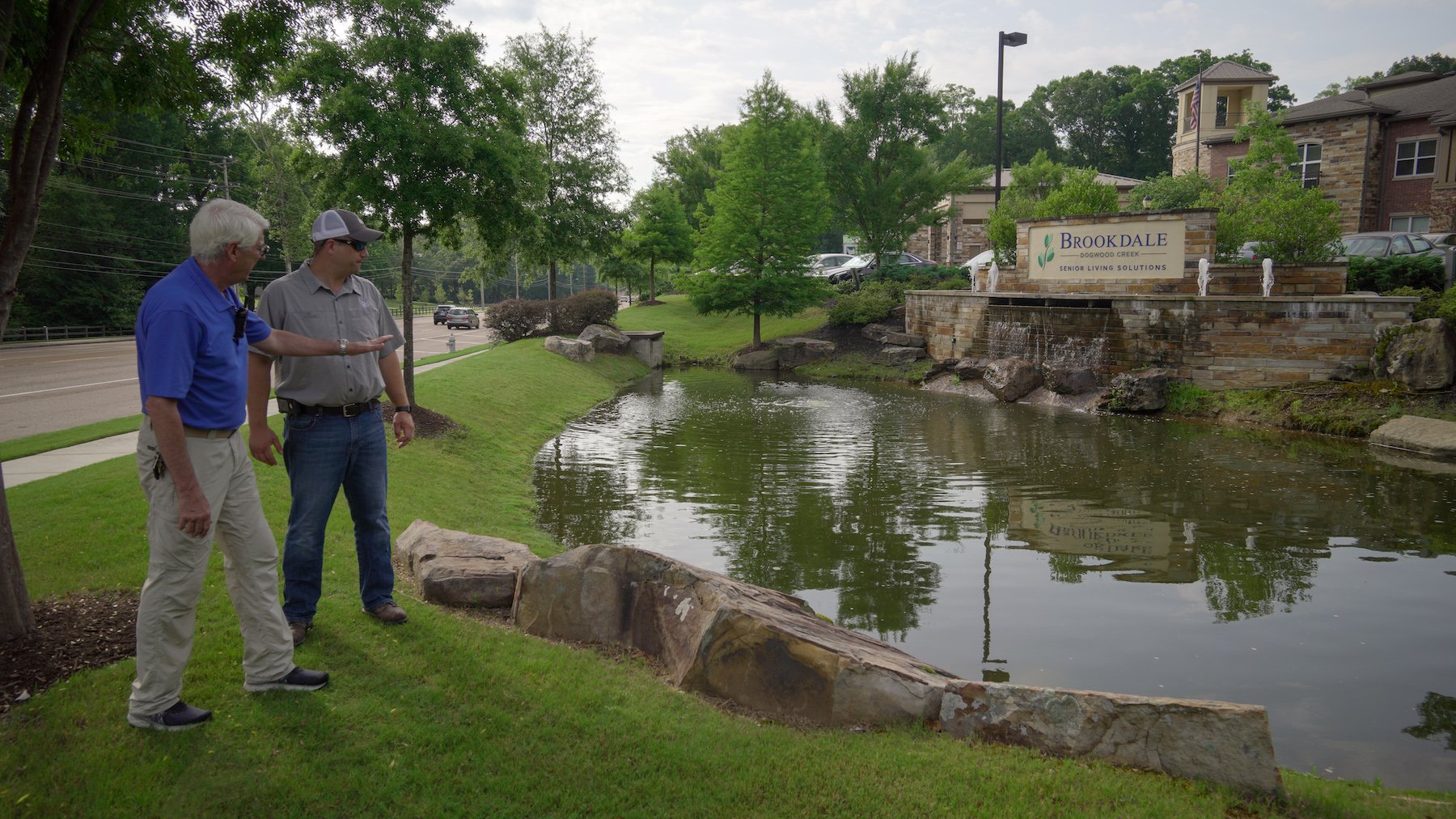 If they get clogged by trash, debris, or weeds, they won't drain well. But these important ponds are often tucked away out of sight. You might not notice the mess.
Solution: Frequent Inspections
Hatcher crews check these periodically to see if vegetation or debris is obstructing the water flow. They inspect the pond banks to make sure there's no erosion. They ensure any concrete or brick is structurally sound.
6. Too Much Fuss
Commercial property managers have daily to-do lists that never seem to end. They don't want to worry about plants dying and looking neglected.
Solution: Low-maintenance Landscaping
Choose low-maintenance trees, shrubs, and hardy perennials that don't need landscaping detail work and can hold their own in heat and drought.
Native plants are perfect. Once established, native plants need less water. They naturally resist diseases and pests. That means you don't have to worry about plants getting eaten, looking bad, and needing to be replaced.

Sturdy, long-flowering perennials like Black-eyed Susans and purple coneflower add a burst of color but need little maintenance.

Redbud trees explode in impressive clouds of pink each spring but need minimal care, other than occasional pruning.

Spots of perennial color dotting your property offer enough appealing color without the need for high-maintenance annual flowers that need frequent attention and have to be replaced every few months.
Expecting important visitors? Having an event? Hatcher crews can install spots of colorful annual flowers in high visibility areas for a temporary boost.
Trust Your Commercial Landscaping to Hatcher
If you're managing a busy commercial property, you have a lot on your plate.
You don't want dead plants giving your company a bad name. You don't need the hassle of a clogged detention pond full of floating trash. You don't need a flooded parking lot or irrigation heads spraying pedestrians.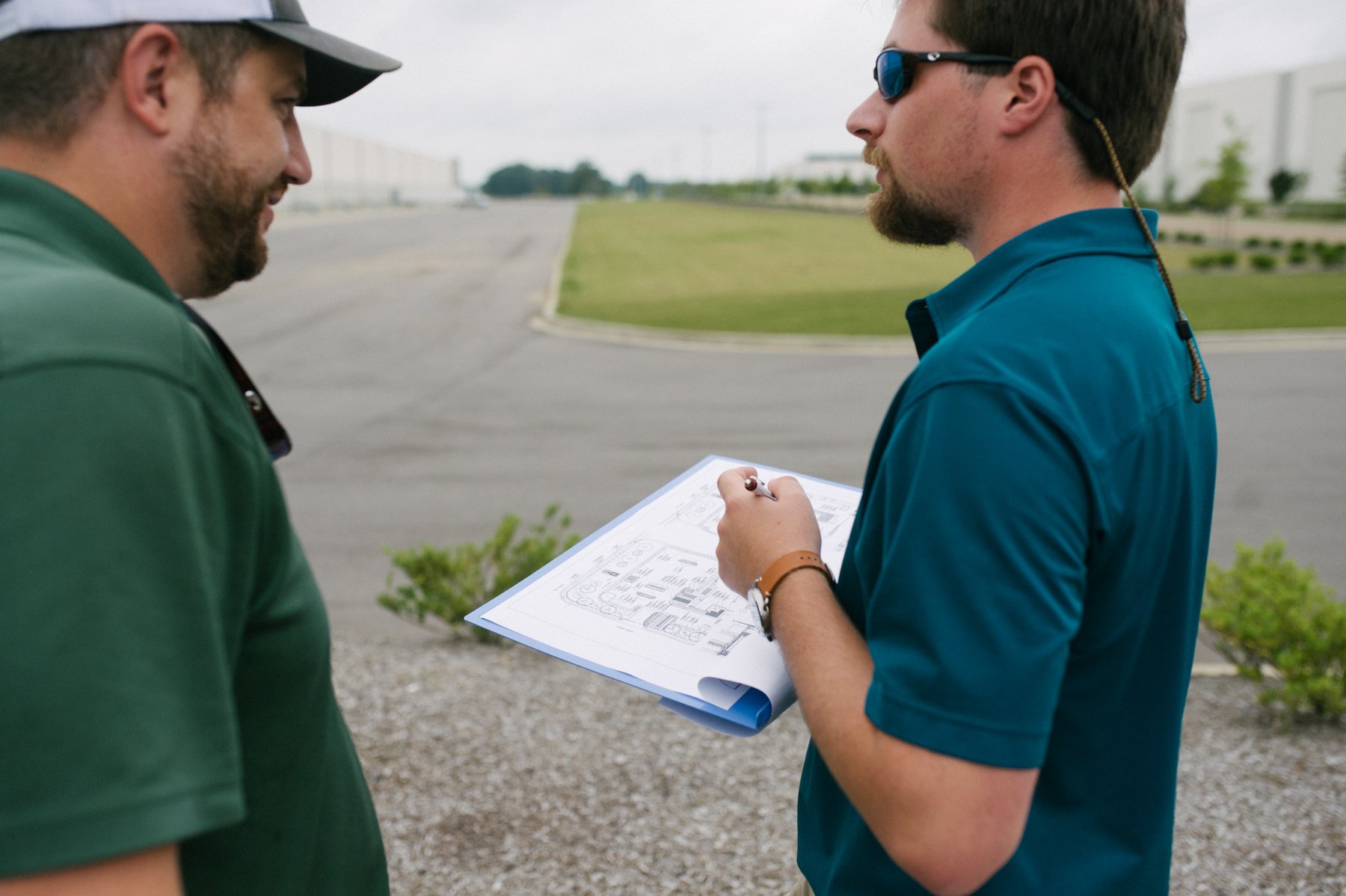 Here at Michael Hatcher & Associates, we specialize in solving commercial property landscape problems.
Our skilled crews know the drill.
Ready to boost the appeal and safety of your commercial property? Talk to one of our commercial landscaping experts today! We'll meet at your property, create a custom plan, and get you on your way to enjoying a beautiful, worry-free property.