The Director of Facilities at Life Church has a pretty good reason for wanting top-notch church grounds landscaping.
"You have to take care of God's house, and keep it looking good," Cameron Johnson says.

"Think about a neighbor who has tall grass or dead trees," he says. "It looks like they don't care. We want to be a good neighbor."

So the church, with four locations in the Memphis area, chose Michael Hatcher & Associates to handle their landscape maintenance.
Here's a look at how it all comes together at the Houston Levee location.
50 Acres of Worship and Wetlands
The Life Church at 650 Houston Hill Road in Eads, TN is situated on 50 acres of land surrounded by woods, fields, marshes, and ponds. About half of the land is developed.

"It's such a large property, we can't take care of it ourselves," Johnson says.

It takes a Hatcher crew of two or three a full eight hours every week to take care of the property.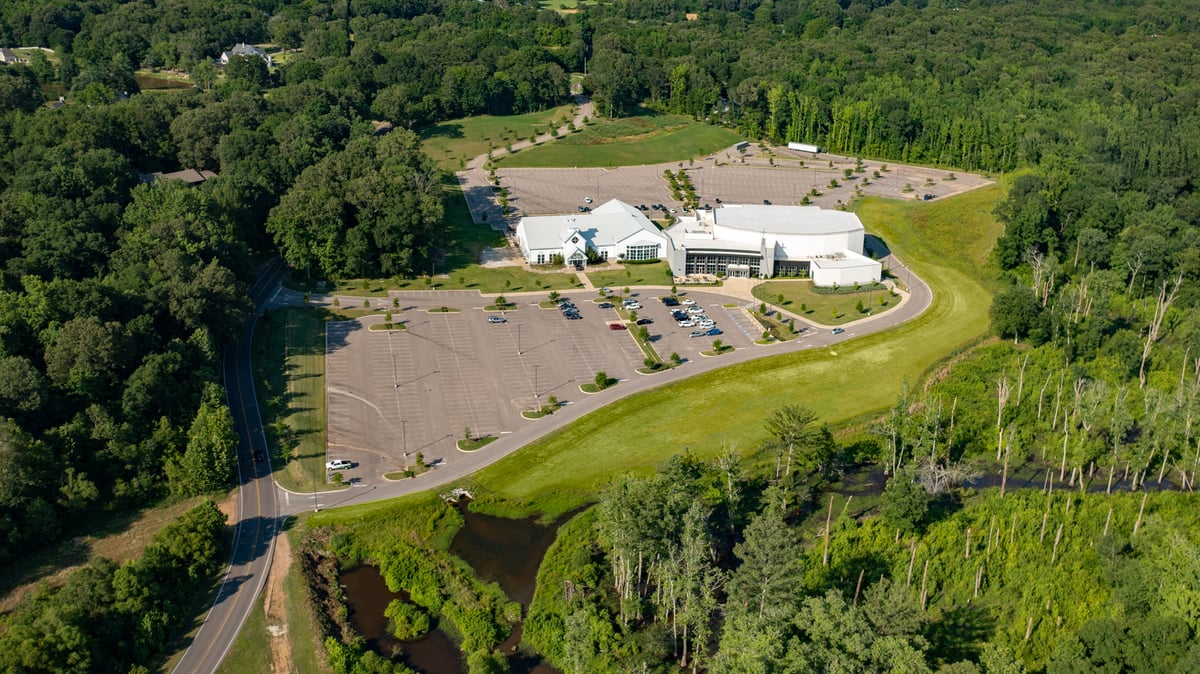 In addition to massive turf areas, there are 700-space parking lots dotted with parking lot islands to tend, as well as trees and shrubs.

"Life Church has four campuses, but this one is their headquarters and is top priority," says Chris Burdeshaw, the Hatcher Commercial Account Manager who works with the church and its three other area locations. "This is where they have events and seminars. Last weekend they had 100 pastors there for a conference."

Landscaping isn't the reason people visit their church, Johnson says, but it's important.

"You only get one chance to make a first impression for new guests," he says. "You don't want them to see dead trees, tall grass, weeds in the flower beds."

Landscaping church grounds includes specific timing needs. Hatcher crews visit weekly on Fridays, so the property looks nice for Sunday services.

The church also operates a staff day care center at this location, so crews avoid working around the entrances during the morning drop off time.
Church Grounds Landscaping Begins with the Budget
Church budgets are different than those of other commercial properties.

"Their money comes from people tithing," Burdeshaw says. "They want all the money to go to things they really need. And they're pretty big on outreach, so a lot of their money goes to help the community."

That means there isn't much interest in elaborate landscaping.

"We want to be good stewards of the property and our money," Johnson says.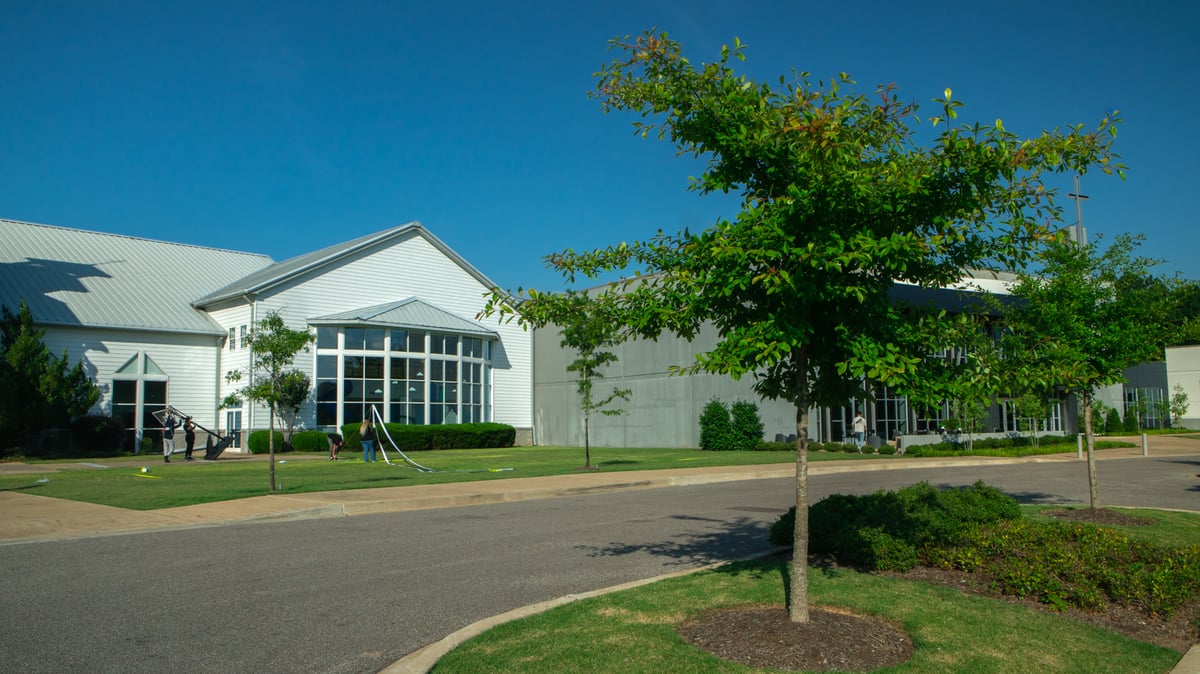 "Life Church isn't flashy or showy," Burdeshaw says. "They just want a nice clean campus where people feel safe at night, with no overgrown areas where someone could hide."

Crews pay special attention to keeping shrubs pruned low and away from the building for safety.
Mowing Matters
Much of the maintenance work here is mowing the church property's lawn. It has to look good, with a uniform, level cut, and crisp edge.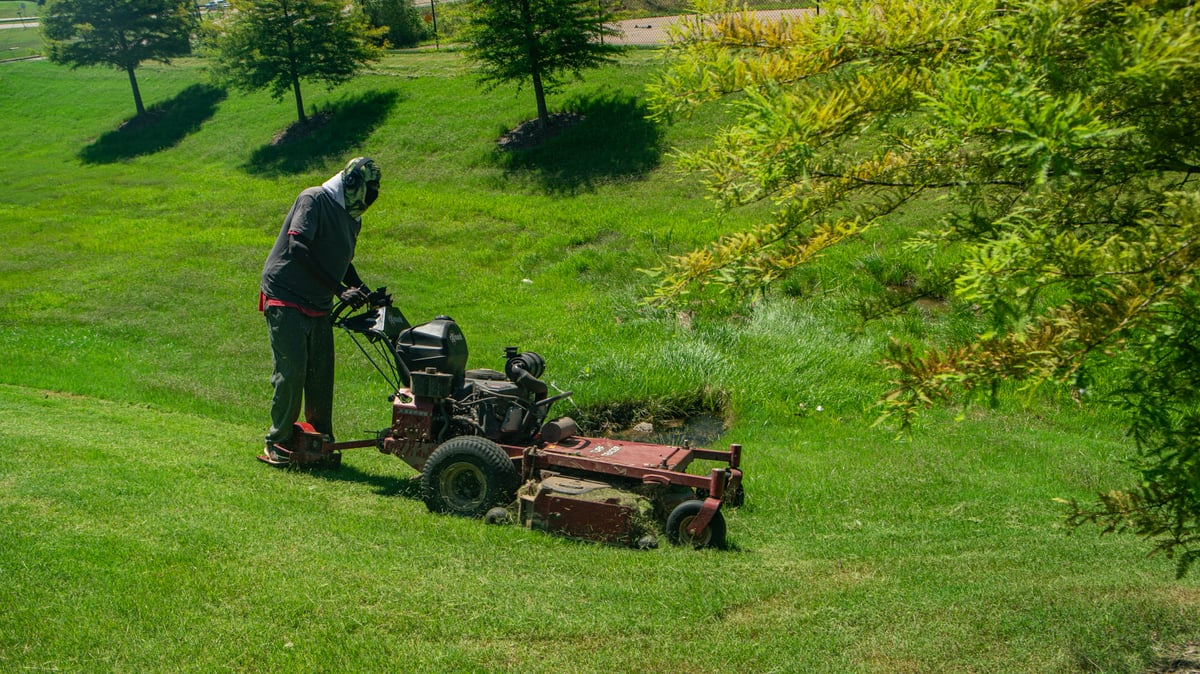 Steep slopes on the property are a challenge. Crews mow the slopes every two weeks instead of every week, to help prevent erosion. And they alternate mowing patterns each time for attractive turfgrass.

They use mulch kits, which catch grass clippings, chop them up, and return them to the ground, adding beneficial nutrients to the soil. The kits also prevent small stones from flying out the side of the mower, which could injure passersby or damage cars and property.
Church Grounds Landscaping Lawn Care
Healthy green turf sets the tone for impressive church grounds landscaping.

That means a solid turf care program that includes fertilizer, weed control, and insect control.

The church grounds landscaping is surrounded by swamps, fields, and woods. Translation: lots of weeds.

"There are a lot of chances for weed seeds to blow onto the property," Burdeshaw says. "Every time the wind blows.

"When a property is next to wild areas that are untouched, it poses some challenges."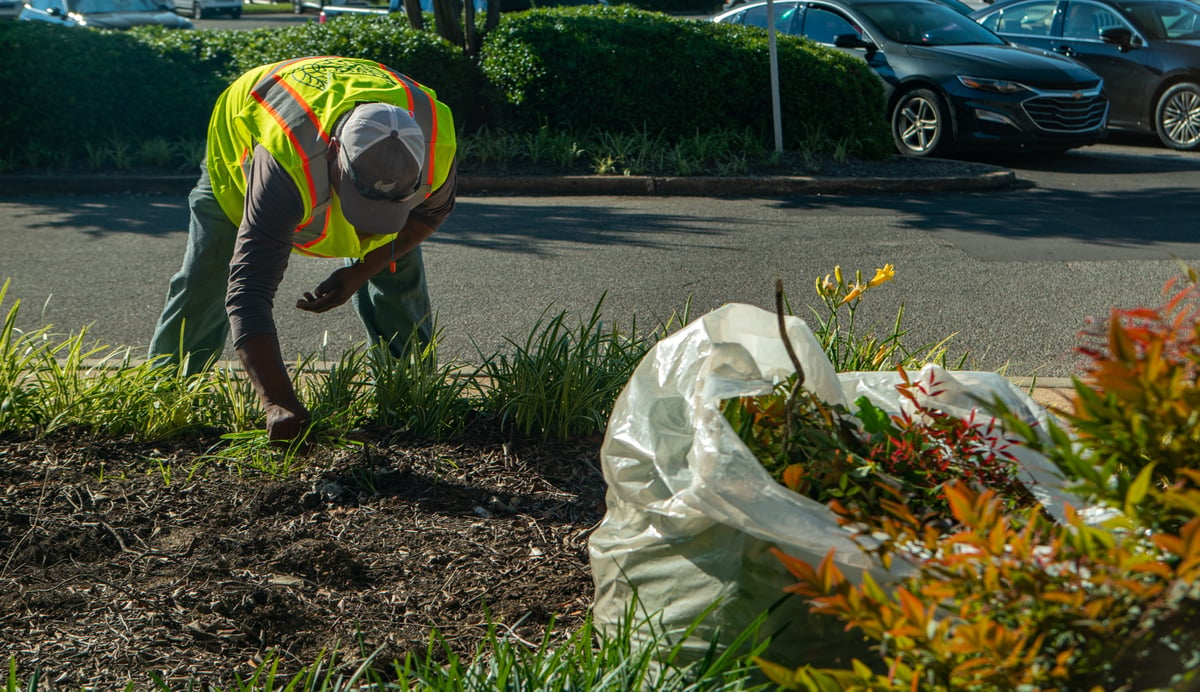 So the church's contract includes a full package of weed treatments throughout the year.

Applying weed killer isn't a one-time thing. It needs to happen multiple times a year. Different weeds grow at different times throughout the seasons.

So weed control treatments on the church property are spread out every six to eight weeks, to target weeds throughout the year, including both pre-emergent and post-emergent applications.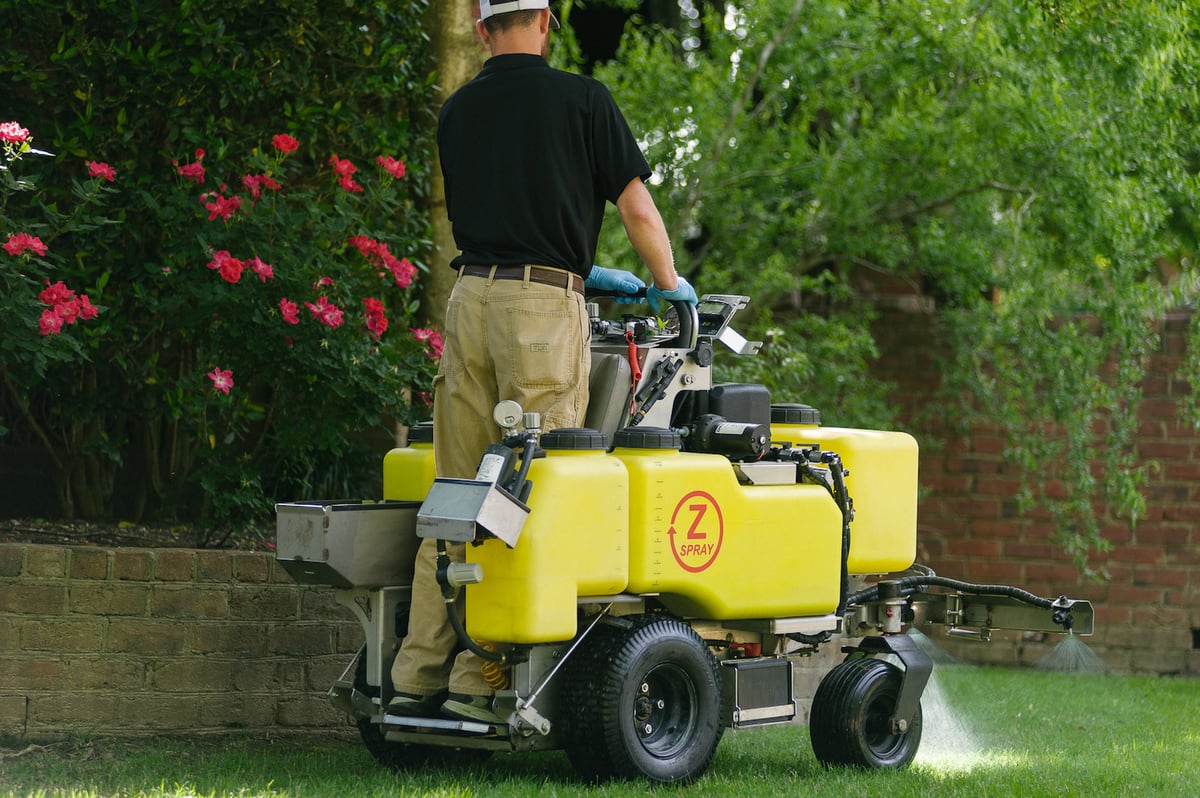 Pre-emergent weed control is all about prevention, designed to target the weed seeds before they sprout. The church grounds gets two pre-emergent applications to keep wild weeds at bay.

Post-emergent products follow up to kill weeds once they already exist.
Snow and Ice Management
Snow and ice management is in the Life Church contract, Burdeshaw says, but it isn't always needed.

"Sometimes a church member will say, 'I have a piece of equipment that will do that,' and they'll take care of it," he says. "But we keep it in their contract and we'll do it if they need it."

The contract calls for paying for services as needed, Burdeshaw says.
Irrigation for Healthy Church Grounds Landscaping
The church property stays pretty wet, surrounded by swamps, Burdeshaw says.

"It doesn't take a ton of water."

But monthly irrigation system inspections are crucial to keep the system running smoothly and to prevent water waste.

During these inspections, technicians check everything over, testing each of the irrigation zones to make sure the right amount of water is hitting all the right places, with no waste. They're on the lookout for leaks, breaks, or wayward sprinkler heads.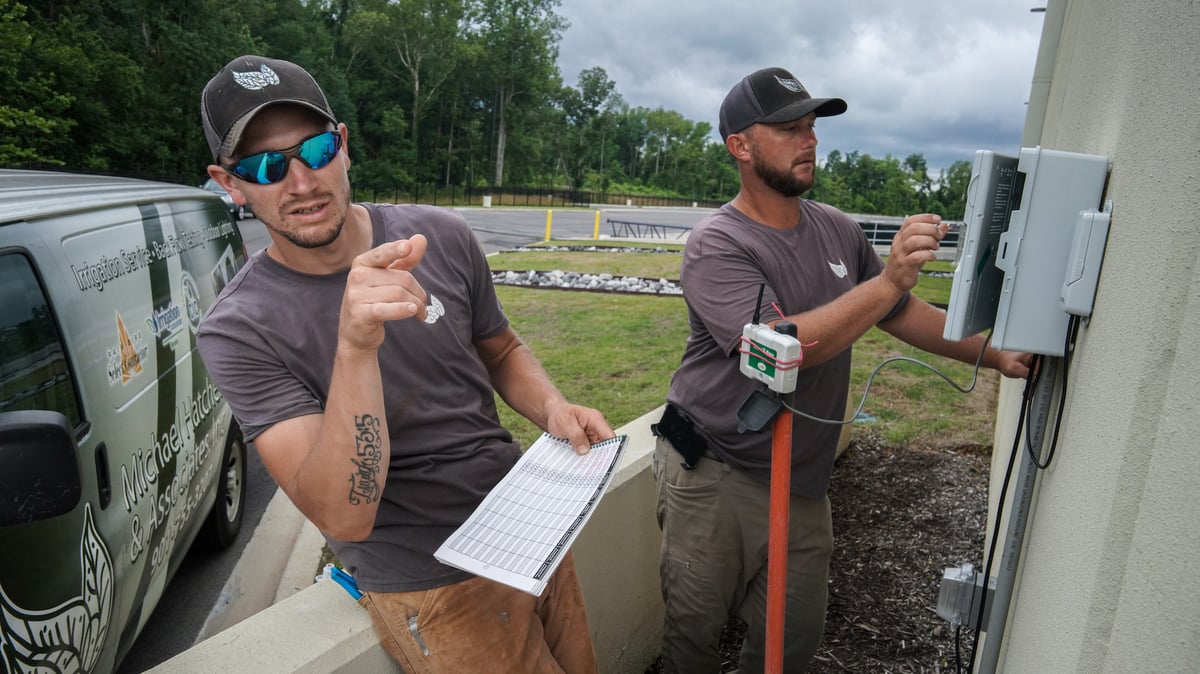 Once colder weather moves in, irrigation technicians blow all the water out of the church irrigation system's valves, pipes, and sprinkler heads. If water freezes and expands, the pipes could break.
Striving to Impress
Like all commercial landscaping companies these days, Hatcher & Associates has struggled to employ enough crew members, and Johnson says there are times the service at the church suffers a bit.

"But they've done well adjusting to that," he says.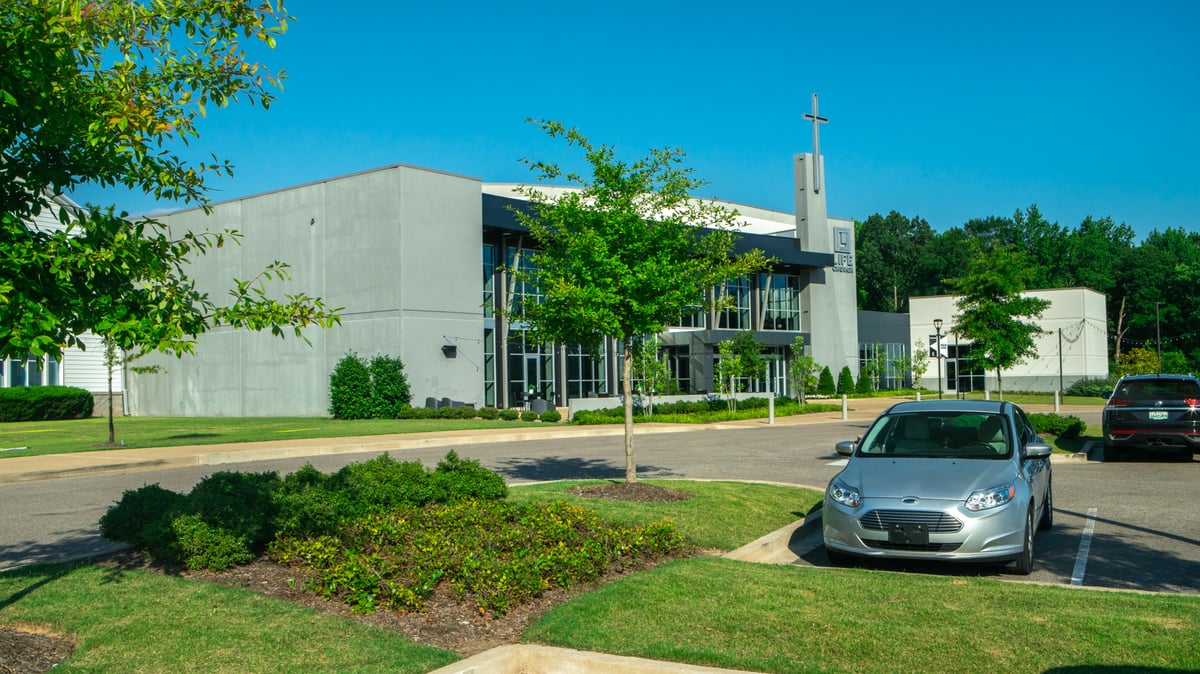 He's impressed with these factors:
"They've given us one account manager for all our locations, even though the churches are in all different areas," Johnson says. "It helps me to have one point of contact."
"We like the lawn mowed Thursday or Friday, so it looks nice for the weekend," he says. "But if it rains those days, that's a problem. They've come out on Saturdays to mow." A former account manager even came out himself on a Saturday to mow, Johnson says, which was impressive service.
Why Church Grounds Landscaping Matters
Beyond aesthetics, there are health and safety reasons to keep the church grounds landscaping tidy, Burdeshaw says.

"If it's not maintained, and we let shrubs get too close to the building, they'd have pests inside," Burdeshaw says. "Surrounded by woods the way they are, they'd have wildlife problems.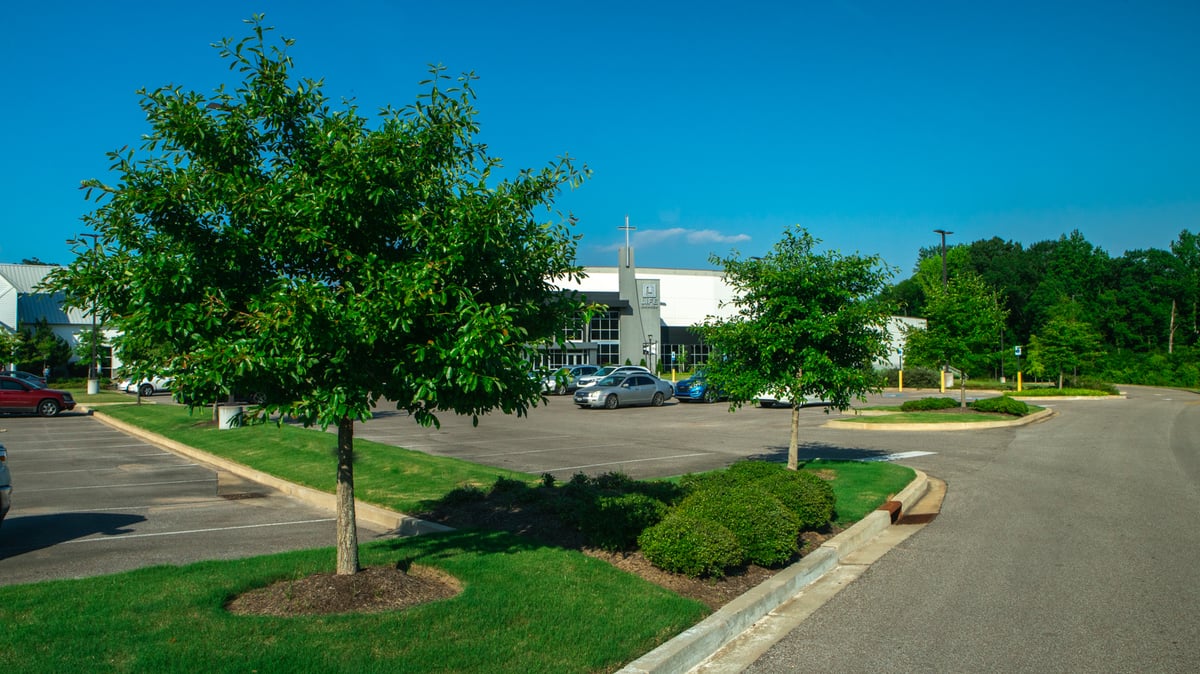 "It's not just a church, but also a daycare," Burdeshaw says. "I have a 1-year-old and 5-year-old. If I drove up and it looked like a mess, there's no way I'd leave my kids there. I'd worry about the quality on the inside.

"It's important that everything looks good."
Trust Your Commercial Landscaping to Hatcher
Here at Michael Hatcher & Associates, we know how important church grounds landscaping is, — and how to make your church grounds not only welcoming and peaceful, but its landscaping safe and secure.

All these elements are important for other commercial properties, too.

Our skilled crews can add vibrant flower beds and planters, provide vigilant snow and ice management, and keep signage and sightlines visible.

Ready to boost the appeal and safety of your commercial property near Memphis, TN? Talk to one of our commercial landscaping experts today! We'll meet at your property, create a custom plan, and get you on your way to enjoying a beautiful, worry-free property.