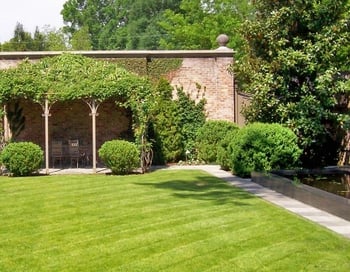 Pests, turf diseases and weeds within your Memphis lawn can take away from its appeal and health.
Improve your yard's curb appeal and strength with lawn care services and lawn spray service.
Michael Hatcher & Associates, Inc. treats plants, trees and turf for unwanted pests, which can include spray services for ants and ticks, diseases and weeds throughout Memphis and the Mid-South.
We adhere to the principles of integrated pest management (IPM) when choosing the type of lawn spray fertilizer and quantity of lawn care applications to use in order to prevent plant damage. Pest prevention is key as our lawn spray technicians incorporate preventative sprays, oils and herbicides into our company's core program.
However, nothing is more important than the health and safety of our family and pets. Our team uses the safest lawn spray products with your dog, or any other pet, in mind.
What You Can Expect
Soil Test and Analysis: Your lawn will only be as good as the soil it is growing in. We recommend starting with a test to measure soil chemistry, noting certain variables such as PH, macronutrient availability and organic matter content. The results of this test will allow us to determine the makeup of your fertility program and whether soil amendments are necessary.
Here's a look at our six-step program and how we will treat your yard.
Late Winter Pre and Post-Emergent Herbicides: Applied between January and March to eliminate germinating winter annual weeds and begin the process of preventing those summer weeds that are soon to germinate.
Early Spring Pre and Post-Emergent Herbicides: Applied in April, this round is designed to catch weeds that may have made it through round one and to provide an extra punch of pre-emergent to extend the coverage window. We also begin your turf's fertility program during green up with a moderate release fertilizer.
Early Summer Fertilization and Post-Emergent: Applied between June and July are applications made with a slower release fertilizer. This picks up where the first round of fertilizer left off and continues the lush appearance of your yard. The idea here is to protect the carbohydrate stores of the plant and discourage an unhealthy high-maintenance flush of growth. We will also treat any non-noxious weeds that made it through our first two rounds.
Mid-Summer Fertilization and Post-Emergent: In August through September, it's time to start thinking about next year. We protect the overwintering lawn with a lower rate of nitrogen for carbohydrate storage and provide root enhancing potassium to the plants. We will also treat any non-noxious weeds that made it through our first three rounds.
Late Summer and Early Fall Pre-Emerge: In late September through October, it's time to apply a pre-emergent to prevent the germination of winter annual weeds such as henbit and poa annua.
Winter Lime Application: This is the time of year to put limestone down. The lime will break down over the winter months in return balancing the PH level of your lawn. The PH level affects turf grass health by influencing the availability of plant nutrients and other elements. It also enhances resistance against some turf grass pests, thatch decomposition and can improve pesticide activity. All steps play a role in maintaining a beautiful and healthy lawn.
It's important to note that some perennial weeds, such as Dallisgrass, Nutsedge and Virginia Buttonweed, are considered difficult to treat. Specialty herbicides and repeat applications may be recommended for control and would fall outside of our standard program. Our technicians will bring these weeds to your attention if necessary during the course of the program.
The cost of our company's lawn care and spray services starts at $40 per application and depends on the size of your property.
Michael Hatcher & Associates, Inc. provides lawn care and spray services to cities including Memphis, Collierville, Fayette and Germantown, Tennessee; Olive Branch and Southaven, Mississippi. We also cover Shelby County in Tennessee; and Benton, Desoto, Marshall, Tat and Tunica counties in Mississippi.
Contact Michael Hatcher & Associates at 901-755-3207, or fill out the form on the right to receive both a free consultation and lawn care advice.