When the severe weather gripping much of the country this week caused a multi-day winter storm that brought waves of sleet and freezing rain across the Mid-South, Michael Hatcher & Associates was ready.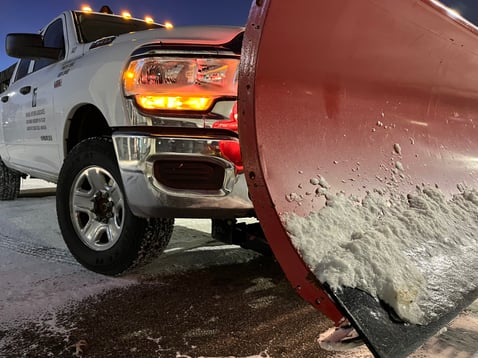 Mapping the blueprint to handle the evolving situation was Kelly Ogden, GM of Commercial Sales and Maintenance Operations, and Jeff Peterman, GM of Construction Operations. They led the Winter Ops team, closely monitored the weather, and routed crews to perform contracted ice mitigation for dozens of businesses in two states.
In near freezing temperatures Monday evening, rotating crews began working in 12-hour shifts to spread ice melt on property entrances, parking lots, and sidewalks for Tennessee customers in Arlington, Bartlett, Collierville, Cordova, Germantown, Lakeland, and Memphis, as well as Horn Lake, Olive Branch, and Southaven, Mississippi.
They continued to work Tuesday and through the night Wednesday during the second and third rounds of the storm, spreading ice melt with truck spreaders, push spreaders, or by hand. The ice melt was used to prevent the frozen precipitation from sticking to sidewalks and pavement Monday night, and subsequent treatments prevented slippery surfaces during the ensuing days as ice thawed and refroze.
"We have an elite reputation for snow and ice removal in the Memphis Metropolitan Area," Ogden said. "Our mission is to provide the best service and value to our commercial customers, and thanks to our hardworking Team, the medical facilities, warehouses, shopping centers, hotels, restaurants, and other businesses we treated were kept safe and operational throughout the winter storm."
The thin coating of ice left behind overnight Monday measured about one-tenth of an inch. Ice accumulation was measured up to a quarter of an inch through Wednesday night, with another one-tenth of an inch expected going into this morning. The National Weather Service predicts temperatures, which had ranged from the low 20s to around freezing, will rise to the high 30s by noon today, when winter weather alerts for the area expire.
Rain is expected today, full sunshine and 39 degrees are in Friday's forecast, and Ogden said MH&A crews have now transitioned from ice management to removing fallen trees and limbs on customers' properties.
This is the second winter event of the season for MH&A since just before Christmas, when an arctic blast hit the region. Snow and ice management crews worked in brutally cold temperatures with dangerous wind chills of -10 and -20 degrees.
If you're an owner or manager looking to boost your commercial property's winter safety, contact Michael Hatcher & Associates today. One of our experts will assist you with a full-service maintenance agreement that provides you the benefit of being a priority for snow and ice management.