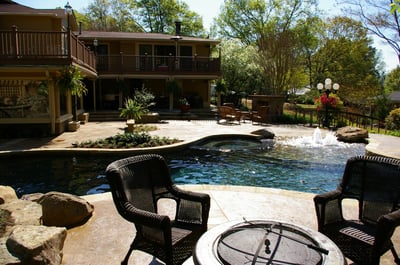 Planning to build a new landscape?
You want it to be beautiful, be functional, fit your budget, and reflect your lifestyle or brand. Your choice of masonry will be influenced by all of these factors.
These days, there are so many choices that it can get a bit confusing.
To help you choose the best types of masonry materials for your property, we thought we'd first introduce you to some of the masonry materials that we've found best suited to the Memphis area.
Here is a list of the most popular hardscape materials for Memphis area properties.
Traditional Brick Masonry
No guide to Memphis landscape masonry materials would be complete without mentioning brick. Through the years, brick has always played an important role in Memphis architecture.
Many of our historic homes and commercial buildings feature brick facades, and the area has always been a center for brick manufacture.
Brick is a handsome choice, both as a paver and for walls or other vertical elements. Standard brick is available in a wide variety of warm tones — from traditional red brick to lighter beiges and even white — and textures.
Natural Stone Masonry
Stone is a classic masonry material for landscaping. Certain types of stone complement specific regions. The ones we recommend most highly for the Memphis area include:
Oklahoma Veneer: This is a versatile stone that features a range of warm tones, including browns, tans and orangey hues. Its multiple tones and hues lend interest to the landscape. Oklahoma veneer is a versatile stone.
It is available in cut stone suitable for formal installations, as well as what we call "chunk stone" — randomly sized pieces that, when installed, create that classic wishing well look for walls and fireplaces.
This stone is also available as a ledgestone — thin pieces of veneer which are typically stacked horizontally to create a rustic effect in walls and as focal pieces in the landscape. Ledgestone can also be used as a flat paver or for vertical work.

Kansas Brown Stone: This stone also comes in warm shades of brown. It is a little more uniform than Oklahoma veneer and is a great choice for a structured, formal look. It is a nice choice for walls and structures

Arkansas Field Stone: Another stone that comes in a range of browns, Arkansas Field Stone is a type of sandstone. It is commonly used as a ledgestone and lends a natural look to fireplaces, walls, and waterfalls.

Pennsylvania Bluestone: If you are looking for cooler hues, this may be the one for you. As its name suggests, it is a type of sandstone originating from Pennsylvania. It is available in a range of grays, some of which really do have a bluish tint.
Like Oklahoma veneer ledgestone, Bluestone can be used in vertical masonry work as well as paving and patios.

Crab Orchard Stone: If you prefer local materials, look no further than Crab Orchard. This Tennessee stone is an exceptionally hard variety of sandstone. It is highly sought after for its beauty and durability.

Depending on the quarry, it comes in a variety of colors, often including striking swirls of grays and pinks. Crabstone is a very popular flagstone and architectural stone.
Natural stone can be cut in a variety of ways to lend different looks to your outdoor entertainment areas.
Concrete Masonry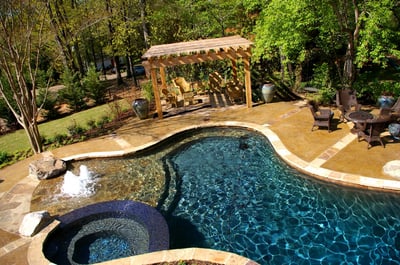 Concrete is an affordable masonry option that can be surprisingly attractive. We've used a number of concrete products, including:
Poured Concrete Flat Work: For patios and walkways, poured concrete is an economical choice. It needn't look like a common sidewalk, either. Highly decorative and beautiful effects can be achieved through various methods, from incorporating exposed aggregate to polishing, staining and stamping.

Concrete Pavers: These durable and often beautiful products are available in a wide variety of colors, shapes and sizes. Some even mimic the look of natural stone. Pavers are ideal for walkways, patios, and even driveways. They can be combined with other materials for infinite design possibilities.

Concrete Segmental Block: Larger than most brick, these blocks offer the advantage of fast construction, making them an affordable choice for building retaining walls and other structures in the landscape. They are especially well suited for utility purposes, but some manufacturers offer decorative choices as well.
Choosing The Best Types of Masonry Material For Your Memphis Property
Before you choose your masonry materials, consider what's already there. If you have existing architecture on your property, try to select materials that complement it.
Look for colors, shapes and textures that repeat existing elements to tie your new construction in with the old.
One pleasing way to do this is to mix different types of masonry, such as brick and natural stone. For instance, perhaps you love the look of natural stone, but your house is built of brick. You could include brick in the vertical part of your garden wall, and use stone for some steps leading into a terrace — and then select a nice capstone to tie the two together.
Like this idea? We have many more!
Just give us a call at 901-755-3207 or fill out our contact form to have one of our expert landscape designers help you find the perfect look for your property.