Exeter Village Shopping Center isn't the new kid on the block. It's been here on Exeter Road in Germantown since the mid-1980s, near popular stores like Dollar Tree, Hobby Lobby, TJ Maxx, and places to eat, from pizza to cookies to the chicken breast special and carrot soufflé at Piccadilly.

But the dependable shopping destination is in a vibrant retail district, with a new Trader Joe's across the street luring shoppers with dark chocolate covered banana slices and Bloody Mary Salsa.

Exeter Village needs to stay vital, attractive, and competitive for shoppers who have a lot more choices than they did 30 years ago.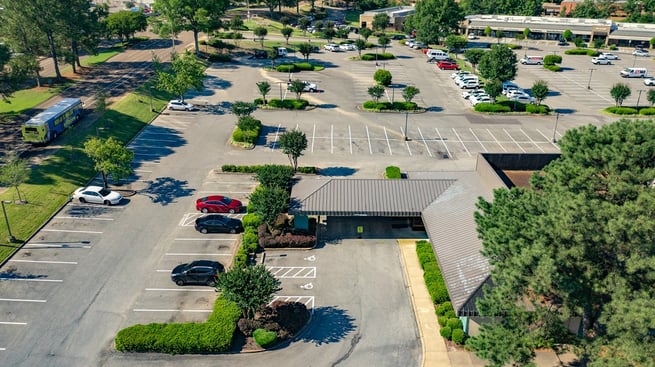 When the shopping center's property managers looked at commercial landscaping companies in Germantown, TN they chose Michael Hatcher & Associates to keep its landscaping safe, tidy, and appealing.

Alex Moore, the Commercial Senior Account Manager who works with Exeter Village, walks us through the shopping center landscape maintenance details.
Sprucing Up Aging Shopping Center Landscaping
Any commercial property built 30 years ago is bound to start showing its age.

The mature Carissa hollies here are a great example, creeping over their beds into the parking lot, Moore says.

"These hollies turn prickly as they age," he says, "with sharp points that can be a nuisance to customers."

His goal? Softer, more contemporary landscaping.

"It needs a simple, more updated design," he says.

The plan:
Dwarf Yaupon Hollies
They stay low, with fine-textured foliage that can be pruned into small hedges.

They're perfect for easy care shopping center landscape maintenance.
Ornamental Grasses
These frilly landscaping show-stoppers wave gracefully in the breeze and soften hard corners.
Encore Azaleas
Perfect for a lot of reasons:
Stunning color
They bloom spring, summer and fall
They're more compact than traditional azaleas, which means less pruning
They're more sun tolerant and cold hardy
Daylilies
Sturdy, dependable, colorful. Choose the daylily 'Happy Returns' and you also get long blooming. The cheerful, buttery yellow flowers seem to return endlessly with non-stop blooms from May to frost.
Welcome to the Patio
Exeter Village is already friendlier since Hatcher crews installed a new paver patio that hosts tables where shoppers can relax and munch their Jet's Pizza or snickerdoodle cookie from Great American Cookies.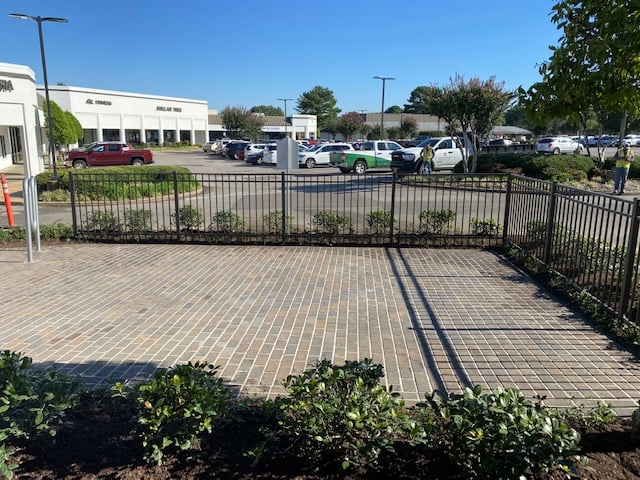 It's also home to bike racks for shopper convenience.
Keeping Up with Big Irrigation Needs
Any irrigation system more than 30 years old poses challenges.

Leaks pop up, Moore says, due to aging PVC pipe and tree roots from the property's mature trees. Sometimes the leaks are tricky to access, buried beneath those big prickly Carissa hollies.

"When we find a leak, we'll see repairs others have done with different size pipes or in ways that are different than we do it," Moore says. "We do repairs so they'll hold for the long haul."

While the entire irrigation system is due for replacement, that's not a practical task, Moore says, given the mature shopping center landscaping and the near constant foot traffic at the busy shopping center.

"It's hard to replace the whole system at once," he says. "We do repairs as needed where we can."

When Hatcher crews install a new planting bed, they'll take that opportunity to replace any aging pipes, valves, or fittings while they're digging.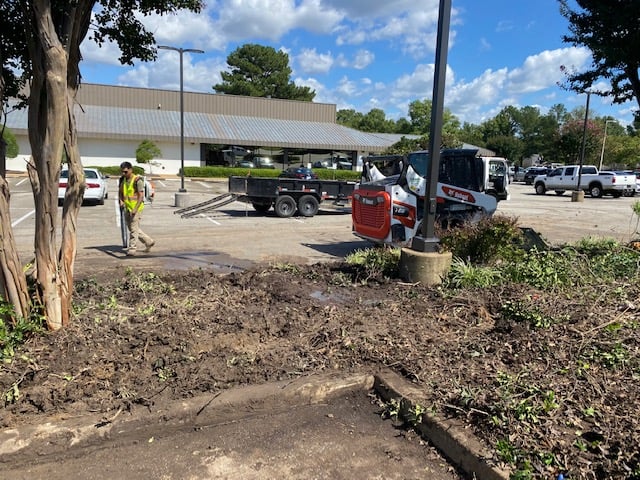 When they installed the new patio, that was another opportunity to access and replace irrigation parts, since the ground was already excavated, he says.

Irrigation technicians do monthly inspections to check everything over, testing each of the zones to make sure the right amount of water is hitting all the right places, and nothing needs repair.

Irrigation technicians will also spot the little issues that can lead to bigger problems later, from cracked lines and leaky valves to clogged nozzles or broken spray heads.

Moore keeps a close eye on the system, too, as do crew foremen who regularly visit.

It's a challenge.

"We could do a repair today, and tomorrow there'll be something else," Moore says. "It's never ending."
The Shopping Center Landscape Maintenance Plan of Attack
Exeter Village is a shopping hot spot, with lots of foot traffic all day and evening, so Hatcher crews hit the site early, before shoppers arrive at 9 am.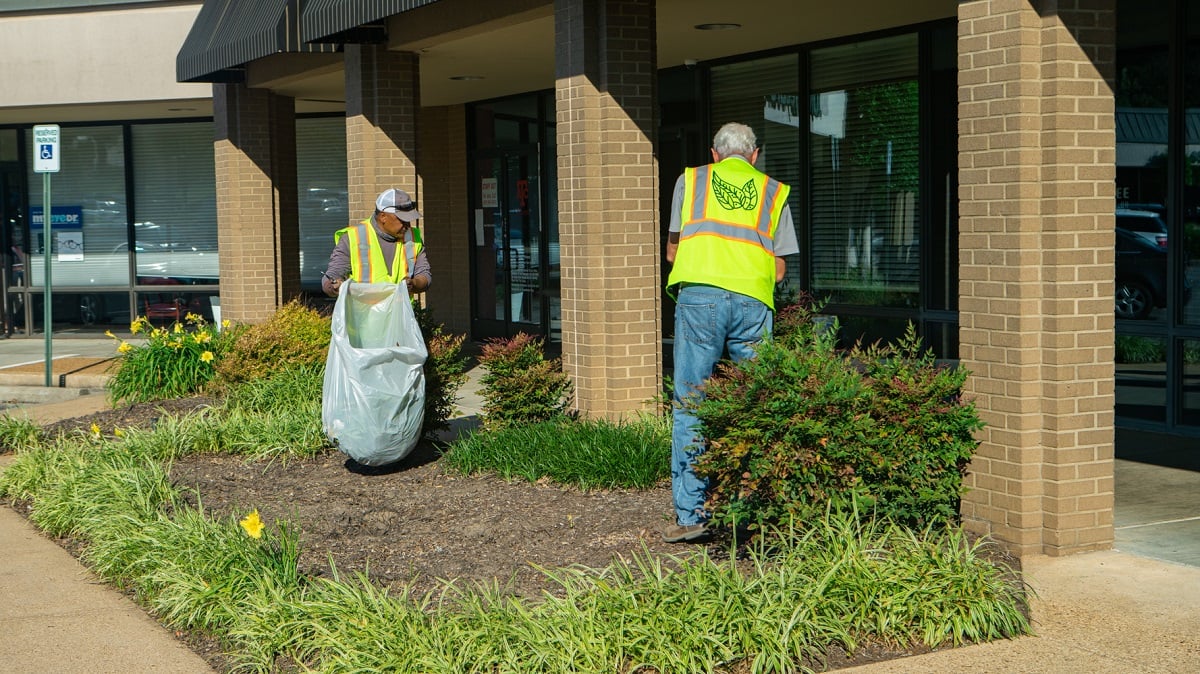 "We remove any trash from beds, blow off hard surfaces, do any pruning early, and take care of all the store fronts first," Moore says. "Then we get out of shoppers' way and move to the outer areas of the shopping center to do the mowing."

Crews are trained to turn off blowers when shoppers pass. Nobody wants debris to fly into their hair.
Tending Terrific Turf
Part of the shopping center landscape maintenance agreement here is a full turf health program.

A green and weed free lawn is part of the total landscape package, a sign to customers that the property is well tended.

It includes weed control, fertilizer, and insect control, timed throughout the seasons for year-round turf health.
Shopping Center Landscaping: Snow and Ice Management
Not all commercial landscaping companies in Germantown, TN are equipped for the level of snow and ice management a busy retail center needs.

"Exeter Village is high on our priority list," Moore says. "Both because of how busy it is and because the terrain isn't totally flat.

"Three entrances are sloped," he says. "We treat those more heavily to make sure cars can get traction."

Meanwhile, sidewalk-clearing crews keep sidewalks safe for pedestrians.

Sometimes crews clear snow, but the temperature dips below 32 degrees overnight, potentially freezing lingering puddles. So crews return to treat any slick spots.

The precautions start with watching the forecast like a hawk, enlisting the insight of local meteorologists to help plan the snow and ice management attack.

Crews use brine when conditions are right for it, to prevent snow and ice from sticking.
Little Things, Big Appreciation
Moore works closely with Exeter Village property manager Debra Owings to meet the center's many landscaping needs.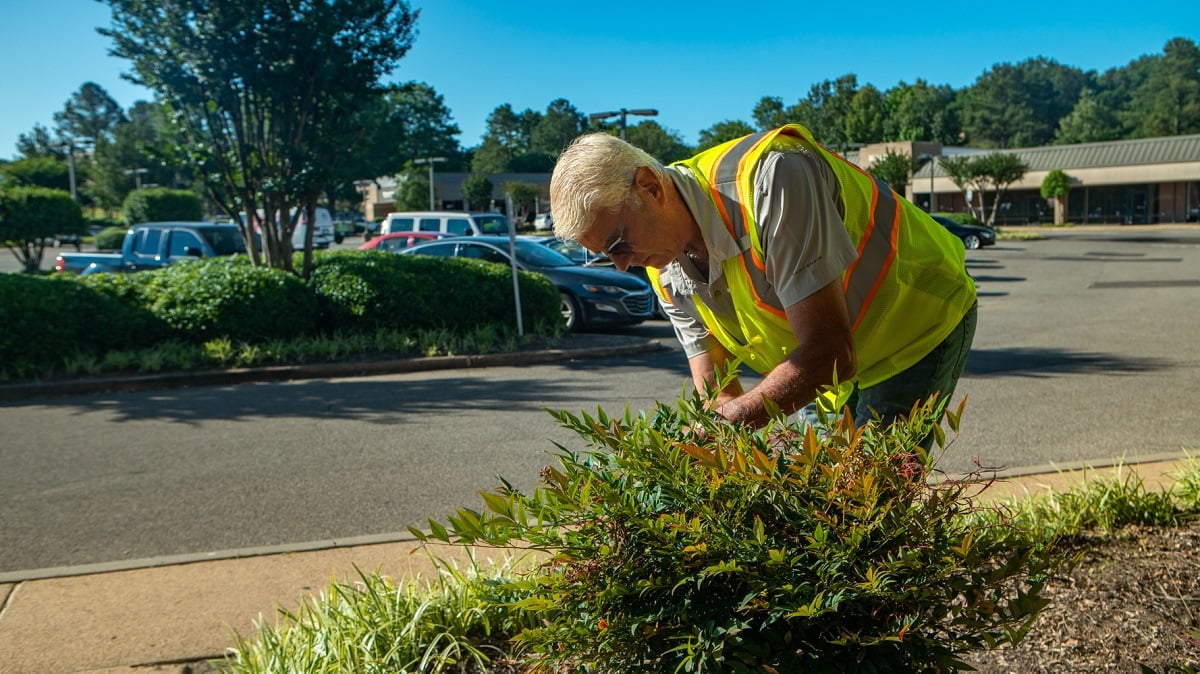 His goal: to make things easy for her.

He communicates at least once a week by phone, text, or email and they meet in person to hash out special needs, like when pruning had to be done on a tight schedule before Owings brought in exterior painters.

More is on call for quick attention to pressing issues, from fallen tree limbs to irrigation leaks to blowing debris.

The February 2021 deep freeze that immobilized the South created extra challenges.

Moore and Hatcher crews made daily checks of the shopping center's areas where irrigation controllers and fire suppression equipment are stored to make sure heaters were working.

They inspected the plumbing in any vacant storefronts to make sure pipes weren't freezing.

"It was one less worry for her during that big freeze," Moore says.
Trust Your Shopping Center Landscaping to Hatcher
Whether your shopping center is brand new or could use some updating, you want to give people a reason to venture out, and tenants a reason to set up shop at your place, with shopping center landscaping that makes it worth the trip.

Our skilled crews are pros at transforming ho-hum retail center landscaping into enticing, impressive areas shoppers and tenants can't wait to explore.

Ready to boost the appeal of your shopping center, so it's a go to destination? Talk to one of our commercial landscaping experts today! We'll meet at your property, create a custom plan, and get you on your way to enjoying a beautiful, worry-free property.