Water that was causing erosion in a Memphis subdivision was no match for the Hatcher Landscape Commercial Construction crews.
"Rain was our enemy many days," Lead Supervisor Steve Tice said about a project earlier this year to build a retaining wall in a drainage canal in a common area of the subdivision. "The most significant thing about the wall was the fact it was in a creek."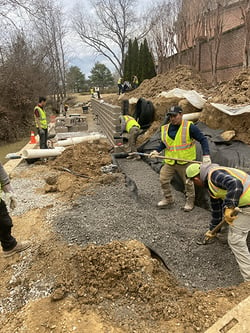 VP of Construction Sales Stephen Shikle was project manager for the job, which began Jan. 4 as an enhancement project for the HOA, one of Hatcher's Commercial Maintenance customers. The project was completed March 7.
"This was a two-tier segmental concrete block retaining wall, 180 feet each, built because slope erosion was endangering a neighboring property, but it was in an active drainage ditch meaning it had water running through it during construction," Shikle said. "We were able to work out the logistics of installing the wall with the water present."
This ditch typically holds one to two feet of water, he said, but after heavy rains it sometimes has six to eight feet of water. Shikle said it is fed by runoff from the surrounding residential lots and from a nearby golf course.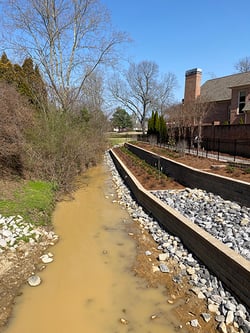 "We would take all the water out with a pump and run it at night," said Enrique Vargas, a foreman on the job along with Balvino Verdugo. "It was 100 percent bad. It would start raining and in 15 minutes all the water filled up."
During the main build of the wall, Tice said three crews were on site, each with their own jobs. They sometimes wore waders to get the work done.
"The bottom of the footing for the lower wall was three feet below the average water level of the creek," he said. "The top wall could not be built from one end to the other but had to be built from both ends and brought together. We overcame the problems with water on the lower footing, and when we brought the two sections of the upper wall together, we were less than an eighth inch off."
Not only was the project a perfect example of how Hatcher's Commercial Construction team overcame the odds to complete the wall safely, but it was also done efficiently and within the estimated hours and materials.
"This was an outstanding effort across the board," said Kelly Ogden, GM for Commercial Sales and Maintenance Operations. "I want everyone to know this is the type of work we're capable of."
Contact us today about your commercial landscaping needs.