The maintenance cycle in commercial landscaping is never ending, at times dependent on labor, and forever at the mercy of the weather.
"You've got to be one step ahead, always prepared for anything," said Will Comstock, Senior Operations Manager in charge of Commercial Maintenance at Michael Hatcher & Associates. "It never really stops."
MH&A's Commercial Maintenance department offers comprehensive, year-round services in a calendar divided into distinct seasons. Perhaps the busiest – and prettiest – is growing season. Color is abundant during this period, which usually runs from mid-April to early October, and crews provide regular mowing and horticultural services. Leaf season service typically runs from November through December, when there's a narrower opportunity for seasonal color, and even in the Mid-South an additional season for snow removal and ice control is sometimes needed. The commercial maintenance calendar begins, however, with spring cleanup from January through March.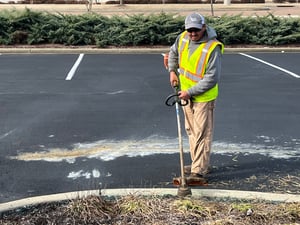 "Spring cleanup is elevating the canopy on trees, cutting back ornamental grasses, cleaning out the beds, rejuvenation pruning, and cutting back groundcover beds," Comstock said. "It's getting everything neat and tidy and ready for the growing season. Once properties are cleaned up, we proceed into our mulching."
To be more efficient, Comstock said mulching is being combined with spring cleanup this year. Not every commercial property MH&A maintains is contracted to be mulched, he said, but every customer in MH&A's book of business – including industrial warehouses, retail centers, distribution centers, HOAs, churches, professional buildings, office complexes, and senior living facilities – gets a spring cleanup. Otherwise, mulching can be added to contracts as an enhancement job.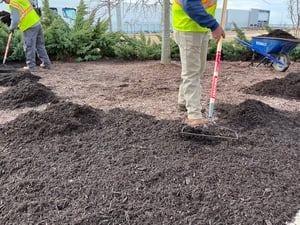 Spring cleanup may be a constant, but a fickle variable so far in 2023 has been the lingering impact of the arctic blast that brought to the Mid-South subzero temperatures, ice, snow, and dangerously cold wind chills around the Christmas holiday.
"Seasonally, this one is a little different than others because of the cold snap that we just had," said David Loyd, one of five Field Operations Managers working with Comstock. "We're seeing some plant material defoliating that you would not normally see on a property."
With the exception of willow oaks and some other oak varieties, the deciduous crape myrtles, maples, and sycamores had already defoliated during the fall. However, Loyd said the arctic blast affected evergreen plants, trees, and shrubs that usually stand out in winter.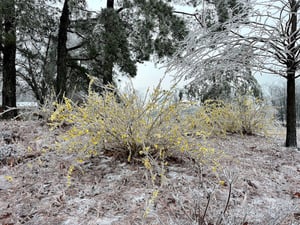 "We're having some evergreen plant material that would typically never defoliate actually drop their leaves because of the extreme cold temps and wind," he said, among them boxwoods, nandinas, and hollies. "It'll be a transition when we go into growing season to really see what plant material might not survive. We have a pretty good idea on some things, but we really don't know right now for sure if some of this material is going to make it or not."
There are ways to mitigate the so-called winter burn,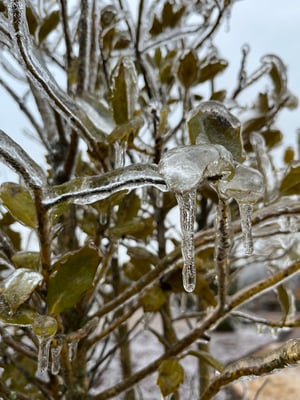 including the use of trees less susceptible to damage from snow and ice, but Loyd said those varieties probably wouldn't survive summers in this part of the country, which is designated 7b and 8a according to the USDA's Plant Hardiness Zone Map.
"Properties have the plant material that was selected based off the temperate zone that we're in for the Memphis Mid-South area, but as far as different winter events like the last one we had, it's just a one-off week," Loyd added. "I don't know when we've actually had something like that before where you had the straight-line winds at negative degrees close to zero."
Educating clients and being in constant contact with them is a cornerstone of a commercial maintenance account manager's role. In situations like the ever-changing weather, they're crucial, said French Hobbs, one of five Commercial Maintenance account managers at MH&A. Part of their job entails navigating the relationship between property owners and municipal and county planning and zoning departments to ensure planting ordinances are being followed at all times.
"Keeping that steady line of communication open is so important," Hobbs said. "We want the property managers and owners to be compliant, but we also want to save them money while keeping their properties looking well maintained at all times."
To do that, Comstock said it takes hard work, strategic planning, and accepting the unpredictability of Mother Nature, who followed up the late December arctic blast with sunny January days that reached 70 degrees, a multi-day ice storm at the end of the month that stretched into February, and then days of full sunshine in the 60s.
"The drastic change in temperatures might also be responsible for any winter damage to plant materials at the properties we maintain," Comstock said. "I've seen some red buds, red maples, and forsythias already starting to show a little sign of color. It reminds me that the only thing we can't predict is the weather. I wish we could."
The professionals at Michael Hatcher & Associates would love to help you improve and maintain the beauty of your commercial property. To hear more about our comprehensive landscape management services, contact us today.