Michael Hatcher & Associates, based in Olive Branch, Mississippi, is No. 117 on the LM150 list of the largest landscape companies ranked by 2021 revenue. The LM150 list, published by national trade publication Landscape Management, represents approximately the top 1 percent of landscape industry companies.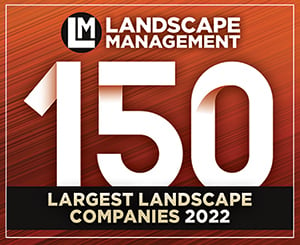 "We reported $21.7 million in annual revenue last year," CEO Russ Sneed said. "This is a 55 percent revenue increase from 2020 to 2021, which earned our team recognition as No. 7 out of 56 on LM150's power moves list of companies that grew by 20 percent or more last year."
Total company revenue was $14 million in 2020, $12.6M in 2019, and $10M in 2018.
"We reached our 5-year financial goals in the first 15 months of setting those targets," Sneed said, calling 2021 "the most extraordinary year in our company's history. It is exciting to be part of a team building a sustainable, long-term healthy company."
Operating in the Mid-South since 1987, Michael Hatcher & Associates provides landscaping services to the commercial market and delivers lawn care fertilization and weed control via customer-facing brands, Master Lawn and Green King. It is strategically located in DeSoto County and has approximately 200 employees. The company has doubled its size in the past three years, largely driven by organic growth, and recently restructured to form separate Commercial Landscape and Lawn Care divisions. The company continues to retain quality maintained properties with anticipation of providing value-added property enhancements to its customers in the Memphis market.
Up by $1.7 billion from last year, the LM150 revenue sets another record at $14.3 billion. Overall, LM150 companies averaged a 17-percent average revenue growth from 2020 to 2021 and project 15 percent growth this year.
"Watching this list escalate year after year shows that this a fantastic time to be involved in the landscape industry," said Landscape Management Editor-in-Chief Seth Jones. "Our readers are busier than ever. The LM150 list doesn't just portray what is happening with the 150 largest companies, but with the industry as a whole. The work they do to maintain the greenspaces around the country is in high demand, and that is great news for the men and women working in this growing industry."
###
Landscape Management, a North Coast Media publication based in Cleveland, shares a comprehensive mix of content designed to stimulate growth and take our readers and advertising partners to their next levels. LM150 is brought to you by Aspire Software and The Grasshopper Co.