After pouring herself into her students for nine years, Rachel Green knew it was time to move on.
"Teaching is a very demanding job, and you cannot be halfway," said Green, a former high school special education teacher, volleyball coach, and cheer sponsor. "You're either invested 100 percent or you're going through the motions, and one day I woke up and realized that me being all in was hurting my family. I was missing important things, my quality of life."
The wife and mother of two reached out to Kelly Ogden, whose daughter she coached for three years, to inquire about opportunities at Michael Hatcher & Associates. Green's hiring a year ago as a Field Operations Manager at the commercial landscape company, which serves the Memphis Metropolitan Area, could have been a gamble for someone with no industry experience, but it paid off.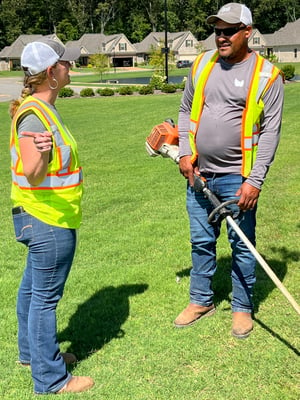 "We have a work environment that allows people to grow and learn, and Rachel has taken to the job with a lot of passion," said Ogden, GM of Commercial Sales and Maintenance Operations. "She's willing to learn, which is part of what we look for in new talent. As a teacher and coach, she brings organizational skills, management skills, and people skills that make her an ideal addition to our team."
Green, well versed in matching learning styles to personality types, adapting lessons, and fostering social-emotional growth, sees the parallels in her career paths daily.
"Being a manager over several different types of people is the same as being a teacher in a classroom," she said. "You have to learn how to differentiate how you're wanting people to approach a job, because not everyone comprehends the same."
When she taught school, Green connected with her students, noticed their potential, and helped them be successful. She noted the same is true at MH&A, where new hires are shown a career path with advancement opportunities.
"When you invest that much in someone, you want them to do better and better themselves," she said. "We had a young man in our Commercial Maintenance department working two jobs, hit and miss on attendance. We saw potential and we were able to sit him down in his review and say, 'This is what we see for you, but we need you all in.' He buckled down, quit his other job, put faith in us, and has gone from a crew member to a crew leader and now employee of the month."
Succeeding in her own work is also important to Green, an Ole Miss graduate who describes herself as competitive, motivated, and able to adapt. That's why she's done everything she can to improve, but she's aware that changing professions with little prior knowledge of the industry made her vulnerable.
"It was pretty scary, but I knew Kelly and trusted him," she said. "I also knew as a woman coming from a predominantly female profession into a male-dominated field that I was stepping out of my comfort zone."
For help in that regard, Green joined the National Association of Landscape Professionals Women in Landscape Network. She was also part of MH&A's delegation last September to NALP's ELEVATE conference in Orlando, where she met industry leaders, many of them women, and was inspired.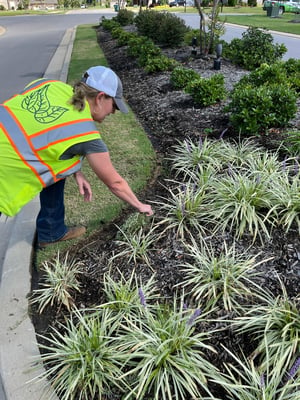 "ELEVATE was the best experience, because I was able to connect with so many people and to learn so much in such a short amount of time," she said. "Meeting other women in the industry and hearing their passion for the profession was such a motivation."
Among the influencers Green met was Plants Creative Landscapes owner Pam Dooley, who was recognized as NALP's 2022 Woman Leader of the Year for being an example to other women in the industry.
Green recalls working up the nerve to introduce herself to Dooley when she spotted her on the expo floor.
"I couldn't not talk to Pam," Green said. "She was on her way to lead a session and could have put me off, but she ended up being almost late because she stopped to speak. She was genuinely interested in hearing my story."
Not only does Dooley remember the encounter, but she also recognizes that her own business could benefit from following MH&A's lead to hire educators. (Green is one of at least three former teachers, and the second working in Commercial Maintenance, on the MH&A team.)
"Rachel's journey from teacher to green industry professional is inspiring," Dooley said. "Talking with her at NALP's ELEVATE made me think about the many parallels of teaching and gardening. I shared her story with my team and told them that we need to recruit more teachers! I applaud the culture at Michael Hatcher & Associates for empowering superstars like Rachel to learn, grow, and lead teams."
With encouragement from Dooley and other industry peers, as well as her own teammates, Green has doubled down on her efforts to learn all things horticulture, from pruning and plant identification to tree limbing and leaf removal. When she's not checking on her crews and 80-plus commercial properties each week, she carves out time to read up on plants, watch horticulture videos, ask questions, listen, and visit local nurseries.
"There's so many different components that you have to put together," she said, laughing when asked about her last name and lack of a green thumb. "I don't kill plants, but I don't have a garden. I've never had the time in the past. But that's kind of part of my continuing education."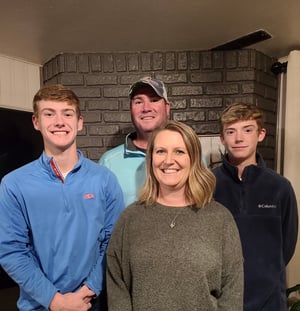 CEUs are another nod to Green's past career. As a teacher, she routinely attended professional development, a requirement to maintain her teaching license. She plans to take part in a 15-week Master Gardener class, and she recently completed 10 hours of OSHA training. Nothing, however, beats Green learning the work from doing the work.
"I've trained on all of the equipment, and I get out there and pull weeds too," she said.
Even though her job can be physically demanding, Green's quality of life with her husband of 21 years, Jason, and their sons Scott, 18, and Houston, 16, has vastly improved since she joined the MH&A team.
"Michael Hatcher & Associates changed my life, and anyone who's ever asked, that is what I've told them," she said, adding that no one should misunderstand and think her job is a cakewalk.
"This is something that day in and day out I have to work very hard at, but at the end of almost every day I come away learning something new, feeling accomplished, conquering different challenges," Green said. "It's given me a whole new outlook on things, and a new family that has embraced me and welcomed me in, not having a lick of knowledge about commercial landscaping."