When you start work at Michael Hatcher & Associates, the first person you'll meet is Lana Brown.
You'll be off to a great start.
Sure, she'll tell you about company policies, your benefits, safety training. As director of human resources, that's her job.
She'll also fill you in about the ice cream truck visits, the occasional pizza day, and reassure you she'll be checking on you, just in case you need anything.
"So they know what kind of company we are," she says. "It's important to start out on the right foot from the beginning. When you start out right, you're excited to be part of the company."
Grab a Seat on the Bus
Lana started out as controller at Hatcher in 2015 after working for years in sales and accounting jobs.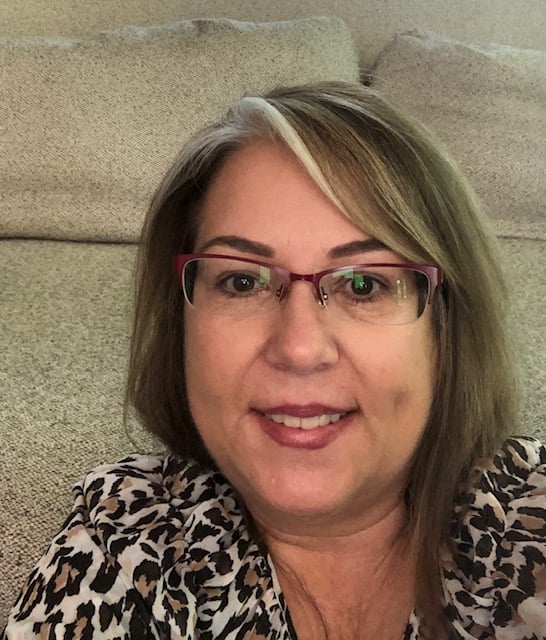 A numbers person by training, she handled payroll and accounting for Hatcher, and took on human resources, too. But as the company grew, it needed a full-time human resources manager.
So Lana built the HR department, bit by bit. She created a comprehensive on-boarding process for new employees that includes substantial training.
She checks in with new employees after 30, 60, 90 days and one year "to make sure they're in the right seat on the bus," as she puts it, ensuring everything's going well.
She worked in automotive sales for 20 years, then at two Harley Davidson dealerships. When a friend told her about the controller job opening at Hatcher, she wasn't sure.
She knew auto parts, not landscaping. She took a chance.
"It's the best thing I've ever done."
Empathy and Goody Bags
It's hard to imagine Lana spending all day with numbers. Effervescent and charming, she's a people person.
"I'm always off the charts on those extrovert tests," she notes. "I love helping people.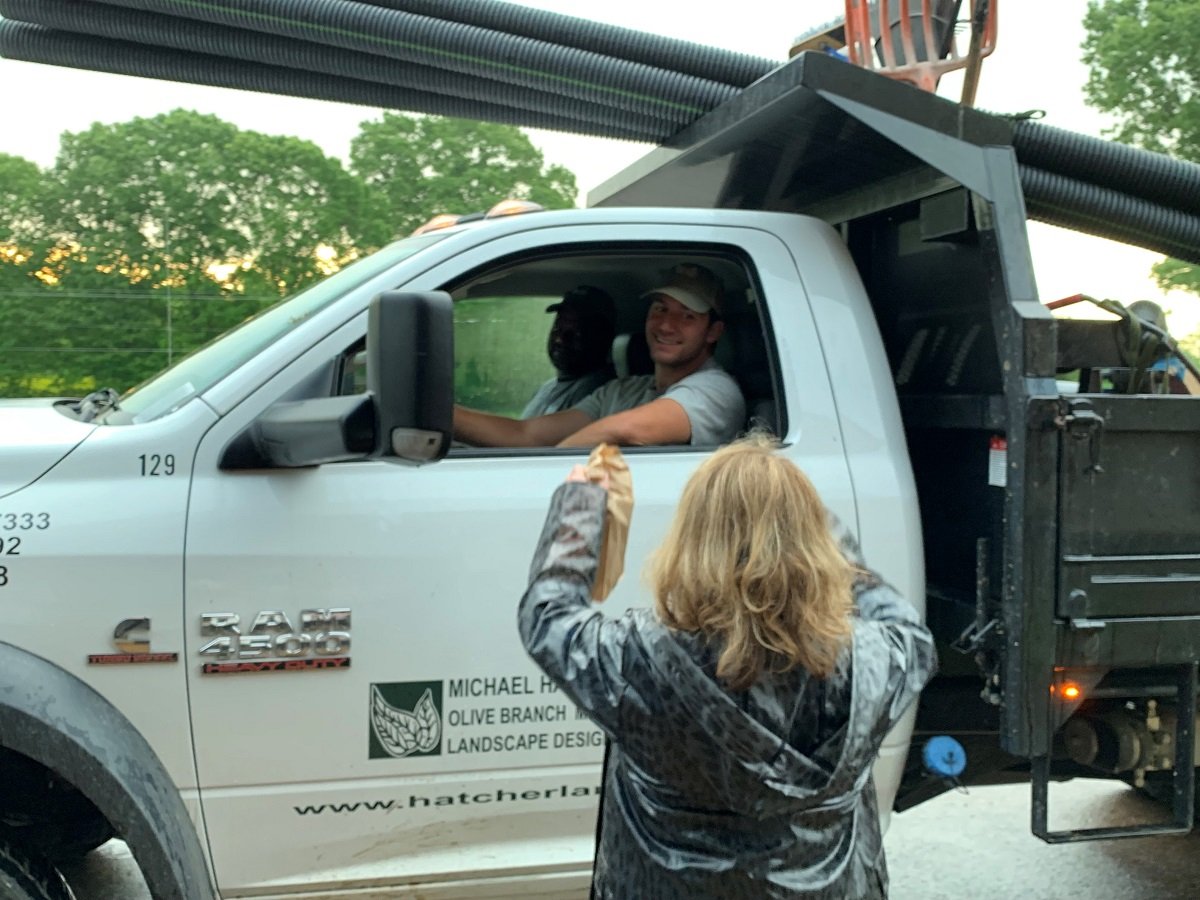 "You've got to have empathy and compassion," she says. "I treat people the way I'd want to be treated."
When employees struggle at work, "There's often underlying things outside of work going on," she says. She gets it.
Lana's famous for showing up with bags of goodies for crew members, filled with candy, lip balm, hand warmers in the winter and cooling neck wraps in the summer.
She organizes some kind of crew surprise once a month, from pizza parties to ice cream truck visits to breakfast sandwiches at the monthly safety meetings.
On Valentine's Day, she hands out candy.
Training new employees is time-consuming and expensive. Retention is good for everybody.
"Continuity of the team is important," Lana says. "A lot of our customers know their crews. Some have worked for us for years. When somebody leaves, customers ask about them.
"When you treat employees well, and stand behind your word," she says, "they want to stay."
Ultimately, happy longtime employees means great customer service.
Bring on the Okra
Working at a place packed with landscaping experts invigorated Lana's love of gardening.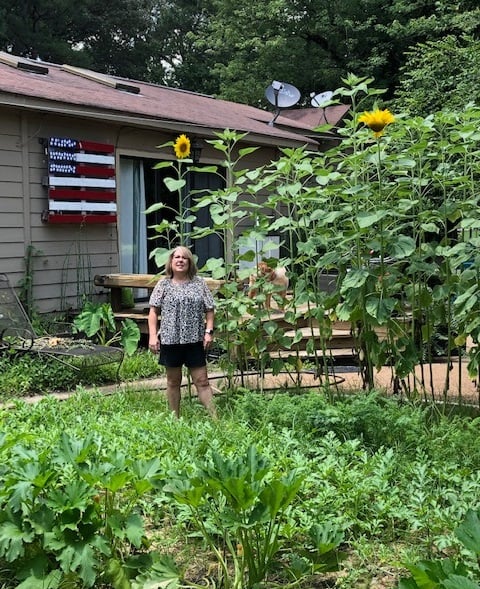 She grew up on a farm in rural Arkansas and helped her grandparents garden. But raising two sons and always working, she set it aside.
Now she tends a flourishing vegetable garden brimming with zucchini, yellow squash, plump watermelons, tomatoes, cucumbers, and cheerful sunflowers. Fragrant mint is perfect for her favorite mojitos.
And don't forget the okra, that Southern staple.
"I'm definitely from Arkansas," Lana says with a laugh. "We all love okra. It goes back to my roots."
The garden bounty makes its way into her famous lasagna and parmesan chicken, favorites of her two grown sons, Jeff, 36, and Chad, 28.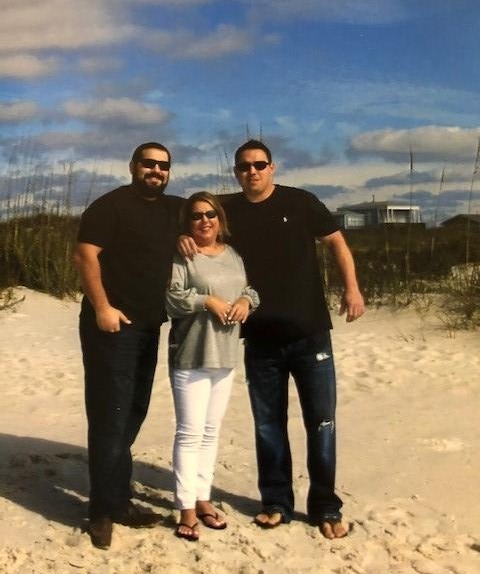 She shares her home with cat, Evie, and a Yorkie named Cash, after Johnny Cash.
"He thinks he's a pit bull," she says with a laugh. "He only weighs seven pounds, but the two big dogs next door are scared to death of him."
She's the Glue (That's a Compliment)
Michael Hatcher often tells Lana, "You're the glue that holds us together."
"Everybody's part of the team," she says. "You can't just have a quarterback — you need a whole team.
"You have to love what you do, and I love it," she says. "I love it when I'm doing on-boarding with a new employee and they say, 'This place sounds really great,' and they're so excited to work here.
"We have 125 employees, and to have the majority of them happy with their jobs, I feel like I'm doing what I'm supposed to do."
Let Us Meet Your Commercial Landscaping Needs
Lana is just one of the dedicated people on our team who help us deliver the best service to our customers.
Our people make us who we are. We'd love to show you.
Are you a commercial property manager in the Memphis, TN or Northern MS area? Are you ready to boost your property's appeal or make your job less stressful? Contact us today for a property assessment.
Or do you want to work with our team of skilled, experienced, and personable people like Lana, who helps make Hatcher not just a place to work, but a family? Learn more about careers at Michael Hatcher & Associates.