When Katie Goodwin recently pondered a career change, she didn't have to look much further than her house stuffed with 53 thriving plants.
A rare Chinese money plant with flat, coin-shaped leaves. An enormous Monstera with cool Swiss cheese holes has taken over the kitchen. Golden Pothos everywhere, showing off their heart-shaped green and yellow variegated leaves.
"My house is an indoor jungle," Katie says, laughing. "I've always had a passion for landscaping and plants.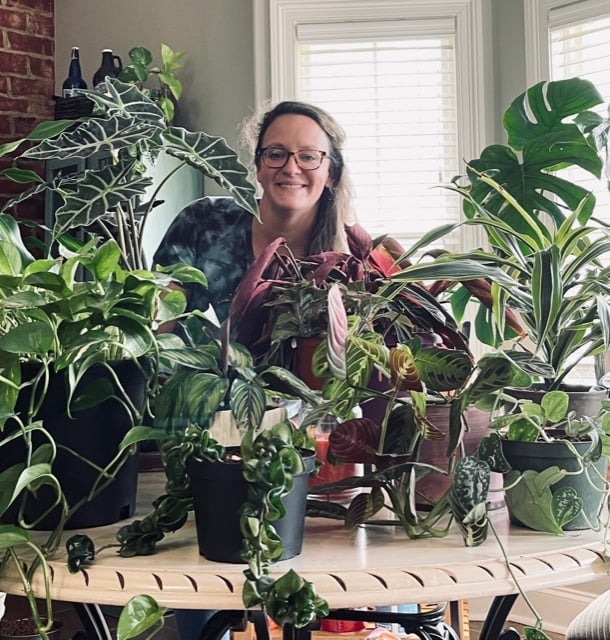 "I wanted a job that makes me feel good in a field that's exciting."
When she started looking online for landscaping jobs, Michael Hatcher & Associates popped up.
"I thought, 'Let's give it a go.'"
"I'm in My Zone"
Katie came to Hatcher from a career in retail management and restaurant management.
"Then COVID hit and I realized that was not for me anymore," Katie says. "People still want their burgers and fries but there's not enough staff to make and serve them. It got too stressful.
"I thought, 'There's got to be something more in life.'"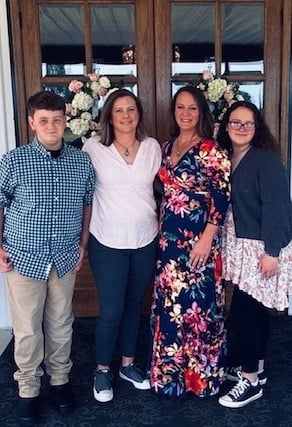 She applied for a job as a spray technician, but Hatcher Talent Acquisition Manager Gaby Bermudez suggested Katie apply to be a commercial construction estimator.
Katie gets a landscape design from a Hatcher landscape architect and estimates the cost and time needed to complete the project.
Seven trees? Check. 173 liriope? Check. Benches? Tables? Planters? She's on it, with help from specialized software and lots of communication with vendors.
But no burgers and fries in sight.
"The jobs really are night and day, going from managing 50 to 100 employees to sitting in the quiet just in charge of myself," Katie says.
But the attention to detail involved, the careful persistence, checking, and double-checking, is nothing new to the former manager.
She's used to that level of detail from her management jobs, from making sure store mannequins look just right to monitoring temperatures of refrigerators and cooking for health code reasons.
"I just fell in love with this job," Katie says. "This might sound silly, but it really is gratifying, making everything match up. It's kind of like painting by numbers, and I could do that all day.
"It's calming. I'm in my zone."
Need Cheering? She's a Pro
Katie and her wife, Danielle, have been married for two years and together for four.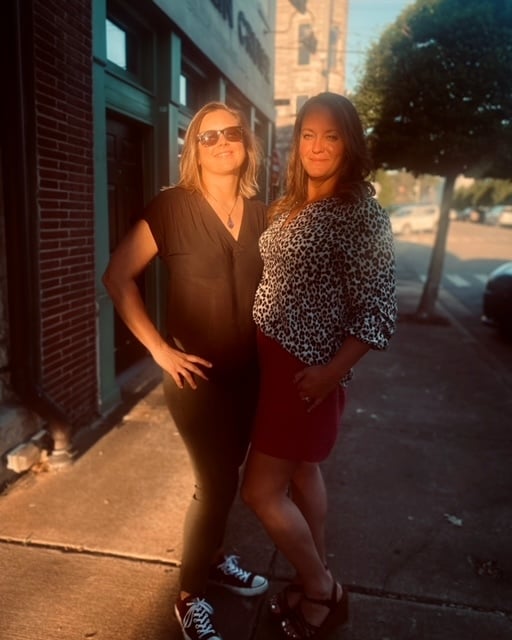 "If it weren't for Danielle, I wouldn't have had the courage to try something new," Katie says.
Katie has two kids, a daughter Reagan, 14, and a son Garrett, 12.
This year has been all about supporting them in sports. In the past, she was always working nights and weekends. Now, she's thrilled to have those free for family time.
Garrett plays football and basketball. Reagan is a cheerleader, following in the footsteps of Katie, who was involved in competitive cheer from age 10 and kept on cheering through her years at Northwest Mississippi Community College.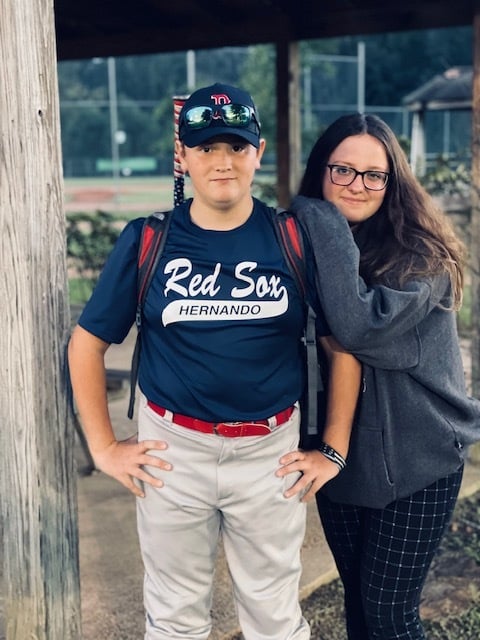 "I learned so many life lessons from cheering," Katie says. "Discipline. Commitment.
I'm always asking myself, 'Is this the best I can do?' And if not, I go back and do it again. That comes from cheer."
Now she's thrilled to cheer on her kids.
"They're thriving," Katie says happily. "I just want them to find what makes them happy."
Planks, Plants, and Painting
Katie and Danielle have taken on a substantial fitness challenge, with new workouts each day.
"Arms, back, legs, and booty," she lists off. "Planks, squats, burpees, cardio."
She loves sitting in the steamy sauna afterward.
Remodeling their house, painting cupboards, and refurbishing furniture keep her busy, too. And, of course, those 53 houseplants.
Three dogs — Jack Russell terrier Gator and pit bulls Penny and Binh — and a rambunctious kitten named Kenickie round out the family. The fiery orange feline is named after the tough, tattooed T-Bird character from "Grease."
"He's hell on wheels," Katie explains.
"Making the World a Little Bit Greener"
Katie loves the part she plays in the big Hatcher picture.
"I'm not the one talking to the customer or the one putting the plants in," she says, "but I'm part of making the company better. I'm giving customers what they want for the best price I can get.
"I'm helping to make the world a little bit greener, a bit more manicured," she says. "Everything happens for a reason. I'm here for a reason. There are so many people here to learn from, and I want to learn it all.
"I'm really excited about this journey."
Let Us Meet Your Commercial Landscaping Needs
Our people make us who we are and help us deliver the best service to our customers.
We'd love to show you.
Are you a commercial property manager in the Memphis, TN or Northern MS area? Are you ready to boost your property's appeal or make your job less stressful? Contact us today for a property assessment.
Or do you want to work with our team of skilled, experienced, and personable people like Katie, who brings a passion for plants and perfectionism to your landscape design? Learn more about careers at Michael Hatcher & Associates.