A trained horticulturist, Alex Moore can now add ISA-certified arborist to his credentials.
"This has been a professional goal of mine for some time," said Moore, a senior account manager in the Commercial Maintenance department at Michael Hatcher & Associates. "I think it is key to have the arborist certification to better educate our clients and recommend the proper and acceptable tree care practices for their investment."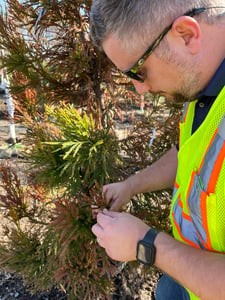 Moore earned his certification in February through the International Society of Arboriculture after successfully passing ISA's credential testing.
According to its website, ISA recognizes arborists as "qualified, competent, and safe tree care professionals," and the organization "promotes the professional practice of arboriculture and fosters a greater worldwide awareness of the benefit of trees."
"Trees help us in a multitude of ways," Moore said. "They reduce air pollution, improve aesthetics to the landscape, and help shade areas, which in turn helps overall utility costs for properties. They also provide habitat for wildlife, improve property values, and improve quality of life."
Moore knows what he's talking about. He has a Bachelor of Science in horticulture from Auburn University and has relied on his education and experience to bring value to MH&A's Commercial Maintenance customers for nearly 17 years.
Age, proper pruning methods, and the weather are among the factors contributing to a tree's health and well-being, Moore said.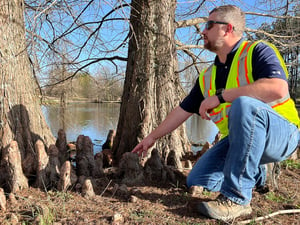 "It is good to get a certified arborist out to inspect the trees and provide a plant health care plan for the best long-term success," he said. "In this way we can prevent early failures and establish a maintenance pruning schedule before it gets to be a bigger issue."
Kelly Ogden, GM of Commercial Sales and Maintenance Operations at MH&A, said Moore is the first in-house arborist in the company's 37-year history.
"The knowledge Alex obtained for tree health care is an advantage to our maintenance operations," Ogden said. "His status as an ISA-certified arborist speaks to his dedication to his profession and to helping our customers properly care for and maintain their trees."
The professionals at Michael Hatcher & Associates would love to help you improve and maintain the beauty of your commercial property. To hear more about our comprehensive landscape management and enhancement services, contact us today.