If you think your list is long when you head to Tanger Outlets for the day, you should see French Hobbs' list.

And he's not even shopping.

Hobbs, Commercial Maintenance Account Manager at Michael Hatcher & Associates, works with the popular retail center in Southaven, MS to make sure the expansive landscaping lives up to Tanger's impressive reputation.

"When you go shopping in this area, it's the first place everybody goes," Hobbs says.

He buys his jeans and work shirts there. His wife shops there. Tourists from all over the world who arrive in Memphis to tour Graceland and hit the Mississippi Blues Trail show up, with cameras and high expectations.

"It's just as much a part of the community as the parks here are," Hobbs says. "But it's also a big tourist attraction. Everybody stops when they're coming through Memphis."

Everybody stops.

It better look great.
Purses, Pretzels, Perfume — and Petunias
Just minutes from downtown Memphis, Tanger Outlets Southaven is a 350,000 square foot shopping paradise, with 70 stores.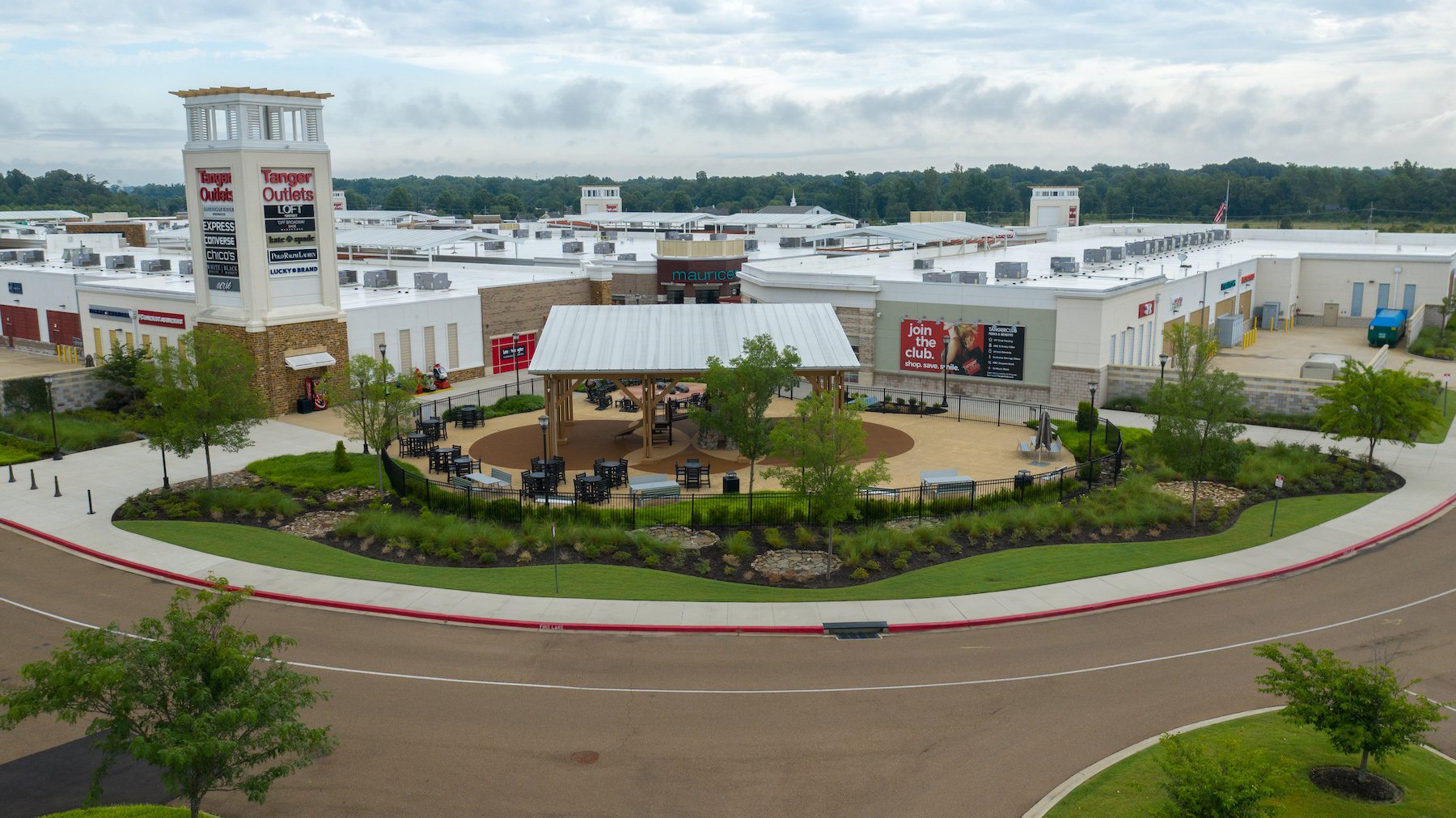 You can find just about everything. New running shoes. Designer handbags. Perfume. Sunglasses. Pretzels. Luggage. Baby clothes. Krispy Kreme donuts. (Go ahead — shopping burns calories.)

Love variety? You'll like the landscaping, too.

Flowering Crape Myrtle trees. Graceful fountain grasses. Expanses of emerald green turf. Masses of liriope. Classic ivy. Beds of bright annuals.

And that's just the green growing stuff.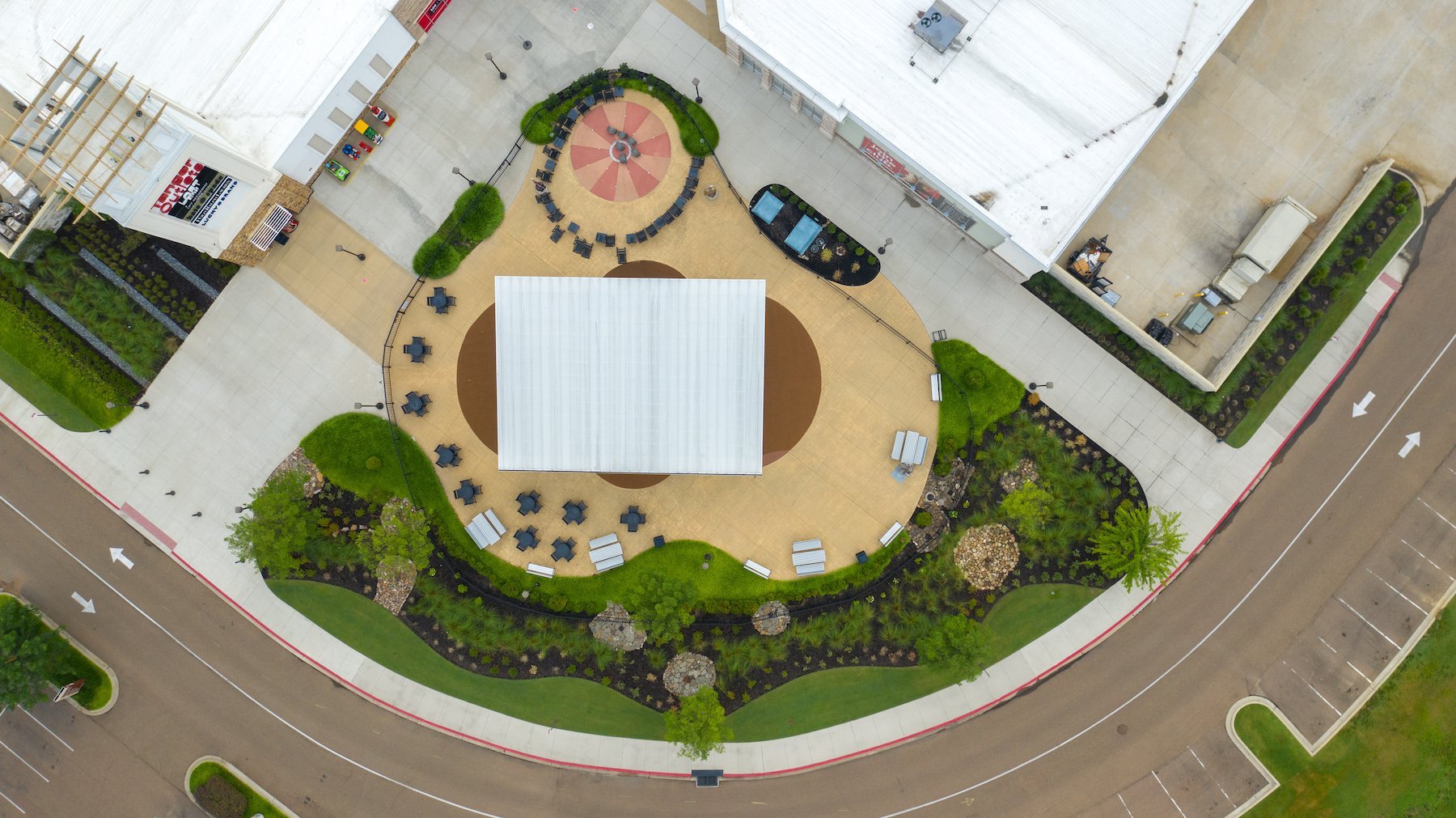 Add a landscaped courtyard with a fire pit, two water features, a landscaped playground with pop-up water jets, and a huge parking lot with islands of greenery, and it's clear why this is an all-day landscaping job once a week.

"The landscaping sets the atmosphere and the tone," says Mandi Johnson, assistant general manager of Southaven Tanger Outlets. "It's extremely important."
A Look at Hobbs' Long List
Any big landscaping maintenance job usually includes mowing and trimming, weeding and pruning, adding flowers for impact, and generally keeping things tidy.

Here at Tanger, extra tasks make the list:
Delivery trucks sometimes run over curbs and break irrigation system heads.
Water features are cleaned out every two weeks and chlorine tablets added. Crews collect the coins that visitors toss in and Tanger donates them to St. Jude Children's Research Hospital. Hatcher also dyes the water pink each October for Breast Cancer Awareness Month.
The playground area — a huge draw for families — has to stay neat and safe. The popular splash pad with water jets needs routine maintenance.
Crews regularly bring in buckets of mulch to refresh the landscaping around several huge guitar statues, part of the Mississippi Blues Trail honoring the state's rich music history. The attractions, including a replica of legend B.B. King's famous guitar, are popular photo spots and have to stay picture perfect.
Landscaping Problems? No Problem
Trouble-shooting is part of the job, too.

Thousands of feet walking through can take a toll, especially when shoppers stray off paths and cut through landscaped beds.

"Instead of fighting it year after year, we put in stepping stones in some spots," Hobbs says. "If y'all are going to use it as a walkway, let's make it a walkway."

Hobbs is also working with Johnson to replace some annual beds with perennials to save money.

Small evergreens, daylilies, and Black-eyed Susans look great but don't have to be replaced twice a year, so they're cheaper in the long run.

Hobbs is always on the lookout, and jokes that when his wife shops at Tanger, she calls him if she sees anything amiss.

"Maybe wind blew a tree crooked," he says, "or a tree has a dead limb. Maybe a kid picked a handful of flowers to give to their mom." He laughs. "My kids have done that. I'll grab a flat of flowers and replace them — hopefully before Mandi notices."

Mostly, she notices that everything looks great.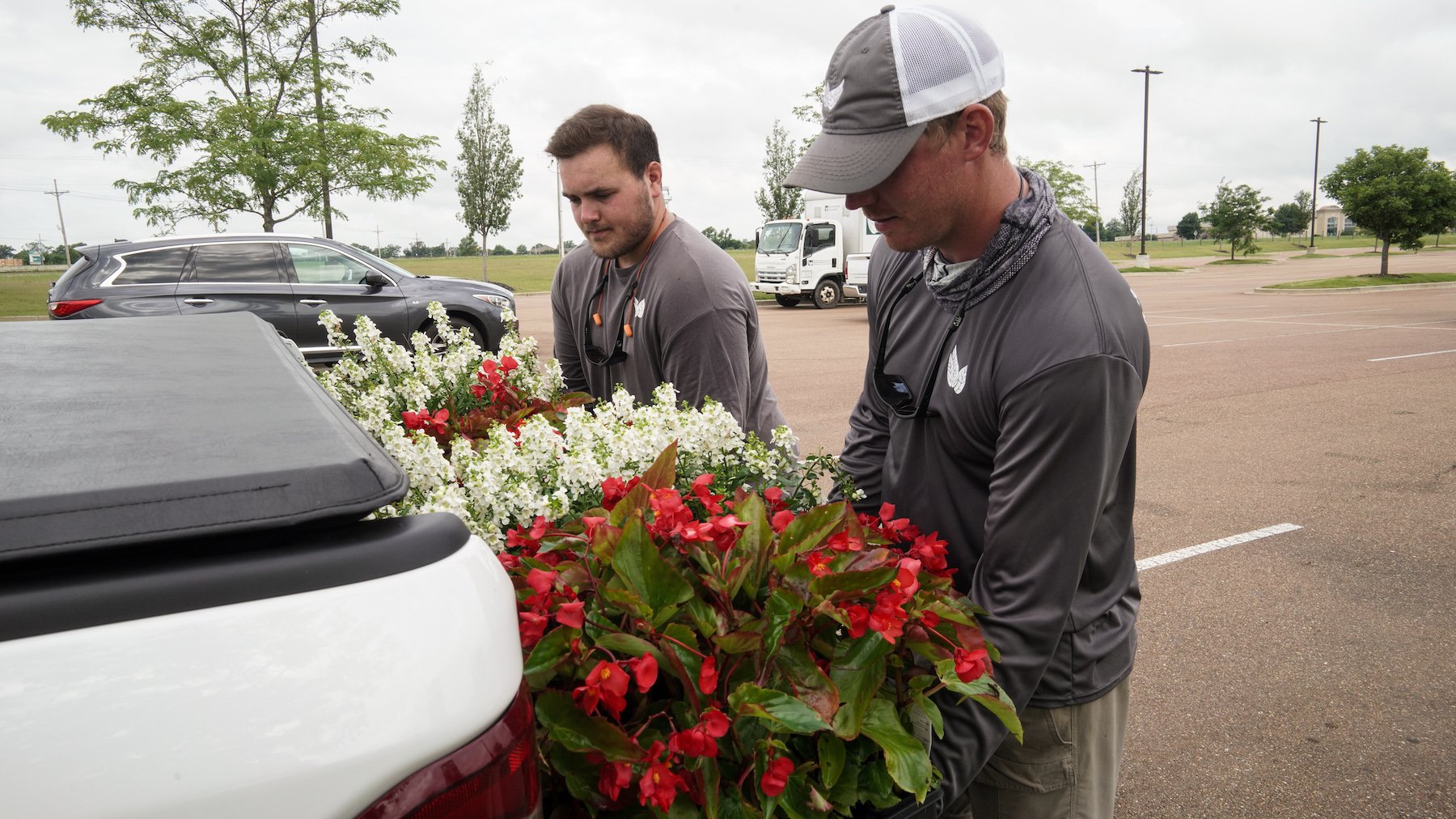 Jack of All Trades & Master of Many
"Hatcher does a phenomenal job," Johnson says. "You know the phrase 'Jack of all trades and master of none?' Well, Hatcher is Jack of all trades and master of many. They've mastered the landscape side. They've mastered spraying for weeds, ant hills, and pest control. They do our fountain maintenance. They do our holiday decor."

What is Johnson picky about?

She laughs.

"If you asked French, he'd probably say everything," she says.

"I'm picky about dead flowers and fading flowers. I notice ant hills a mile away. If the Crape Myrtles get too high, they can damage the signage."

Hatcher stays on top of it all, she says.

"I love working with them," Johnson says. "They work safely. They work clean. Their designers' knowledge is deep — they have many years of experience. They know what will work in this area and what won't.

"They're honest, which is fantastic," she says. "I'll say to French, 'What do you think about this for spring?' And he might say, 'I don't think that will work, and here's why. But I'll get you some similar ideas that will.'"
Landscaping Logistics
The way landscaping crews operate at a busy retail property like Tanger "is a million percent important," Johnson says.

Shoppers can't be bumping into crews, dodging equipment, or annoyed by noisy machinery.

Crews tackle the interior landscaping first, before stores open, and work their way out so they're tending to the outermost parking lots in late afternoon.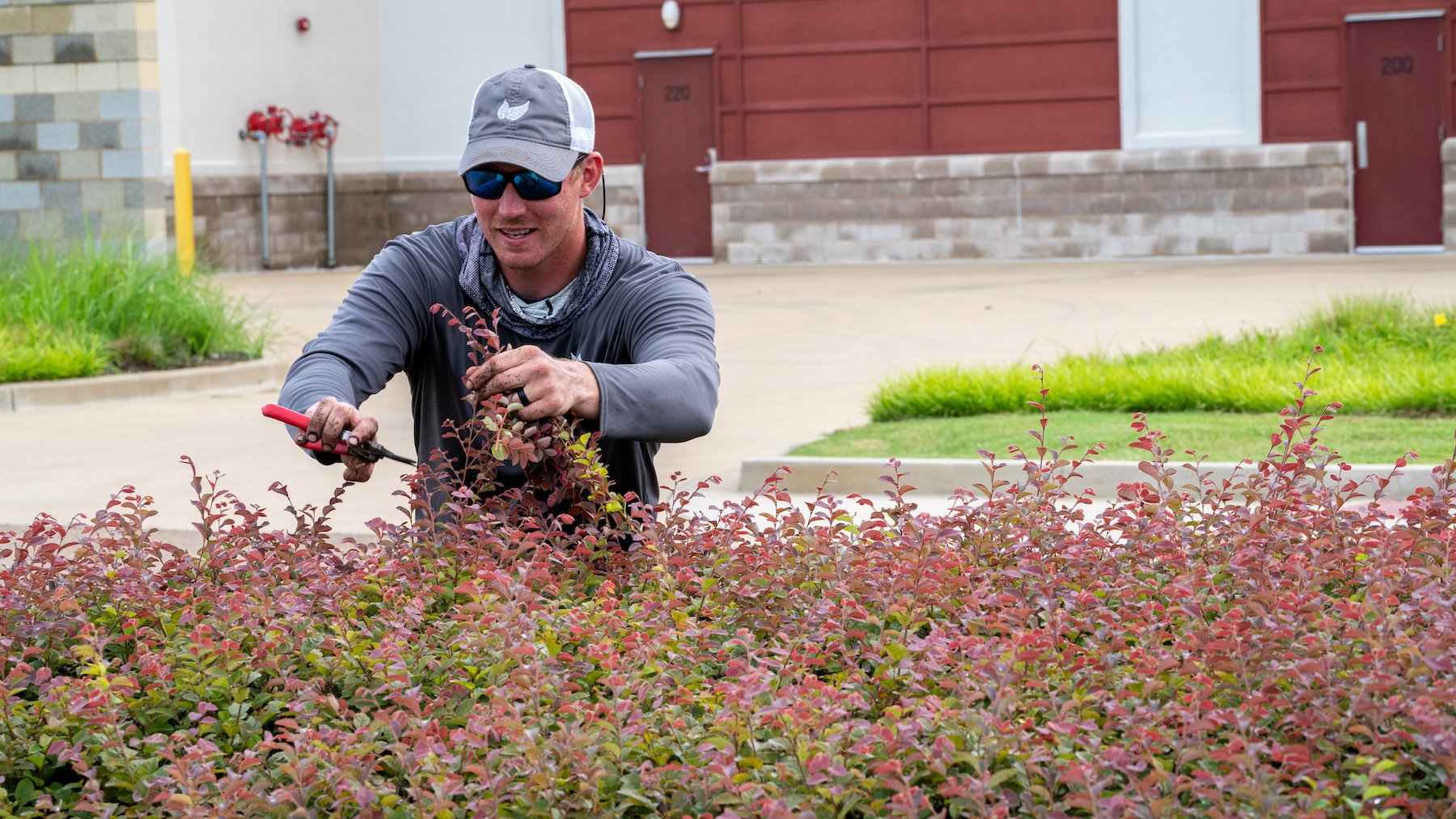 They do noisy jobs like mowing, blowing, and trimming early, before shoppers swoop in.

It's a full day job every Monday, and typically takes six crew members.

But when Covid-19 hit, Tanger reduced hours and needed to cut back on landscaping services to save money.

Johnson and Hobbs worked together to figure out a new normal.

"Covid has been a challenge, like it has been for many businesses," Johnson says. "Every company is going through the same thing, having to make some cuts. I leaned on their expertise, and Hatcher rose to the challenge, helping us decide where we could make some cuts, but still keep our high standards."
Impressing Shoppers — and Santa
Some days at a shopping center are busier than others, like when special guests show up. The Easter Bunny hops in each spring, and Santa flies in for the holidays.

Hatcher decks the halls at Tanger for the holidays with twinkling lights in all the trees, sparkly star-shaped light decor, ornament balls hanging between the buildings, and 10 massive 16-foot diameter wreaths.

"Holiday decor is extremely important," Johnson says. "It sets the atmosphere and tone for the season. We want shoppers to feel warm and welcome. We want them in the holiday spirit."

A cozy, crackling fire helps. Tangier's central courtyard features a fire pit.

"The fire pit is a focal point," Johnson says. "We love having it for our guests, especially in the winter. But you don't want to just sit around a fire pit. You want to sit around a fire pit that has beautiful landscaping. It brings that happy home feel."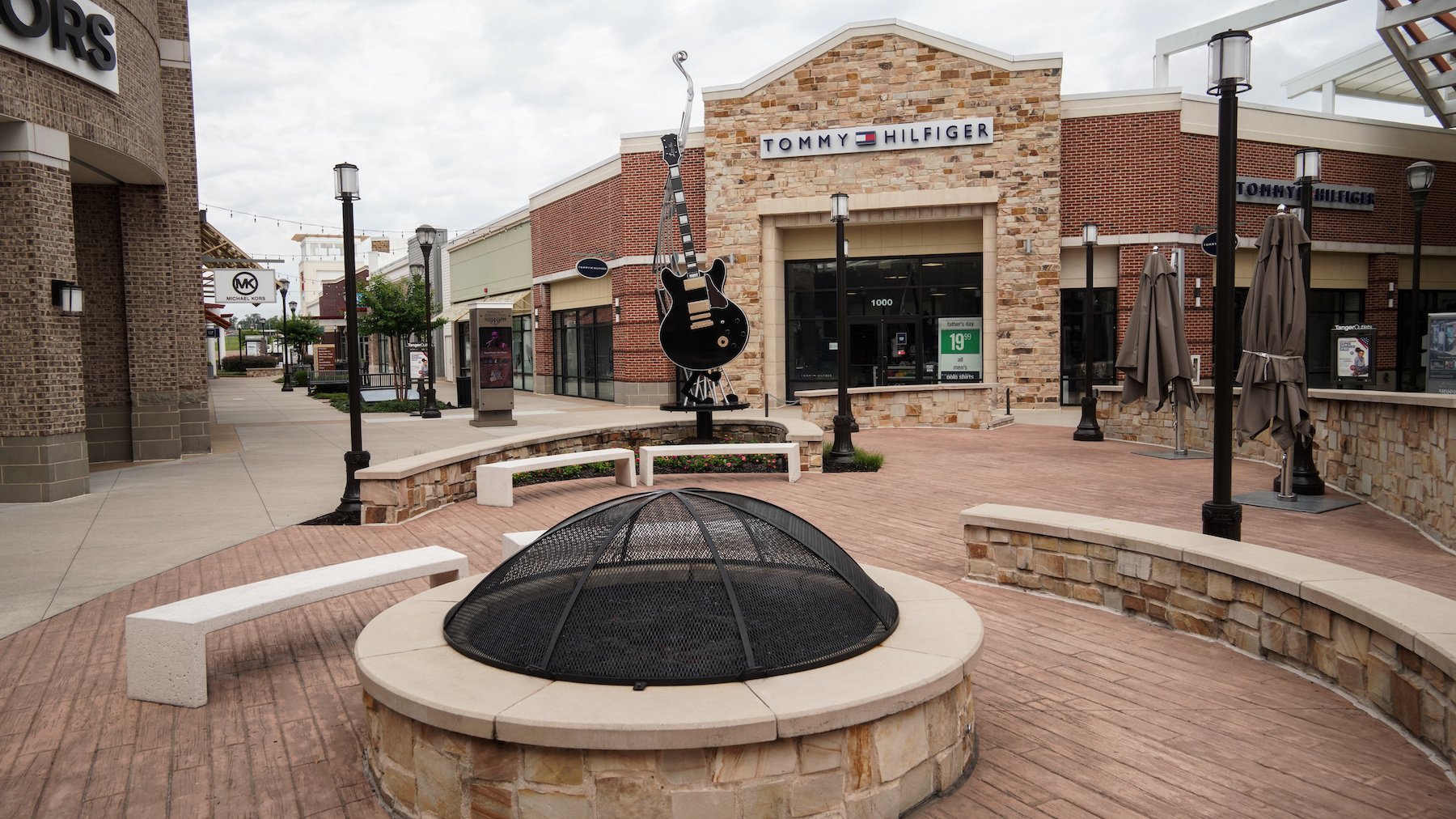 It's a crowd pleaser, especially with a certain crowd.

"Let's face it, women often go shopping with their husbands, and the husbands don't always want to be there," she says. "They're often the ones gathered around the fire pit."

"It makes people stay longer, instead of just going to a store then getting back in their car to go home," Hobbs says. "It gives them a reason to hang out. Hopefully the more time they spend, the more they'll shop."
Shop, Relax, and Say "Cheese"
"I see people taking pictures of the flower beds and the water features, taking senior pictures or photos for their Instagram," Hobbs says. "You don't see that at a warehouse.

"Besides the stores, the landscaping is the most important thing here," he says. "Everybody has a lot of choices now. There are three or four other malls in the area. It's a lot easier to sit at home and order online. The landscaping is more important now than ever."

He's happy to be part of it.

"There's a huge sense of pride to be able to say we do the landscaping here," he says. "We send potential clients here. We'll say, 'Go check out Tanger and see if you like our work.'"
Trust Your Commercial Landscaping to Hatcher
Here at Michael Hatcher & Associates, we know bustling retail centers need impressive, Instagram-worthy landscaping that keeps the budget in mind.

Other commercial properties might not attract camera-wielding tourists, but they need to look great, too.

Our skilled crews know the drill.

Ready to boost the appeal and safety of your commercial property? Talk to one of our commercial landscaping experts today! We'll meet at your property, create a custom plan, and get you on your way to enjoying a beautiful, worry-free property.