Michael Nolan has a goal for visitors to the Methodist Olive Branch Hospital, and it's not about surgery or stitches.
Whether you're there for a stressful procedure, a joyful birth, or life-saving care, he wants you to feel confident, calm, and in good hands.
Since the Olive Branch, MS hospital opened in 2013, Michael Hatcher & Associates has been the hospital's commercial landscaping partner, keeping the shrubs trimmed, the flowers vibrant, the lawn mowed, and the property safe.
Watch This Video to Learn How We Help Hospitals & Medical Facilities
Impressive hospital landscaping helps people feel safe and confident about their impending care inside. If it's neglected and messy, they worry about cleanliness and carelessness.
Great landscaping also affects the many healthcare professionals who make this place their work home, greeting them at the beginning of their shifts and creating a calm and peaceful atmosphere.
Meticulous lawn and landscape maintenance is critical.
Welcome to the Grounds
There's plenty of lawn to mow and fertilize here, along the long, winding driveway that leads to the hospital, and surrounding it on all sides.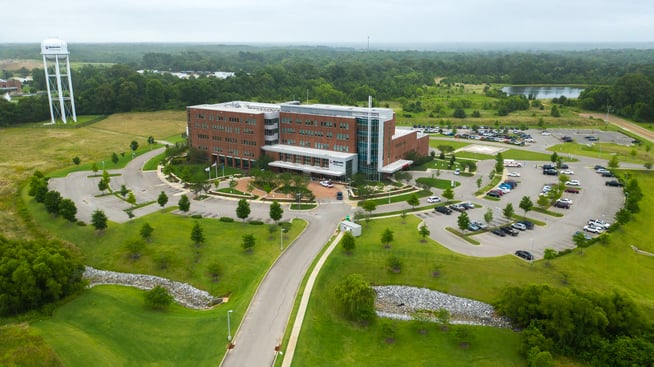 Flower beds flank the entrance and perk up parking lots. An expansive irrigation system keeps things healthy and green. Walkways get lots of use.
Lantana is a flower bed staple here, a low-maintenance beauty boasting captivating clusters of blooms in a kaleidoscope of colors.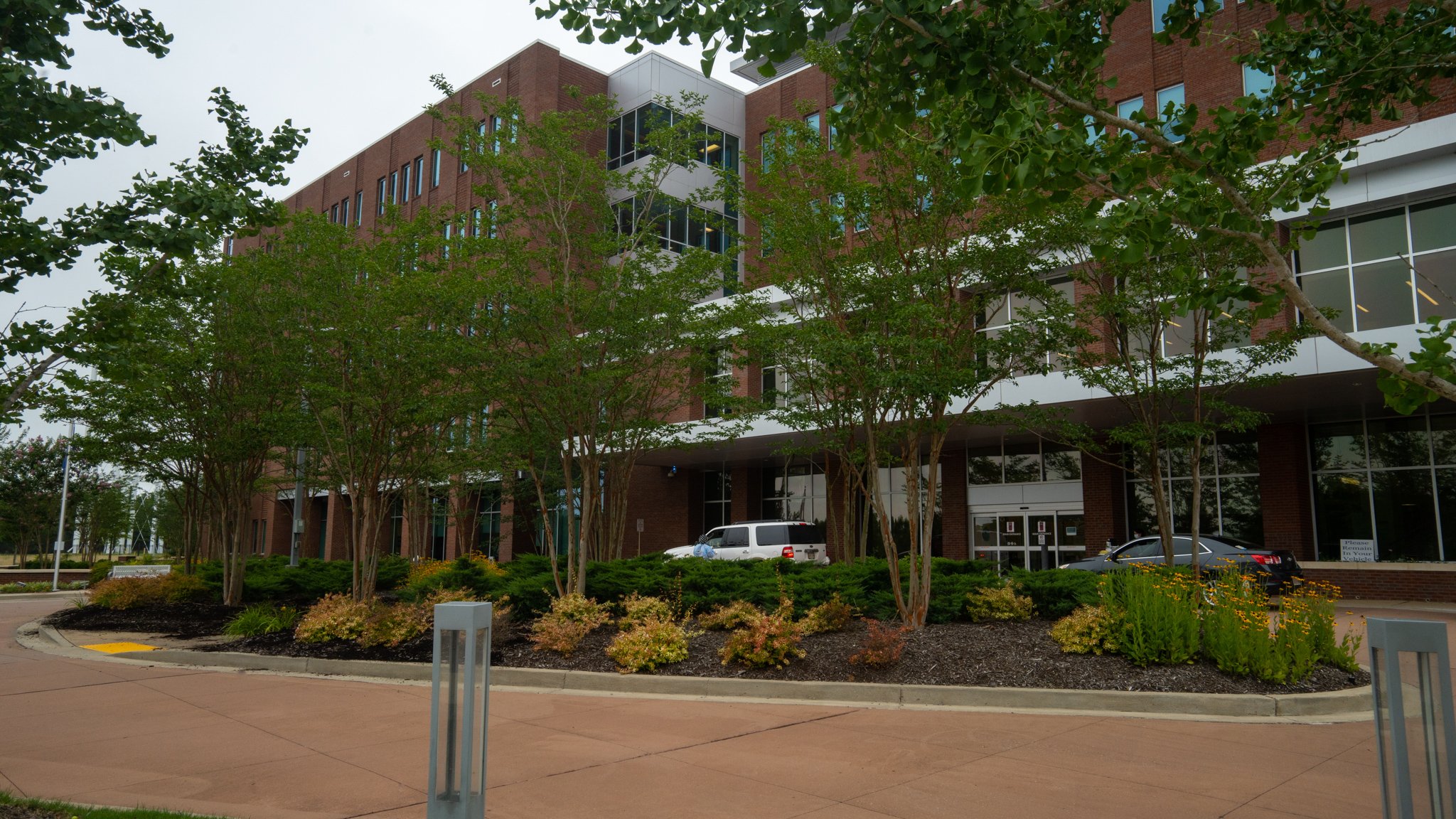 A number of trees dot the property, including flowering crape myrtles that burst into clouds of pink in the spring.
An employee break area got a recent facelift with impressive new planters.
Beyond the trees and plantings, the hospital has unique needs and challenges that keep French Hobbs, Hatcher & Associates commercial landscape maintenance account manager, and our crews on their toes.
The Challenges
The hospital helipad has to remain clear of landscaping debris like grass clippings, so it doesn't blow around when the helicopters land.
Crews need to work around hospital employee shift changes so they're not in the way as workers come and go.
Parking large landscaping equipment can be a challenge, as the busy hospital's parking lots are usually full.
The hospital property borders a preservation area wetland, home to busy beavers. Crews can't touch the wetland, but have to keep an eye out for occasional parking lot flooding after heavy rain.
"Everything has to be very, very clean," Hobbs says. Normally, crews might mow an entire property, then go back and blow off the clippings. Here, they mow a section then immediately blow it off to keep it free of debris.
There's constant pedestrian traffic, so crews check the irrigation system often to make sure sprinkler heads aren't over-spraying onto pavement.
Crucial Snow and Ice Control
In winter, slippery surfaces are a huge concern in a hospital landscape, both for pedestrians and for the emergency vehicles that need to navigate quickly and safely.
Here in the mid-South, we get a lot of winter rain that can instantly transition into slick sleet and snow with a slight dip in temperature.
"We watch very closely when the temperature is freezing to make sure areas like parking lots and entrances have ice melt," Hobbs says.
"We don't have the staff to handle snow and ice control," Nolan says. "Hatcher makes us a priority, so it's a safe place for our patients and our staff. They get here before our staff arrives, so the roads are clear and there's no ice or snow. "
"We Feel Like We're Their Top Priority"
Hatcher meets all the hospital's challenges, and more, Nolan says.
"We always feel like we're their top priority," he says. "Their quality is always spot-on."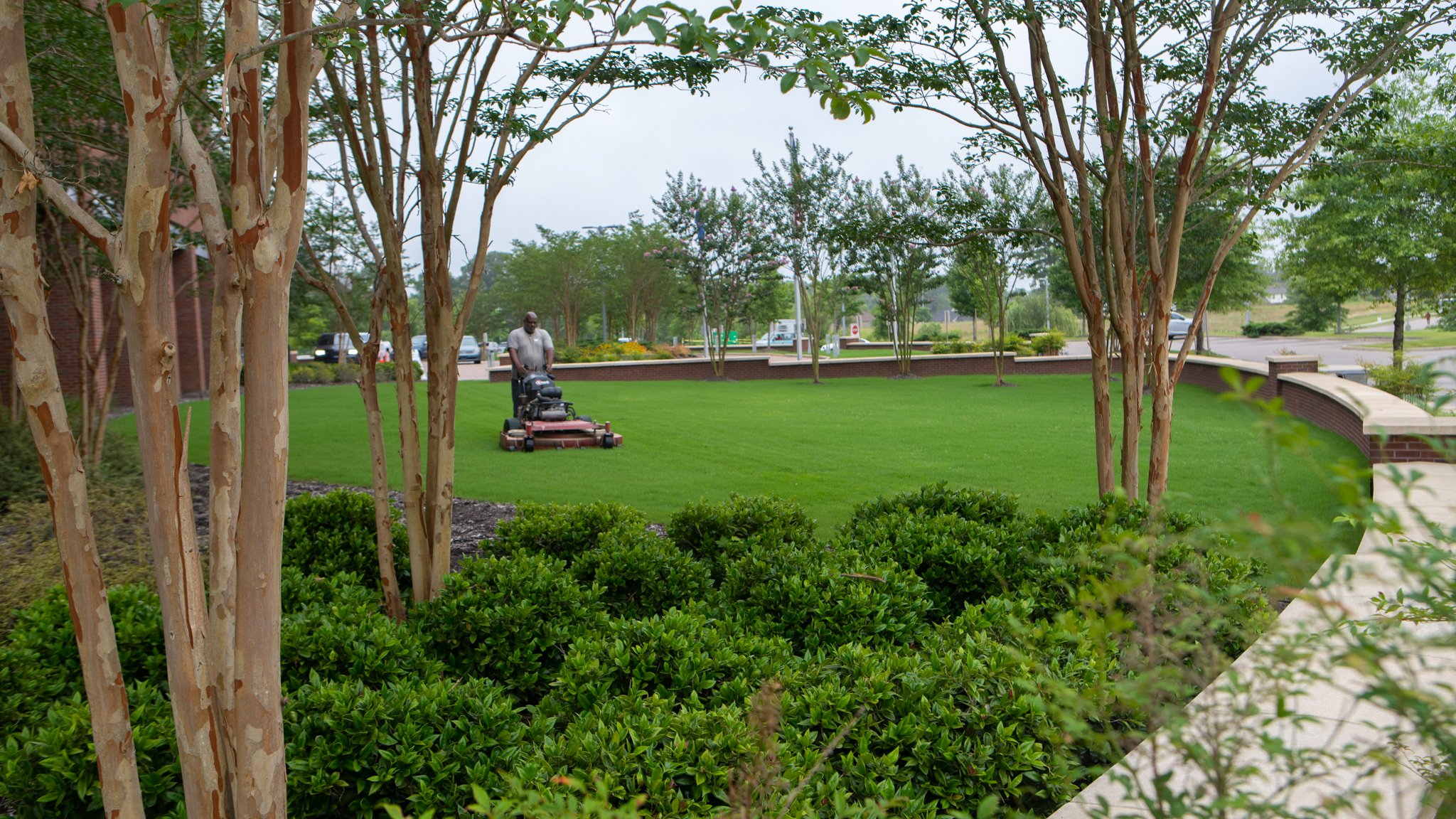 Courtesy counts, Nolan says.
"Crews slow down their work if they're close to a car or they'll stop what they're doing if someone is walking by," he says. "It's not all about hurry up and get out of here."
Those details matter, he says. It's why they've kept Hatcher on board since they opened.
"Our biggest priority is the commercial landscaping company's quality of work, not just who's the cheapest," Nolan says. "We value the quality of people and the relationships we have with them."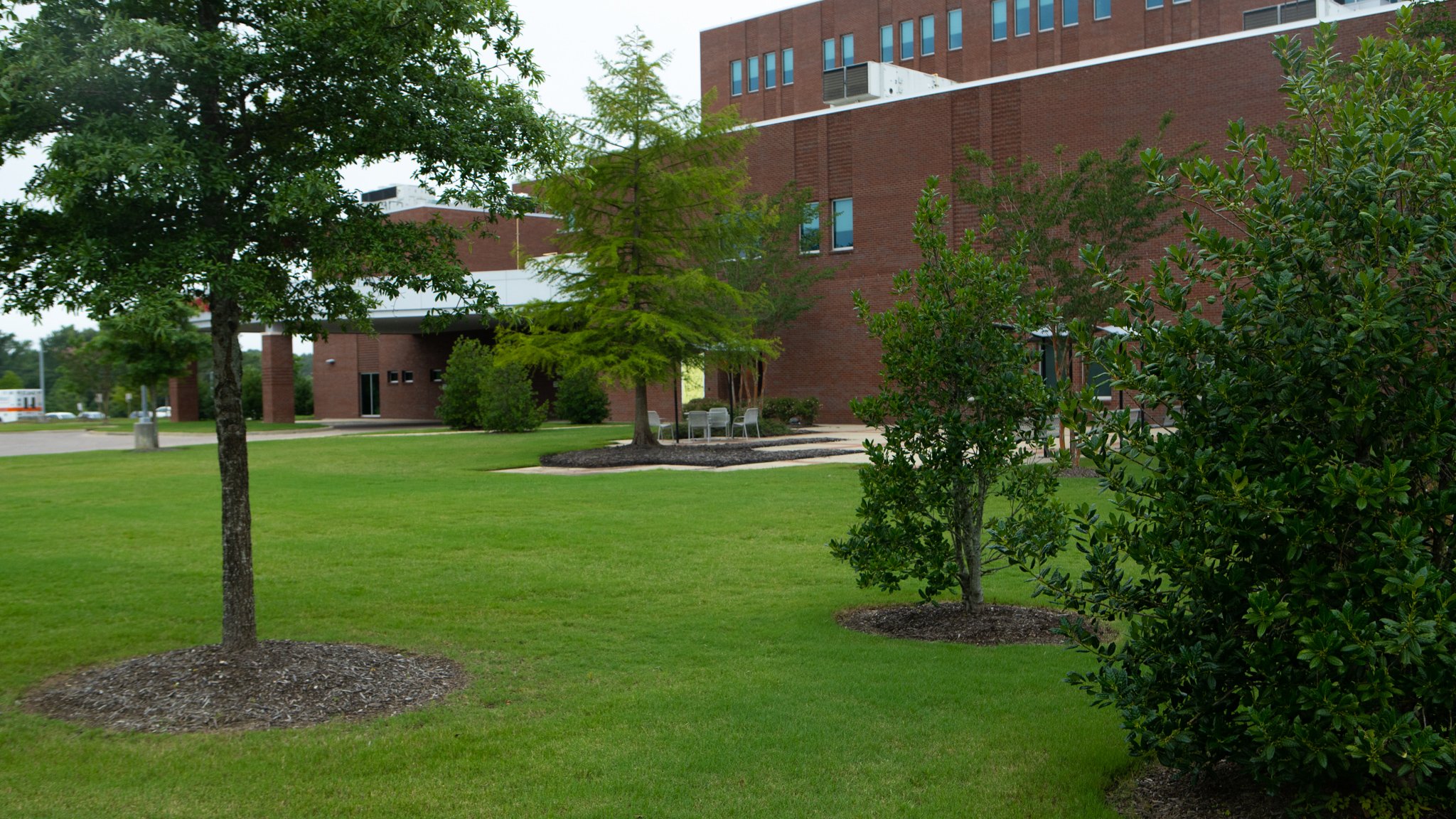 Nolan has Hobbs' cell phone number handy, but he doesn't need it much.
"They're here on a weekly basis, not just mowing the grass and weeding, but if they see anything out of place, they just handle it," Nolan says. "If there's a sprinkler head broken, they fix it. Or if they see a piece of trash in the parking lot, they pick it up. They don't just kick it aside because it's not their job."
He loves that.
"My schedule is so busy, with meetings, and taking care of everything on the inside," Nolan says. "I don't want to have to worry about the outside. That's the whole idea — so I don't have to think about it. I don't want to have to call them about every little thing. They just do it. It takes a lot of stress off me."
"If Nothing Stands Out,That's Perfect"
"I try to look at the hospital the way a patient would," Hobbs says. "It might sound weird, but I don't want to notice anything. I don't want to notice that the grass is too long or too short. I don't want to feel like the flowers are screaming at me. If nothing stands out, that's perfect.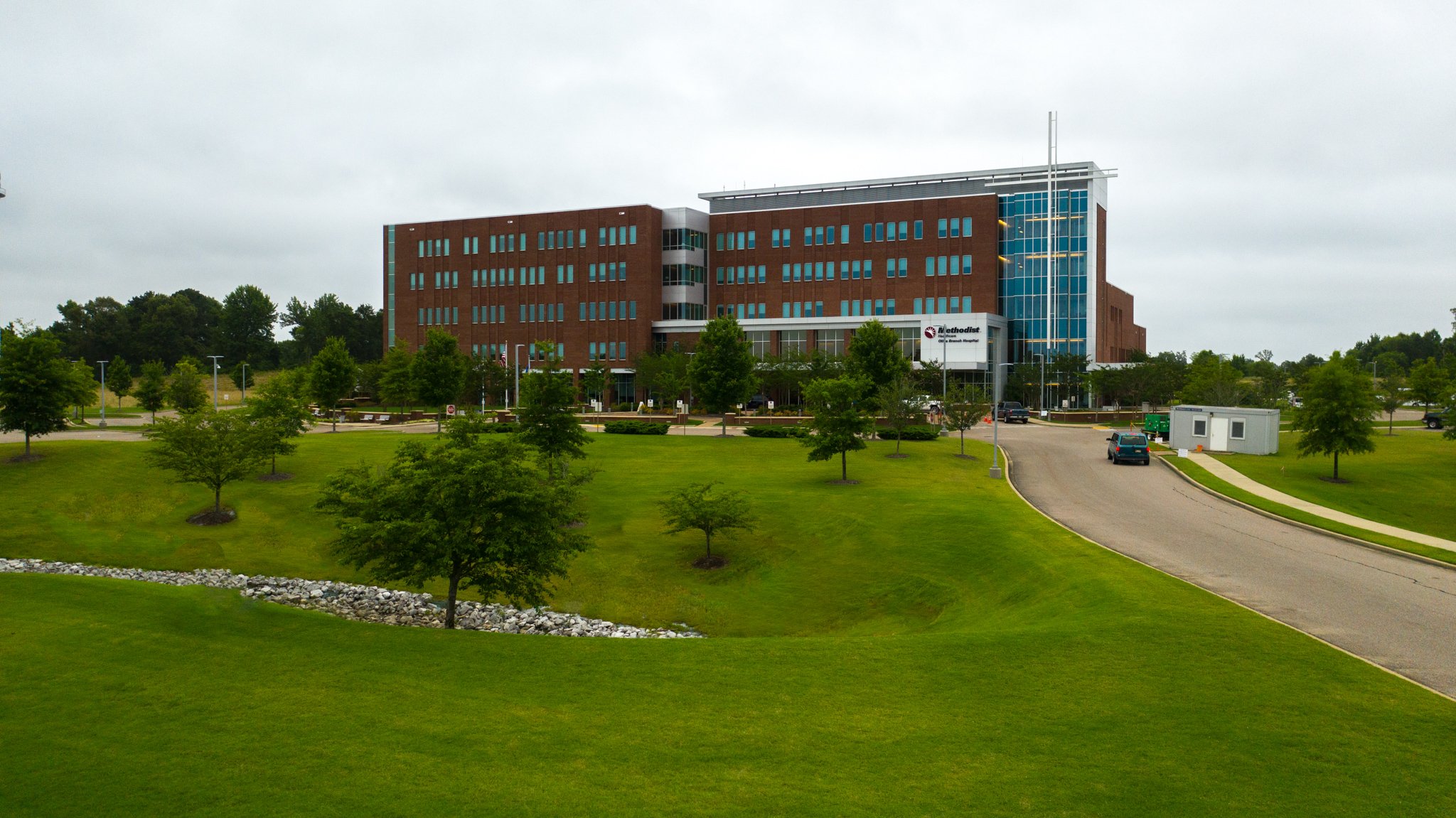 "You'd never know our guys are there," he says. "They're blowing and pulling weeds when things aren't busy."
When Nolan talks about the hospital as a warm, welcoming place, Hobbs gets it.
It's his family's hospital.
"When we found out my wife was pregnant, that's where we went," Hobbs says. "This hospital is a huge deal in our community. People here would have to drive an hour to get to any other hospital."
A number of Hatcher & Associates employees live in the hospital's service area.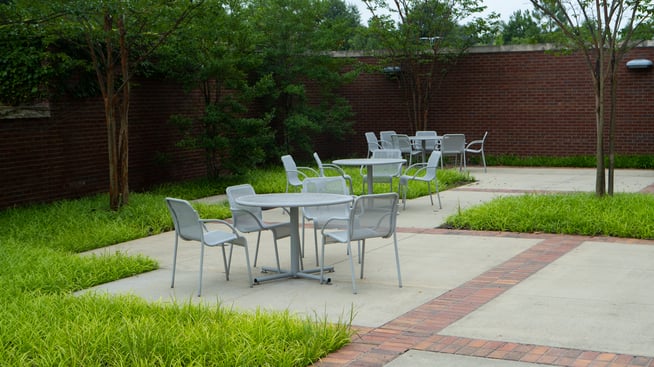 "This is their community hospital," Nolan says. "We want to be here for them, and I think they feel the same about us."
He's got that right, Hobbs says: "It's rewarding to be able to say we're part of this team that keeps this hospital functioning."
Trust Your Commercial Landscaping to Hatcher
Here at Michael Hatcher & Associates, we know how important a hospital visit is — and how to make your health care facility not only welcoming and peaceful, but its landscaping safe and secure.
All these elements are important for other commercial properties, too.
Our skilled crews can add vibrant flower beds and planters, safe pathways and lighting, provide vigilant snow and ice management, and keep signage and sight lines visible.
Ready to boost the appeal and safety of your commercial property? Talk to one of our commercial landscaping experts today! We'll meet at your property, create a custom plan, and get you on your way to enjoying a beautiful, worry-free property.