Do you want to make your landscape pop while also adding other important elements?
Lighting will not only add aesthetic and property value to your home but it also provides security and safety.
Here are six areas you should install landscape lighting around your property.
1. Walkways and Stairs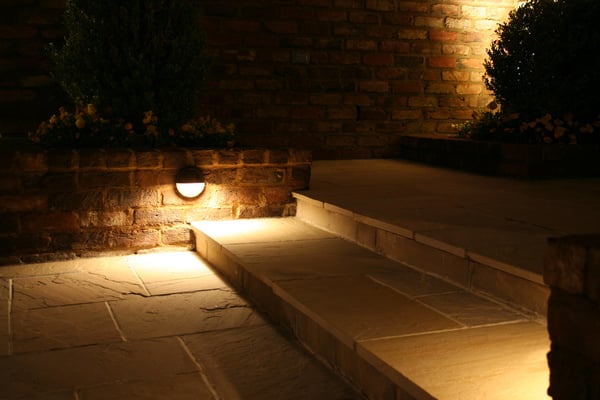 You won't be able to enjoy your landscape if you can't safely walk through it. Adding lights along paths, stairs and on columns near stairs will help you navigate your outdoor space.
Step lights can add depth without being intrusive. These should be out of sight and can run flush to the back part of the steps.
The walkway and stair lights should also illuminate the space without creating glare that can shine into your eyes. These lights should also be staggered along paths so it doesn't looking like a landing strip.
2. Patio Areas
Create some ambiance around your patio with lighting.
Using downlighting on mature trees or structures like pergolas can illuminate the space without being too overpowering.
You can also add lighting around the edges of the patio to better define the space and brighten up the area.
But no matter where the lights are installed around your patio they need to be at the correct angle so that they don't blind you or your guests.
3. Plant Beds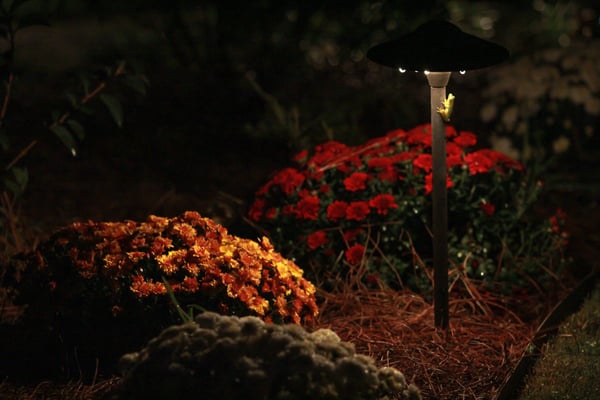 Have a tree or ornate plant you want to be the focal point of your landscape? Uplighting a single plant or entire bed can make these features stand out.
The lights can be installed to shine on these plants to really highlight them.
If you have plant beds around your patio area, you can add lights here to highlight both your beds as well as your sitting area.

4. Fire and Water Features
Get the most enjoyment from your fire and water features by spotlighting them with landscape lights.
If you have a fireplace, you can add lights under the mantle's overhang to outline the structure. Lights will also make fire pits the real focal point of any design. If there's a sitting wall near the pit, you can add lights on it to illuminate the fire features.
You can also use lights around and inside water features. White lights can add subtle illumination that will create real wow factors. Or you can mix it up for a more contemporary look with colorful lights.
5. Around Your Home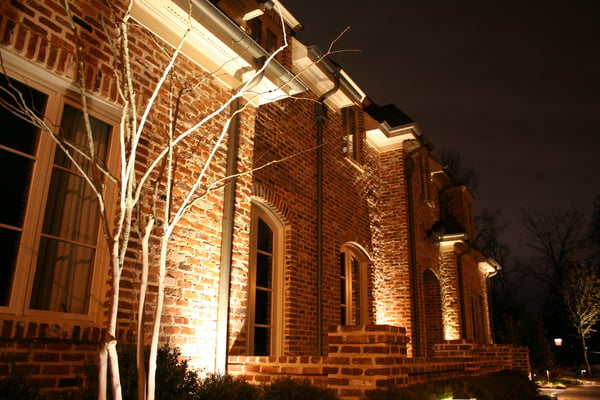 Deter unwanted visitors — both people and animals — by adding uplighting that faces your home.
The lights don't have to be an eye sore or overly bright to provide security. They can be hidden in the plant beds around your home or along walkways. Lighting will also help your home stand out in the community.
Use controllers and timers to make your job easier and also ensure your lighting system is working efficiently. These add-ons can also help lower your utility bill — along with using LED lights.
6. Entertainment Areas
You want to enjoy your outdoor entertainment areas well after the sun goes down so these are perfect places to install landscape lighting.
Here are just a few of the entertainment areas that can benefit from lighting:
Pergolas and arbors

Outdoor kitchens

Pool areas
Not only do you want to be able to see your friends and family at night, but you also want to highlight your landscape design features.
Transform Your Property with Landscape Lighting
Bring your yard and home to life at night with landscape lighting.
Properly designed and installed lighting can transform your space aesthetically, allow you to use it after the sun goes down and add elements of security and safety.
Michael Hatcher & Associates can work with you to create a unique lighting design for your property. We have lighting technicians who are trained to enhance landscape features such as walkways, stairs, patios, plant beds, around your home and entertainment areas.

Are you ready to enhance the ambiance of your outdoor space through landscape lighting? Call us at 901-755-3207 or contact us online.