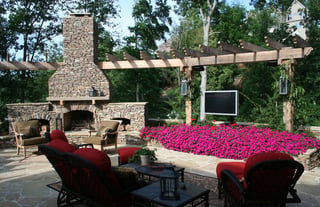 Want to enjoy a meal with family and friends that you cooked in your outdoor kitchen? Or, would you rather relax on the patio with a drink after a long day? No matter your project dreams, Michael Hatcher & Associates can bring them to life.
It all starts with a consultation. We'll talk with you about your ideas and how you plan to use the space, whether it's for entertaining or simply aesthetic value.
Some important aspects to think about for the project are sun and shade orientation, site lines and views, drainage concerns and ways to seamlessly blend the space with your home.
If you're concerned about the budget, we can install the project in phases. We will create a plan to install the different features in the right order so that nothing is damaged during future installation phases.
Here are types of projects we design and install for clients.
Custom Patios
As patio builders, Michael Hatcher & Associates designs and constructs custom outdoor areas perfect for every season. To complete the custom patio space, we can also add sitting walls, landscape lighting, shade structures and stairs leading to the area.
A small paver patio starts at about $3,000, and the price can go up from there depending on the material, size and additional features you want.
Outdoor Kitchen Designs and Installation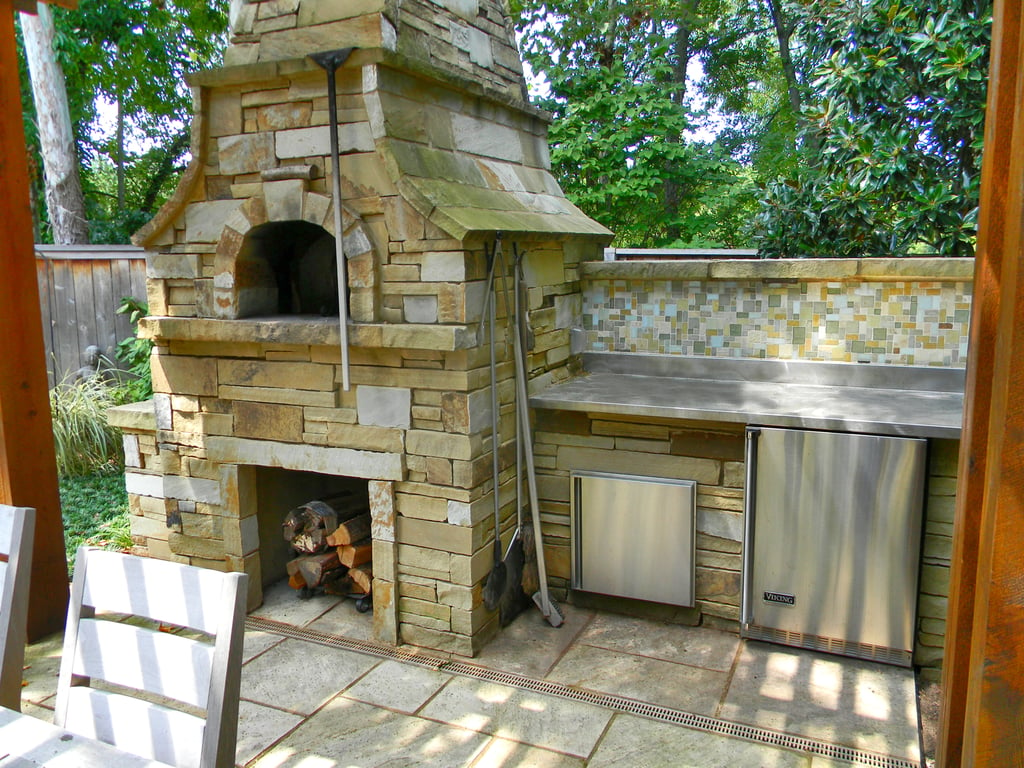 An outdoor kitchen can be anything from a grill to a full-out design with fridge, sink, oven, bar and cooking space. There are options for every budget, and we install outdoor kitchens throughout the Mid-South.
The price will depend on the materials, size and kitchen components you want installed. You can get a basic outdoor kitchen for about $10,000, and more elaborate ones go up from there.
If the outdoor kitchen is close in proximity to your home, you may not need all of the amenities you have indoors. However, if the outdoor kitchen will stand alone, you may want more features like a sink and fridge — and we can install it all.
Fire Features
There's not much better than warming up by a fire pit or fireplace, no matter the time of year. Plus, these fire features are great places to come together with friends and family.
Fire pits are good options for smaller patio areas, and they will also cost less than fireplaces. On the other hand, a fireplace can be a focal point for your outdoor living space.
Pergolas and Shade Structures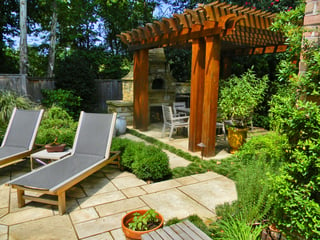 Create shade and outdoor rooms with structures like pergolas. We can construct pergolas that are freestanding or attach to your home. Attached pergolas will require more planning and structural considerations.
These structures can cast shade on your sitting areas, making your outdoor space comfortable year round.
Retaining Walls
Hold back soil, create outdoor rooms and sitting areas with retaining walls. We normally install these features as part of a larger project, such as landscaping, pools, patios or outdoor kitchens.
Driveways
Get rid of cracks, uneven surfaces and aging concrete with a newly designed driveway. It will add value to your home and also reduce some of the wear and tear on your vehicle. We can create both concrete and paver driveways to match your style and site needs.
Driveways are often the last part of the project we install to make sure they aren't damaged from equipment on site from constructing other features.
Why Choose Michael Hatcher & Associates for Design/Build Work?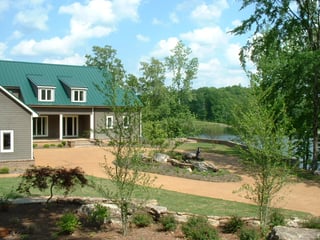 We have an experienced, qualified team that can design and install a range of outdoor living projects in-house. So, you'll be working with one of our team members, not a subcontractor you don't know.
Michael Hatcher & Associates services cities including Memphis, Collierville, Fayette and Germantown, Tenn.; Olive Branch and Southaven, Miss.; and areas in Arkansas. We cover Shelby and Tipton counties in Tennessee; Crittenden County Arkansas; and Benton, Desoto, Marshall, Tate and Tunica counties in Mississippi.
Contact Michael Hatcher & Associates at 901-755-3207, or fill out the form to see how we can create a custom patio and other outdoor living features on your property.