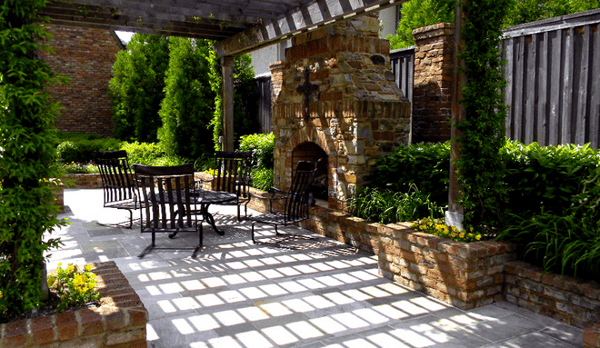 Your fireplace can add light and warmth to your patio area, but you're not always going to want to start the fire just to enjoy your patio area at night.
Plus, even with the fireplace burning, you're still going to need more light to see beyond its glow.
So if you already have an outdoor fireplace and patio space or are getting ready to have them installed, you're probably looking into adding lights to the area. You can use outdoor lighting to highlight features like the fireplace mantle or wood box, as well as around the patio and sitting wall.
But how much will that run you?
Here's a look at what it will cost to add lights to your outdoor fireplace and patio area.
Components that Affect the Price
There's definitely not a one-size-fits-all lighting solution for your outdoor space, and that's the case with the costs as well.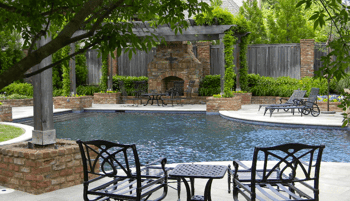 To figure out how much it will cost to add lighting to your property, here are some factors to consider:
Types of lights: LED or halogen
When they are installed: Before or after hardscape installation
Amount of products needed
Add-ons used like controllers and dimmers
You can choose between halogen and low-voltage LED lights to showcase the space. While LED lights have a higher upfront cost they are more efficient and last longer than halogen.
The best (and most cost-effective) time to add outdoor lighting in and around your fireplace and patio is during the initial construction. The contractor can design the space with lighting in mind, meaning they won't have to create spaces for wires and lights later on when everything's finished.
Using a contractor who can build your fireplace and patio, as well as install the lighting, may also save you some money.
But, don't worry if you decide to add lights after the project is finished: A lighting contractor can still install lights and hide all of the wiring. It just might take more time and labor, which can increase the cost.
Obviously, the more lighting products and materials needed to complete the project, the higher the price. The types of fixtures — such as undercap or downlights — also vary in price.
Another component you should consider if you want to make your lighting system more efficient and easy to use is an add-on. Options include controllers and dimmable lights. The controller can turn the lights on and off at set times. The more lighting zones you need controllers for will up the cost.
Dimmable lights will control how much light is put out.
For example, you can have the lights at full power at times when you're using the patio space, and you can set them to dim during the middle of the night to just serve as a safety and security feature.
Calculating the Costs

Once you've made a list of all of the lighting elements you want on your property you can start adding up the costs. Like I've said, every project is different, but here are some price ranges to give you an idea of the costs.
For patios with a sitting wall, you can add lights under the caps of the wall or even down the stairs. These add elements of safety and create an inviting space to sit back and relax.
You can also use these lights under the mantle's overhang to really outline and illuminate the fireplace. Depending on how many you want installed, undercap lights can run between $225 and $1,000.
If you don't want to install the lights directly into your hardscape features, you can also downlight the outdoor patio area by adding lights to trees near the space or even the eaves of your home. This creates a natural moonlight effect across the space. Downlighting will cost at least $500, with the cost going up depending on the size of the space you want to light.
Add-on options are fairly inexpensive to include with the system. Controllers are about $100, and dimmable LED lights will be about $300 each.
Figure Out the Exact Cost for Your Property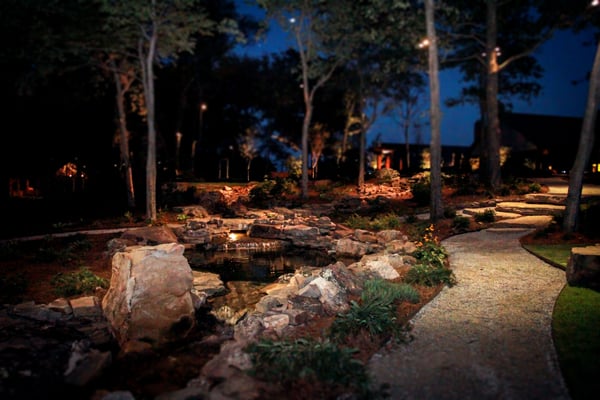 The only way to know exactly how much it will cost to add lighting to your fireplace and patio space is to talk with a landscape lighting company.
Our team at Michael Hatcher & Associates is trained to enhance patios, structures like fireplaces, landscape elements and other areas in your outdoor space with our lighting services.
To create the best outdoor lighting plan for your property, we will set up a free initial meeting to discuss your wish list and what elements you want to be showcased with the lighting. Then, we'll create a design to present to you, making changes as needed.
Once everything is approved, we can start illuminating your fireplace and patio.
When you're ready to make your outdoor area as stunning at night as it is during the day, give us a call at 901-755-3207, or request a consultation online.