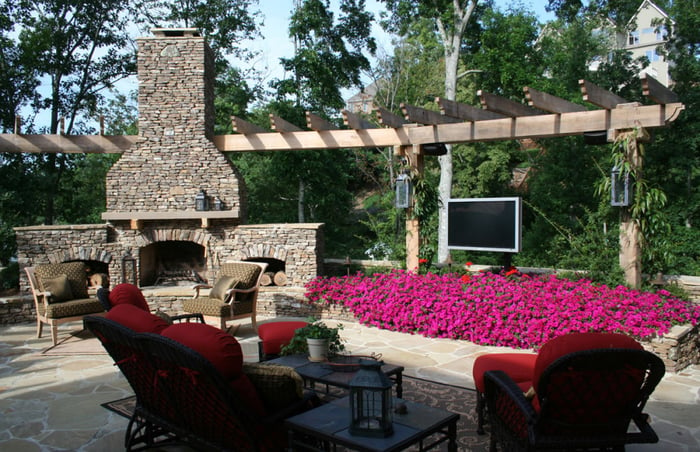 Imagine having your family and friends over to watch the big game this football season.
You check the surveillance app on your iPhone to be sure the kids are okay by the pool before grabbing the remote. With the click of a button a 65" outdoor TV screen rises from its hidden location in your seating wall. Everyone grabs a bowl of chili from your outdoor range and takes a seat by the fire pit just in time for kickoff.
With today's outdoor entertainment options, this imagination can become a reality. In addition to outdoor living amenities such as outdoor kitchens and pizza ovens and fireplaces and fire pits, you can now enjoy all the technology you enjoy inside your home outside of it, too.
While Michael Hatcher & Associates, Inc. is an industry leader in outdoor living, we also work closely with Phoenix Home Entertainment to bring you the finest home entertainment systems available in the Memphis area.
But, in regards to your outdoor entertainment, what are your options?
Here are a few entertainment ideas for your outdoor living space.
Outdoor Audio
Our team at Michael Hatcher & Associates, Inc. installs advanced audio systems for outdoor living spaces. These systems can include features such as in ground, buried subwoofers and satellite speakers that look like landscape elements as to not take away from the look of your outdoor living space.
These systems are easy to operate, too. Separate zones can be set up so you and your guests are not listening to the same music your kids want to hear. Our team can also allow you or your guests to stream music from a smartphone.
Outdoor TV
Enjoy an outdoor television screen anywhere on your property, including your custom patio so you can catch the game or watch the news. These screens are waterproof and can be installed as fully retractable so that it disappears when not in use.
Our team can provide you with access to any source or streaming service requested, all operated with a single remote control or even a smartphone or tablet.
Surveillance System
Larger properties present safety concerns, especially when kids are involved. A surveillance system allows you to view play areas remotely.
Security cameras can be made nearly invisible or mounted to deter intruders. Be sure your internet connection is strong to ensure your view from your phone is strong as well.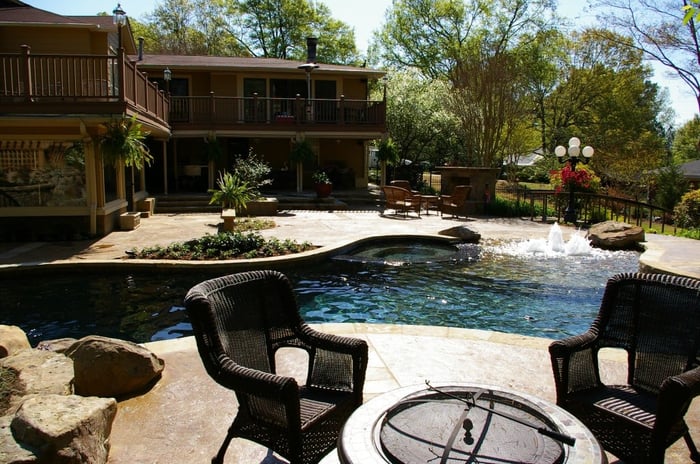 Landscape Lighting
Enjoy your outdoor entertainment area at night as well by installing a custom lighting system. Most of the newest landscaping lighting is LED, which is a big energy saver. These types of bulbs are also available in a wide range of colors, styles and beam spreads.
Many people are also opting for more subtle lighting treatments such as built-in lighting under stair treads and seat walls that gently illuminate walkways without creating a glare.
Michael Hatcher & Associates, Inc. can design your custom lighting solutions and integrate them into your overall control system, making operation as simple as a single touch or even a preset time that adjusts to dusk and dawn year-round.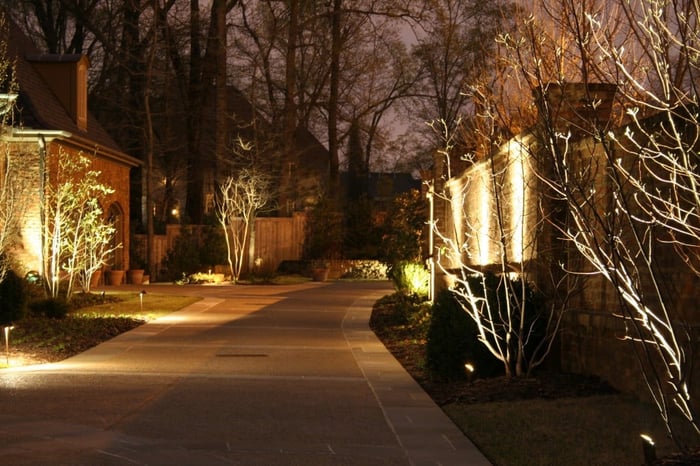 Outdoor Entertainment Area Controls
No matter which outdoor entertainment technologies you decide to go with, however, you'll want easy access to their controls. Our team can set up controls in multiple ways, such as keypad locations built into the landscape or remote controls in your home. However, many of our customers find that the best interface is their smartphone. With a single app you can control your pool, audio, lighting and more right from your phone.
Are Your Ready to Get Started On Your Outdoor Entertainment Area?
Of course these outdoor entertainment ideas are just a start. Michael Hatcher & Associates, Inc. has installed many other types of backyard entertainment technology such as pop-up pool screens to outdoor home theaters.
If you're considering taking your outdoor living space to the next level, give us a call or fill out our consultation request form for personalized designs and advice.