Many Mid-South residents have turned to a more sustainable lifestyle in the form of native plants, or plants that can withstand more heat, require less water and stand many insects. These residents, including yourself, can take this maintainable habitat one step further by adding the natural sounds of water as well. Here are three features to consider adding to your backyard and growing oasis.
Backyard Ponds

Backyard ponds are an ideal water feature for individuals that want a natural-looking landscape as a pond consists of running water, floating plants and fish. The sound that accompanies the running water makes this water feature a natural-sounding landscape as well. When building a backyard pond, it is important to pick a location in which it will receive morning sun and afternoon shade. This is to ensure that pond water won't overheat. Also be aware of tree roots, for construction purposes, and tree leaves, for maintenance purposes.


Natural Waterfalls

Natural waterfalls are different from backyard ponds as there isn't a body of water but a rock-lined stream with the assistance of gravel and stone filters and a heavy duty pump. This type of water feature provides a family with the serenity that is usually found in nature only easily accessed due to it being in the backyard. During the construction phase it is important to create the waterfall on a slope, two inches per ten feet to be exact. It's also important to know how loud you would like the water to be. For example, for a bubbling sound place the rocks with a two to four-inch height difference. To eliminate street noice, place the rocks with a ten-inch height difference.

Stone Waterfalls

Stone waterfalls are similar to natural waterfalls as both are considered artistic puzzles that are made up of a variety of shapes with no one being the same as another. These types of waterfalls are different than natural, however, because they're created with stone. While creating a stone waterfall remember to build it's foundation from concrete blocks and then face with stone. This will assist you financially while still giving you the look that you desire. Also remember to start the construction of a waterfall from the bottom and work your way up to the top.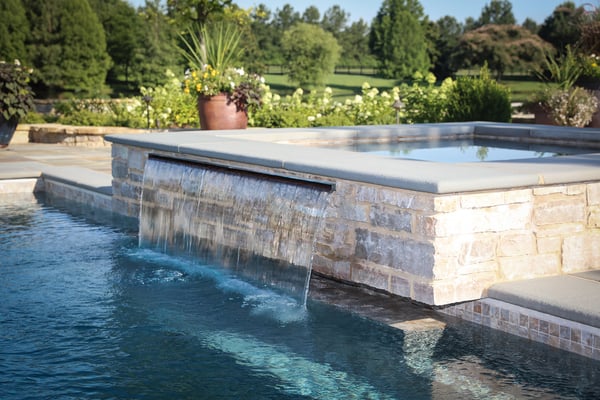 Many Memphis residents have begun to participate in a more natural lifestyle. Add a water feature such as a backyard pond, natural waterfall or stone waterfall to bring the calming sounds of water to your backyard and, in turn, your lifestyle.