Since opening our doors in 1986, our landscaping experts at Michael Hatcher & Associates, Inc. have seen many outdoor trends come and go. Some of these trends, such as wooden decks, come in at high demand only to be taken over by something else. Other trends, however, compliment a person's lifestyle and, for that reason, will continue to thrive throughout the years.
Take a look at the three outdoor living trends that both compliment a person's lifestyle and, in turn, you can expect to see in 2017:
Vegetable Gardens
Many young adults are choosing to live a simpler lifestyle and one way to do this is to create and maintain a vegetable garden.
Vegetable gardens create an attractive yard with less turf to maintain and more healthy and natural foods to enjoy.
Choose your garden's location by answering the following questions:
Is there an area in your yard that provides sunlight most of the day?
Does this same area provide proper drainage?
Does this area hold fertile soil?
Design your vegetable garden by looking at your current landscaping and style of home. The look of your home, whether formal or informal, will determine what your garden should look like as well as how it will enhance the appearance of your property.
Take your vegetable garden one more step in the health-conscious direction by participating in urban gardening. Urban gardening, or growing food in a limited space while using creative resources to do so, is ideal for individuals that lack the proper green space because the garden is not located in the ground but in planters and raised beds. Learn more about urban gardening by reading 3 Tips for Beginning and Maintaining Your Urban Gardening Project.
Reduced Lawn Areas
Many homeowners are looking to redesign their outdoor space with low maintenance and less time in mind. It is for these two reasons, both energy and time, that reduced lawn areas have become, and will continue to become, a trend.
Energy and time, however, aren't the only benefits when creating a smaller green space. Participate in the sustainability movement by reducing your lawn area and, in turn, conserving water as well.
Continuing with the sustainability movement, let's walk through the process of maintaining a typical lawn. The lawn equipment that you use creates air pollution, an environmental issue that can be reduced with a smaller yard. Once you're finished maintaining, have you thought about the number of clippings your yard produces in a year? This waste can also be reduced with a smaller lawn. Your grass doesn't maintain it's healthy color without the assistance of chemicals either. This type of pollution can be reduced with a smaller green space as well.
For homeowners that are looking to sell their home, an attractive and low maintenance landscape not only means less time for you but also less time for the homeowners that follow you. Remember that a reduced lawn area can increase the curb appeal of your property.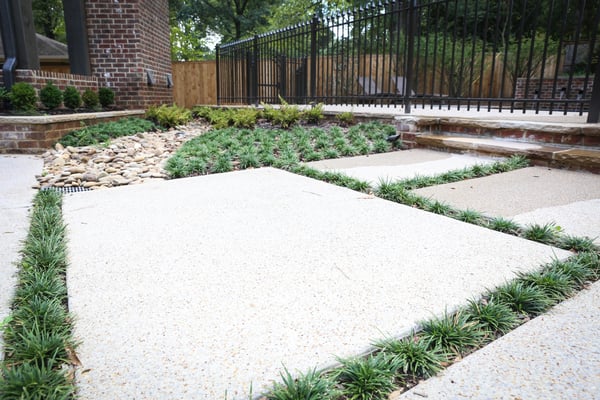 Natural Stone in Outdoor Spaces
Many of today's homeowners are interested in creating outdoor living spaces consisting of outdoor kitchens, patios and spas. This trend, however, has been taken one step further with the request of not only outdoor spaces but spaces created with natural stone.
Natural stone used within an outdoor living space can create an old world feel when either creating a new landscape or renovating an existing one. The variety of colors, shapes and textures of this stone both creates a consistent look throughout the space as well as compliments its surroundings, including the home.
Homeowners that are looking to include hard surfaces with a more country or rustic look but with a higher quality and longer lasting material will be directed to use natural stone. Take a look at Corner Pocket, an outdoor space created with natural Arkansas stone and by Michael Hatcher & Associates.
These three outdoor living trends of 2017 have one thing in common, they promote health-conscious and natural lifestyles. Contact Michael Hatcher & Associates, Inc. to inquire about designing a garden, reducing your lawn area or implementing natural stone into your outdoor living space.