The difference outdoor lighting can make on your landscape is like night and day.
Lighting can highlight landscape features, enhance the ambience, create an outdoor space you can enjoy 24/7 and improve safety.
And with new advancements and design styles, you can do even more with landscape lighting throughout your property.
Here are four outdoor lighting trends for 2015 and 2016 that can transform your landscape.
Energy Efficient Options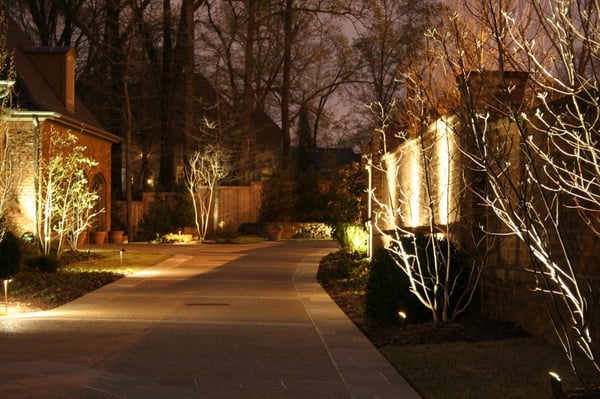 Becoming more sustainable continues to be the top trend in the landscape industry. So it's no surprise that energy-efficient lights like LEDs are becoming more popular options.
By 2019 LED lights are estimated to make up 53 percent of the global lighting market, according to Statista.
LED lights last longer than the traditional incandescent bulb and they also use less energy — something your utility bill and wallet will appreciate.
Residential LEDs, especially Energy Star rated products, use at least 75 percent less energy and last 25 times longer than incandescent lighting, according to the U.S. Department of Energy.
Instead of burning out like incandescent bulbs, LEDs slowly decrease in brightness during their life spans. They also emit light in specific directions, making them efficient for things like recessed downlights.
But, LEDs can be used anywhere on your property, from lighting walkways and steps to illuminating patios and outdoor living spaces.
Hidden Safety and Security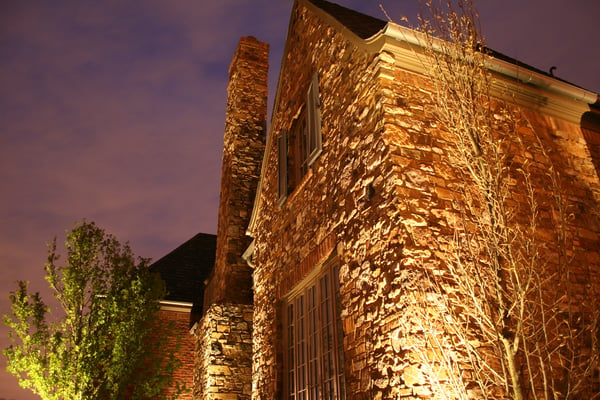 Landscape lighting can help prevent falling accidents, deter criminals and wildlife, create clear visibility and illuminate potential hiding places.
But you don't want your landscape to look like a runway or blind people just to incorporate safety and security lighting elements into your property. They should enhance the property, not be an eyesore.
You can enjoy all of these benefits and also add aesthetic value to your landscape with the right design and installation.
Here are some popular places to add landscape lighting:
On stairs

Staggered along walkways

In plant beds to uplight your home

Inside columns

Under sitting walls
The lights should be properly angled so they shine where they're supposed to — and not in your eyes. You can also use a dimming system so you can have even more control over the lighting brightness.
The lights should seem like a natural part of the landscape, while also enhancing safety and security.
Enhanced Entertainment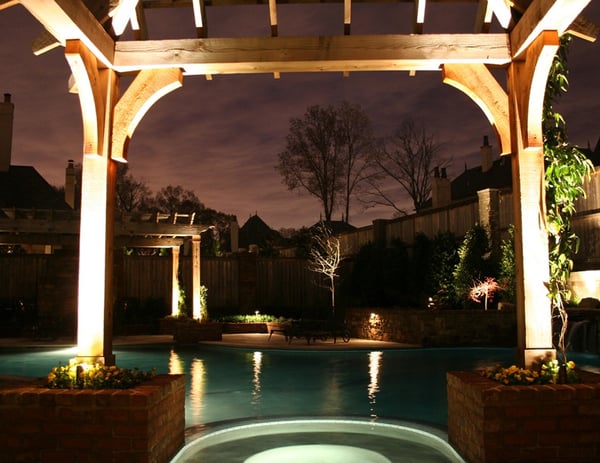 The good times shouldn't stop when the sun goes down so follow the trend to spotlight your entertainment features.
Lighting can be used around sitting walls, patios, pergolas with TVs, fire features, water features, outdoor kitchen and any other area where you want to relax and entertain.
Properly installed lights will enhance and complete the space by highlighting structures and creating a cozy, inviting ambience. Lighting can really set the mood for a relaxing, fun night outside.
Easy to Control
We live in a digital world where you can control most things with a push of a button, and now that includes your outdoor lighting system.
Lighting timers and controllers continue to be a top trend for their efficiency and timesaving benefits.
Timers allow you to set when your lights will come on and off, instead of having to manually set them. These system add-ons can also help you cut back on your utility usage by only having the lights on at peak times, such as 11 p.m. to 5 a.m.
Lighting controllers have evolved and become more technologically advanced. There are even some wireless controllers you can access from your smartphone or tablet. You can adjust the dimmers, turn lights on in the hot tub or create a light show using a controller — upping the entertainment factor.
Start Incorporating Lighting Trends
Landscape lighting can transform your outdoor living area and add value to your property. Plus, incorporating these four trends can make your lighting system more efficient.
When you're ready to start enjoying your outdoor space even after the sun goes down, find an experienced lighting contractor who understands your vision and budget.
At Michael Hatcher & Associates, our lighting technicians know how to enhance any type of landscape features, from water features to patio areas. You won't see any wires — just a stunning, illuminated space.
Call Michael Hatcher & Associates at 901-755-3207, or contact us online to see how we can brighten up your landscape.