Your landscape and outdoor entertainment space shouldn't be limited to daytime use. Some of the best times are had well after the sun's gone down.
To make your outdoor area the place to be day or night, install landscape lighting.
From patios and pergolas to outdoor kitchens and pools, there are several lighting options that will create stunning, safe spaces for you and your guests to enjoy.
Here are some of the best landscape lighting options for your outdoor entertainment area.
Patios & Sitting Walls
It doesn't get much better than relaxing out on your patio with friends and family.
Create the perfect space to enjoy at night with downlighting from surrounding trees. That will give you a moonlight effect and not blind people in the process. You want the patio to feel as natural as possible.
You can also downlight from sitting walls, adding lights underneath the overhang. That way the wall is lit at night, but you won't be able to see the fixture during the day.
Make sure you also light the walkways and steps that lead to the patio area to help with safety. You could use path lights or add lighting to nearby plant beds that will shine on the path.
Pergolas & Arbors
Not only does lighting your pergola or arbor make the outdoor room functional at night but it also makes it an enhanced focal point.
Uplighting from the ground or surrounding plant beds will showcase the structure's architectural features. For a softer glow you can also add more decorative lights and fixtures.
Another option is to install puck lights, which create a down-lighting effect from the pergola.
Outdoor Kitchens
The days may be getting shorter but that doesn't mean it should control when you cook out and enjoy your outdoor kitchen.
If the kitchen space is nestled under a structure you can install recessed lighting or a ceiling fan with lights, making it feel like you're indoors. Or you could add lights on your home if the outdoor kitchen is close by.
To brighten up your cooking space you can also install lights underneath your countertop's overhang. You want to be able to see what you're doing.
Pool Areas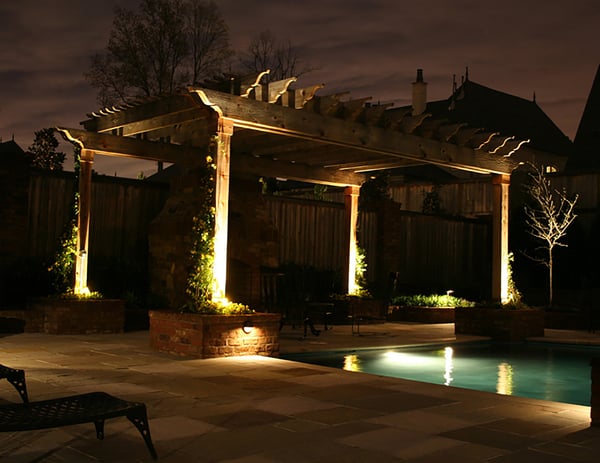 Lighting isn't reserved for your landscape, though. You can also add it in your pool and the surrounding areas, and there are several good LED options.
Pool lights continue to evolve, and there are now systems you can control from your mobile device. You can change the lighting colors, turn them on/off remotely or even set it to put on a light show for some real entertainment.
But the lights don't have to be in the pool to highlight the water feature. Down lights from trees will help spotlight the space, and path lights around the area can add extra depth to the entire yard.
Adding lighting in and around your pool will also add elements of safety to the space.
Get the Party Started
Landscape lighting can completely transform your outdoor entertainment space, making it fun to enjoy and also look at from inside your home.
The lighting system should be out of sight, provide safety and security elements, extend your landscape's use and create a stunning display for you and your guests. To do all of that, you need to find a qualified landscaping company.
Michael Hatcher & Associates can put the final touch on any entertainment space with our lighting services. Our lighting technicians are especially trained to enhance features like sculptures, architectural details, structures, patios and pool areas.
When you're ready to brighten up your outdoor entertainment area, call us at 901-755-3207, or contact us online. We look forward to talking with you!