Dining outside on a restaurant patio is automatically more fun.

The breeze ruffles your hair. It feels like a great picnic, but with real plates.

And those twinkly lights when the sun goes down make it feel like a party.

What do you mean you don't have twinkly lights?

It's obviously a good time to chat about restaurant patio lighting ideas. Outdoor dining is more popular now than ever, and nobody likes to dine in the dark.

Let's share an appetizer and get started.
1. Restaurant Patio Lighting Ideas: Safety First
"Aesthetics is easy. The first concern is safety," says Kelly Ogden, General Manager of Commercial Maintenance at Michael Hatcher & Associates.

"You have to light any trip hazards or path hazards," he says. "Make sure any uplights aren't sticking too far out of the ground."

Well lights — mounted flush with the ground — are a great idea for patio areas where diners walk.

Look at your lighting from your customer's point of view, for outdoor dining lighting ideas you might not have planned. Stroll through your patio at night. Is there enough light for them to safely navigate to their table? Read the menu? Is the lighting soft and flattering? Or harsh and distracting?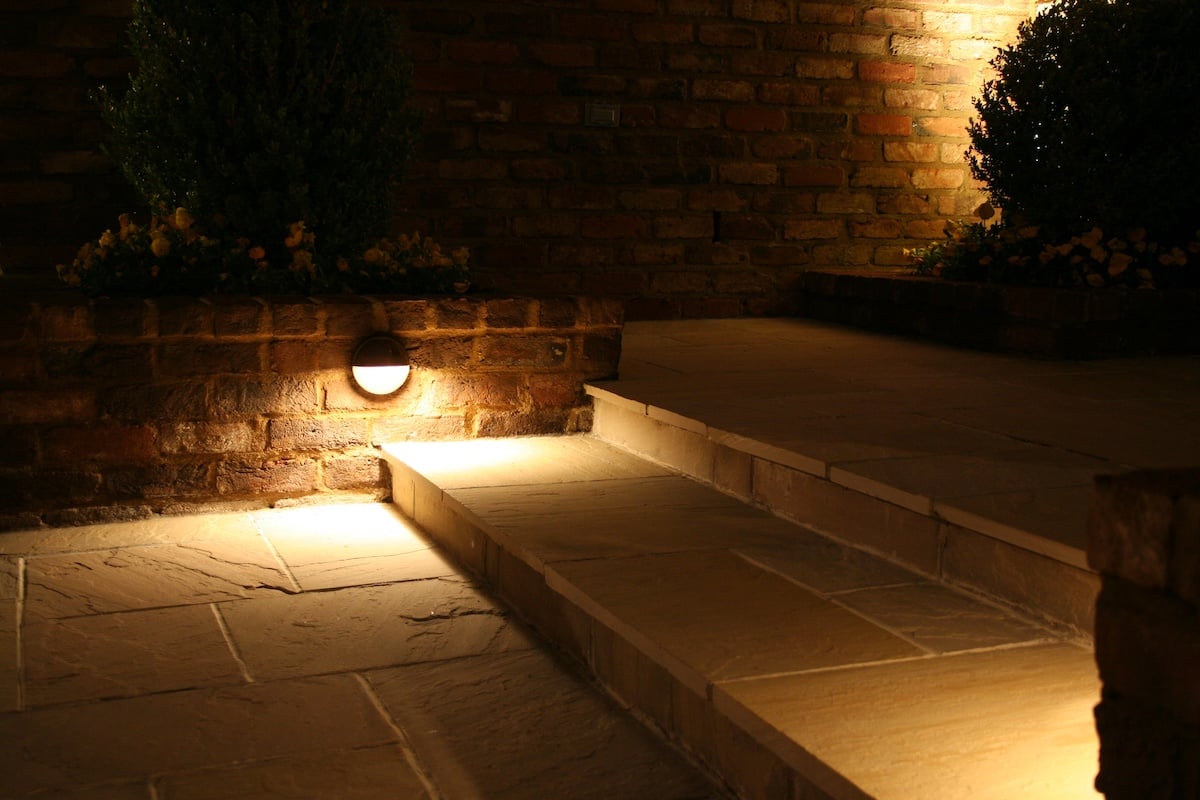 2. Light Those Umbrellas
Cheerful patio umbrellas are a must-have to shade diners from the bright sun.

But when the sun goes down, Ogden says, they add instant fun and atmosphere if you add strings of white lights underneath.
3. Restaurant Patio Lighting Ideas: Illuminate Big Planters
Hopefully you're already putting oversized planters to work on your restaurant patio. These multi-taskers make a great first impression; provide privacy; block ugly views; direct traffic flow; separate tables and offer a sense of intimacy.

Go tropical with banana trees, palms, and bird of paradise. Ornamental grasses do great in planters and add height, texture, and graceful movement.

Don't forget trees for impact. Japanese maples, crabapples, and flowering cherry all do well in pots.

Then, don't let them fade away at night. Light them for drama and impact.
4. Light Your Wow Features
The best restaurant patio lighting highlights the features that make your outdoor dining area special.

Do you have a fountain or waterfall? (If not, what are you waiting for?!)

Lighting water features adds a sense of luxury and drama. At the upscale Houston's Restaurant in Memphis, Ogden says, Hatcher crews added lighting to the outdoor water feature from inside the water, creating a magical effect diners love.
5. Fake a Romantic Moon
Everybody loves to dine under romantic moonlight. But the moon doesn't always cooperate.

You can fake it, if you have tall trees adjacent to your patio.
It's called moonlighting. Lighting installed high above your dining area creates that soft romantic light that makes everybody look good.
6. Light Benches
If you have benches or seating walls for diners to wait for their tables, make them more welcoming — and safer — by adding under cap lighting. It casts a just-right soft wash of light.
7. Restaurant Patio Lighting Trends: Festive String Lights
Strings of festive bistro lights add an instant "this is special" kind of feel. All the best restaurant patio lighting includes these mood makers.

Another restaurant patio lighting trend is LED rope lights, Ogden says, featuring small light bulbs linked together and encased in a PVC jacket.

Trees make great anchors for these lights, adding a twinkle from overhead branches.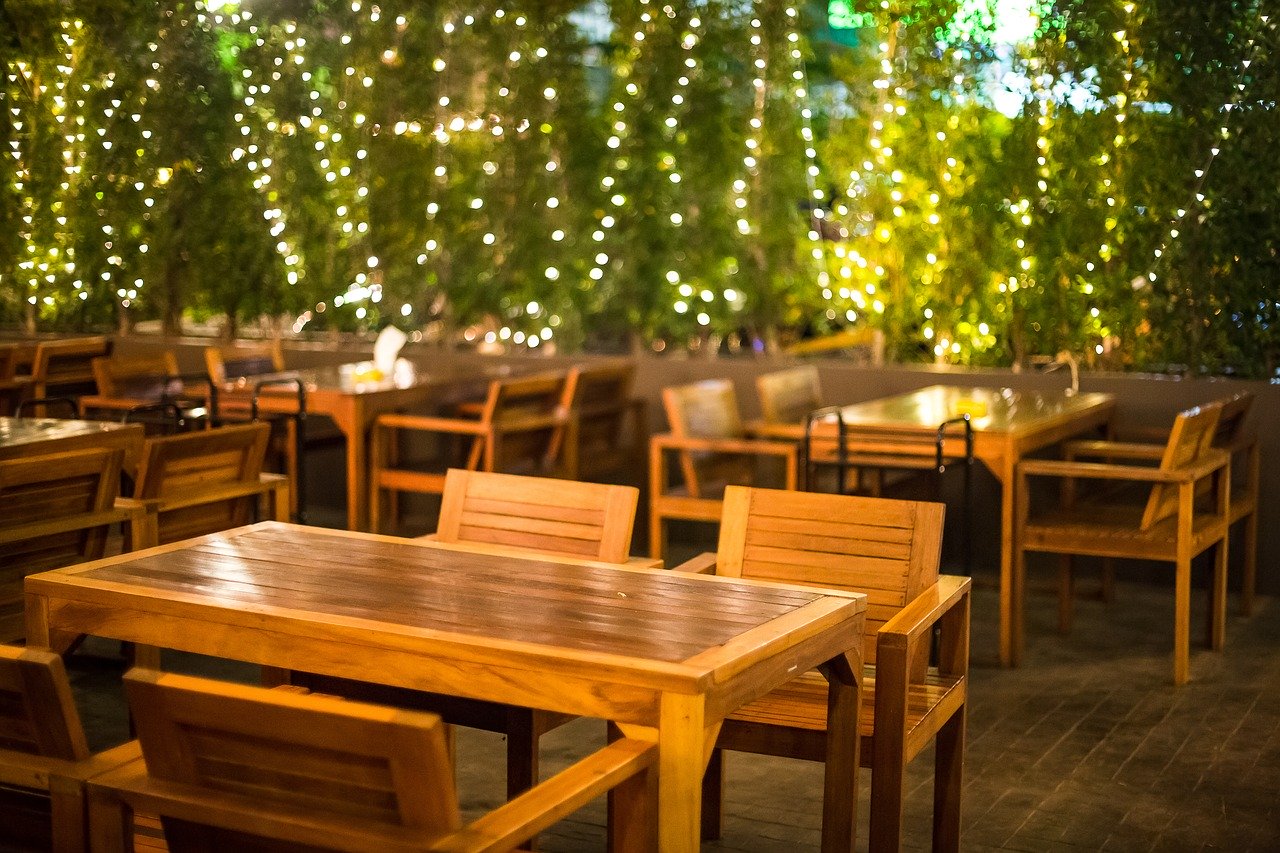 8. Touch a Button for Restaurant Patio Lighting Magic
Mobile app controls let you change the level of your outdoor patio lighting as the evening wears on.

Want to liven things up for the late-night crowd? Change the hues out there to hot pink or electric blue with a simple tap on your screen.
9. If It Grows, Light It
You've invested a lot in your outdoor patio landscaping, from trees to giant planters to beds of bright annuals.

Make your investment count after the sun goes down.

Uplight trees and planters. Add 24-inch tall lights along the edges of beds to brighten flowers after dark.

If it grows, light it.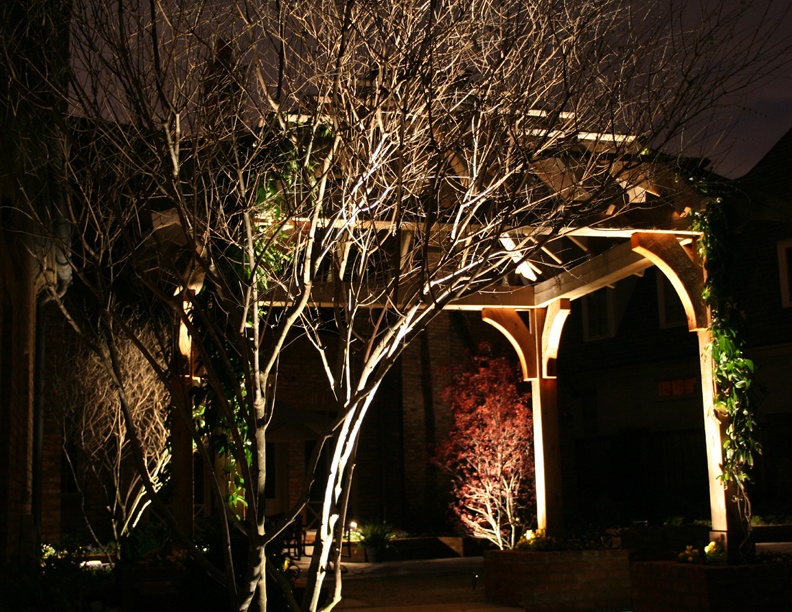 Need Restaurant Patio Lighting Ideas? trust Hatcher
Now, more than ever, you want your outdoor dining space to be safe, comfortable, and appealing to customers eager to dine outside.

The designers and crews at Michael Hatcher & Associates can create captivating lighting to enhance and complement your outdoor patio landscaping to make it a go-to destination.

Are you ready to boost the appeal of your restaurant's outdoor dining space? Talk to one of our commercial landscaping experts today! We'll meet at your property, create a custom plan, and get you on your way to enjoying a beautiful, worry-free property.
Image Sources: Restaurant lighting