Summer is almost here, and it is the perfect time for backyard BBQ's. You do not need much more than a grill, a cooler, and a few seats to make the most out of these long days and nights, but a well-designed outdoor kitchen by Michael Hatcher & Associates will allow you to cook in comfort all year round! An outdoor kitchen can consist of anything from a grill with a table and chairs to a fully outfitted kitchen with built-in appliances and seating. Incorporating the look of an interior kitchen to an outdoor setting is a great way to add versatility and value to your home, and it is also a fun, functional way to expand your living space.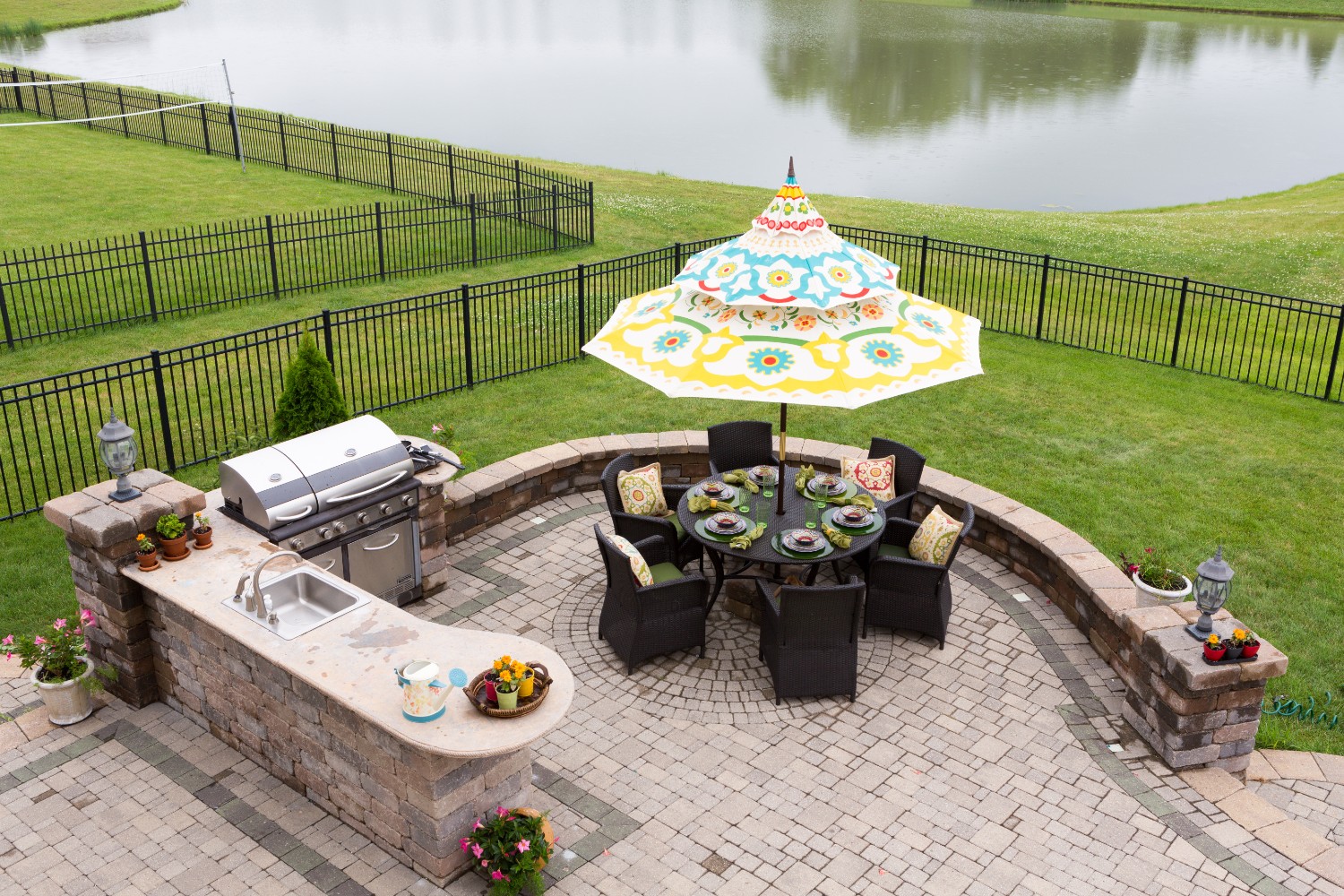 Though simple outdoor kitchens are possible with some careful DIY, designing and creating a more complex set-up is best left to professionals like Michael Hatcher & Associates. Our team is skilled and experienced, and we have designs and options for every budget. Whether you decide to go it on your own with a minimal approach, or call in the pros for a truly special space, here are a handful of things to consider when you are in the beginning stages of planning your new outdoor kitchen.
Bottom up
When considering the foundation of your outdoor kitchen, be mindful of your typical weather climate, as well as the weight of the appliances you think you will be installing. Keep safety in mind, too - many outdoor kitchen are located near wet surfaces such as swimming pools or hot tubs. Tile or marble flooring can be slick and slippery when wet, and may not hold up to staining from grease and food. Choose materials that meet safety criteria, are not too slick or too textured, and are able to endure spills and the elements. The proper flooring will not only complete the overall look of your space, but add durability and value to the end product.
Location is key
When deciding where to place your outdoor kitchen, there are a number of factors you will want to take into consideration, including:
The general wind pattern in your yard, so that you can orient your grill in a place where smoke will not waft back into your home.
The distance you will need to travel from the indoor kitchen to the outside kitchen. If you intend to entertain frequently, you may be carrying heavy items like platters and pitchers from one place to the other.
If you want an undisturbed view from the inside of the house to the outside, consider placing an outdoor kitchen to the side or at an angle to your windows so that they are not blocked by a grill or appliances.
The traffic flow you are expecting in your yard, and how it will affect your family's safety. For instance, you would not want a hot outdoor grill or oven right next to where your children play, or where adults congregate. An outdoor kitchen contains many of the same hazards as an indoor one, so place it accordingly.
If you are thinking of introducing several big changes to your yard, like installing a swimming pool or adding retaining walls, it may benefit you to include an outdoor kitchen as part of that overall design. A professional landscaper like Michael Hatcher & Associates can design every element of your property, from pools to plants and patios to outdoor kitchens. Our expert team can also offer you valuable advice about the ideal location of an outdoor kitchen for your home, and how it will work with the rest of your outdoor living space.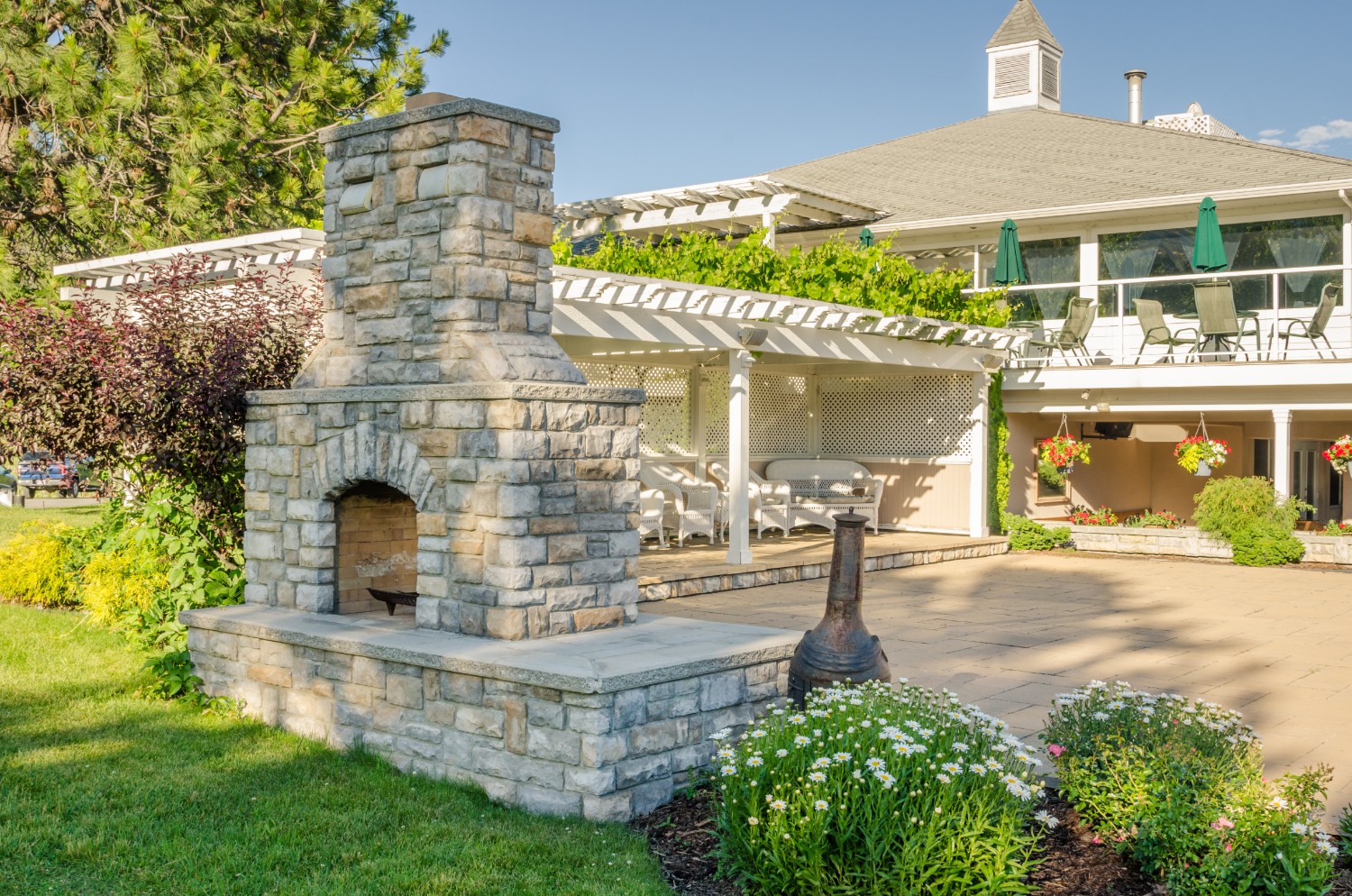 Spacing out appliances
It is important to leave enough space for the appliances you need, and enough room in between them. How many appliances you need and what size they are will determine the overall size of your outdoor kitchen. Consider how each appliances will fit within the design plan, how much room you will need to allow for each, and how they will all work with each other. The same working triangle used in when planning an indoor kitchen can be applied to the outdoor kitchen as well.
Add a little ambiance
By incorporating welcoming features the way you would indoors, you can really make an outdoor kitchen the center of your summer plans. Combine coordinating chairs, tables, and other furniture with specialty lighting and decorative objects to turn your outdoor living space into a place where you can enjoy cooking, eating, and entertaining throughout the year. A small fountain or koi pond can also lend a relaxing tone, while some outdoor kitchens are being fitted with television sets, which truly brings the indoors outside! If you do decide to install a television, you will want to be sure it is properly done, out of the elements and away from any heat sources. And remember: sometimes less is more! A small yard can easily be overwhelmed by an extravagant full outdoor kitchen. Look into an alternative option, like a BBQ island, which has all of the essentials but is a better fit for a smaller space and budget.
Bring the comfort and safety of the indoors to your outdoor spaces
Weather will always be a consideration when it comes to outdoor entertainment. Think about installing different forms of shelter for your outdoor kitchen, if you do not already have something in place. An extended roof, arbor or pergola will allow you to enjoy cooking or entertaining outdoors, even in rain. Patio umbrellas, overhead fans, and mist sprays can be lifesavers when it comes to the kind of heat we experience here in the Mid-South. During the summer, Memphis can be overrun with mosquitoes, and adding some sort of netting or a mechanical mosquito device near your outdoor kitchen area can keep them at bay.
If you want to enjoy your outdoor kitchen even in the colder months, consider having professionals like Michael Hatcher & Associates install a fire pit or fireplace for you to keep the area warm and cozy. Colder regions may want heat lamps, a fire pit or fireplace to warm up the area. Outdoor lighting is another service our expert team offer, and it will not only extend your time outdoors and add a touch of class to your landscaping, it also offers safety for walkways, staircases, and grilling areas.
Make outdoor living enjoyable with Michael Hatcher & Associates
Imagine sharing a delicious meal you cooked in your outdoor kitchen with family and friends, relaxing with a drink in hand while you enjoy the food, the company, and the ambience. Contact us today to schedule a consultation so we can help you design your outdoor living space and the grounds around it so your outdoor space adds function and entertainment value to your home. We have an experienced, qualified team that can design and install a range of outdoor living projects in-house, so you will always work with a trusted member of our team.
Michael Hatcher & Associates services the greater Mid-South area and surrounding counties.
Contact Michael Hatcher & Associates at 901-755-3207, or fill out our form to see how we can create a custom outdoor kitchen on your property. No matter how simple or exquisite your outdoor kitchen plans may be, Michael Hatcher & Associates can bring them to reality.