You probably aren't planning to jump in your pool anytime soon, but that doesn't mean you should forget about it during the cooler months.
Now is the best time to fix any issues, especially if your pool is already showing signs of damage. One popular option is to resurface the pool.
Resurfacing can repair problems like cracks and wearing, while also enhancing and updating your pool's appearance. While not needed as often as other services, resurfacing should still be on your list of pool maintenance tasks.
Here are five reasons it's time to resurface your swimming pool this fall.
1. It's Cold Outside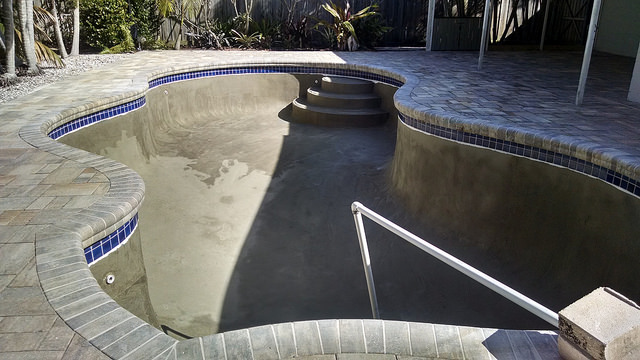 Unless your pool is indoors, you aren't going to be using it again until summer. Now is the perfect time to resurface your pool so it's ready when the weather finally warms back up.
Your pool area might be out of sight and out of mind as the temps gradually get lower, but that's a mistake. Maintain it now so you don't cut into your swim time later on.
2. You See Staining
Pools can start to get discolored after years of wear and tear. These stains can come from the minerals, chemicals or other materials in the water such as leaves and natural debris.
Check to see if the stains are algae, which will be a shade of green or even red, or another color. If your cleaning efforts are unsuccessful, it may be time to resurface the pool.
3. Material Is Coming Off
When your pool surface feels like sandpaper and you can see the raw gunite peeking through, it's time to resurface your pool.
There are a lot of different factors that can cause the pool's surface materials to break down and come off, such as:
Years of heavy use

Unbalanced pH levels

And sudden damage
Once the surface layer starts to come off, it's only going to continue and spread. So, it's important to have it resurfaced as soon as you notice problems.
4. There Are Leaks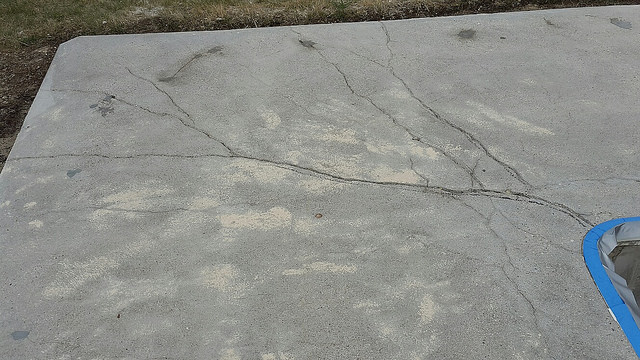 The longer you wait to repair a leak in your pool, the more it will cost.
So, be on the lookout for these signs of leaks to see if it's time to repair and resurface your pool:
Cracks or gaps in the concrete
Wet spots of grass near the pool area
Loose or falling tiles
Water loss is greater than the evaporation rate — you can check this by seeing how much water evaporates from a bucket and comparing it to your pool
And unbalanced pH levels, which can cause damage
If you notice any of these signs or are worried there are leaks, talk with a landscaping company that offers pool services to check it out.
5. You're Ready for an Update
Resurfacing is more than just a way to repair and maintain your pool: It also gives you the opportunity to transform and enhance the way your pool looks.
Just resurfacing your pool will update the space, but you can also change it up with materials like tiles and aggregates. You can choose from different colors and textures to make your pool a truly unique entertainment space.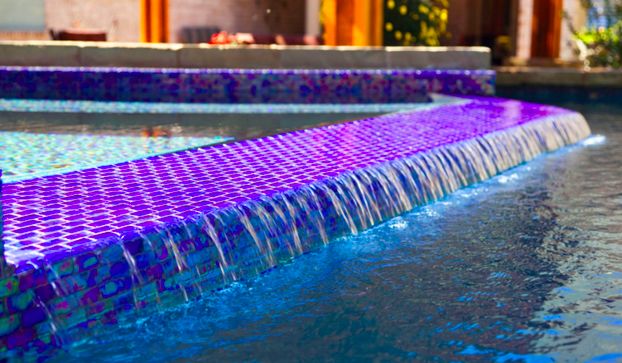 Both of these trendy options can turn your pool in a luxurious oasis, while also fixing any surface issues.
Now's the Time to Call the Pros
Your pool can be a relaxing space for you and your family to enjoy, so make sure it looks its best. Instead of taking away time you could be enjoying your pool area during the summer, resurface it now while it's cooler outside.
If you see any of these signs or it's been awhile since you've had your pool resurfaced, it's probably time.
As one of the leading Memphis pool companies, Michael Hatcher & Associates specializes in renovating existing pools. We offer upgrades and repairs for plaster, coping, tile, decking and equipment. Hatcher can also clean and maintain your pool year round, giving you a more relaxing swim season.
Call us at 901-755-3207, or request a consultation online to talk about resurfacing your pool.