Do you love cooking and eating outdoors?
You can bring your meals, along with its entertainment, to your backyard and customized patio with an outdoor kitchen.
While there are plenty of benefits to having an outdoor kitchen, such as increasing your property value and giving you more space to relax, one of our client's top concerns is the price.
To alleviate this concern, we're breaking down the cost to design and build an outdoor kitchen.
Creating a Design
Before breaking ground on your outdoor kitchen, be sure you are both working with a professional landscaping company and asking both yourself and the designer the right questions.
"A potential customer should ask themselves things such as, 'How often will I use this space and what size of space will I need to entertain," says Kelly Ogden, the Director of Revenue at Michael Hatcher & Associates. "It's also important to scout out the best location for an outdoor kitchen and consider the utilities needed and how accessible they need to be. Also consider whether the kitchen should be screened in or not."
Once these questions have been answered they should be transferred to a detailed plan. Our in-house design will take your ideas and input them into just that, a drawing or digital plan.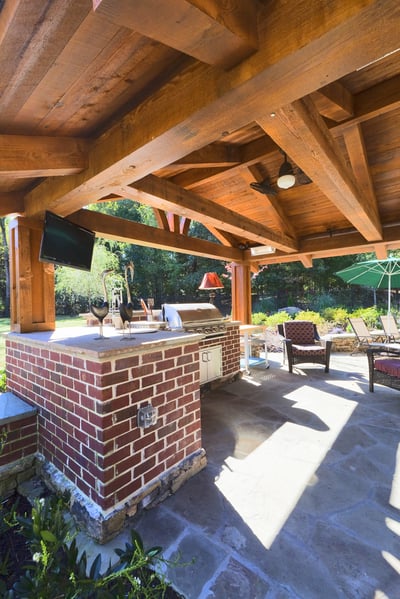 Constructing the Kitchen
Most outdoor kitchens will include a patio, structure around the grill and counter space. The cost of construction, however, depends on the materials you wish to include with it.
"Different types of stone and wood are popular building materials used for outdoor kitchens," continues Kelly. "Granite counter tops and pour-in-place concrete tops are also popular."
Installing Appliances
The number of appliances you want in your outdoor kitchen will also affect your budget. If the outdoor kitchen is farther away from your indoor one, you may want to add more appliances so you don't have to travel back and forth as much.
"A few common appliances installed with an outdoor kitchen include a gas grill, mini fridge, pizza oven, rotisserie and even a dish washer," continued Ogden.
Regardless of common appliances, however, think about what you will need and want in your outdoor kitchen and see what your budget allows.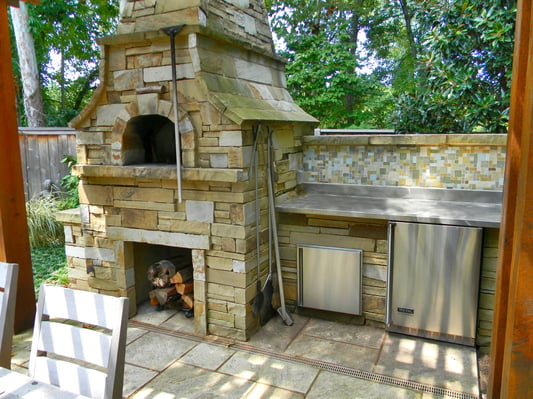 Additional Features
There are several additional hardscape and landscape features you can incorporate to take your outdoor kitchen to the next level. These features include pergolas, seasonal coloring and planting, container gardens, landscape lighting, etc.
"Fans, gas heaters, televisions and outdoor entertainment in general are common additional features when installing an outdoor kitchen," concluded Ogden.
Don't Cut Corners
Your outdoor kitchen can cost as little or as much as you want. After all, the design is customized to fit your needs, wants and, ultimately, your budget.
Just as a reminder, make sure you hire a professional landscaping company that knows what they're doing in regards to outdoor kitchens. If not, you could end up paying more later on to fix their mistakes.
Michael Hatcher & Associates designs and installs stunning outdoor kitchens for any budget. Our experienced team will create inviting entertainment spaces that will add value to your property as well as a place to relax.
We also install patios, pergolas, seasonal color, container gardens, landscape lighting and more.
Contact us at 901-755-3207 or by filling out a form online.