Imagine kicking back with close friends, a cold drink, and a scenic view all on your new custom patio.
But what's the price tag for enjoying that type of outdoor space? How much does a custom patio cost?
While there's no one-number-fits-all answer when it comes to determining the price of a custom patio, we can show you what will affect the price.
Here is a breakdown of what it will cost to install a custom patio.
What Affects the Price of a Patio?
The cost of a custom patio depends on the following factors:
Amount of prep work needed
Size of the patio
Materials used
Additional features requested
Building a custom patio begins with accessing the site and creating a design.
"Both the homeowner and the contractor need to take into consideration whether or not the only access to a site is on top of a concrete driveway, which can crack under the weight of equipment, concrete trucks, etc.," says Greg Pope, Senior Landscape Designer at Michael Hatcher & Associates, Inc. "A contractor may see that the best access is through a part of the yard that can be repaired with sod and minimal regrading, a cleanup cost less expensive than repairing a cracked driveway."
Preparing Your Yard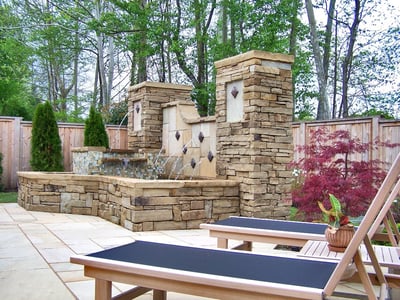 The amount of work needed to get your yard ready for a custom patio will play a role in the overall cost.
"Prep work prior to the construction of a new patio space should include locating underground utilities," Pope continues. "Always call before you dig."
Once approved to dig, a solid foundation is also important to have. This is accomplished with grading work and can avoid an uneven foundation and future drainage issues.
Size of the Patio
The larger the patio, the more money you'll be paying for the outdoor space.
But along with the size, the intricacy of the patio's design can also affect the price.
For example, if you desire pavers cut into a detailed pattern or different colors incorporated to create a mosaic, you will pay more. The more complicated the paving patterns, the higher the price.
Type of Materials Used for the Patio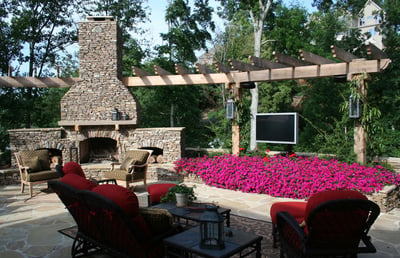 The types of materials you use to create your custom patio will also affect your budget. Here are some of the most popular materials, according to Greg Pope, and a little about each of them:
Exposed Aggregate – This material allows the designer/contractor to blend the use of other hardscape surfaces like natural stone, with the longevity of concrete. Like other concrete surfaces, it tends to take on a more weathered tone, as it holds tiny particles of leaf litter and debris. This may sound unappealing, but this process is actually what makes most people love their garden spaces more over time. Aggregate sizes may be varied greatly to give an even more dramatic texture within the space.
Modular Concrete Pavers – Becoming more popular, this paver offers a wide range of color and textural variations. They come in varied shapes and sizes, which make for a high interest patio or drive surface. A properly prepared base for the pavers is a must, however. This will reduce the amount of movement from a regional freeze/thaw cycle, tree roots etc. One of the great benefits of a paver surface is that water travels through it. Like bricks, they can be laid in areas where concrete is not the best choice, due to existing tree roots which may need the porosity, and breathability to ensure health.
Stamped Texture and Stained Concrete – Yet another alternative to the average surface. The concrete industry continues to unveil ideas regarding stamped patterns and textures, resembling everything from stone to brick, radial designs to random aggregate surfaces. Combine one of these already dynamic patterns with concrete stains, and you'll have quite a vivid contrast. Many in the past have relied heavily upon the use of planting design to provide color and texture. Now, the use of stamped texture and stained concrete may provide all the impact you need.
Brick Patios on a Concrete Base – This type of patio has been used for generations in American Landscapes. Brick is one of those materials that will always be an appropriate choice for spaces which bridge between new construction and existing brick architecture. Just make sure to use a similar style, color and size to reflect those bricks already in use. When using old, reclaimed brick, select one that is similar in color, regardless of their size, and the finished product should complement existing older brick in proximity. I like old things and the character that comes, as a result of the weathering process, so allow the old character to remain on each brick by not pressure-washing it away.
Bluestone Patios on a Concrete Base – This creates one of my favorite looks. The stone is seen in places like traditional, old New Orleans courtyards, as well as current-day minimalist Architectural spaces. Its smooth texture and subdued tone create a stunning pallet for everything from furniture to fountain pieces. Bluestone patios blend well into a landscape, as they contain a neutral color range which will complement most residences. The cost of bluestone, as with any stone, is usually higher than the other types of surfaces mentioned, but it creates one of the most elegant looks, without the headache of exhaustive color matching. It can be a worthwhile investment that enhances a potentially bland space.
Add-On Patio Features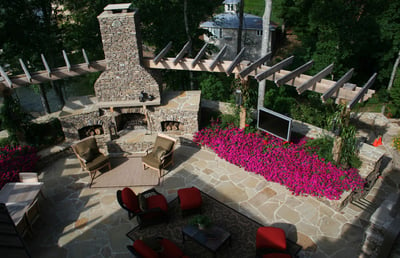 While determining the best surface material for your patio, additions to this space might be considered as well.
"Lighting, entertainment, dining and a well-designed planting plan all work together to make your outdoor space a real extension of your interior living space," continues Pope.
Add the component of landscape lighting to your patio if you would like to enjoy the space at night. These lights can be installed around the patio, in trees nearby or on the side of your house if the patio connects to it.
You can also add entertainment to your outdoor space in the form of a television, outdoor music system, sound system, outdoor theater, video system or automation control system.
"A homeowner might consider other elements for their garden retreat like the use of a water feature, an arbor or pergola, or a stone or masonry outdoor kitchen," concludes Pope. "Today, leaders in the landscape industry can create most anything you can dream up."
The Exact Cost of Your Custom Patio
While there are several ways to reduce the cost of your custom patio, such as making it smaller or using less-expensive materials, you want to make sure you end up with a patio space that fits your needs.
At Michael Hatcher & Associates, we specialize in creating custom outdoor living areas throughout Memphis and the Mid-South.
Not only can we design and install the custom patio of your dreams, but we can also add lighting, entertainment systems, a water feature and even an outdoor kitchen. In addition, we maintain it all, ensuring your outdoor area looks as good as it did the day it was installed.
Contact us, and specifically Greg Pope, at 901-755-3207 or by filling out a form online to see exactly how much it would cost to install your custom patio.