The holiday season begins in less than a month and, while you're busy preparing your home for Thanksgiving guests and gathering wish lists from loved ones, you should also consider how your family and friends will get to your celebration.
Is your home illuminated so that your friends can find it after dark? Is your driveway and sidewalk lit to avoid any accidents while walking to the front door? Is your entrance bright enough that, when there's a knock, you can see who it is before opening the door?
Landscape lighting assists with these areas of your home among others. Take a look at 4 residential lighting ideas to add to your Memphis landscape, particularly for this holiday season.
Home for the Holidays
The holiday season is not only accompanied by days of celebrations such as Thanksgiving but by holiday parties as well. Keeping in mind that daylight savings time begins in November and that your party guests will arrive to your house after dark, is your home illuminated so that your friends can find it?
Landscape lighting can assist these friends as well as add depth and softness to your property. Consider using shadows by placing spotlights on the front of your house and close to the foundation. The light will catch and allow your guests, and neighbors, to see the intricate detail of your home. Another option is to silhouette your home with a mix of up and down lights, creating a warm light that will cover the house.

Light the Way
While you have prepared both the table and the turkey, Thanksgiving would not be the same without your mom's homemade pumpkin pie. Is your driveway and pathways lit to avoid your mom coming to the front door with a scraped knee and no pumpkin pie?
Driveways, paths and other walkways require landscape lighting so that you, your family and your friends can walk through your property safely at night. Use these lights to not only lead your guests down a particular path but to add color and texture to interesting plants as well. After all, your landscaping deserves attention even after the sun goes down.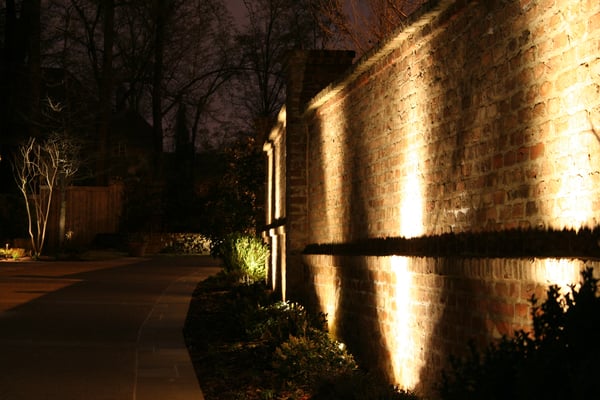 Making a Dramatic Entrance
Whether it is Thanksgiving dinner, a holiday party or even FedEx delivering holiday presents, your home's entrance will be busy this season. Is your entry bright enought that, when there's a knock, you can see who's on the other side before opening the door?
Entrance lights serve several purposes including safety and security to you and highlighting a striking front door to your neighbors and guests. Consider adding floodlights or fixtures to your entryway. Another option is to use backlighting, creating depth and, therefore, drama.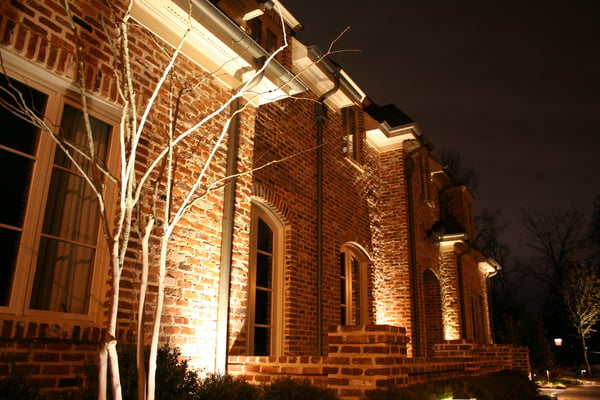 Eye-Catching Accents
With the holiday season comes cooler temperatures. Just because you can't go swimming, however, doesn't mean you can't highlight your pool. In other words, once your family and friends have arrived and dinner has concluded, take advantage of your outdoor space by highlighting its eye-catching accents with landscape lighting.
Accent lighting highlights focal points of your outdoor space such as objects, water features, hardscape and fireplaces. This type of lighting is installed at ground level and pointed upward or installed at a higher level and directed downward, imitating moonlight. When highlighting something in your outdoor space remember to use warm light on man-made objects such as objects, some water features, hardscape and fireplaces and cool light on plants.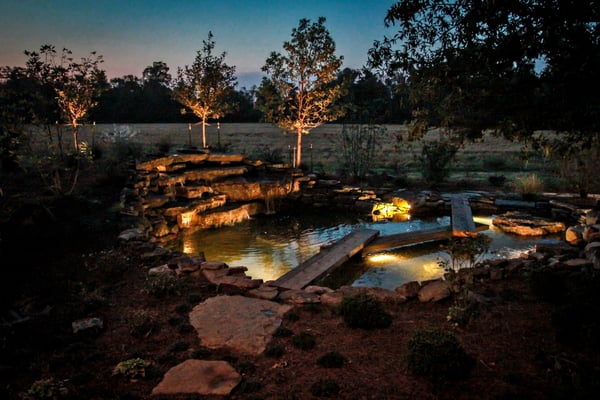 The holiday season is less than a month away and accompanying it is less daylight and more guests at your home. Light the way to your home, down your pathways and through your front door by adding landscape lighting to your outdoor space.