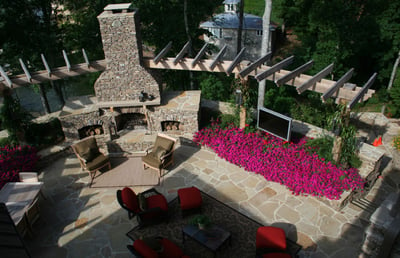 If you are planning an outdoor living area, why not include a fire element? A fireplace or fire pit is a built-in heat source that will let you enjoy spending more time outdoors throughout the year.
A fire element also creates a striking and attractive focal point that will help define your outdoor living space visually and create a comfortable place for family and guests to gather and relax.
One of the first things to consider when choosing a fire element for your patio is what type to install. Let's take a closer look at fire pits and fireplaces and the pros and cons of each.
How Does Your Fire Pit or Outdoor Fireplace Reflects Your Lifestyle?
How will you be using your outdoor living space? Are you looking for a formal, elegant installation or the appearance of rugged strength? A fireplace may be your best bet for either. Fireplaces also provide some wind protection and are easily tied into a new or existing structure such as a gazebo. This makes them a good choice if you're hoping to get maximum use of your outdoor space regardless of weather conditions.
On the other hand, a fire pit may be perfect for you if you are after a more casual, relaxed atmosphere. A fire pit can break up and provide a focal point for a large, open space, or it can lend warmth and intimacy to a smaller area. A fire pit's open, circular layout is perfect for sharing stories or roasting marshmallows with your favorite group of people.
Finally, you'll want to consider fuel options. Wood is traditional, and many people love the crackle and aroma of a genuine wood fire. However, wood must be hauled in, it can be messy, and it can impact air quality. Wood burning fire elements also require regular cleaning. Natural gas is becoming a popular, easy-care, clean-burning alternative that is available for outdoor fireplaces and fire pits alike.
Sizing Your Fire Element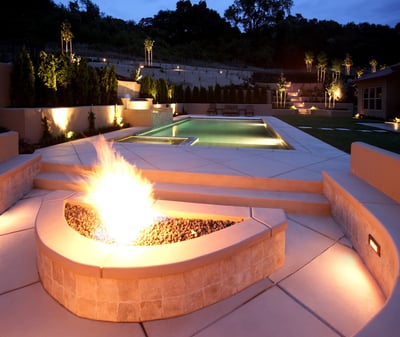 When sizing your fire pit or fireplace, consider the scope and size of your space. A six-foot fire pit would fit well in a large, expansive space such as a two-acre lot overlooking a lake. However, it would completely dominate a small, intimate backyard setting. For fire pits, 30-36" is standard, but they can be made as small as 24" in diameter or as large as six feet or more.
Fireplaces can also range from three feet in width to over six feet. Keep in mind, though, that the fireplace's height and wing walls will make it a more imposing structure.
It's also a good idea to take the context of the property into account. For example, putting a fire pit in the middle of a 10'x15' patio could work very well if the patio is surrounded with open space. However, in a tight urban backyard surrounded by walls, an identically-sized patio might fare better with a small fireplace at one end.
Choosing Materials for Your Fire Pit or Fireplace
Whether you are planning a fire pit or fireplace, choosing materials that echo the architectural elements of your home or other aspects of the environment will help create harmony throughout the space. Fortunately, there are a tremendous number of materials options available. Brick, block and natural or cast stone all offer many choices in color, texture and size. It's simply a matter of choosing the ones best suited to your application.
What Will It Cost to Install a Fire Pit vs. an Outdoor Fireplace?
Not surprisingly, the beauty and ambiance of an outdoor fireplace carries a larger price tag. Expect to invest more for a good quality, custom fireplace.
In contrast, you can have a well-built, custom masonry fire pit installed on your property starting at a much lower range.
Of course, the final price will depend on the size, materials and design of your piece. Both fireplaces and fire pits can be simple or elaborate. Your piece can be as custom and intricate as your budget and imagination allow.
Outdoor Fireplace Accessories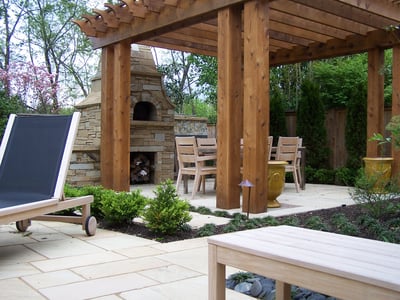 For many families, all that is needed to enjoy their wood-burning outdoor fireplace or fire pit is a simple fireplace set consisting of poker, tongs and shovel. However, you may want to consider the convenience of a gas starter. This is a built-in gas line that makes starting your fire a snap.
Similarly, if you are planning to install a gas-fired unit, why not be easy on yourself and include an electronic starter? This simple device allows you to start your fire at the push of a button.
There are also many features that can be built into your outdoor living area to enhance your enjoyment of your fire pit or fireplace. Some of these include built-in seating walls, accent lighting and masonry steps. You can even have a cover built to fit over a fire pit that functions as a table when the fire pit is not in use!
Enjoying these accessories while basking in the warmth of a fire on a chilly evening is not to be missed!
Need Help Choosing an Outdoor Fireplace or Fire Pit? Contact Us!
Regardless of your space, budget, and taste, we can help you choose the perfect fire pit or fireplace to enhance your outdoor living area. Just give us a call at 901-755-3207 or contact us online to speak with one of our friendly and knowledgeable custom outdoor living space designers.