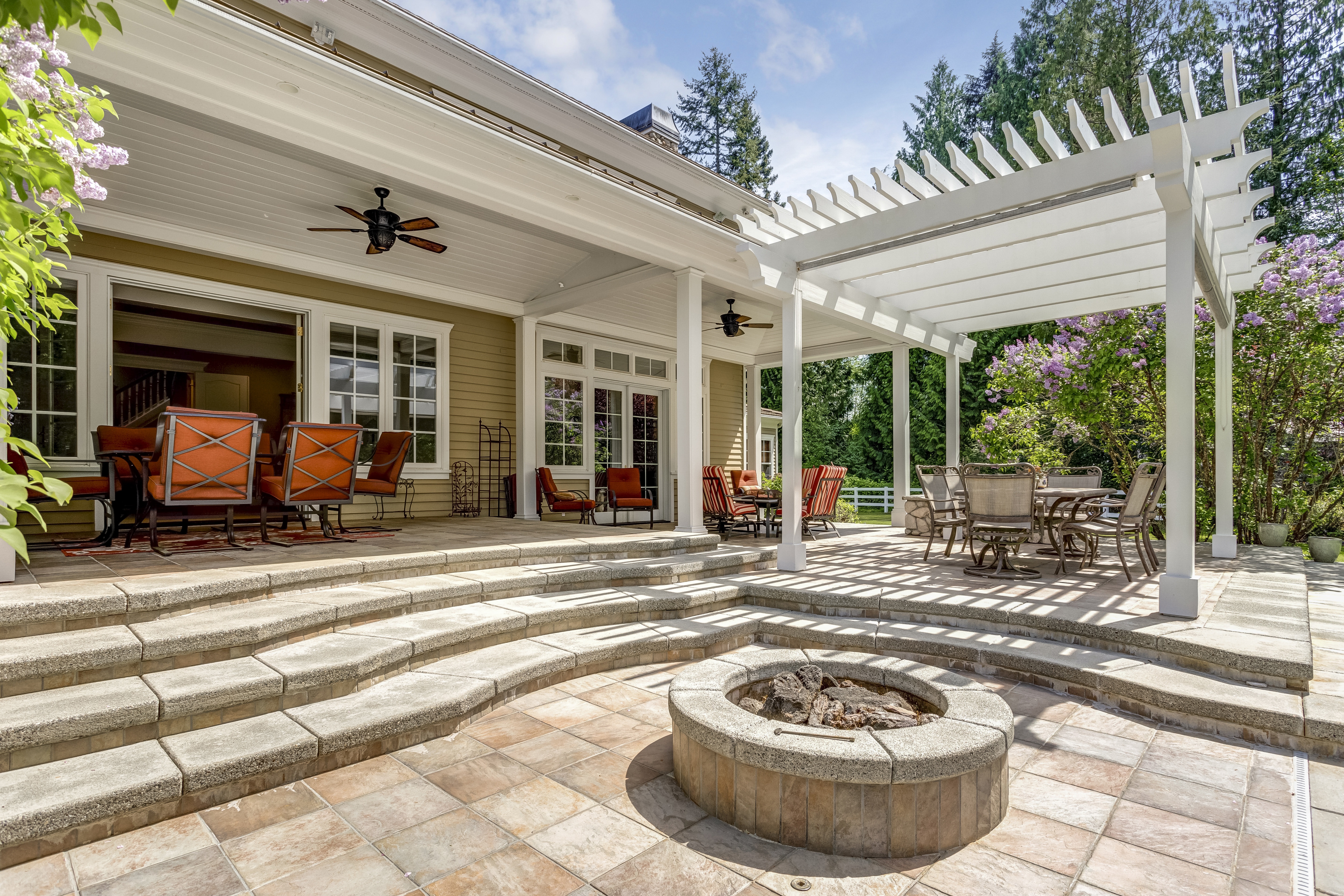 Although our current temperatures may not reflect it, the official first day of fall is only a few weeks away. With cool autumn evenings close behind, this is the perfect time to explore the many outdoor living features we have to offer at Michael Hatcher & Associates, including fire pits. While fire pits can be enjoyed year-round, there's something special about gathering around a warm fire with friends and family once the leaves start falling. Whether you're roasting marshmallows, making s'mores, or simply enjoying a nice glass of wine as you unwind from a long week, fire pits provide a wonderful source of bonding and relaxation. They can also be used as an outdoor cooking area, make great conversation pieces, and can be a selling point should you ever decide to move.

Backyard fire pits provide many opportunities to enjoy yourself outdoors, all year long, but that begins with the right design, size, location, and construction. Before you jump into plans for enhancing your landscaping with a fire feature, take a moment to learn a little more about why it's so important to let professionals like us design and build the perfect backyard fire pit for you.

What is a fire pit?
You may think the name is self-explanatory, but there are actually a few different types of fire pits to choose from. At its most obvious level, a fire pit is a container where you can make an outdoor fire. But it can be in-ground, permanently above-ground, or portable. Fire pits are an excellent choice for those who want to add a fire feature to their outdoor living space, but don't want to commit to a more expensive and more permanent option like a fireplace. Fire pits generally tend to run from a few hundred to a few thousand dollars, depending on the size, materials, type, and design.
What are the benefits of a fire pit in the Mid-South?
Fire pits can transform any outdoor space into an entertainment area that can be enjoyed year-round. With a 360-degree view of the flames, fire pits create a center focal point for you and your guests to gather around. They are a versatile fire feature, and leave you with a wide range of options when it comes to installation. Many fire pits can be constructed in a day, although additional features such as a sitting wall, landscape lighting, etc. will add to the total time needed to create the perfect outdoor space for you. With our cool autumn weather and mild winters, fire pits are a wonderful way to extend your time spent outside in the coming months.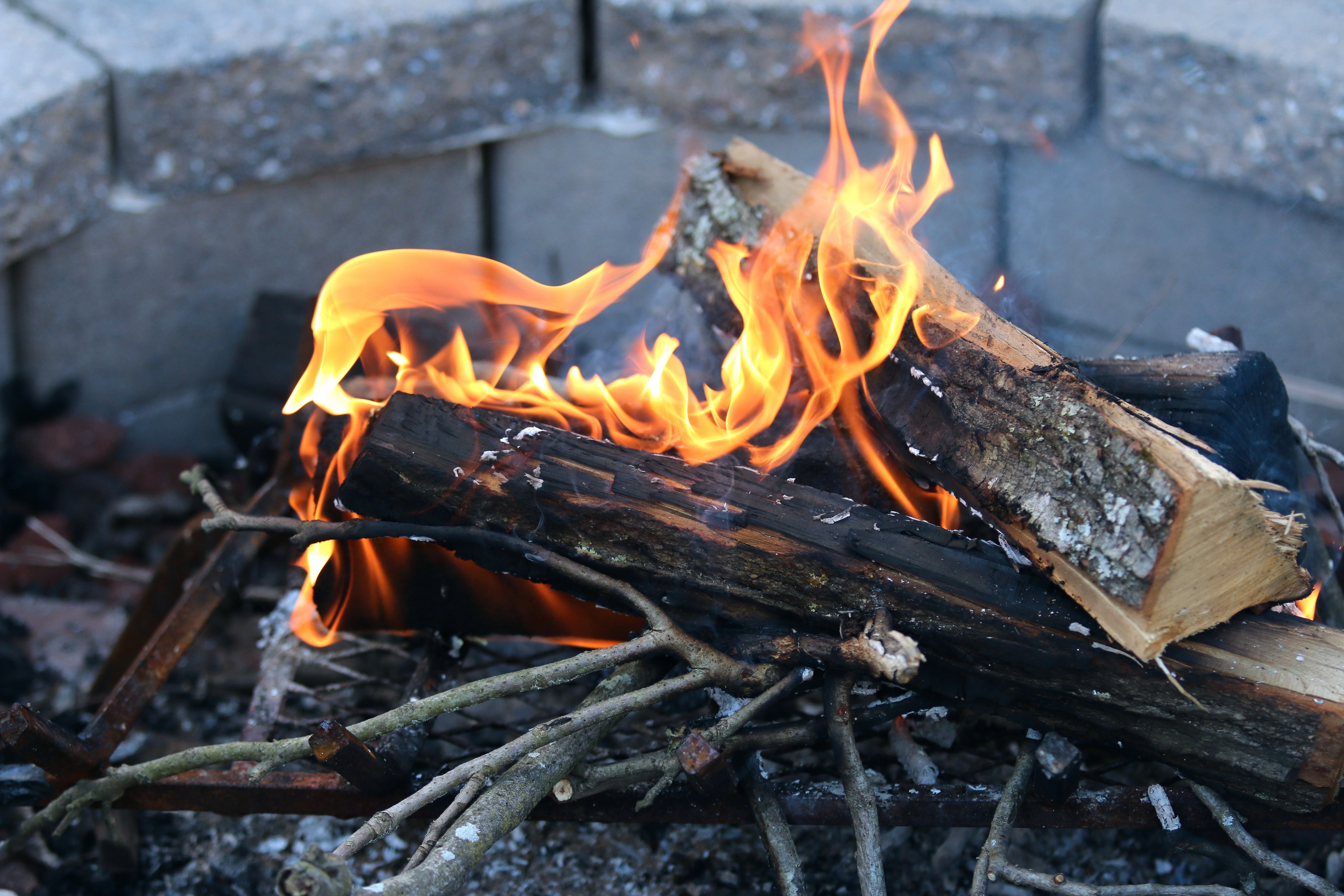 Are fire pits safe?
Backyard fire pits are absolutely a safe feature for your outdoor space, as long as you take certain common-sense precautions when building and attending to them. To ensure your fire pit is able to be safely enjoyed, you should:
Keep fire pits at least 15 feet away from your house, as well as any other nearby structures and combustible materials, such as leaves, wood, chemicals, etc.

Have your fire pit built in an open space, like your patio or a cleared part of your landscape. Don't put fire pits on or in a wooden deck.

Avoid lighting the pit during extremely windy weather, as the embers may spread outside the fire pit area and become potential fire hazards.

Always have a bucket of water, a garden hose, or a fire extinguisher nearby before lighting the fire pit.

Keep a close eye on children around the fire pit.

Keep the flame small. Bigger isn't better! The larger a fire is, the bigger the risk that it will get out of hand and spread.

Never use gasoline to start the fire.
Beyond being safe, you'll want to be sure that your fire pit is legal. Each city's fire and burning codes are different, so check with your local municipality directly to learn what yours entails. Most won't require a burn permit for a small, enclosed fire like a fire pit, but it's always better to know the legalities before you build!
Do fire pits come in different sizes?
The short answer to that question is yes. If you choose a portable fire pit, the size will already be predetermined. However, if you're putting one in the ground or having it constructed by a team of experts like Michael Hatcher & Associates, you'll need to set the parameters yourself, though we are happy to offer recommendations. When deciding on a size for your pit, consider the following questions:
How many people do you want to accommodate around it?

Are you looking to create a more intimate atmosphere, or a space that can entertain large groups?

How big is the patio or landscaped space where you wish to add the fire pit?
Fire pits that are constructed by professionals are generally quite easy to customize. For a more intimate gathering space, a 3-foot-wide fire pit would likely work. To fit a bigger group around a fire, you'd want to look at a size of up to 6 feet wide or so. If you plan on an in-ground fire pit, the depth will need to be considered. Generally speaking, it will only need to be deep enough that your wood or fire ring fits inside it.
For an above-ground pit, the height will be an important factor. If the pit too high, it won't allow anyone to prop their feet on it comfortably. But if it sits too low, you may end up bending over just to be close enough to the flames. Therefore, you should decide on how you plan to use the fire pit before you choose an exact height for it. If you want to be able to prop your feet on it, you'll want one that is around 12-14 inches high. If you plan to use the edge of the pit as a wall you can sit on, you would ideally aim for one about 20 inches. You won't want to go much higher than that, however, or you risk not being able to truly enjoy the warmth and the flames.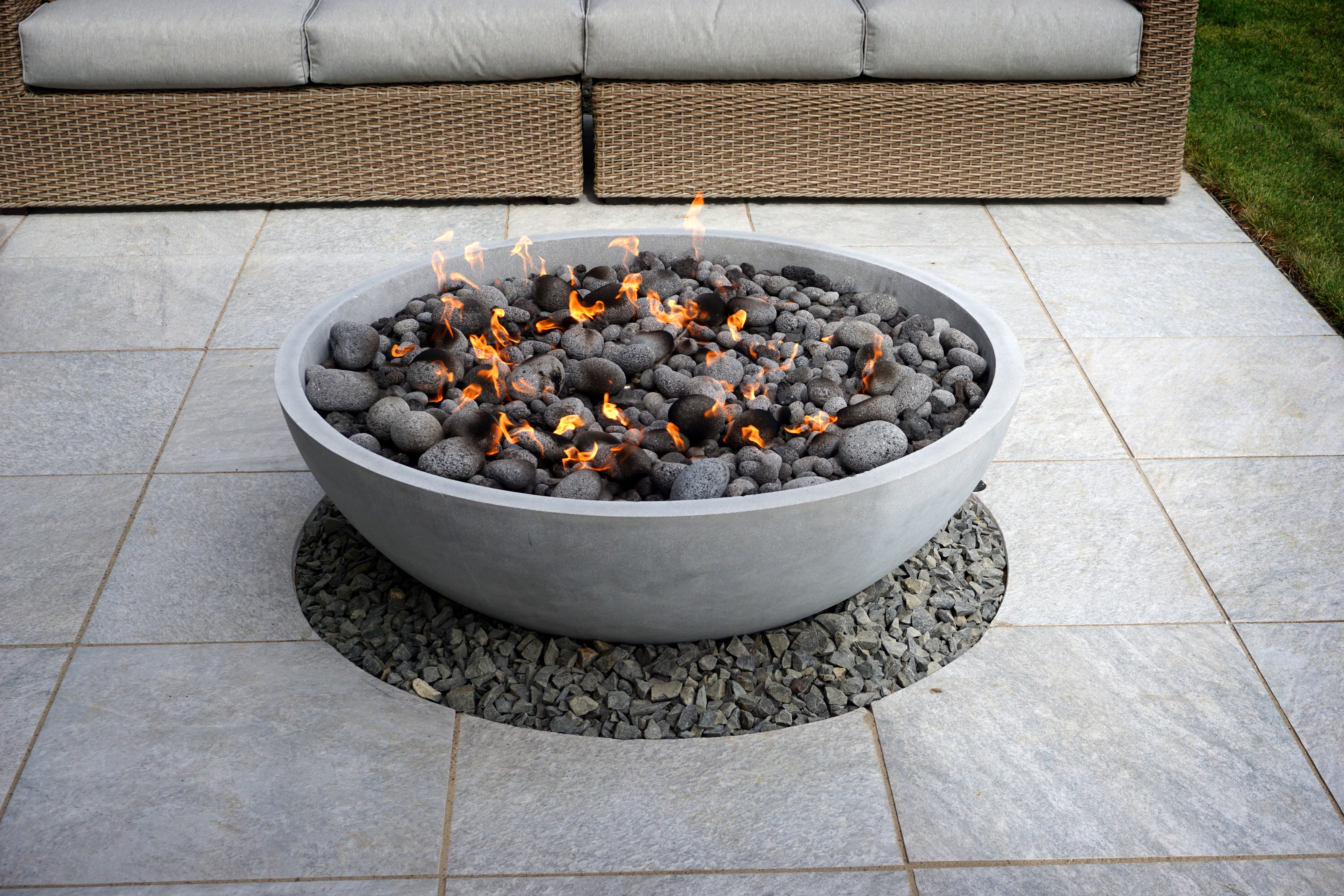 Why should I choose a professional landscaper to build a fire pit for me?
In-ground fire pits are more permanent, and subtle than a portable model. They have a natural bonfire feel to them, and can even be covered up if needed. For a more rustic look, natural stone can be used to construct your fire pit. If you have a traditional brick home, you may find that a brick pit will better match your style. Both materials are long-lasting and able to withstand high heat. By bringing in an experienced professional team like Michael Hatcher & Associates, you'll have a custom fire pit designed to compliment your landscape, and constructed according to your specifications. You'll also be able to choose between natural gas, wood burning, or propane fire pits. Do you prefer tossing sticks in to keep the flames going, or would you prefer the simplicity of flipping a switch? Consider the following:
Natural gas fire pits light easily and quickly, and don't produce smoke or sparks. This is not the best option for cooking, however, and it doesn't provide as much heat as wood will.

Wood burning fire pits put off a lot of heat, cook food well, and are the least expensive option. They will put off more smoke and sparks, though, and can be harder to control.

Propane fire pits light quickly and don't produce embers. You will need to refill the propane when it runs out, and its fire rings may clog from time to time.
Here at Michael Hatcher & Associates, we have an experienced, qualified team that can design and install a range of outdoor living projects in-house, including fire pits. This means you will only work with one of our trusted team members, rather than a subcontractor you don't know. We have a wide range of experience installing fire pits, and are also able to offer additional landscape features at the same time, including stone patios, plants, and landscape lighting.
If you and your family are ready to explore all the ways a fire pit can benefit your outdoor living space this fall, and all year long, get in touch with us today at 901.755.3207. We'll schedule a visit with one of our experienced professionals who will talk with you about how you plan to use the fire pit and entertainment area, your ideas, and your desired style. We will then create a professional design that incorporates it all, giving you a beautiful fire pit that will meet and exceed your every expectation.