Enjoy your outdoor living space throughout the winter months too by adding a fire pit.
While all fire pits create a heat source that allows you to spend more time outdoors, not all are designed the same. Take a look at how fire pits can address your one-of-a-kind needs and wants when it comes to your outdoor space.
Accommodating an Entertaining Lifestyle
A fire pit is ideal for a home that carries a casual atmosphere and entertains groups of people. How? Fire pits can either provide a focal point for a large green space or break up that same open space. Its round design is perfect for group activities such as sharing stories or roasting marshmallows too.
Learn more about other outdoor entertainment ideas here.
Complimenting a Relaxing Oasis
While fire pits are often used as the focal point of an outdoor living space intended to entertain groups of people, this fire element can be used in a more calming atmosphere too. In other words, add a fire pit to an area of your green space to create a more secluded, and intimate, seating area.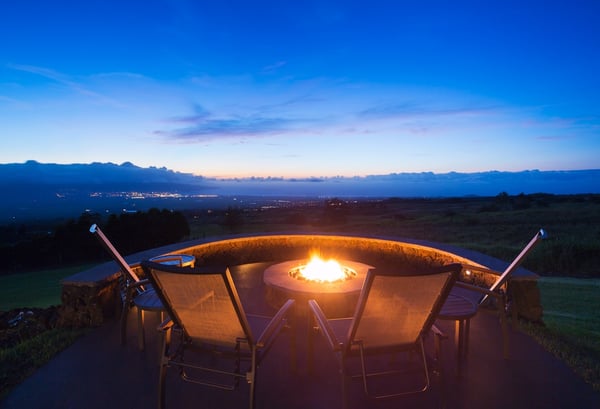 Measuring for Narrow Spaces
For outdoor living spaces on the smaller side, a full circle fire pit may not be possible. Just as these spaces come in many shapes and sizes, however, so do fire pits. Make sure to measure the size of your space and decide on the scale and shape of your fire pit. Once measurements are complete and a standard fire pit can be ruled out, consider different shapes such as a half-circle fire pit.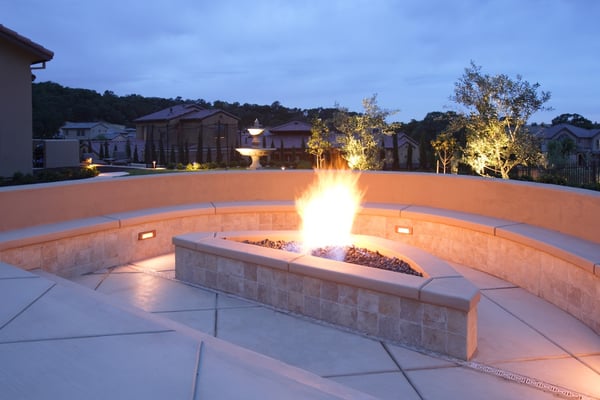 Little Maintenance with More Accessories
All that is required to enjoy a wood-burning fire pit is a fireplace set consisting of poker, shovel and tongs. For families that want to spend less time, however, consider a gas starter, which is a built-in line, or an electronic starter, allowing you to start a fire at the push of a button.
There are other features that can be built to enhance both your fire pit and outdoor living area too. Some of these include built-in seating walls, landscape lighting and masonry steps.
A Natural Look for Your Natural Outdoor Space
When planning your fire pit choose a material that reflects the design of both your home and other aspects of your outdoor living space. Choosing a material that compliments your home will make your fire pit feel like a simple extension to your current landscape design. Matching materials to your existing outdoor living space will create a sense of harmony throughout.
Learn more about not only a natural outdoor space but the use of natural stone in our blog,Three Outdoor Living Trends of 2017.
Regardless of your lifestyle, space, and taste, Michael Hatcher & Associates can help you choose the fire pit that addresses your one-of-a-kind needs and wants when it comes to your outdoor space. Contact us at 901-755-3207 to schedule your free consultation today.