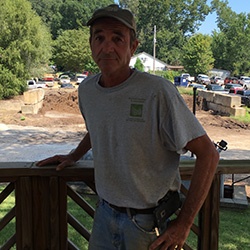 Name: Steve Tice
Hometown: Memphis, Tennessee
University(s) Attended and Major: University of Memphis, Chemistry

Family Status: My wife, 2 children and 4 grandchildren.
Length of Employment with Michael Hatcher & Associates, Inc.: 20 years
I was attracted to work at Michael Hatcher & Associates, Inc. because: I enjoy building things and the outdoors.
Job Title: Landscape Construction Supervisor
Primary Job Responsibilities: I am responsible for the safety and training that goes into landscape construction.
The best thing about my job is: I work with great, young people.
My favorite project at Michael Hatcher & Associates, Inc. is: Any type of waterfall project.
I would describe the company culture and environment as: A group of people that are willing to work together.
The most important thing I have learned from working in the landscape industry is: Patience.
The best thing about living and working in Memphis/Mississippi is: I'm close to family.
The biggest influence on my career has been: Growing with the company.
My short-term career goals include: Me assisting others with their professional goals.
The most important characteristic of a leader is: Confidence.
My one piece of advice to a new graduate or person seeking employment in the landscaping industry would be: To make sure that you love it.
If I didn't work in the landscaping industry I would be: A target shooter.
When I'm not at work I'm: Spending time with my 4 dogs.
If I won the lottery I would: Retire.