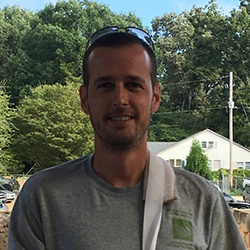 Name: Steve Strickland
Hometown: Olive Branch, Mississippi
Family Status: Married with 3 dogs.
Length of Employment with Michael Hatcher & Associates, Inc.: 15 years
I was attracted to work at Michael Hatcher & Associates, Inc. because: of both my family and passion to work with my hands.
Job Title: Head Mechanic
Primary Job Responsibilities: I am responsible for maintaining and fixing the equipment.
The best thing about my job is: I work with both my family and my hands.
My favorite project at Michael Hatcher & Associates, Inc. is: The spray rig that I assembled.
I would describe the company culture and environment as: Busy but fun.
The most important thing I have learned from working in the landscape industry is: The importance of taking your time for a good product.
The best thing about living and working in Memphis/Mississippi is: There's always something to do.
The biggest influence on my career has been: My grandfather who was an aircraft mechanic and I learned from and worked with for 10 years.
My short-term career goals include: Me learning Spanish.
The most important characteristic of a leader is: Not being afraid to step out of the way and listening to everyone.
My one piece of advice to a new graduate or person seeking employment in the landscaping industry would be: To be prepared to work.
If I didn't work in the landscaping industry I would be: The owner of my own mechanic shop or an aircraft mechanic.
When I'm not at work I'm: Spending time with my family and friends.
If I won the lottery I would: Start my own business.