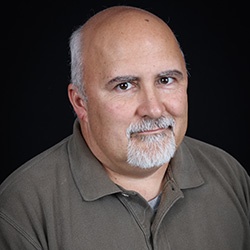 Name: Stephen Shikle
University(s) Attended and Major: Mississippi State University
Family Status: Soon to be Married
Length of Employment with Michael Hatcher & Associates, Inc.: 18 years
I was attracted to work at Michael Hatcher & Associates, Inc. because: Michael's positive outlook to the future.
Job Title: Landscape Design and Sales
The best thing about my job is: Seeing my designs being built and being enjoyed.
My favorite project at Michael Hatcher & Associates, Inc. is: Discovery Park of America and residential pool projects.
I would describe the company culture and environment as: A great place to work.
The best thing about living and working in Memphis/Mississippi is: Things to do and food choices.
My short-term professional goals include: Continuing education on new pool building technologies and new plant varieties.
The most important characteristic of a leader is: Consistency and integrity.
My one piece of advice to a new graduate or person seeking employment in the landscaping industry would be: Get real world experience.
If I didn't work in the landscaping industry I would be: A chef.
When I'm not at work I'm: Spending time with my family.
If I won the lottery I would: Go fishing!